The Algarve is the southernmost region of Portugal and stretches from the Atlantic coastline to the border of Spain. This stunning region is also considered to be Portugal's favorite vacation spot and a popular holiday destination for residents of the UK, Ireland, and Germany, to name a few. In addition to its array of beautiful beaches, cobblestone streets, and rich history, the Algarve region is perhaps best known for its unbeatable cuisine. Below we highlight a selection of some of the foods and dishes you must try while traveling through The Algarve, Portugal.
Snacks and Starters
Wherever you go in the Algarve, there is a great reliance on local, seasonal produce. The climate and soil produce fantastic crops especially fruit such as tomatoes and oranges, which are often sold by roadside in villages throughout the region.
Algarvian Carrots
Algarvian carrots are perfectly seasoned and make for a perfect starter or side dish for any meat or seafood dish. Very summery and very flavorful, these carrots are prepared with garlic, paprika, olive oil, oregano, and or cumin. In restaurants, they are typically served in a small dish alongside nuts and dried fruit with the breadbasket.
Queijo de Figo (Fig Cheese)
A traditional dessert from the Algarve, Portugal, it is traditionally served on the first of May and at Christmas time, but it also available year-round. The fig cake is called fig cheese because it resembles a cheese wheel. Queijo de Figo is typically made with ground almonds, cinnamon, star anise, dried figs, and cocoa powder.
Estrelas de Figo (Fig and Almond Stars)
These "fig and almond stars" are dry figs and almonds roasted in the oven. These are usually sold as a small pack or individually at local markets (Mercado de Loulé is one to check out) and bakeries throughout the Algarve.
Conquilhas à Algarvia and all types of other clams from Ria Formosa Natural Park
This is an area where you can try a vast array of seafood, such as oysters, shrimps, clams and even octopus around the eastern Algarve's Ria Formosa Natural Park for this is a haven for marine live.
Octopus
If you like octopus, head for the Santa Luzia fishing village with the Ria Formosa. Restaurants here specialize in dishes containing octopus caught by the local fishermen using only sustainable fishing methods.
Sardines
Grilled sardines have often been described as the essence of an Algarve summer lunch as they are a very popular food. A great gift to bring home is canned sardines from the Algarve.
Camarão à Guilho (Whole Shrimp)
Another popular staple, this dish is simply grilled with garlic and a variety of other spices. It pairs beautifully with a glass of their local white wine.
Oysters from Ria Formosa Natural Park
Taste some of the freshest oysters in the Algarve. The Ria Formosa is a lagoon that is beaming with wildlife. It is a system of barrier islands that connects to the sea through six inlets. There are some local boat tours that provide a unique sightseeing and tasting experience.
Sapateira and Santola
These are large crabs that are very popular in a variety of traditional Portuguese seafood dishes. The Sapateira is a large brown crab with tender and sweet meat; the best part is found in the pincers. The Santola crab has spiny heart-shaped shell and long legs, and also has sweet meat.
"The cuisine of the Algarve is like another realm inside Portuguese gastronomy." -Algarve regional cooking book
Wine and Spirits
Morgado do Quintao
Head for vineyards like the family-owned Quinta da Tor or the landmark estate of the Morgado do Quintao which has been in existence for over 300 years to try superb wines possessing very distinctive aromas and tastes. Often visitors can also enjoy sampling handmade olive oil on the same site.
Arrive at the right time in the late summer, and you can even try a Winemaker Experience package at the Quinta dos Vales in Lagoa and try making your own personal wine.
Medronho
Be warned – take care when trying any local alcoholic liqueurs such as homemade medronho made from the fruit of the wild strawberry tree. Sufficient to say that its alternative name as firewater reflects that fact that you truly have tears in your eyes after taking a sip! It is very, very strong and capable of leaving you extremely sleepy all afternoon after trying it at a lunchtime restaurant meal.
Main Dishes
A long coastline from which generations of fisher folk have sought the bounty of the sea dominates the southernmost part of Portugal, the Algarve. Today, that tradition continues, with sea food being very much to the forefront of the cuisine of the Algarve.
Quite often, you are literally eating fish that were caught only an hour or two earlier, especially if you hunt out coastal villages like Ferraguado.
Algarvian style Cuttlefish
Another staple dish in the Algarve, this dish is usually prepared with garlic, olive oil, peppers, and a splash of white wine. The cuttlefish could be prepared in a soup or fried.
Cataplana de Peixe e Marisco (Cataplana of Fish and Seafood)
Translates to a fish and seafood dish prepared in a cataplana. A cataplana is a very popular cooking staple in Portugal. The spherical pot is traditionally made of cooper and is shaped like two clamshells and hinged at one end.
Grilled Whole Fish
Grilled whole fish is very popular in the Algarve, where you can enjoy it grilled over charcoal. The most typically grilled fish are Seabream, Seabass, and Mackerel.
Xérem
Xérem is a corn flour porridge that can be eaten as a main or side dish. As a main dish, it can be served with clams, chorizo, ham, and or bacon with vegetables and a variety of spices.
Leitão suckling pig
Leitão suckling pig is usually smothered in herbs and slow roasted on a spit for 24 hours.
Conquilhas à Algarvia
Conquilhas à Algarvia is a signature dish of the Tasca Lota in Lagos that contains a mix of onions, garlic, sliced Portuguese sausage, clams, parsley or coriander.
Caldo Verde
Caldo Verde is a type of soup containing sausage, bacon, potato and kale.
Local Sausage
Locally made sausages feature in many dishes as well as the Petiscos de taberna with slices of chourico sausage, tiny meet sandwiches or seafood fritters. Not to be missed in early March is the Fiera dos Enchidos Tradicionais at Monichique. This is a festival of locally made sausages such as morcela, presunto and farinheira as well as the local sausage feijoada (bean stew).
Desserts
Wherever you go in the Algarve, there is a great reliance on local, seasonal produce. The climate and soil produce fantastic crops especially fruit such as tomatoes and oranges, which are often sold by roadside in villages throughout the region.
The Algarve has lots of regional desserts that are worth exploring.
Bagamel Honey
A regional honey that has a soft aromatic taste and light color. Bagamel honey can be found in most grocery stores and markets throughout the Algarve.
Monichque
Monichque has a delicious 'bolo de tacho' – a very dense cake that is made with chocolate, cocoa, cinnamon and fennel. The intense flavour and taste of honey pudding is definitely perfect for anyone with a sweet tooth as it is very, very rich often involving up to 10 eggs, honey, cinnamon, olive oil and sugar.
Algarve Trilogy (almond, fig and carob)
Almond Carob and fig cake is sometimes known as the Algarvian Trilogy or the 3 Delight Tart as it combines three of the most common products in the area – almonds, carobs and figs. Look out for little tarts and pastries presented in foil wraps. These are very sweet little nests made from fios de ovos (strings of egg yolks that have been finished in syrup or angel hair, almonds and cinnamon.
Pastel de Nata (Portuguese Custard Tarts)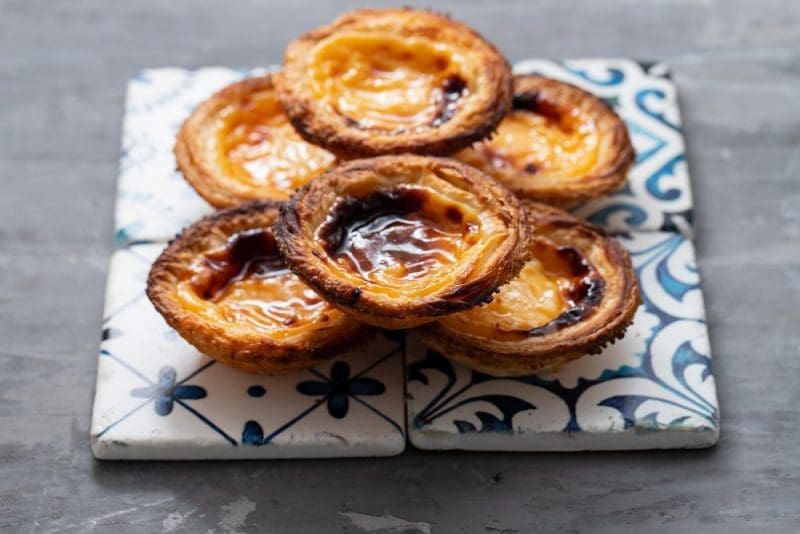 Pastel de Nata are widely available throughout the Algarve and make a pleasant alternative to very sweet cakes.
Seasoning
Flor de Sal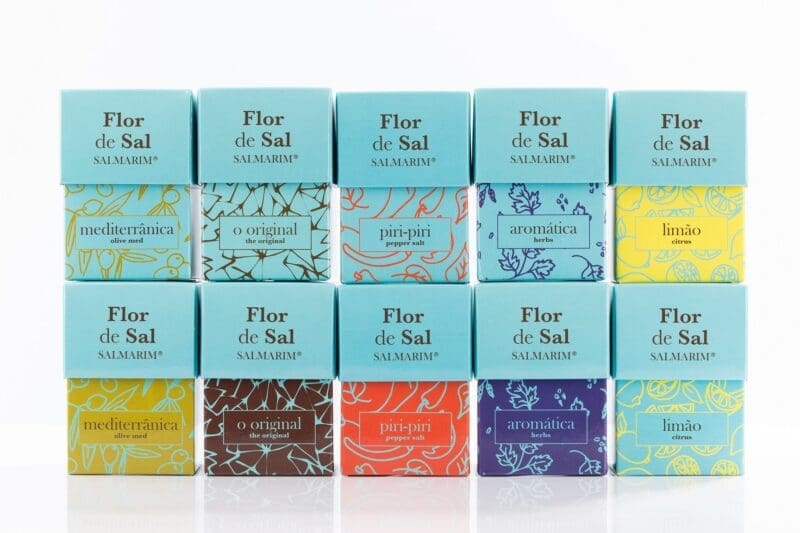 Sea Salt is a key ingredient of almost all seafood and meat dishes. Known as Flor de Sal Algarve, it is produced in large quantities particularly in the eastern Algarve near Castro Marim and on the Ria Formosa. Naturally slightly moist, it has a very fine, subtle taste in which the heat of the sun is definitely present. When dining in restaurants, this Flor de Sal is normally presented on a small tray at the table so that you can sprinkle it to taste over your food.
Piri-Piri Flor de Sal
One of the more unusual versions of Flor de Sal is the Piri Piri version produced by Jorge Raiado in Sal Marim. It is produced using old saline tanks and mixed with Piri-piri, the Portuguese name for chili peppers creating a sharp, fruity and intensely aromatic style of sea salt.