Discover some of the best traditional Irish pubs across Ireland. These pubs are located throughout the country: hidden in small villages and set in the heart of Ireland's famous historic cities. Some of Ireland's oldest and most traditional pubs are steeped in fascinating history, serve delicious Irish pub fare, and offer some of the entertaining live musical performances. 
Durty Nelly's, Bunratty
By Steve Coffee of Maps Over Coffee
If you are looking for an authentic, traditional Irish pub, look no further than Durty Nelly's in Bunratty. Established in 1620, Nelly's practically invented tradition. Only 6 miles from Shannon Airport and 10 miles from Limerick City, it is a convenient place for tourists to rub shoulders with the locals.
It is also a perfect detour on your way to some of the most famous sites in Ireland.
Built just outside of the Bunratty Castle, this pub has been serving up pints for 400 years. You can feel that history as soon as you walk in. Low ceilings with massive timber beams covered in centuries of peat smoke and good times embrace you like an old friend.
Darcy's Donkey or other traditional Irish music will be playing somewhere, either live if you get there later in the day or through the speakers, presumably not part of the original construction.
The walls are decorated from more recent history with badges and stickers left by police officers and firefighters from around the world.
Drink it all in with a pint of Guinness and some delicious Irish fish and chips.
J.J. Hough's Singing Pub, Banagher
By Mal from Raw Mal Roams
J.J. Hough's Singing Pub is situated in a small town called Banagher by River Shannon, one hour drive east from the coastal city of Galway. If you're looking for a truly authentic Irish pub experience, there is no better place. 
J.J. Hough's Singing Pub is a traditional Irish pub with quaint décor, a rustic feel, and pleasant outdoor seating for those precious sunny days. In the winter, there are some cozy seats next to a roaring fire inside. 
This historic pub is family owned and passed on from generation to generation. The grandfather of the current owner realized that he could attract tourists by having his children play and sing Irish songs. The idea turned out to be a successful one. Since then, J.J. Hough's Pub is famous for having live music on every Saturday performed by the local musicians, which is the main attraction for locals and tourists alike. 
The best thing to try on the menu is one of the pub's specialities: a selection of stone-baked pizzas and a pint of Guinness. 
Due to its rural location, the best way to get to the pub is to rent a car in Dublin or Galway. Stay in the luxurious Country Arms Hotel Birr, located 12 km from Banagher that boasts comfortable rooms, a spa and a gourmet restaurant.
The Long Hall, Dublin
By Heather Cox of WanderLust in Real Life
The Long Hall Pub is one of the oldest pubs in Dublin. Located at 51 South Great Georges Street within the city center of Dublin it's close to Dublin Castle and only a short walk past the Molly Malone statue to Trinity College. However, you can choose to navigate here via bus as well. The Long Hall Pub is located just down the street from Fade Street stop 7578 and South Great George's Street stop 1282 on the bus.
Whether you're taking the bus or walking, The Long Hall Pub is a perfect place to pop in for a pint at a quintessential Irish pub. When you step into the Long Hall Pub you will notice the beautiful Victorian charm in the décor including the handcrafted dark polished wood carvings all around, traditional snugs & filigree golden details.
One word to describe this pubs allure would be 'ornate'. Its name comes from the long narrow hallway snug that runs parallel to the bar. Attentive bartenders will greet you in a friendly fashion to offer a pint of Guinness or Bulmers Irish cider.
After you've indulged in some libations, a luxury stay is just a short 5 minute walk away at The Westbury. 
The Lotts Cafe Bar, Dublin
By Adam of As Adam Goes
The Lotts snug is known as the smallest bar in Dublin. Less than a 2-minute walk from the renowned Ha'penny Bridge, The Lotts attracts hundreds of people each day raring to get their foot in the door of this confined pub.
Love the idea of having a chat with a local whilst nursing a fine pint of stout? Head on
over to the Lotts. Of the small number of seats that are actually in the bar, you can bet
the locals snap them up fairly quickly when the bar opens. So, get there quickly.
Quaint and cultured in so many ways, The Lotts will make you feel like you have been
thrown into an old Irish property from the 80's. As you sip your pint, you'll be kept toasty by the homey fireplace.
Are you a lover of sport? The Lotts televises all the major sports events from around the world. It may be old fashioned, but it sure does roll with the times.
For those feeling peckish, next door to the tiny snug bar, The Lotts has its very own
restaurant that serves up some of the most tender steaks in the city centre. Keep an
eye out for their daily lunch promotions that will have your pallet raging with excitement.
A great place to stay nearby is The Fleet Hotel. Located less than half a kilometre from
The Lotts bar.
The Roadside Tavern, Lisdoonvarna
By Haley of Haley Blackall Travel
The Roadside Tavern, located on the main street of the small village of Lisdoonvarna, is one of the best traditional Irish pubs in Ireland. Approximately an hour and 15 minute drive south along the coast from the major city of Galway, this pub is a great stop along your Irish road trip between Limerick and Galway.
Lisdoonvarna, in Ireland's North Clare County, is known for premier spa experiences and a great music and festival scene. Along with the Roadside Tavern, the Burren Smokehouse is a well-known landmark that offers fine Irish smoked salmon. You can walk between the two in less than one minute.
Other than the quintessential Irish décor filling every inch of the interior walls, the Roadside Tavern offers a great beer selection. If you want to accompany your ale with some food, choose the smoked salmon platter that comes with fresh dark rye bread, cream cheese spread, capers and greens. The salmon itself is produced by the Burren Smokehouse, just seconds up the road.
After relaxing in the Roadside Tavern, make your way to the premier lodging of Sheedy's Country House, converted from a farmhouse to luxury boutique accommodation and passed down through four generations.
O'Connor's Pub, Killarney
By Olivia of the Girl With Blue Sails Travel Blog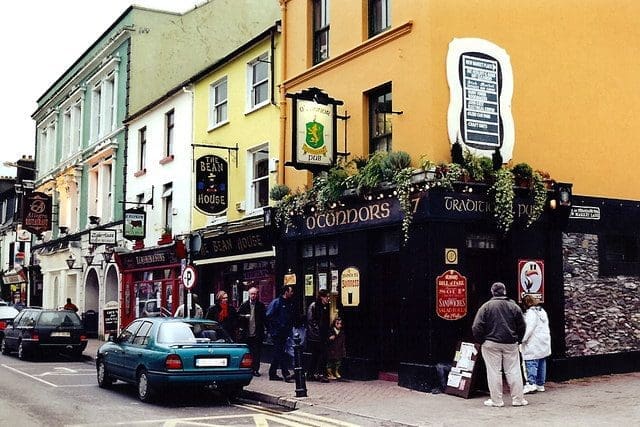 O'Connor's Traditional Pub in Killarney is a place where visitors always feel welcome, making it one of the best traditional Irish pubs in Ireland. Centrally located in a corner spot on Main Street, it's a great place to start or end an evening with a couple pints.
With its location right on Main Street, O'Connor's is a popular pub for locals and tourists alike. Many visitors pair a visit to O'Connor's with a trip to Killarney National Park. The park is located just on the other side of Lough Leanne. It's also only a 6-minute walk from the beautiful five star Killarney Park Hotel. O'Connor's is easy to reach on foot or by car, since Killarney is such a convenient walking town.
The pub décor is quaint and traditionally Irish, full of dark wood and old books, complete with flags and old-fashioned beer signs on the wall. There are TV's for watching games and there is plenty of seating inside, outside, and upstairs for dining.
The dining room upstairs is where visitors can sample some of the best toasties and pizzas in Killarney. Always served fresh and often paired with hot soup, their famous toasties complement a perfectly poured pint of Guinness. You could find food so good that it is doomsday meal worthy. Keep an eye out for their daily lunch promotions that will have your pallet raging with excitement.
O'Neill's Bar, Dublin
By Victoria Heinz of Guide Your Travel
O'Neill's Bar is arguably one of the best Irish Pubs in the country and a must-visit if you're in Dublin. Located in the heart of southern Dublin, this pub is easy to reach by public transport or on foot if you're staying nearby.
It is set in a historic neighborhood very close to the famous Temple Bar which attracts thousands of visitors every day. O'Neill's is a lot quieter so you can avoid the tourist crowds. During the day you can enjoy a delightful pint here in a traditional setting.
In the evenings O'Neill's becomes a lot more lively with live music and a friendly crowd. Prices are reasonable for Dublin's standards. The food at O'Neill's has been described as "world-famous" and serves everything from traditional fish & chips to pancakes dusted with powdered sugar and garnished with strawberries (pictured below).
If you want a taste of traditional pub food this is definitely the place to go. The inside of the pub is also much larger than you might expect. You can go upstairs and you'll usually find a quiet spot to sit.
On the weekends O'Neill's can get quite crowded though. The Westbury Hotel is located nearby and a fantastic choice for travelers looking for a high-end option. Make sure to have a gin and tonic at O'Neill's, they're some of the best around.
Ryan's Beggars Bush, Dublin
By Jennifer P. (aka Dr. J) of Sidewalk Safari
Ryan's Beggars Bush is your quintessential local and is a great addition to a one day Dublin itinerary. You won't find traditional music or big screens showing the latest sports match. But, you will find old friends out for a drink chatting and talkative elderly men in wool flat caps surveying the craic from a stool by the bar.
Enter the pub and be welcomed by rich wood paneling and cozy fabric-covered seats. Guests will also enjoy one of the best and most economical pints of Guinness in Dublin. There has been an Irish pub on this speck of land in Dublin's Ballsbridge neighborhood for over 200 years.
The atmosphere and history in the surrounding neighborhood boosts Ryan's Beggars Bush further up the list of best traditional pubs in Ireland. Just outside the pub, you'll find the walls of Beggars Bush.
The walls were former British military barracks. These walls were the first to be handed over to Michael Collins in 1922 when the Irish Free State was established after a bitter fight. Take a closer look at the bollards surrounding Beggars Bush, just steps from the pub. The fence posts are made from the barrels of old cannons.
You can easily walk to Ryan's Beggars Bush from Dublin City Centre or Grand Canal Dock and the pub is close to the Grand Canal DART train station. Book in for a posh stay at the nearby Dylan Hotel just off of Baggot Street or The Marker Hotel in the heart of Grand Canal Dock.
The Reel Inn, Donegal
By Faith Coates 
The place to be in Donegal Town if you want live traditional music is The Reel Inn. This is a proper Irish pub, no TV's, no food served, no cool trendy folks just locals of all ages and tourists enjoying the craic savoring a well poured Guinness and singing along with the music.
In 2017, The Reel Inn was named Best Pub in Ireland, and the tradition continues. It's the sort of pub where you feel immediately home in its dark crowded environs.
The pub features traditional music virtually every night and they welcome anyone who wishes to get in on a 'session' and play. Folks always join in on the singing particularly the rebel songs which always go down a treat here in Donegal.
The pub is located at the edge of town along the River Eske just down from the Diamond which is the center of town. A short walk from the Reel Inn and you will find every kind of restaurant nearby including Chandpur, the best Indian restaurant in Ireland.
If you want to stay in a Castle nearby, book a stay at the Lough Eske Castle Hotel, an easy eight minute drive from The Reel Inn. Lough Eske is the epitome of luxury with a spa, fine cuisine and simply stunning grounds and rooms.
Sin é, Cork
By Maria at Maptrekking.com
One of the best traditional pubs in Ireland is the Sin é. Located a three minute walk from the heart of the city center of Cork, it has been proudly serving guests and locals alike since 1889.
It proudly boasts that it is the only pub to have live traditional music every night since 1977. Live music begins at 6:30pm and 5:30pm on Sundays.
To get to the historic pub, follow St. Patrick's Street across St. Patrick's bridge and take a left before St Patrick's Hill. You will recognize the old traditional Irish pub from the thousands of old port bottle corks that line the windows and frame of the building.
Also, with Sin é being so close to the center, you can simply walk outside and be minutes from the best places to eat in Cork City!
Although the Irish are known for specific drinks, the best drink on the menu is a classic Irish Beamish stout. It's a tastier and more authentic drink that the Irish love, especially Cork's residents.
Less than 10 minutes via cab from the city, you can find yourself dining and relaxing in one of Cork's most luxurious hotels, the Hayfield Manor Hotel and Spa. It's also within a short walk from the historical University College Cork Campus.
The Church, Dublin
By Pamela of The Directionally Challenged Traveler 
The Church, located in the heart of Dublin, is one of the most unique bars around. It was first built in the 18th century and originally was Mary's Church of Ireland. The church has a beautiful stained glass window, an amazing organ built by Renatus Harris, and delicious food.
St. Mary's Church was an integral part of Dublin for the next hundred and fifty years. Well known Irishmen passed through its door including authors Jonathan Swift and Sean O'Casey. The founder of the Methodist Church, John Wesley, gave his first sermon here and Arthur Guinness (founder of Guinness Brewery) was married here!
In 1964, St. Mary's Church closed. It was left alone until John Keating purchased it in 1997. The Church Bar and Restaurant opened its doors in 2005. The history of the church has been preserved while adding modern amenities. There is now a cafe, barbeque terrace, a night club, and a stage for live music and performances. When visiting, you can do a self-guided tour with stops around the restaurant that includes the original architecture, some of the burial crypts, and the original organ.
If you're visiting Dublin, be sure to make a stop at The Church for a historical and unique dining experience. Enjoy the incredible chicken burger or their famous three cheese toastie!