Located at the beginning of the famous Wild Atlantic Way, Kinsale is often referred to as the Irish Rivera. The harbor town of Kinsale is also known as the Food Capital of Ireland. This popular destination for both international and Irish visitors is full of friendly people, welcoming pubs, and award-winning restaurants.
Kinsale creates a perfect balance of beautiful scenery and lots of exciting things to do, thus being one of the most popular holiday destinations. Explore our curated list of the best luxury hotels in and near Kinsale, Ireland for both couples and families alike.

Actons Hotel Kinsale
Actons Hotel Kinsale is located right in the heart of the town on the banks of its stunning Harbour. A great majority of the many fantastic attractions are situated just a short distance on foot or by car.
Established in 1946, Actons Hotel is the oldest luxury boutique-style hotel in Kinsale. With a complete refurbishment in 2018, Actons is also one of the most modern hotels in town.
This 4-star destination comprises of 77 beautiful guest bedrooms and suites, an extensive leisure club with a large indoor swimming pool, and a bar and garden lounge overlooking Kinsale Harbour. The Harbour also serves as a beautiful backdrop for weddings in Cork.
Dining options at Actons Hotel include Sidney's Bar and Garden Lounge for an afternoon cocktail or warm Irish coffee. Fisher Street Restaurant is open daily for breakfast. The Restaurant hosts a continental breakfast buffet, and an a la carte menu from a full Irish breakfast to fluffy pancakes.
Guests may also enjoy a sophisticated afternoon tea in the Garden Lounge paired with a glass of bubbly. Vegan, vegetarian, and gluten-free afternoon tea options are available.
Blue Haven Hotel
Voted No 1 Boutique Hotel in Ireland in two of the last three years, The Blue Haven is a stylish nautical boutique luxury hotel, located in the heart of the famous heritage culinary town of Kinsale.
The gorgeous building, which dates back to the late 1800's is home to 16 guest rooms and the Blue Haven Suite. On the main floor, guests can find one of Ireland's top rated seafood spots. Take a seat at the upscale Bar & Bistro, Hamlets Gastro garden or try the new culinary and cocktail experience called Rare, all located onsite.
Dishes at all of the dining locations combine provincial seasonal produce and fresh seafood from local shores. Meals are carefully prepared by a team of amazing international chefs lead by Meeran Manzoor formerly of the Dorchester London.
Whether you choose to golf at world renowned The Old Head Golf Links or schedule horse riding or food and foraging tours, there are plenty of ways to fill your time.
Carrigaline Court Hotel
A mere 25 minutes from the heart of Kinsale, the 4-star Carrigaline Court Hotel boasts more than 90 guestrooms. Located in Carrigaline, the hotel is just a short drive from Cork City, Cork Airport and Cork Harbour as well. 
Carrigaline Court Hotel, a recently modernized boutique Irish run property, was opened by the Collins family over 21 years ago. At the on property Collins Bar, it is not uncommon to mingle with locals and receive a warm Irish welcome. In addition to their pub style bar, guests can find fine dining at the Bistro and traditional Afternoon Tea in the lobby area.
The hotel's prime location makes it easily accessible to the start of the Wild Atlantic Way and Irelands Ancient East tourism trails. Guests can also enjoy access to the hotel's leisure centre complete with 20m pool, sauna, steam room, jacuzzi and gym. 
Crosshaven House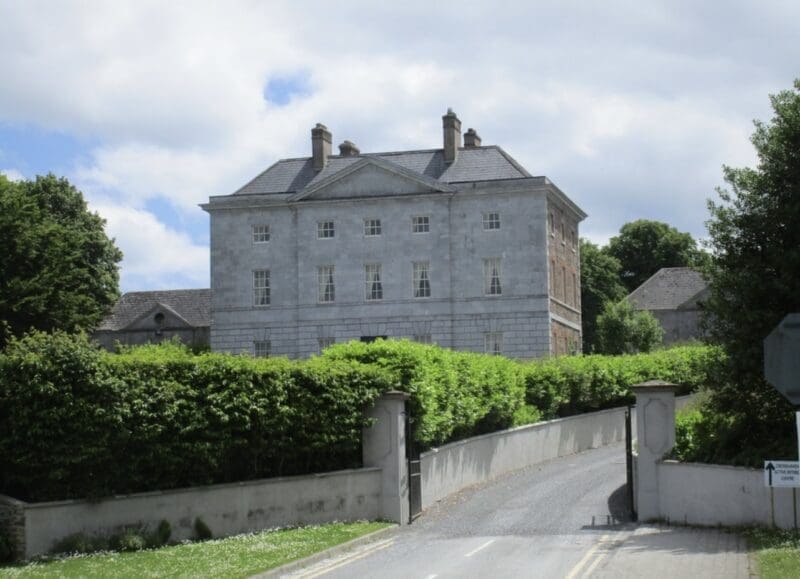 Established in 1759, Crosshaven House is a private eighteenth century luxury country house set in the picturesque village of Crosshaven. It is where the spaciousness and elegance of the Georgian age is combined with the comforts of modern living. Located on the shores of Cork Harbour, it is within a 30 minute drive of Kinsale and Cork Airport
Crosshaven House is rented on a private hire basis so guests have full exclusivity during their stay. The spacious and elegant reception rooms are complimented by 5 luxurious suites on the upper floors. These suites accommodate upwards of 12 guests. With plenty of spacious guest rooms, Crosshaven House offers the perfect option for family vacations, multi-generational stays or a group of friends having a once in a lifetime trip to Ireland.
Separately available is the bohemian semi basement, 51 Degrees North. Here, three nautical New England style dorms accommodate upwards of 14 guests. Guests can enjoy the private 9-seater cinema and sauna along with the well-appointed country style kitchen.
Eccles Hotel & Spa
Situated on the waterfront in picturesque Glengarriff village is Eccles Hotel & Spa, the only 4-star luxury hotel in Glengarriff, one hour away from Kinsale. Witness stunning panoramic views of Bantry Bay on West Cork's Wild Atlantic Way. Glengarriff Harbor, with its boats to the famous gardens on Garinish Island, and the village center with quaint craft shops, cafes and pubs are just a two-minute stroll away.
Guests can make the most of their time at Eccles Hotel & Spa in the scenic surroundings of West Cork by sea kayaking in Glengarriff Bay, going for a hike up to Mount Gabriel or even scuba-diving to discover what's beneath the surface of Bantry Bay.
The mid-18th century property includes wellness spa and stunning cliff-top outdoor thermal area. Many of the original features are still in place including its iconic Victorian metalwork façade with a sweeping balcony. In addition, the original fireplaces have been beautifully restored, retaining its rich history and unique charm.
Executive Chef Eddie Attwell is at the helm of the culinary program at Eccles. The hotel has quickly established a reputation for its excellent food, with most of the produce on Eddie's menus picked fresh daily from the hotel garden and polytunnels he has planted. These are foraged locally or supplied by the best of West Cork's artisan food and drink suppliers.
Eccles Hotel & Spa is approximately 90 minutes away by car from the town of Kinsale.
Hayfield Manor
Hayfield Manor was built in the 1920's and was later transformed into a 5-star hotel in 1996 by the Scally family. Each of the 88 rooms is individually designed and furnished. This individuality ensures guests are able to experience the charm of a grand manor house. 
A 30 minute drive north of Kinsale, Hayfield Manor is located within the historic university quarter of Cork. Many attractions including St. Patrick's Street and the shopping district are within a 15 minute walk from the hotel's 2 acre property.
Onsite, there are a great deal of dining options to choose from, including two award winning eateries. Perrotts Garden Bistro is the hotel's popular casual dining venue with a menu inspired by world food trends and the best local produce. Hayfield Manor's dramatic and glamorous signature restaurant, Orchids, features the finest in contemporary Irish cuisine. The Manor Bar is the perfect pub style spot to enjoy a pint without having the leave the hotel. 
Time at The Beautique Spa is a great addition to the luxurious Hayfield Manor experience. In addition to elegant treatment rooms, The Beautique facilities include a 16 metre swimming pool with poolside loungers, relaxation room, steam room, sauna and outdoor jacuzzi. A fitness studio is also available to hotel residents.
The Kingsley Hotel and Spa
The Kingsley Hotel & Spa is a luxury 4-star hotel located just a stone's throw from Cork City, 30 minutes from Kinsale. Set in a stylish and distinctive location, the hotel boasts 131 elegant spacious guest rooms, each of which exude a sense of modernity with a hint of old-world luxury.
Overlooking River Lee, the K Lounge is a great place to enjoy a light lunch or classic Afternoon Tea right in the hotel. For a cozy spot, the Fishers Bar offers a large selection of Irish beers and whiskeys or even more local range of Corkonian brews. Try some of the hotel's other eateries like The Springboard and Fairbanks Restaurant for more award-winning food.
The Spa at The Kingsley offers an extensive treatment menu to rejuvenate body and mind. Throughout The Spa's two floors, guests will find a world class Thermal Suite, spacious Health Club, and outdoor hydrotherapy pool.
Perryville House
Perryville House is an elegant and distinctive period townhouse overlooking Kinsale Harbour. Originally built in 1820 and lovingly restored by Andrew & Laura Corcoran, Perryville House is now a warm, gracious and light-filled boutique guesthouse.
Today the hotel welcomes guests from April through October. Each guestroom is uniquely appointed with bespoke luxurious amenities.
With views of the water, the private courtyard garden may be the most tranquil spot in all of Kinsale. Sit back and relax in the on one of the benches in the garden, or take a seat in the Garden Room and Lounge. Feel right at home while enjoying a cup of afternoon tea, freshly brewed coffee, or a pre-dinner drink. A sumptuous breakfast spread is served in the elegant Breakfast Room.