Ireland is steeped with unique culture and local traditions, which is reflected in the food they serve. Whether it is the fortune telling Colcannon dish or beer infused Porter Cake, a visit to Ireland is incomplete without trying some of these top local foods.
Black and White Pudding
Black and White Pudding isn't the kind of pudding you'd eat for dessert. It is an important part of any traditional Irish breakfast served alongside grilled tomatoes, baked beans and eggs.
Pudding is a large specialty Irish sausage made with oatmeal, bread, fat, spices and sometimes pork. It is sliced into patty shaped pieces and is often cooked in the same pan as other breakfast meats and vegetables resulting in a pan full of flavor!  
What differentiates Black and White Pudding is the color and one special ingredient. Black pudding is made very similarly to White pudding, but contains pig blood. When cooked, the blood turns the pudding it's signature black color and makes it slightly sweeter than White pudding.
Coddle
Irish Coddle is a hearty meal made with whatever is available in the kitchen. It is made in one pot and usually incorporates potatoes, bacon, sausage, onions and other savory and flavorful ingredients. Meats are cooked before they are mixed with seasoned potatoes and other vegetables. The homey meal is cooked in broth until everything turns into one cohesive dish resembling a stew. 
Traditionally, it is made with leftovers and any extra ingredients lying around, so there is no one recipe. Instead, Coddle is different every time you have it, which makes it such a unique meal you can try more than once! 
Colcannon
By Pamela of The Directionally Challenged Traveler
Colcannon is a traditional Irish dish dating back to the 1700s. Its first reference indicates that it was eaten on Halloween night. The tradition is that a coin, rag, and stick were cooked inside the dish. Whatever trinket you found in your potatoes predicted your future. A coin meant wealth in the coming year, a rag meant poverty, and a stick meant your partner was going to beat you. Trinkets and their meanings changed over time and by region of Ireland.
Kale Colcannon is the most commonly found type of colcannon. You'll find it on most menus when visiting Dublin. Potatoes are boiled until tender, while butter helps to sweat kale. Boil some milk, add in the kale and potatoes and mash it together. Season with salt and pepper and enjoy!
Corned Beef
By Cath of Travel Around Ireland
One food you must try in Ireland if it is on the menu is proper corned beef. Typically it is a salt-cured brisket of beef, with the curing brine solution also containing pickling spices such as mustard seeds, all-spice, peppercorns and other ingredients. Some recipes use Guinness as well but traditional ones simply use a brine solution containing the spices.
The beef is cured in the solution in a fridge for 7 or more days, after which time it is removed, washed and cooked. The joint can be boiled or baked, with boiling being the preferred method.
Irish corned beef is typically served with cabbage and potatoes, two staples of Irish dinners. It is rare that anything else is served with it in an Irish home. A corned beef dinner is one of the best Irish foods to try in Ireland.
Guinness Stew
By Orla Cullen of Ticket4TwoPlease
Walk into any Irish household during the colder winter months and you will most likely be greeted by wafts of slow cooked meat, onions and broth, simmering away on the hob.
After a few moments of taking in the comforting aromas, an overfilled bowl of potatoes, carrots, lamb and a generous dousing of black pepper will appear, served alongside a fresh pint of Guinness. This is the quintessential Irish Céad Míle Fáilte (a hundred thousand welcomes), and a gastronomic experience not to be missed when visiting the emerald isle.
Originating as a meal of poverty and necessity, Irish Stew has risen beyond its meagre beginnings and is now offered in practically every Irish gastro-pub/restaurant across the world.
With luxurious 20th century additions such as Guinness and the finest local lamb on offer, Irish Stew (or Guinness Stew as it is often referred to) can be best described as a hearty hug in a bowl.
Stop at Ireland's oldest pub in Dublin, The Brazen Head, for both options of traditional Irish Stew or the more modern rich Guinness Stew. Both will have you salivating for more!
Irish Butter
Irish butter is exceptionally creamy and spreadable. The only ingredients you will find on the label are cream, coming from grass-fed cows, and salt. Compared to butter in the United States, it has a higher percentage of healthy, unsaturated fat which gives it its famous smoother consistency. 
Irish butter is used in almost every kitchen in Ireland and is the perfect topping for scones and soda bread. Glenilen Farms has some of the freshest, most tasty Irish butter.
If you ever find yourself near Cork, Ireland you can take a tour of the farm and see the butter, and other dairy products, being made.
Murphy's Ice Cream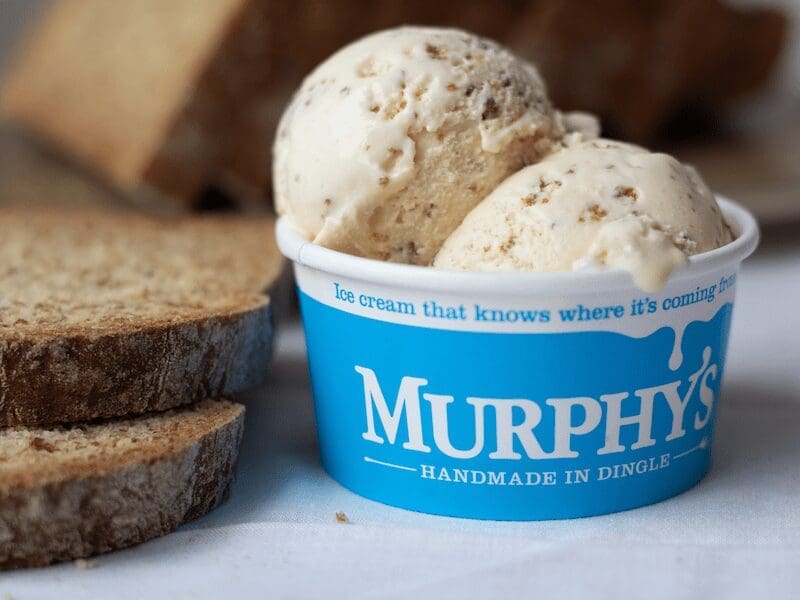 By Lannie of Lannie's Food & Travel Adventures
Ice cream is usually not the first thing that comes to mind with Irish food. But Murphy's Ice Cream is an institution.  There are so many things to love about Murphy's Ice Cream. First, they make the ice cream locally in Dingle, from only fresh ingredients. Fresh farm milk (from a specific farmer in County Kerry), organic sugar, free range eggs. In their signature flavor, they make their own sea salt that comes from the coast off of Dingle.
Their flavors have a traditional Irish flare – Dingle Sea Salt (my favourite!) is their signature flavor. But there are also greats like Irish Brown Bread (delish!) and of course, Irish Coffee (also fantastic!). You can really taste the difference in their natural, local ingredients. The ice cream is so creamy and luscious, but not at all heavy!
Murphy's Ice Cream has several shops across Ireland (Dingle, Dublin, Killarney and Galway), so you'll see their shops on most of your Irish adventures! When it's safe to travel again, Murphy's Ice Cream is a must-eat part of your trip to Ireland!
Murphy's Ice Cream is currently closed due to the Covid-19 lockdown.
Porter Cake
Porter cake is a traditional Irish fruit cake made a few days before it is planned to be eaten. It is often enjoyed on holidays like Christmas and St. Patrick's day. The star ingredient is a porter ale, a popular option being Guinness, which gives the cake its unique flavor. Although the alcohol is cooked off, the cake holds onto the distinct bitter flavor of the beer. 
The bitterness is complimented perfectly by an assortment of dried fruit. Golden raisins, dried cherries and dried currants are all usual additions to the cake, while others include candied peel. Brown sugar and spices like nutmeg, cinnamon, clove and ginger also offset the bitterness and leave the cake with a depth of flavor. Porter cake is best served with Irish butter accompanied by a cup of coffee, or even a porter ale!
Soda/Wheaten Bread
By Cazzy Magennis of Dream Big, Travel Far 
If you're looking for Irish food that brings delicious taste and comfort, then you need to try soda/wheaten bread. Soda bread and wheaten bread are actually the same things, but the ingredients differ slightly in the north and south of the country. Typically they're made using wholemeal, white flour, or both, but in the north, the wholemeal variety is known as "wheaten" bread and is normally slightly sweetened, while the term soda bread is just the white savory form.
Either way, both variations go perfectly with a bowl of traditional Irish stew. Or, it's also a popular breakfast item to have with melted cheese, bacon, or even simply with some Irish butter alongside an Irish fry-up! There's nothing better in the colder weather than a slice of wheaten bread with a hot drink.
You can easily try wheaten bread in any cafe, or restaurant in Ireland as it will be typically be served alongside soup, or stew. Or, you can purchase fresh wheaten bread from a shop and cook it at your accommodation!
Ulster Fry
By Izzy & Phil of The Gap Decaders
If you are road tripping in Northern Ireland, you must try an Ulster Fry. Ulster refers to what was an Irish province of nine counties; six of these are now in Northern Ireland, the remaining three are in the Republic of Ireland. Fry refers to a delicious plate of breakfast goodies, mostly fried and all very traditionally Irish.
A true Ulster Fry consists of thick back bacon, fried eggs, pork sausage, black pudding and, the real key ingredients of potato bread and soda farls (quarters) – yes, two types of bread!
The potato bread is always fried in butter and the soda farls may be griddle-baked or toasted. Baked beans, fried tomato, mushrooms and white pudding can also be added, but these are not traditional elements of an Ulster Fry. Tuck in with a strong cup of tea and enjoy!
Additional reporting by Kaitlin Tracy.