London knows how to put on and host a great show for travelers of all ages with its rich history, spectacular museums, great art galleries, world-class restaurants, quirky bars, and high-end properties. In fact, luxury apartments in London are known to be among the poshest in the world.
There's always something mesmerizing and exciting about day trips in London. The historical landmarks tell the finest royal stories in palaces, including the masterpieces of master artisans, musicians, and academicians in museums. Every part of the city is worth reminiscing about, showcasing Londoners' rich culture and tradition. So, what can tourists expect from the best day trips in the city of dreams?
There are many things to do in London, from basic city tours to adventure activities. We could always use some countryside splendor and seaside charm to round out our trip. When planning your next itinerary, look to these cities and towns across the UK, and even locations in France for some of the best day trips from London.
Before traveling through the United Kingdom, look to ensure your UK Tourist Visa.
Bath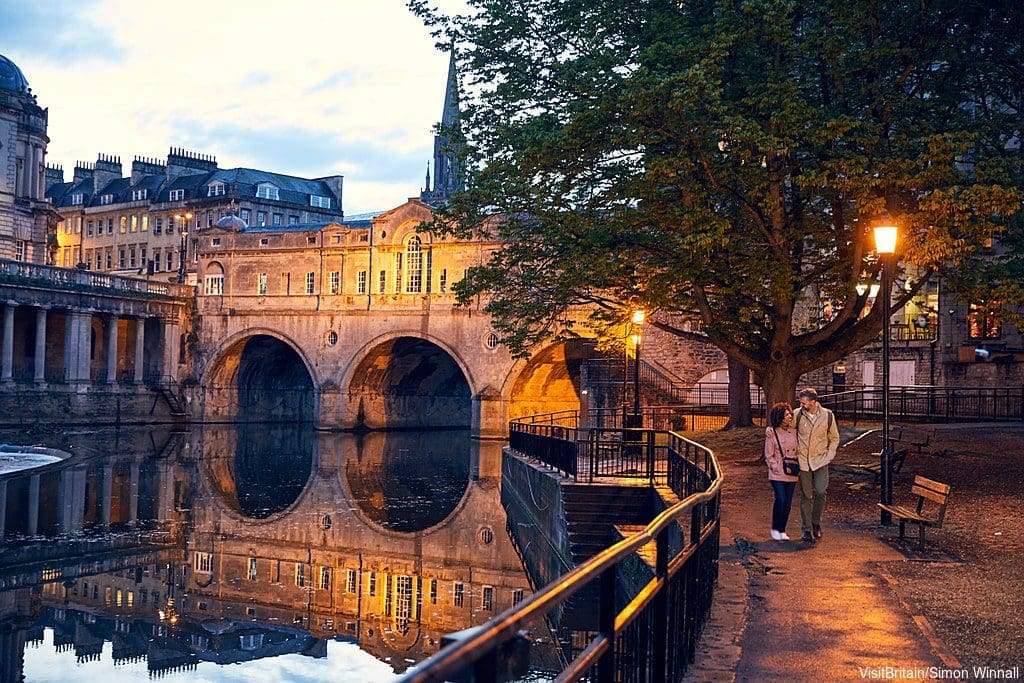 By My Travelogue by Bhushavali
Bath is a UNESCO World Heritage Site and an easy day trip from England by train. The city of Bath, England, gets its name from, of course, the Roman Baths! A humongous Roman temple was built in Bath in 1st C CE and the city was further developed with the thermal baths and fortification walls in 3rd C CE. The Bath Abbey was built in 7th C CE. The entire city is very small and can be easily visited by a walking tour on a day trip from London.
The first stop of the city would be Bath Abbey. It is possible to see portions of the historic church below the nave of the current architecture. The current church was built in early 19th century but unfortunately, portions of it was severely damaged during the World Wars and were rebuilt.
The next stop is the most important, Roman Baths. The thermal bath is indeed hot with steam vaporizing above it. However, it is forbidden to touch and get into this water. This is a museum and is protected as it is. The museum also gives an insight into the history and anthropology of the city since Roman times. There is also a re-creation of the Roman buildings as well as a display of the artifacts excavated here.
It is very much possible to take a bath in the natural thermal waters of the city at the Thermae Bath Spa. Pre-booking is required for this though. There are a couple of museums here including Sally Lunn's Museum, Jane Austen Centre and Fashion Museum. Watching sunset at Royal Crescent would be the perfect way to wrap up the day and staying at Royal Crescent Hotel & Spa would be perfect for a perfect view of the city & sunset!
Brighton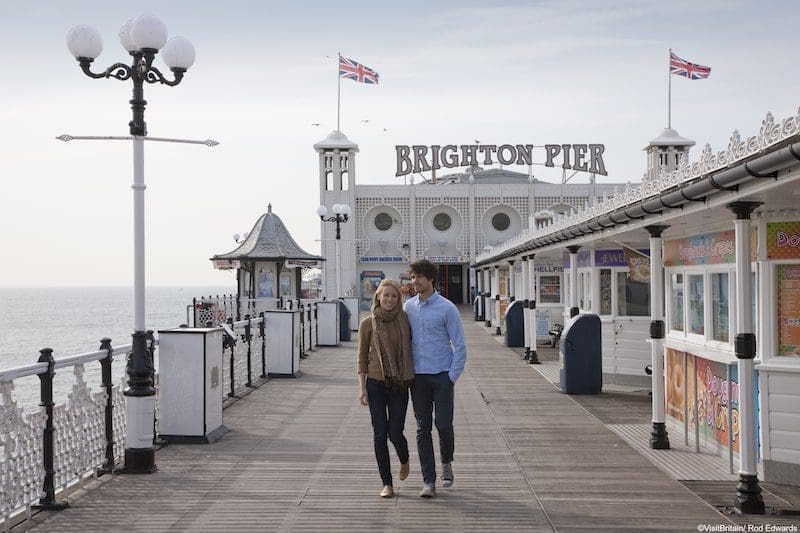 By Anjali Wadhwa of Cheerful Trails 
One of the most popular day trips from London is the vibrant beach town, Brighton. The magnificent Brighton Pier overlooking the shores of the pebbled beach of the city is lined up with cute cafes, food stalls and cocktail bars. Get some fish and chips and relax at the Brighton beach.
Enjoy by indulging in some fun water activities such as kayaking, surfing and boating. Ziplining over the Brighton beach is also a cool activity to do in Brighton. There are many arcade games and amusement rides too at the fairground located next to the Pier. Ride the world's tallest moving observation tower, the i360. Enter the viewing platform at the ground level; soak in the stunning panoramic views of Brighton's coastline while the i360 glides to the highest level.
Make a visit to The Lanes. It's the buzzing city center with narrow streets having plenty of stores, elegant cafes and delicious multicultural cuisines served at many restaurants. For seafood, Riddle & Finns is the place to have a hearty meal.
If you are looking for vegan or vegetarian food, Food For Friends is the stop for you. The splendid Royal Pavilion that has a history of serving the royals as a seaside retreat is another must visit in the city. The interesting architecture features a dome and many minarets. Do not miss out visiting North Laine, one of the most picturesque shopping streets featuring wall arts and little arcades to walk through.
Brighton is easily reachable within one hour from London by train or car. If you are planning to spend more than a day in Brighton, stay at the iconic Grand Brighton hotel.
A day trip to Brighton from London offers epic adventures, a hippy beach pier, stunning seaside shores, artsy streets and great eateries that makes up for an ideal British beach holiday.
Bristol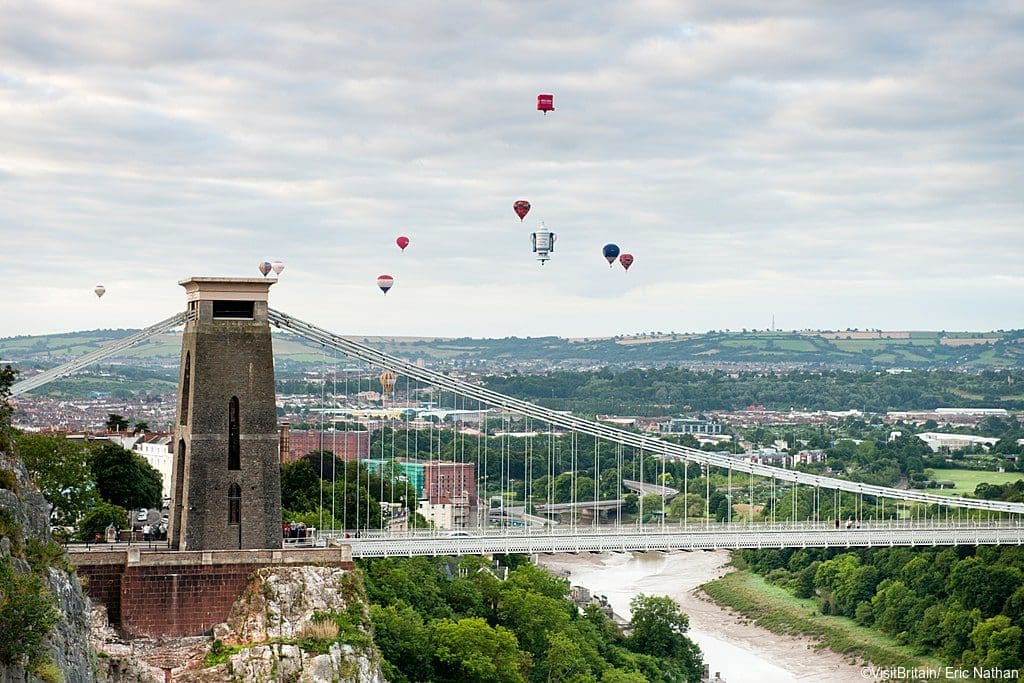 By Kitti from Kitti Around the World
Located less than a 2-hour train ride from London is the beautiful city of Bristol. Whilst the city is probably not on everyone's radar, it's one of the UK's most popular tourist destinations. It has a rich maritime history, amazing architecture, vibrant art and culture, but most importantly Bristol is a green city. It is the ONLY UK city that won the 'European Green Capital' for 2015. In addition, Bristol was one of the first cycling cities in the UK.
The best part about Bristol is that you can do and see plenty for free, making it ideal for budget travelers. You can just walk around the city and find stunning and colourful buildings and street art wherever you look. The most popular one is Cliftonwood Crescent. You can have a picnic at Brandon Hill Park and climb the Cabot Tower for a panoramic view of Bristol for free.
If you're a plant lover, then you should visit the university's botanical garden filled with at least 4500 plant species. Whilst on the topic of plants, why not enjoy a meal at the cutest, most Instagrammable cocktail bar, The Florist.
However, one area you MUST visit on your trip to Bristol is Clifton Village. It's an artistic village and considered the most beautiful shopping area in Bristol. Clifton Village has some iconic features such as the famous Clifton Suspension Bridge, the Observatory and Bristol Zoo offering something for solo travelers, couples and families.
One day might not be enough to explore all of what the city has to offer. So, if you decide to stay overnight you can find a place in the Old City area ideal for first timers, or for families, you can look around in the Clifton district for a quieter stay.
Cambridge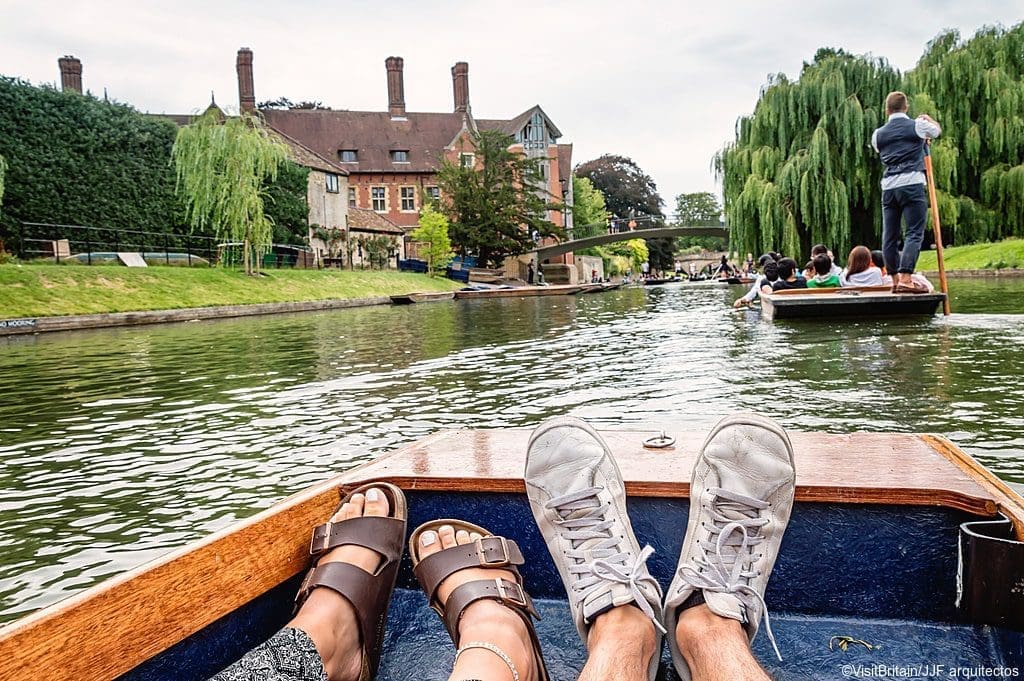 By Anisa of Two Traveling Texans
Cambridge may be best known as the home to the second oldest university in the English-speaking world, but the city has much more to offer its visitors. You will just be able to scratch the surface in a short visit.
If it's nice weather during your day trip to Cambridge, you must go punting on the Cam River. Punting uses a boat that is similar to a gondola which is steered using a pole instead of an oar.  You can try to punt yourself or hire someone else to do the punting. It's the best way to explore The Backs where you can see some of Cambridge's most prestigious colleges.
Speaking of Cambridge University, you will want to visit at least one of its 31 colleges while you are there. If you can, visit King's College and see its famous chapel started by Henry VI. Alternatively visit the Wren Library at Trinity College which has several priceless books. Additionally, the University has eight museums that are open to the public for free.  The most popular are the Fitzwilliam and the Museum of Archeology and Anthropology.
For your lunch break, stop into the historic Eagle Pub. It opened in 1667 and is best known as the place where Francis Crick announced that he and James Watson had "discovered the secret of life" after they produced their proposal for the structure of DNA. Be sure to also check out the back room filled with graffiti from men that fought in World War II.
It's easy to
visit Cambridge from London
as it's only an hour train ride away from Kings Cross Station. Many of the city's attractions are within walking distance of the train station so it's ideal for a day excursion on public transportation. If you want to stay for the night, the University Arms is a beautiful, centrally located option.
Cardiff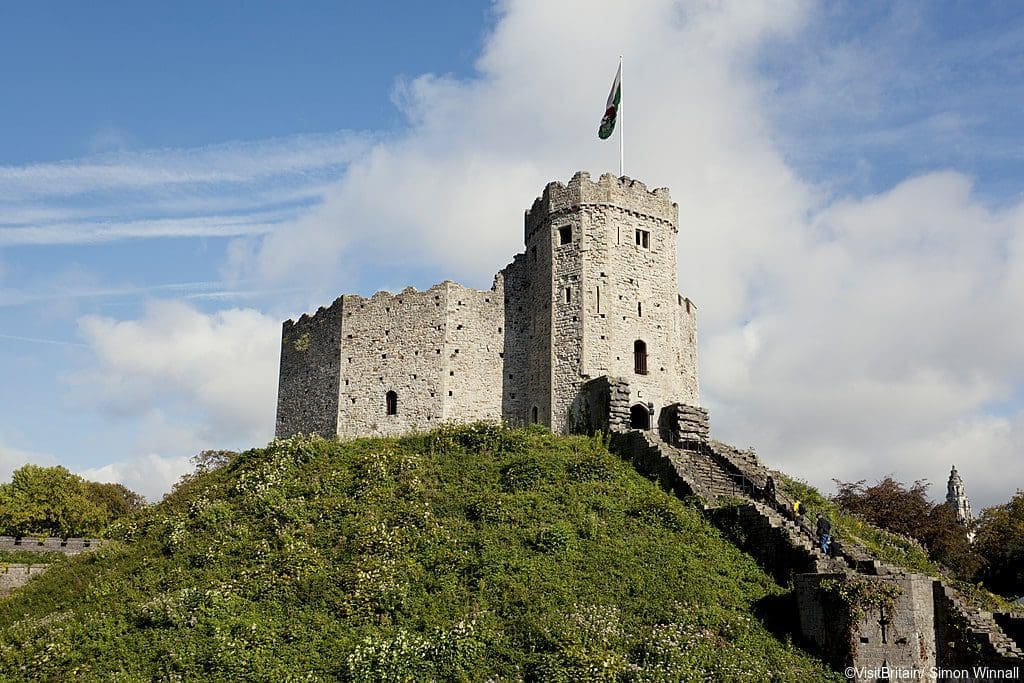 By Italian Trip Abroad
Cardiff, it's the Capital of Wales, away just a few hours from London. Keep in mind that you are crossing a border when taking your day trip from London, however, it's not a proper one, being in the United Kingdom.
It's easy to reach Cardiff from London, by bus and train, in the best sustainable way. The city on the coast it's often overshadowed by the UK cities, and so might be less touristy, which in some way it's an advantage.
If somebody tells you that Cardiff doesn't have much to offer a traveler, don't care, go and explore yourself. Spend even just one day in Cardiff and you will change the idea. Cardiff has a beautiful city center, which it's pretty small and will take you from the Castle to the seaside.
While in winter the city center and the narrow streets are the core of the local life, in Summer it's the seaside that attracts tourists and locals enjoying the sunshine and the good vibes. Exploring both you will have a clear idea of what Cardiff is and it's a style quite noir.
The Cardiff Castle might be the first attraction you see arriving in town. A stone fortress with many attractions inside, the prettiest one it's a rooftop garden which it's included in the tour of apartments.
Cardiff food scene it's all rotating around its local market. The Cardiff Central Market , open since the 1700s, hosted in a Victorian Building today welcomes hundreds of traders from the nearby areas. Walking through the Cardiff Bay you will enjoy the beautiful Norwegian Church and the old docks. Many tours are running regularly from Mermaid Quay and Penarth Barrage and typically last around 45 minutes.
If you are willing to stay overnight in Cardiff, we suggest you find an apartment or hotel near the seaside, which it's the best scenic view of the city. Just behind the Wales Millennium Centre, there are many hotels worth trying.
Cliffs of Dover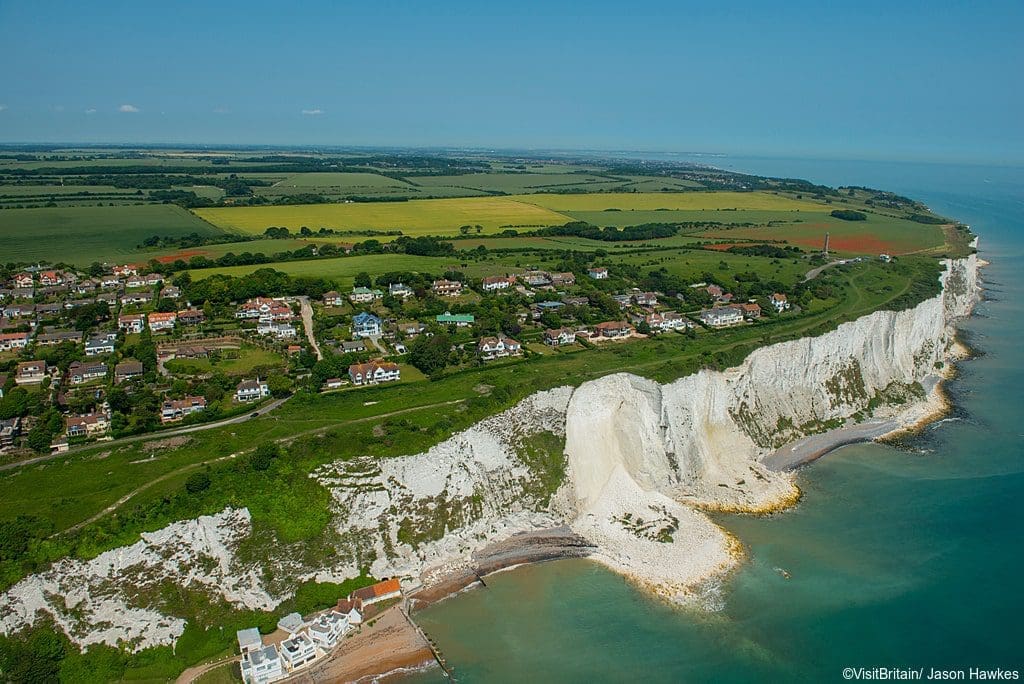 By Anuradha from Country Hopping Couple
White Cliffs of Dover are naturally formed high chalk cliffs that are located at the very end of southeast, overlooking the English Channel. On a clear day, it is possible to see the far-stretching views of the French coastline. The cliffs stretch 8 miles along the Kent coast, making it one of the ideal choices for coastal walks.
White Cliffs is one of the stunning National Trust attractions in England. They are also part of Kent Downs which is a designated Area of Outstanding Natural Beauty.
The geological importance of White Cliffs are that they were formed millions of years ago from the sediments of calcium carbonate. Owing to which, the colors of the cliff are white. Historically, the cliffs have been acting as a natural defense for centuries, right from Roman era to 20th-century wars. It is possible to explore the underground tunnels which were constructed during WWII.
The chalk grassland above the cliffs also acts as a natural habitat for flora and fauna. From spotting Exmoor ponies to fluttering butterflies to bird watching, the cliffs are iconic!
The cliffs provide endless walking opportunities that suit all type of fitness levels. A 2-mile walk to South Foreland Lighthouse from White Cliffs Visitor Centre is a must-do activity. For a challenging walk, take the 8-mile route to St. Margaret's Bay. Take a refreshment break in Mrs. Knott's Tea Room at South Foreland Lighthouse.
White Cliffs of Dover is only 77 miles away from London and makes for a perfect day trip from London. Whether you choose to drive or take public transport, you can reach White Cliffs within 2 hours.
The Cotswolds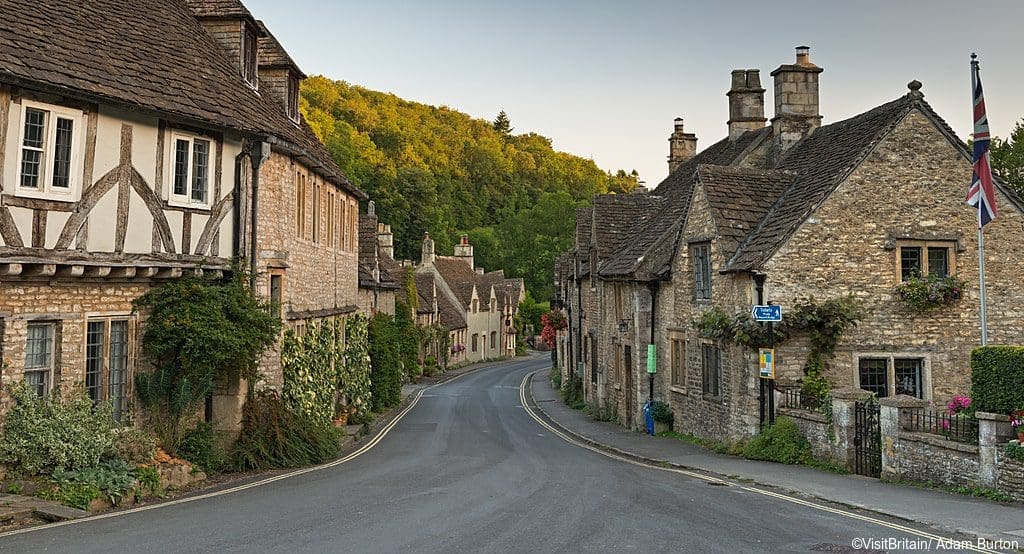 By Fiona of Traveling Thirties
The Cotswolds is one of the most (if not the most) picturesque areas in the United Kingdom and perhaps Europe.
From driving down old English lanes, snapping pictures in front of perfect stone houses, indulging in a clotted cream tea to visiting the spa in Bath there are more than enough things for you to choose from for your day trip.
The Cotswolds span over 2038km and several counties such as Oxfordshire, Warwickshire, Gloucestershire, Wiltshire and Worcestershire. Due to this, it is best if you hire a car to make the most of your trip. You can either hire a car in London or get the train to Oxford or Gloucester and hire a car from there.
There are also so many villages to visit that you might want to do some research to find the best villages to visit in the Cotswolds.
However, you don't want to miss Arlington Row in Bibury, this has been named the prettiest street in England, Bourton on the Water has some beautiful cafés and restaurants and Stow on the Wold is gorgeous.
Why not stay the night at Victoria House in Stow on the Wold? It is an old Victorian building just off the main square and the complimentary fudge is a beautiful touch to this stunning accommodation.
If you have a little longer you might always want to also check out the Broadway Tower, Blenheim Palace and The Roman Baths.
Disneyland Paris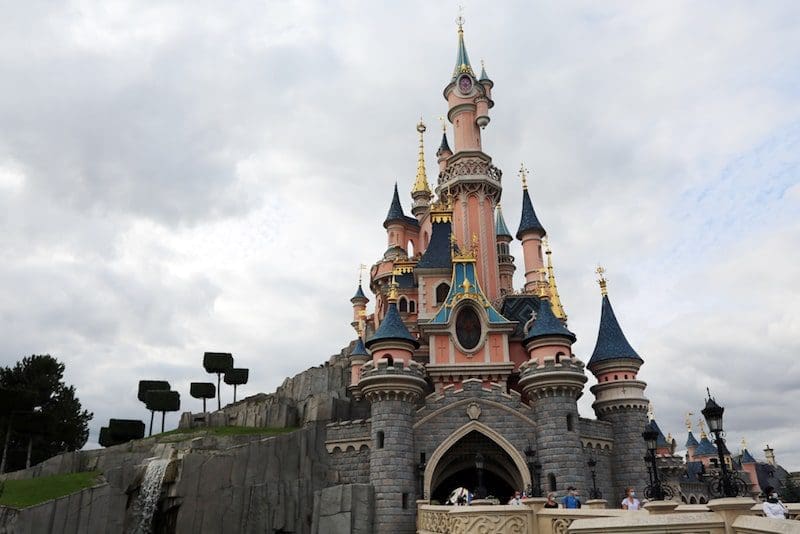 By Elisa from World in Paris
If you don't mind traveling abroad, a trip from London to Disneyland Paris is a fun way to spend a day out of the British capital. This is possible thanks to Eurostar trains that travel from London St Pancras train station to Paris Gare du Nord train station. The train journey from London to Paris only takes 2 hrs and 30 min plus there's an extra train to Disneyland Paris (55 min), so if you take one of the first trains leaving London, you are set for a fun day trip to Disneyland Paris.
In Disneyland Paris, you will find two parks: Disneyland Park & Walt Disney Studios Park. Disneyland Park is the classic park with the Disney characters like Mickey Mouse, Cinderella, or Frozen, while Walt Disney Studios Park has a more general moviemaking theme – but it's still very Disney. For a day trip to Disneyland Paris, there's time to only one park.
If possible, book your day trip to Disneyland Paris on weekdays. During the week, you will spend less time waiting in line and enjoying the rides. Also, avoid holidays or long weekends when possible. Another option to skip the lines in Disneyland is the Disneyland Paris Fast Pass, but this pass only works for a few rides.
To get the most out of your day trip to Disneyland Paris, choose a picnic or a quick eat for lunch rather than a proper meal in a busy restaurant. Finally, don't miss the different shows and Disney characters wandering around the park during the day!
Durdle Door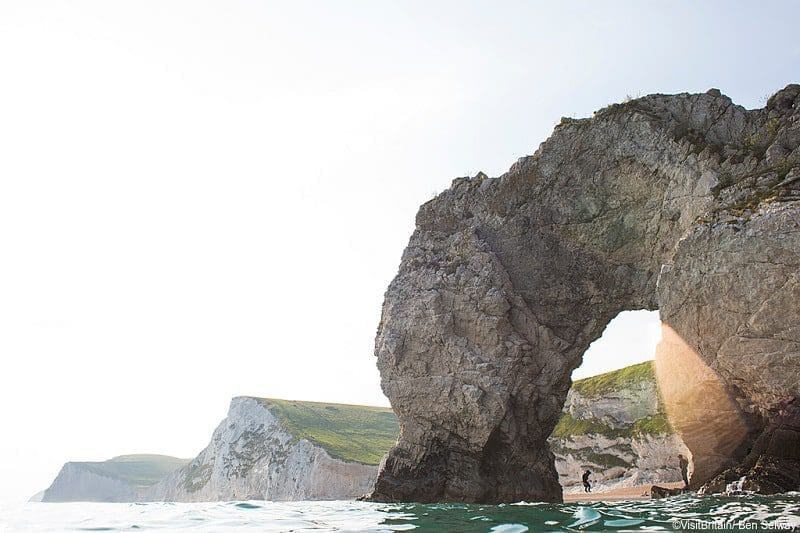 By Matt and Lorna of Two Souls One Path
Durdle Door is an iconic British landmark on the Dorset coast, a short drive from the city of Weymouth and a two-and-a-half-hour drive from London.
An area of outstanding natural beauty, Durdle Door attracts visitors from around the UK and beyond with its crystal blue waters and charming beach that surround the natural rock arch. Perfect for a summer day trip to the seaside with friends or family.
There are many fantastic places to spend the night in the area, but we would recommend the Limestone Hotel, located just off the B3070 before Lulworth Cove. The closer you get to Durdle Door itself, the more expensive the accommodation options seem to be, so we advise staying closer to Lulworth Cove. 
Lulworth Cove is a fantastic place in its own right and has a few more accommodation options close to the sea, as well as a quaint little café where you can grab brunch by the tranquil waters of the cove. It is also an ideal place to start your day trip to Durdle Door. Close to the large carpark you will see signs to indicate the start of the coastal walk. From here you can follow a path along the stunning Jurassic coastline for around 30 minutes until you reach the unmissable Durdle Door and the two beaches either side. Please note, the initial climb can be quite tough so take some sturdy shoes as the climb might prove difficult in sandals. 
The beaches here can be very crowded during the summer months especially, so we recommend visiting during the later stages of the summer season.
Greenwich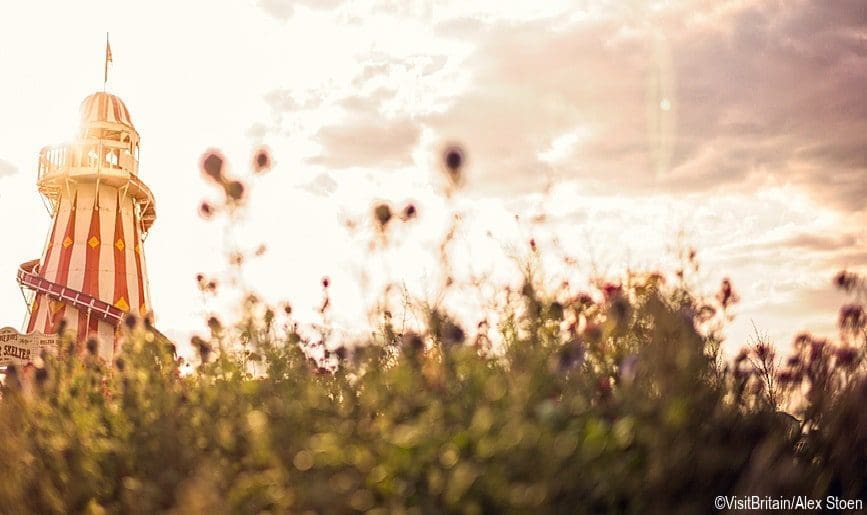 By Neha from Travelmelodies
Greenwich, one of the best cities in UK with kids, is a borough in London to the south of River Thames is 20- 30 minutes from London and makes for a great day trip.
Known as the home of the Prime Meridian known as the famous GMT or the Greenwich Meridian Time. A trip to Greenwich is incomplete without a visit to the Royal Observatory, where the Prime Meridian passes through. It is common to take a pic by standing with one foot in the Western hemisphere and other in the eastern hemisphere across the Prime Meridian.
There is a huge telescope and many historic clocks that were used to clock the time that are an interesting watch.
Royal Observatory is a part of Greenwich Park, a huge Royal Park. The observatory provides a beautiful view of Greenwich Park and the National Maritime Museum and gives some mesmerizing vistas of the perfect green landscape and the London skyline.
The Greenwich Park also has a Deer Park, Queen's House apart from a big children's playground.
Another great way to soak in the beauty of the River Thames and London skyline is the Emirates air Line Cable car between the Greenwich Peninsula and Royal Docks.
Double Tree by Hilton Greenwich is one of the best hotels to stay.
Hever Castle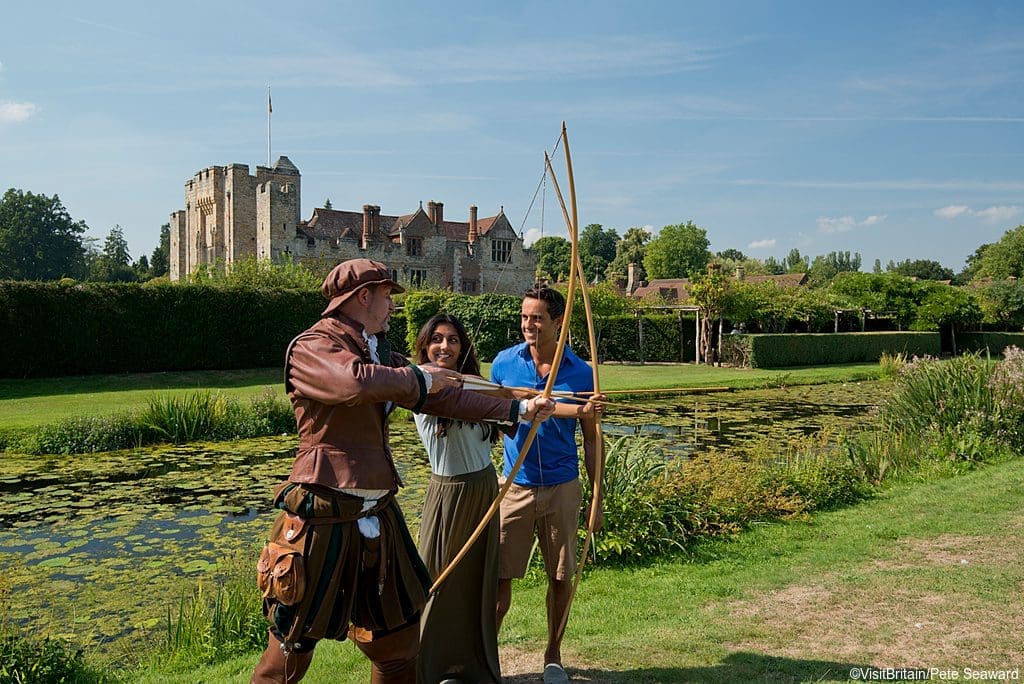 By Joanna of The World in My Pocket
If you want to experience a historical day trip from London, go to Hever Castle in Kent, the childhood home of Anne Boleyn. Hever Castle is a beautiful Tudor mansion, with some original wooden elements that date from the 13th century when Henry VIII was courting Anne.
Visiting Hever Castle is not just a relaxing day out but also an insightful history lesson. Whilst the castle has been renovated several times during the years, with new modern wings attached, the upper floor still tells the story of Anne, the queen Henry VIII wrongfully beheaded for treason.
Anne Boleyn wasn't just the second wife of Henry VIII. She also played an important role in the breaking of the Anglican church from the Vatican. Anne was also the mother of Queen Elizabeth I, the last Tudor monarch who led England in a prosperous and peaceful way.
The estate at Hever Castle is massive and it will take the entire day to explore. The gardens are worth strolling around, at a relaxed paced, because they are some of the most beautifully landscaped in the South East of England. The estate has a lake and plenty of woodland, with trails for adults and children.
There are different events organized for children, such as butterfly lookouts or archery lessons. You can also rent a boat and row on the lake.
Visitors often bring picnics and enjoy them on the estate. The Tudor period fans can also spend the night at the castle, in the wing built by one of the previous owners, William Waldorf Astor, transformed into a luxury hotel.
Getting to Hever Castle from central London is pretty straight forward. There are many direct trains leaving London Bridge station towards Uckfield, arriving in Hever an hour later. The castle is located one mile away from the station.
Leicester
By Mark from Wyld Family Travel
Leicester lies in the east midlands, home to a little over 350,000 people. The city is 105 miles away from London and easily reached by car via the M1and public transport. Leicester was most well known in recent years for its football team the Foxes. The city pulled off a miracle when winning the Premier League title in 2016.
Today, Leicester draws tourists to multiple attractions in the city center. You can visit the National Space Museum, which is full of rackets and spaceships. The former King of England Richard the 111 was discovered recently buried in Leicester. The lost king was found buried under a car park in Leicester city center. Leicester Cathedral today houses the remains of Richard.
Leicester has a long history dating back to Roman times. The remains of the baths of Roman Leicester can be seen at the Jewry Wall. Roman Leicester was an important point on the road north to Lincoln for the armies of Rome.
Lille, France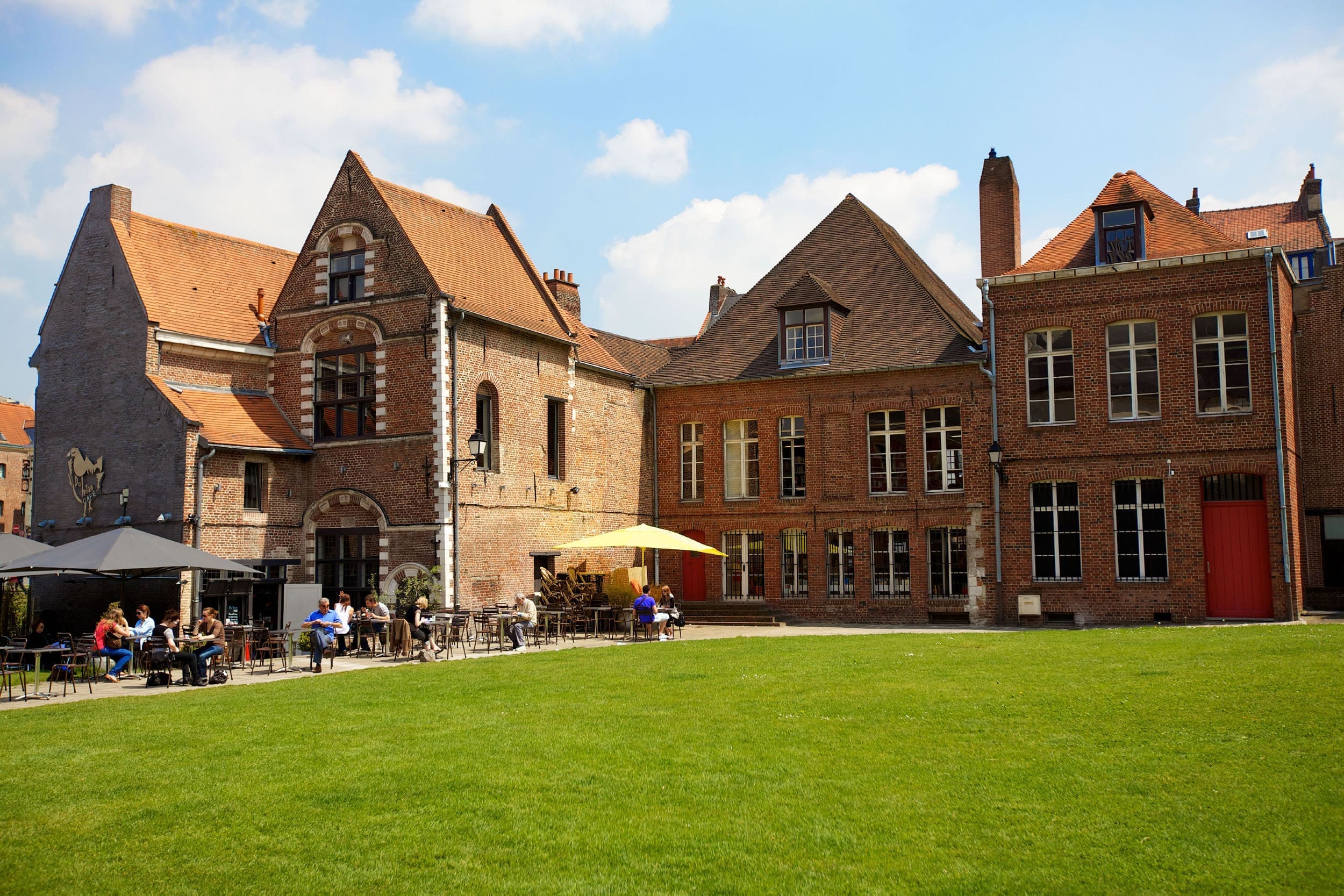 By Elisa from France Bucket List
Lille is a lovely French city to explore on a day trip from London by train. The so-called capital of French Flanders and the Hauts-de-France region's capital is a lively city with a rich heritage and one of the best places to visit in Northern France.
The journey from London to Lille takes 1 hr 22 min by Eurostar train from London St Pancras International. This means that you have a full day to enjoy this beautiful city and get a taste of France.
In the Middle Ages, Lille was a prosperous fair town part of the Country of Flanders. The city still has many Flemish influences of that period, especially in the architecture and gastronomy. Indeed, Lille's historical buildings are not much different from other cities in Belgium or the Netherlands.
A stroll around Vieux Lille is always a must. Admire the city's cobblestoned squared lined with elegant Flemish houses and slender belfries. Amongst these buildings, La Vieille Bourse outstands, the former city's stock exchange is a wonder!  Also, the churches of Notre Dame de la Treille and Eglise Saint Étienne are worth a visit, each one unique in its own style.
Other places interesting to visit in Lille are the Palais des Beaux-Arts and the Citadel designed by the military genius Vauban.
Finally, don't miss to taste some local delicacies in Lille, like frikadelle, moules-frittes or the Carbonade flamande, a kind of boeuf bourguignon where the beer replaces the wine. For desserts, we recommend the little meringue cakes covered in fresh cream and chocolate shavings
Lincoln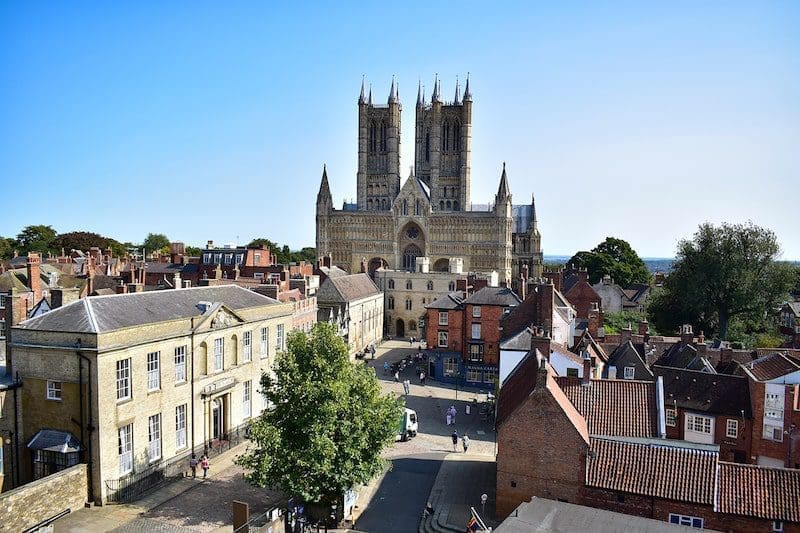 By Alex Trembath from Lincoln and Beyond
Lincoln, one of the UK's least-discovered cities, makes for an excellent alternative day trip from London. As the great travel writer Bill Bryson observed in his classic book Notes From A Small Island, there are few places that have played such an important role in history yet remain so obscure.
During Roman times Lincoln was one of the country's most populous cities, and in medieval times it flourished. Lincoln Cathedral was the world's tallest building for over two centuries until the main spire collapsed in 1549, while Lincoln Castle was built in the 11th century by none other than William the Conqueror. Both buildings still stand today and make up the defining features of the city's skyline.
Among the many captivating things to do in Lincoln, you can see one of the four surviving original copies of the Magna Carta, browse characterful independent shops on the narrow cobbled Steep Hill, and hang out on the Brayford waterfront, the UK's oldest inland harbor.
The city also has a thriving food and drinks scene, with a mixture of traditional local eateries serving food sourced from Lincolnshire farms, and various international cuisine options that have burgeoned since the university opened in the 1990s. Make sure you try one of the famous tea shops – Stokes High Bridge Café is a lovely option, set in one of the city's iconic medieval buildings.
You'll need to make an early start for a day trip; the train journey from London to Lincoln takes around three hours. To make a weekend of it, you could stay at one of the city's friendly independent guest houses. The Poplars is a conveniently located option in the city center, while Creston Villa Guest House is set in a beautifully decorated Victorian building about 20 minutes' walk from the train station.
Longleat
By Nesha of Niche Travelling
If you're looking for something spectacular to fill a day in London, then you have to visit Longleat Safari Park. Only a 2-hour drive from London, this unique place has something for everyone, whether you're a little kid or a big kid.
Longleat house was built in 1580 by Sir John Thynne, and to this day his descendants still call it home. This house is found in the main square of the grounds along with beautiful gardens, shops and restaurants. In this area, you can also find animal enclosures such as koala creek and family farmyard.
Although this area is packed with things to do, it isn't what Longleat is best known for. Just across from here is its famous drive-through safari. This is where you will get to come up close and personal with exotic animals such as rhinos, lions, zebras and even monkeys (if you're brave enough). The monkeys are notorious for jumping on your car and can sometimes damage it, so there is a bypass lane if you would like to steer clear. Don't worry if you don't have a suitable car for the park (soft-top or motorcycle) you can book tickets for the Safari Bus which will take you through the whole park. These tickets are an extra £5, and you can get them while in the Main Square.
There are plenty of places dotted around the park to get refreshments or do a bit of souvenir shopping, so make sure you really do use your whole day to enjoy this park. When it comes to booking your tickets, it's best to pre-book online as you can save yourself about 15%.
If you want somewhere unique to stay during your Safari adventure, then check out Hidden Wood Glamping, which is just 6.2 miles away from the park. This off-grid glamping site offers a wood-burning hot tub, gardens and BBQ facilities, just the place for your outdoor adventures.
Mersea Island
By Dymphe of Dymabroad
One of the best day trips from London is one to Mersea Island. Mersea Island is a small island that lies south-east of the city of Colchester. It is a very relaxing place to go as there is a very peaceful atmosphere. There are beautiful views everywhere, wonderful beaches, and Mersea Island is a great place for hiking. There are lots of hiking trails all around the island. This can be a great activity to do as a family. Also, Mersea Island has become very popular because of its colorful beach huts. You find these at West Mersea Beach.
Furthermore, there are some great restaurants on Mersea Island. The area is known for seafood. The Company Shed is the most well-known of these, and it is known for its oysters and other seafood. However, don't expect a fancy place when you go to the Company Shed!
There are also lots of good places to stay. One of the best of these is the Mariners Suite in West Mersea. Mersea Island is also a great place for solo travel, but there are great activities to do alone in London too.
You can reach the island from London in about 1.5 hours. You can either go here by car or train. When you take the train, you first need to go to the railway station in Colchester and then take a taxi from there to the island. When you decide to go to Mersea Island with your own car it is important to check the tide times. The road leading to the island can get covered by water, which makes going to or leaving the island impossible.
Norwich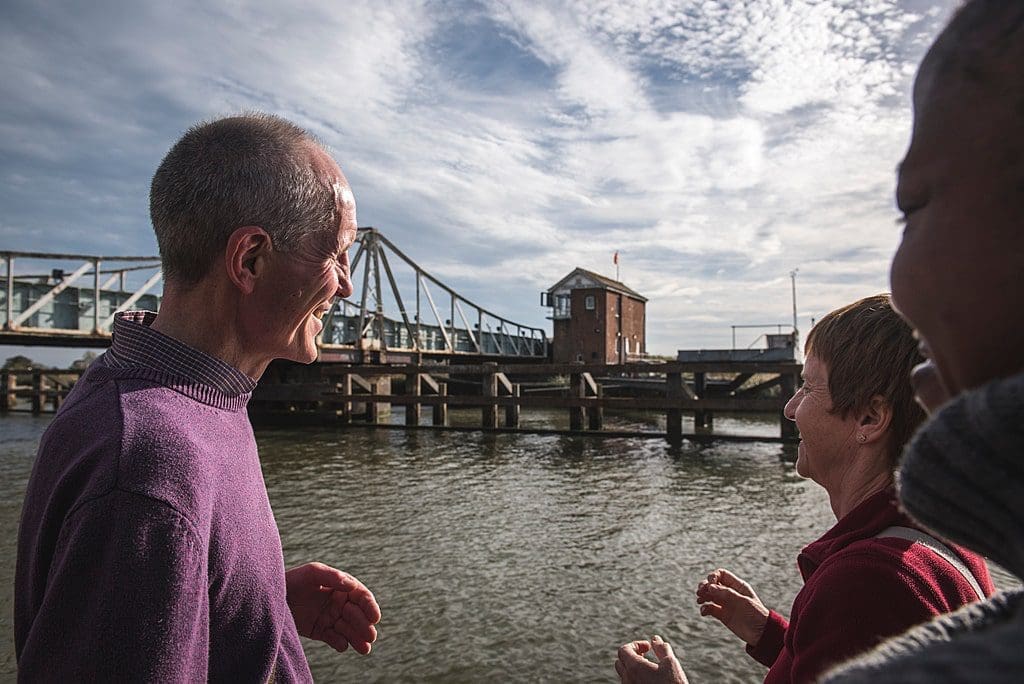 By Sheree Hooker of Winging the World
The medieval city of Norwich is situated around 2 hours by train from London. It boasts incredible architecture and is small enough that it can be visited on a day trip and be explored largely on foot.
It is one of the only cities in the UK to be home to two cathedrals and there is plenty for history buffs to explore. If you are visiting, don't miss an 
underground Norwich
 tour. This tour, run by local charity KindaKafe, takes you into one of the city's undercrofts. This is a great way to get to know more about the history of Norwich and is also fun for children.
As well as exploring the city's tunnels, make sure you cram in a visit to Norwich Castle, the main focal point of the city. If it is a nice day, there is also the option to hire a canoe and explore the waterways.
My favorite thing to do in Norwich is to explore the back streets. The city is home to a number of hidden gems and picturesque corners, making it a wonderful place to wander through.
An ideal place to stay is the Maid's Head Hotel, located in Tombland. This hotel is situated in a picturesque part of the city, being close to all the main attractions whilst sitting a little outside of the main hustle.
Close to the hotel, there are some great eateries, including the Spice Lounge. Specializing in Bangladeshi cuisine, this is a restaurant which will definitely leave you feeling full!
Oxford
By Vanessa Gordon
The architectural city of Oxford is just under one hour away from London by train. Trains to Oxford from London depart from Marylebone Station and Paddington Station. The least expensive way to travel to Oxford is by bus from Victoria Coach Station.
When you first arrive, head the Visitor Information Centre on Broad Street. The tourism office is very helpful when it comes to planning out your day's itinerary. There are so many things to do in Oxford that will easily complete a full day's itinerary or longer. Start your visit with a Walking Tour of the University of Oxford campuses, which most always depart from the Visitors Centre.
Notable sights you will enjoy seeing include Hertford Bridge or Bridge of Sighs (pictured above), Radcliffe Camera, Christ Church, the Oxford Artisan Distillery, and Ashmolean Museum.
Recommended souvenirs for purchasing include the official Oxford Teddy Bear, the Leather Stacking Bracelet, and Harry Potter merchandise. Shop at the Official University Press Bookshop on High Street for authentic University of Oxford merchandise.
For lunch and dinner, we recommend Victors located at the brand-new Westgate shopping mall, and Gee's Restaurant and Bar on Banbury Road. After your dinner at Gee's, you could take the bus to Bicester Village. The bus stop is in front of the restaurant with the famous outlet shopping center less than 25 minutes away.
Should you wish to spend the night in Oxford, take a twenty-minute bus (or taxi) ride to the nearby town of Woodstock on the edge of the Cotswolds. Spend the night at The Bear Hotel, which is also walking distance to Blenheim Palace.
Paris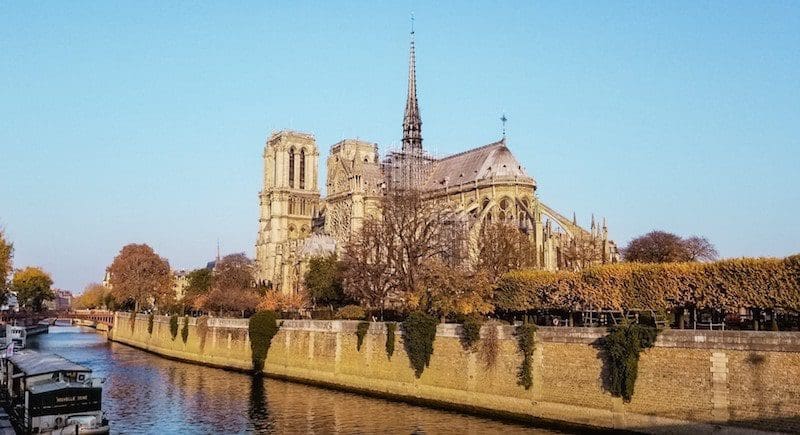 By Eden of Rock a Little Travel
One of the best day trips from London is to Paris, France. You can take a train from central London to Paris in just over two hours and have plenty of time to explore the city. The train leaves from St. Pancras International and arrives at Gare du Nord in Paris. Travel time is about 2 hours and 16 minutes.
Some of the must-see sights in Paris include the Louvre, the Notre Dame cathedral, the Sacre Coeur, and of course, the Eiffel Tower. Be sure to plan your visit to the Louvre and Eiffel Tower in advance, as you will need tickets for both those attractions.
During your visit you'll also want to grab lunch at a local café. Sit outside so you can enjoy the view and watch the city go by.
For dinner, we recommend Le Relais de l'Entrecote to try traditional steak and frites. It's a Paris institution that even the locals love.
You'll also want to stop into a local bakery to try a pastry or baguette. Nobody does fresh bread and pastries like the French, and your kids will love this activity too.
Finally, stop into one of the city's many Champagne bars. It's not as expensive as you'd think and is the perfect way to end your day in Paris.
For those looking to avoid the usual crowds, Paris in the fall is especially beautiful. You'll experience shorter lines at the city's biggest attractions and get to see Paris with its fall colors.
When looking for a hotel in Paris, be sure to book a room near the city center to save on travel time. We recommend the eco-friendly Hotel Gavarni located just a short distance to the Eiffel Tower.
Stratford-upon-Avon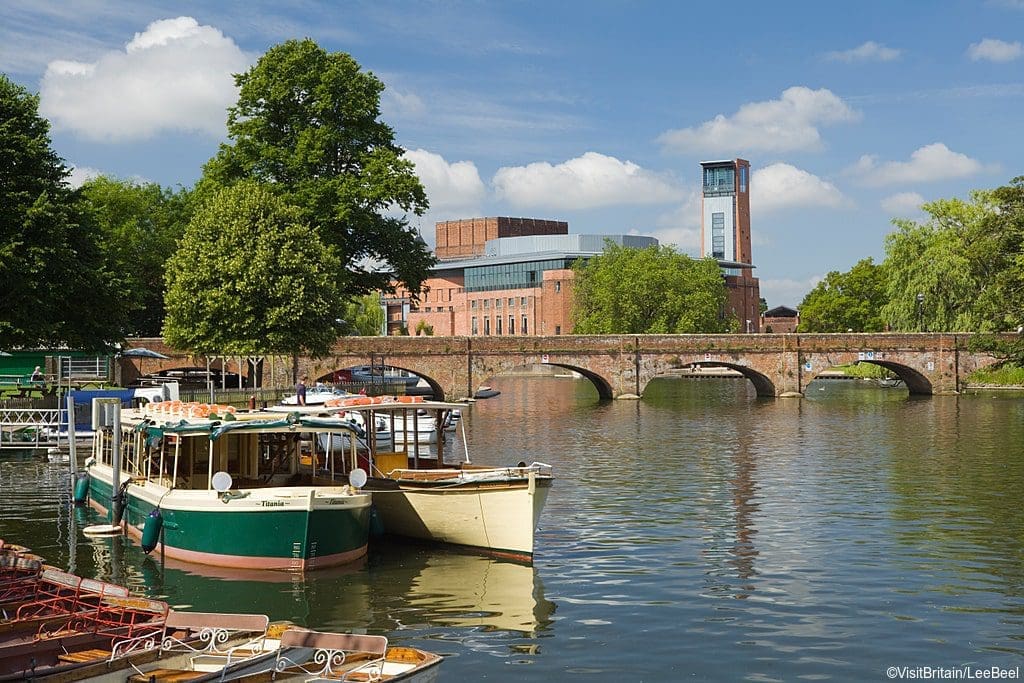 By Richard Meek
In the heart of Warwickshire is Stratford-upon-Avon, a town most famous for its links to William Shakespeare, the famous playwright. Getting to Stratford-upon-Avon is possible by train, however, there are also frequent coaches from the capital.
Because of the town's links to William Shakespeare, there are many attractions related to him to visit. There is the cottage where he lived in the town centre and a short walk away is All Saints' Church, his last resting place. Everywhere visitors turn in Stratford there are links to the great playwright.
Besides Shakespearian attractions the town has many, this includes Tudor World. Tudor World is a museum focusing on the 16th-century history of the UK during the Tudor reign. In the evenings the museum does ghost tours in the timber-framed building it calls home.
The town has many theatres including the Royal Shakespeare Theatre, on the banks of the River Avon. The theatre does many productions of the great man's works, this is a must-visit venue for theatre lovers.
For lunch, there are many options. One is No. 37 Café, a great place for a fresh healthy bite to eat. For a more formal sit-down meal, El Greco, a Greek restaurant, serves fresh delicious food. They also have an outside seating area to enjoy alfresco dining on a sunny day.
The Mercure Stratford Shakespeare Hotel is a centrally located timber-framed hotel. It used to be a 17th century Inn that now offers four-star accommodation.
Warwick Castle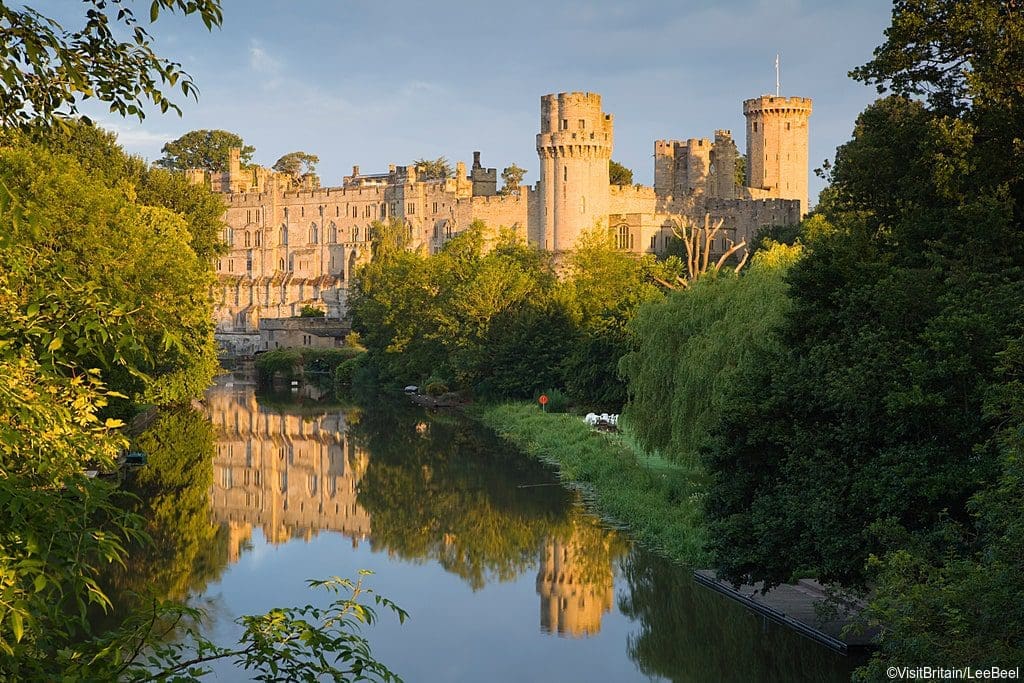 Chrysoula from Historic European Castles
Warwick Castle is a well-preserved medieval castle that stands on a sandstone bluff on a bend in the River Avon. The castle is steeped in more than 1,000 years of history, which is revealed through numerous interactive activities. Visiting the castle is great fun for all the family and is just over two hours by train from London.
There is plenty to see and do, starting with a free tour of the castle. Climbing to the top is great for views and you may well meet a knight, princess, or even the king! There are free story sessions with a princess and the Horrible Histories Maze is fun to tackle, with its First World War bunker and Viking ship.
For those who enjoy scary moments, a tour of the dungeons is available and if you are fascinated by birds of prey, there are the 'Flight of the Eagles' live performances each day.
Having so much fun is hungry work. There are a number of picnic areas at the castle. Alternatively 'Jack's Shack' is a four-minute walk from the castle and serves great snacks and meals.
If you plan to stay a few days, Castle Limes Hotel is a comfortable 19th-century coaching Inn, situated just minutes from Warwick Railway Station and town center and a ten-minute walk from Warwick Castle.
Whitstable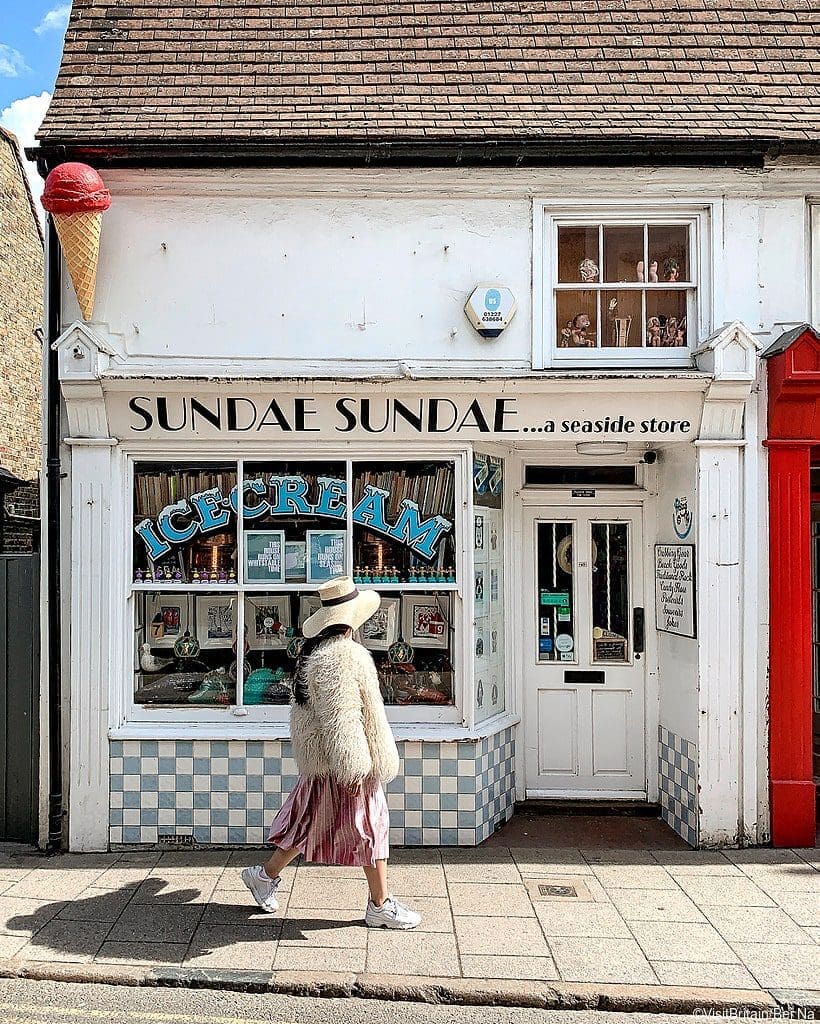 By Caroline Keyzor of CK Travels
Whitstable is a very pretty fishing and harbour town located on the north coast of Kent. You can easily get there from London by train which makes it a perfect day trip. The journey takes around 1 hour, 30 minutes from either London Victoria, London Stratford or London Kings Cross station.
Whitstable is very famous for its rich maritime history and excellent seafood scene. The town is a great spot for food lovers with fresh fish markets and oyster shacks in the harbour, plus some gourmet beachfront restaurants which serve hot and cold seafood platters.
Other fun things to do in Whitstable include coastal walks where you can see the cute pastel-colored beach huts or visit nearby Harbour Street which is lined with independent galleries, craft and antique shops and cafes. History lovers will enjoy Whitstable Castle or a visit to the Whitstable Community Museum & Gallery, which has interesting displays of the history of the local oyster trade.
End your day with a locally brewed beer at the Old Neptune, which is the most famous pub in town. It is located right on the beach, so you can enjoy a delicious pint of oyster stout beer or wine, and a plate of hearty fish and chips with a beautiful view of the sun setting over the ocean.
If you are looking for somewhere lovely to stay overnight in Whitstable then check out Whitstable Fisherman's Huts. They are boutique 150-year-old converted Fisherman's Huts, which are located directly on the beachfront.
Winchester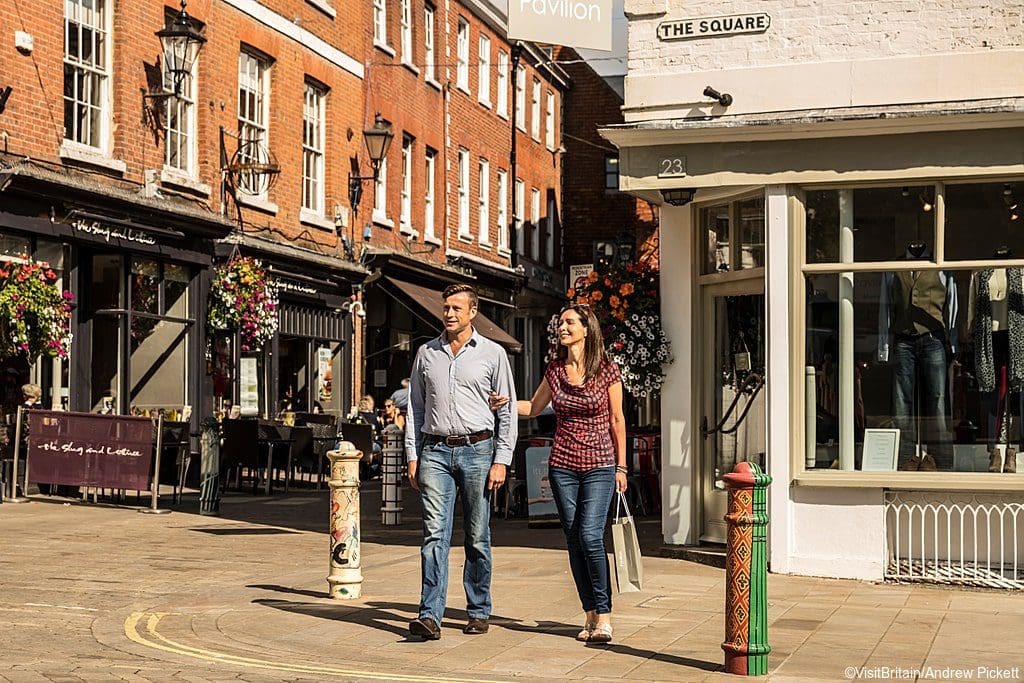 By Kat of Wandering Bird
If you're looking for a fun day trip from London, head to the historic city of Winchester.
This historic city is one of the oldest in the UK and has a lot to see: traditional houses, cobbled streets and one of the most famous cathedrals in the country.
You can get to Winchester easily by driving. From central London, it takes about 2 hours- although the roads are often congested. The distance is 70 miles (112km). There are several Park and Ride spots on the outskirts of the city- it's definitely recommended to park there and get the bus in, instead of trying to park in the city center. If you're on a motorhome holiday, DEFINITELY don't try to drive into the city- some parts are pretty narrow.
Some of the best things to do in Winchester include:
Visiting Winchester Cathedral. This is where author Jane Austen is buried and is also home to one of the oldest bibles in the world
Winchester Planetarium– a great place to lie back and learn about the stars and planets. (Perfect for kids!)
Shopping. Winchester has some brilliant shops and unique boutiques. The high street isn't large (although it is on a hill!) and you can happily pass several hours browsing around
If you're lucky enough to be visiting in November or December, you NEED to head to the Winchester Christmas Market– one of the best in the country.
There are plenty of places to eat and drink in the city. A great restaurant is 'The Porterhouse' which serves a range of foods, including award-winning steak. For a typical British pub experience, the Willow Tree is lovely, although there are plenty to choose from at both ends of the high street.
Windsor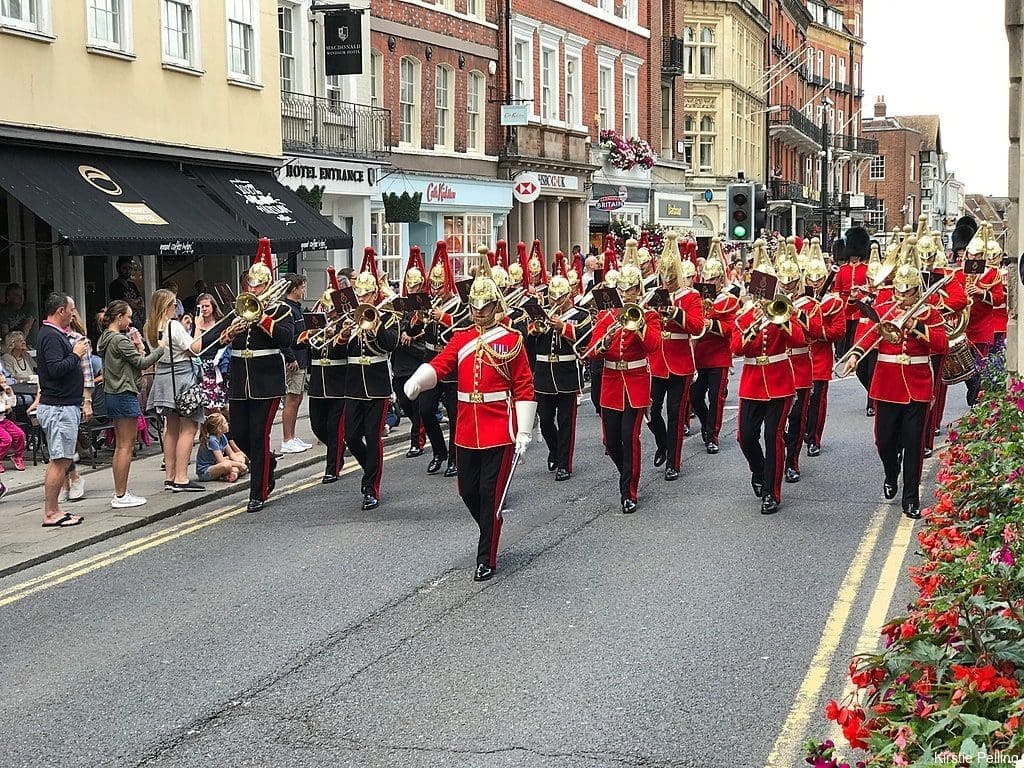 By Neethu of Our Backpack Tales
Windsor is located around 25 km from London towards the south of the River Thames and is one of London's most popular day trips. The beautiful historic town is a must visit place for lovers of history and culture and is similar to Mysore, which is one of the most popular places to visit from Bangalore.
Tourists from all over the world flock to this town to tour Windsor Castle, built in the 11th century, and witness the 'Changing the Guard' ceremony. Apart from this, there is a lot more to explore at Windsor. You can visit the St George's Chapel, the entry to which is included with the Windsor Castle.
Popular activities to engage in while visiting Windsor include:
Walking through the 2.65-mile path of the Windsor Great Park
Watching musicals and plays at the Theatre Royal
Learning about the archaeological backgrounds of Berkshire at the Windsor and Royal Borough Museum
Visiting the 12th century St John the Baptist Church
Enjoying the walking trails of Runnymede through pastures and woodlands
Taking part in the Royal Windsor Horse Show at the Home Park
The Legoland theme park is a must-visit spot if traveling with children as there are various activities for children of all ages here. Fudge Kitchen offers a variety of fudge flavors is another favorite among kids and adults alike. The Mill at Sonning, Bel, and the Dragon and Côte are some of the most loved restaurants to try some excellent home-cooked meals and British dishes in Windsor.
Windsor also has its share of pubs, with Two Brewers, The Boatman, and The George being some of the must-try ones. The Park Farm Bed & Breakfast, the George Inn, and the Goswell House Hotel are some comfortable and budget-friendly accommodations you can find in Windsor.
York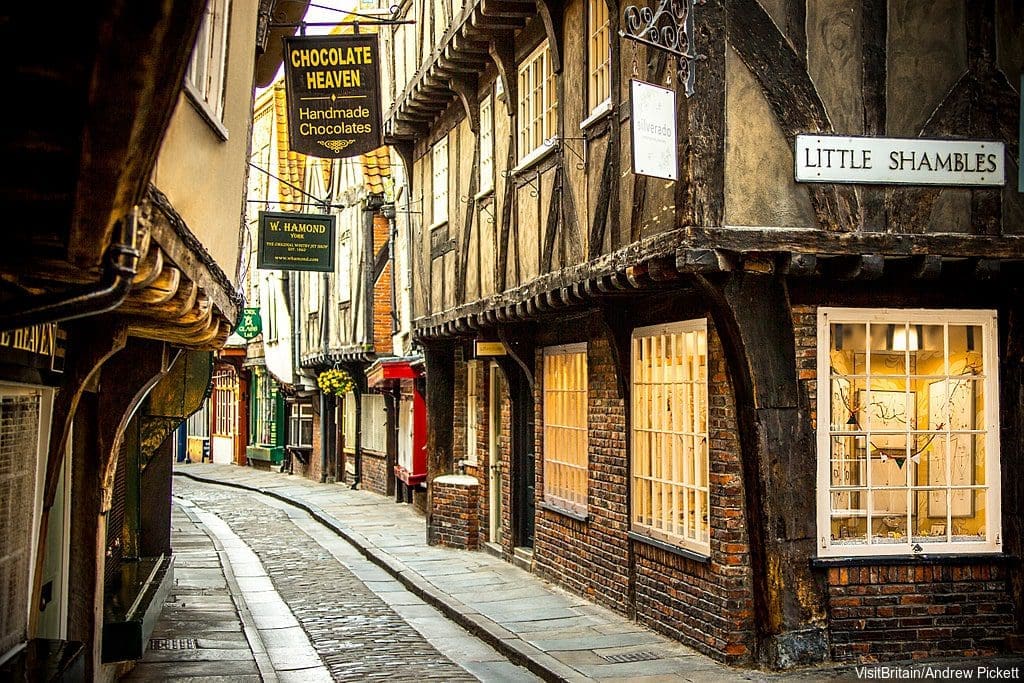 By Annabel Jones
In just over two hours, you can whisk yourself all the way from London Kings Cross station to York in the north of England. York is also a great day trip from Edinburgh.
If you only have a day in this historic city, hop onto the city walls for an elevated tour of York. These medieval walls encircle the city and offer excellent views of some of the main highlights of the city: the River Ouse, the historic streets and the Minster – York's Gothic cathedral.
After your walk, head to the Shambles, York's atmospheric, medieval shopping lane which is packed with wizard-themed shops and gift stores.
If you're unlucky with the weather when you visit York, fear not, there are some world class museums in which to shelter from the elements. York's Viking past is explored at the Jorvik Centre while the National Railway Museum offers a complete history of everything train related. This museum is one of the best things to do in York with kids.
For traditional English refreshments, it's worth seeking out Betty's Tea Rooms. You'll enjoy a proper cuppa and some seasonal cakes and biscuits. For something stronger, try one of the many pubs which can be found all over the city.
If you're lucky enough to be staying overnight in York, the Guy Fawkes Inn offers a very historical experience – the hotel building is where the notorious plotter was born.
Come And Visit London
You've learned the best day trips from London. It's time to book your next vacation, find accommodation, and prepare your travel essentials. Don't forget to bring your coat and umbrella, including your sturdy boots and leather bag for a stunning outfit of the day (OOTD).  
You and your family or friends can visit the heritage sites, museums, theme parks, and other tourist attractions stress-free by hiring a tourist guide. Talk to your London travel and tours agency to find different itinerary plans at the best time of the year.