Less than ten miles away from the city of Oxford is The Bear Hotel in Woodstock. Woodstock is on the scenic edge of the Cotswolds and around the bend from Blenheim Palace, the birthplace of Sir Winston Churchill. The Bear Hotel is one of the distinguished Macdonald Hotels & Resorts.
This historic and charming hotel is one everyone should be familiar with when visiting Oxfordshire any time of year. The Bear Hotel is one of the original coaching inns in old England and is over 900 years old. We were at The Bear over the festive season in December. The interior was cozy and inviting, and the staff members were gracious and hospitable. It is not every day that you make some great conversations with your waiter and the chef about what to do nearby and meet some friendly fellow travelers sitting nearby whist enjoying breakfast.
Family friendly indeed and most ideal for couples young and old, The Bear Hotel is now our top recommended hotel for visiting this picturesque region of England.
Located one hour away from London and within fifty minutes of Heathrow Airport, we recommend staying for two to three nights to gain the full experience. From afternoon tea to fine British cuisine at dinner, it should be noted that if you appreciate a homey and unhurried upscale dining experience, The Macdonald Bear will be your home throughout each course of the day.
"the bear hotel was once frequented by elizabeth taylor and richard burton."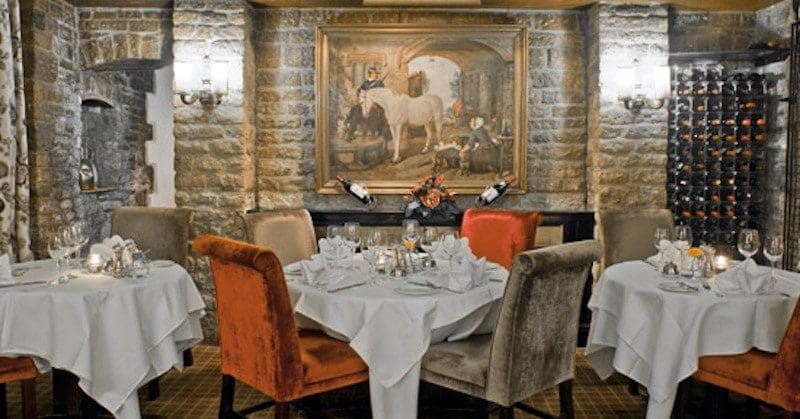 Amenities
Stay as Elizabeth Taylor and Richard Burton once did in one of The Macdonald Bear's 54 individually-styled and traditionally furnished bedrooms. The suites, frequented by Taylor and Burton, are spacious yet cozy, with a stately 400 year old bed at the center of the room. Settle in, have a cup of tea, and watch movie on one of their many available television stations. Upon arrival, we were greeted with a decadent box of chocolate truffles, and Blenheim Palace mineral water. When you check in, there is fresh fruit available to snack on. In the bathroom, you will find a shower, bath, and double sink, complemented with Elemis bath products.
Dining
Chef James Mearing is at the helm of the kitchen and creates artistic dishes like Rabbit Saddle with tarragon mousse, and charred sweet corn; Beetroot with goats curd, fig, and preserved lemon; Halibut with squid ink, tagliatelle, brown shrimp and broccoli; and Cauliflower Steak with Romanesco and almond. The beetroot in particular had the most beautiful presentation.
For dining options, there is the restaurant on the main level, where breakfast is served each morning. Breakfast includes a cold selection of cereal, fruit, breads, pastries, milk, and juice. There is also a selection of main dishes like porridge and omelettes.
There is also The Churchill Lounge on the second floor, where afternoon tea is served. You can also visit the Lounge for morning coffee, and snacks and cocktails in the afternoon. Full bar service is available, and it is open from 11am-11pm daily.
To note, food and drink promotions at The Bear Hotel happen throughout the year.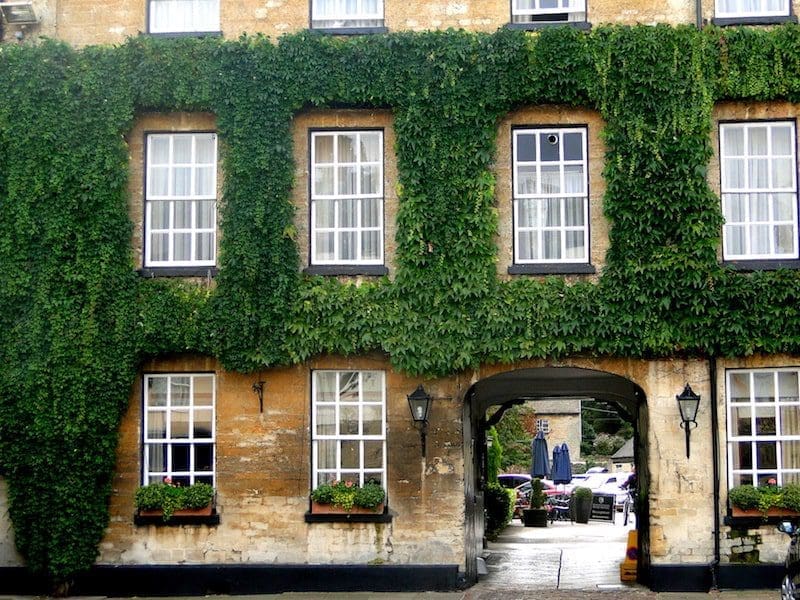 Nearby Places of Interest
Blenheim Palace– visit during Christmas for their festive market and awe-inspiring exhibitions like this past season's Alice in the Palace. You had to see it to believe it! During the warmer months, you could spend hours walking around the property. A perfect location for a morning jog or walk.
Bicester Village– just forty minutes away, it is one of our favorite outlet centers. Stores include Burberry, Alexander McQueen, Temperley London, and many others. Those who stay at The Bear can receive an additional 10% off their purchases. Look for the QR code at the front desk.
Marlborough Hedge Maze– perfect for the whole family, it is on the property of Blenheim Palace and located in the Pleasure Gardens.
Swinford Toll Bridge– this bridge, located in Swinford, goes across the River Thames. A ten minute's drive away. Stop there as you go between Woodstock and Oxford if you have your own car.
Oxford– there are countless activities and things to see and do in the city of Oxford. We look forward to sharing our continued coverage of Oxfordshire with you.
Upcoming Events and Specials
Is a visit to Oxfordshire in your near future plans? On February 4th in celebration of Valentine's Day they will host a Gala Dinner featuring a six-course tasting menu for £55 per person (wow!). Dine on oysters, scallops, and Beef Tournedos Rossini as your main course, finishing with a White Chocolate & Vanilla Mousse.
Throughout February, they will be also offering a Love Themed Afternoon Tea with a glass of Rose Champagne at £30 per person.
On March 8th, The Bear Hotel will have their first ever wedding fair at the hotel where future brides and grooms can start planning their dream wedding.
On March 22nd, the hotel will host the Mothers Day Carvery 3-Course Lunch for £45 per person. Main courses will include a Beef Wellington, Dressed Crab, and a Live Gnocchi Pasta Course. I would choose the Chocolate Torte for dessert!
The Bear Hotel to and from Oxford
To get to Woodstock from Oxford, the most cost-effective way is taking the S3 bus towards Chipping Norton, West Street and get off at Woodstock, Marlborough Arms, which is on the road perpendicular to The Bear. The walk to and from the bus stop is just three minutes. To return to Oxford, take the 7 towards Oxford City Centre. Exit at the last stop on George Street. The buses run approximately every 20-30 minutes, and the trip to and from Oxford is a half hour.
Other transportation methods are by taxi or car. If you have your own car, parking is available at the hotel for £10 per night.
Useful Information
The Bear Hotel is dog friendly and welcomes pets for a fee of £15 per pet per night. Room service is available 24 hours a day. WiFi is complimentary and breakfast is also available as part of your stay.
Check their website for ongoing special rates, packages, and offers including the VIP Shopper Experience, Blenheim Palace Package, Royal Break with Afternoon Tea, and Treat & Sleep.