A special afternoon tea in London is one of the best ways to celebrate mum on Mother's Day. Many bakeries, hotels, and restaurants across London are offering memorable Mother's Day afternoon tea packages to commemorate the occasion.
The Cadogan, A Belmond Hotel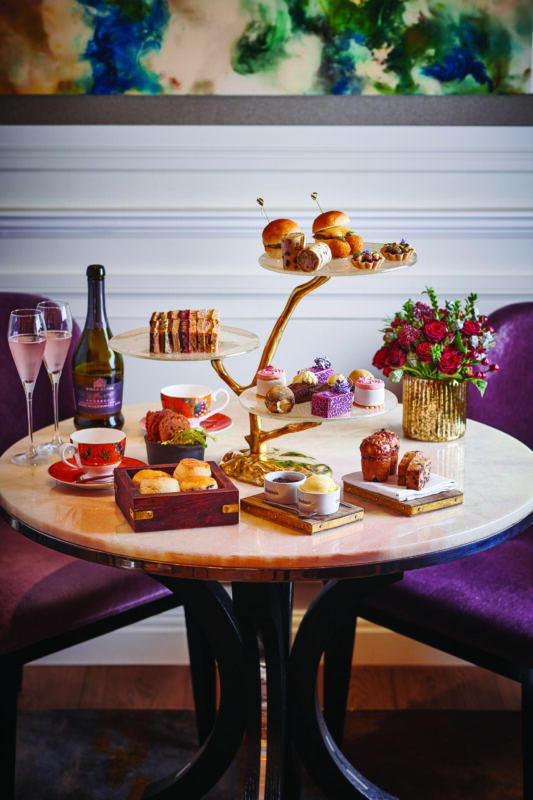 This Mother's Day, indulge in a luxurious afternoon tea at The Cadogan, A Belmond Hotel. Newly appointed Executive Pastry Chef Pierre Morvan take guests on a culinary journey that celebrates nostalgia with a touch of luxury. Inspired by the beautiful Cadogan Place gardens, located just opposite the hotel, and the elegant trinket box design of the lounge itself, the tea features intricate and memorable offerings freshly prepared each day.
The afternoon tea can be enjoyed in the lounge or within the verdant surroundings of the gardens themselves. Guests are invited to indulge in delectable creations from coffee and mascarpone eclairs, to caramelized pear frangipane, all of which are served with a selection of the finest luxury teas and Champagne.
Click here for more information.
Brown's Hotel
Celebrate Mother's Day in The Drawing Room at Brown's Hotel with a touch of opulence and elegance. This wood-paneled cafe set within an elite hotel has hosted many distinguished socialites throughout the years. Fit for queens, The Drawing Room is known to be Queen Victoria's favorite place to enjoy her Afternoon Tea.
Guests have a chance to indulge in a selection of 17 varieties of tea, including a special blend from Brown's, alongside delectable finger sandwiches, an assortment of delicate fine pastries, fruit and plain delicious scones with clotted cream and strawberry preserve.
Known as one of the most treasured Afternoon Tea rooms in the heart of the United Kingdom, this award-winning location dates back with recipes from the Victorian era.
From April through June, guests will witness the Victorian and Edwardian eras with Battenberg Cakes and Fruit Fancy Tartlets, during the summer months, guests will rejoice in British Retro when Queen Elizabeth II took to the throne. With chocolate biscuit cake inspired by her Majesty's favorite cake, and Baked Alaska as a classic '50s dinner party sweet, visitors have an array of mouthwatering choices.
DUKES LONDON
DUKES LONDON will also be offering a Mother's Day Afternoon Tea on Sunday, March 27th. The afternoon tea will include selection of traditional sandwiches, handmade patisseries, fruit and plain scones, plus 'cake of the day'. All of these delights are freshly baked by the in-house Pastry Chef.
DUKES LONDON have also partnered with The East India Company to offer a range of delicious, aromatic and refreshing fine loose-leaf teas and infusions.
As a country house in the heart of London, with Green Park and St James's Park as its back garden, DUKES LONDON shows off a Victorian exterior and is home to elegant rooms and suites. 
The Milestone Hotel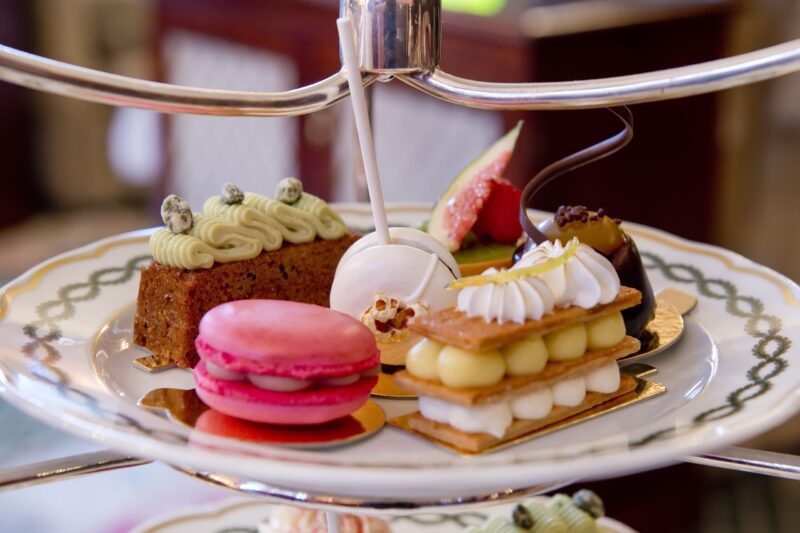 Spoil Mum this Mother's Day at The Milestone Hotel & Residences with a quintessentially British Mother's Day Afternoon Tea in the Park Lounge.
Located in the heart of Kensington, guests are invited to choose from the hotel's Traditional Afternoon Tea or Champagne Afternoon Tea.
Both afternoon tea packages feature a selection of delectable finger sandwiches, indulgent hand-crafted French pastries, tartlets and cakes, as well as traditional warm freshly baked scones with clotted cream and home-made strawberry preserve.
Specially served as part of The Milestone Hotel's Afternoon Tea is Red Carnation Hotels' President & Founder, Mrs Bea Tollman's signature cheesecake, spiced apple and gingerbread cake, delicate praline macarons and a delicious coconut and dark chocolate mousse.
Choose from a vast selection of PMD loose-leaf teas. Or, for those who are really looking to spoil Mum, perhaps a glass of Lanson Champagne would be more suitable. After dining, guests will receive The Milestone Hotel & Residences' signature red velvet cake to take away and enjoy at home. Click here to learn more and to book your experience.
Peggy Porschen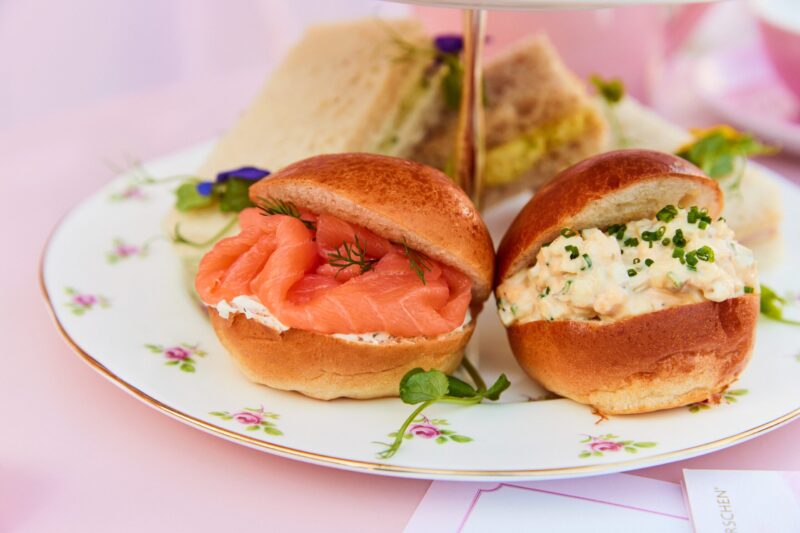 Peggy Porschen will celebrate Mother's Day with "A Floral Rhapsody" Mother's Day Afternoon Tea from Friday, March 25th until Sunday, March 27th.
Peggy's Mother's Day menu weaves a captivating narrative, centered around timeless florals and a pretty-in-pink color palette. Guests will enjoy a selection of delectable finger sandwiches and light, fluffy scones.
Ensure to leave plenty of room for the patisserie delights, for which Peggy is revered all over the world. Embrace the joys of spring with flavors of rhubarb, strawberry and custard or lemon accompanied by spring blossoms. Pair with a selection from Peggy's exclusive blend teas & infusions. Or opt for something sparkling to celebrate Mother's Day weekend.
The Afternoon Tea menu includes a selection of 5 finger sandwiches (standard or vegetarian choices), scones, pastries, and more. Click here to learn more.
Shangri-La The Shard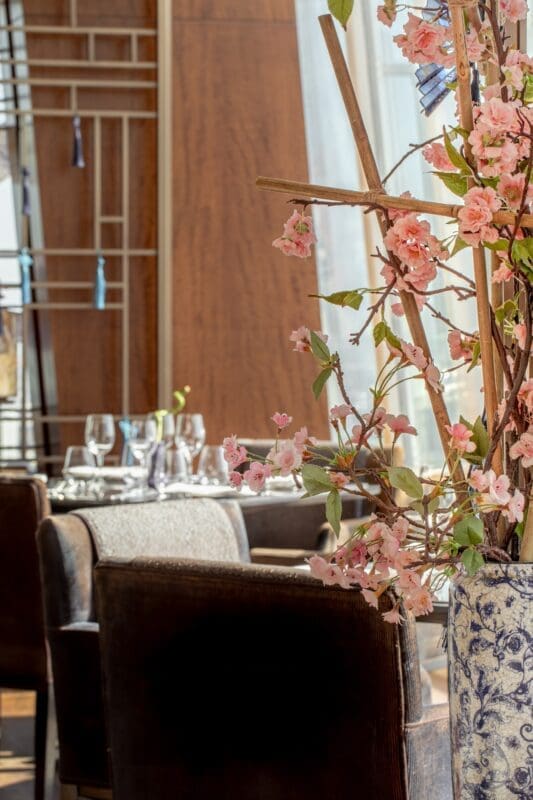 Shangri-La The Shard will offer a special Mother's Day Afternoon Tea in London on Sunday, March 27th. Pamper your mum with a lavish experience in the clouds in TĪNG Restaurant. Beginning with their renowned Welcome Tea ceremony with dry ice. Then, guests will be served afternoon tea classics such as finger sandwiches and both plain and fruit scones.
Other delectable savory bites include aged Beaufort & winter truffle toastie, a Ruben pastrami on rye and goats cheese tartlet. Desserts are served up including an almond roulade, pistachio and berry financier and black forest gâteaux.
Signature cocktails and mocktails will also be available.
Gluten-free, Halal and Plant-based options are available on request. Click here to learn more about their afternoon tea selections.
St Ermin's Hotel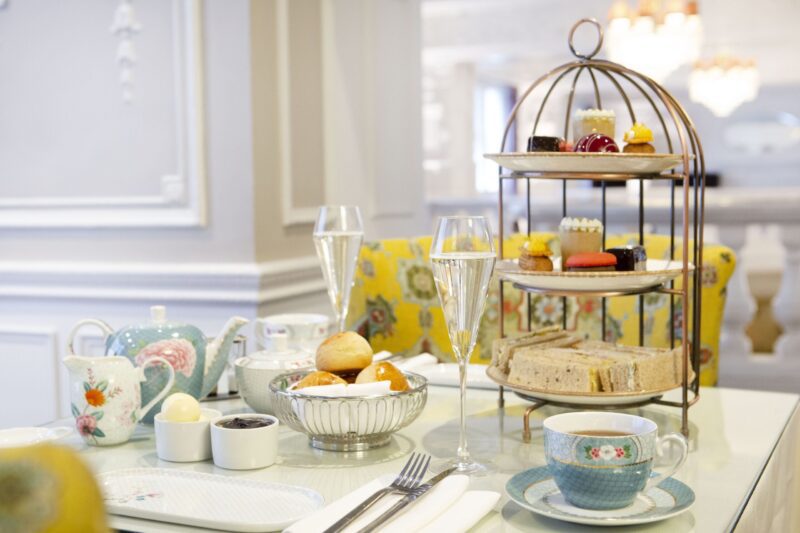 Treat Mum for Mother's Day to a sumptuous Afternoon Tea in the stylish surroundings of the St Ermin's Hotel, St James' Park, London. Guests will enjoy freshly baked plain and fruit scones, clotted cream and homemade jam and classic finger sandwiches. In addition, there will be a collection of sweet confections prepared by the hotel's pâtissier, and a choice of teas from Tea Makers of London. Guests will also indulge in live music.
The Mother's Day Afternoon Tea is served Saturday and Sunday, March 26th and 27th between 12-6pm. Click here to learn more and make your reservation.
The Rubens at The Palace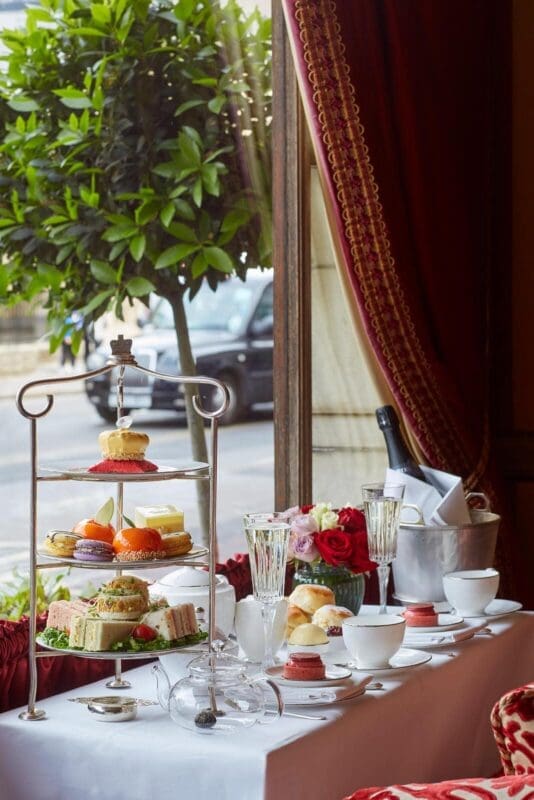 This Mother's Day, treat Mum to a beautiful afternoon tea fit for royalty in the Palace Lounge at The Rubens at the Palace, known for their exceptional dining journeys and striking red decor.
The hotel's Mother's Day Afternoon Tea menu will feature an array of delicious finger sandwiches including Prawn Cocktail with Marie Rose Sauce and Crispy Shallots on a Brioche Roll, Roast Chicken, Stuffing & Grain Mustard on Onion Bread, and a BLT with a Smoked Chili Jam.
For something a little different, guests will also enjoy Devilled Egg & Smoked Paprika Mayonnaise on Spinach Bread, as well as Cucumber & Lemon Crème Fraîche on Norfolk Crunch Bread.
This selection of sandwiches will be served alongside Honey & White Chocolate Scones and a number of mouth-watering pastries, including a Passionfruit & Vanilla Tart, Pear & Chocolate Torte, Blood Orange Macaron, and a twist on the classic combination of Strawberries & Cream. There will be an option to include a glass of Champagne and a tea selection drawn from PMD teas.
The Mother's Day Afternoon Tea will be available on Saturday, March 26th and Sunday, March 27th. Click here to book online.