Saint Martin / Sint Maarten is an island with a bit of a split personality. One half, Dutch Sint Maarten, is known for its nightlife, casinos, duty-free shopping and energetic beaches. The other, French Saint Martin, is a prime destination for French cuisine, outdoor markets, and secluded stretches of sand.
This article highlights the best things to do in French Saint Martin, the slightly more relaxed and low-key side. It's a top Caribbean destination for families, solo travelers, and couples alike, with something to offer any kind of traveler.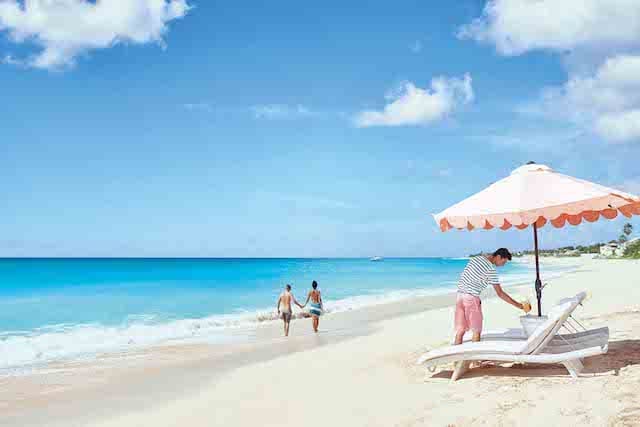 The best things to do in St. Martin on the French side allow you to experience French culture with Caribbean flare. Start your day with a croissant that reminds you of Paris, and then spend the morning in the sun at a pristine Caribbean beach. Take in incredible vistas at sunset, then close the evening with a memorable fine dining experience.
Dine in Grand Case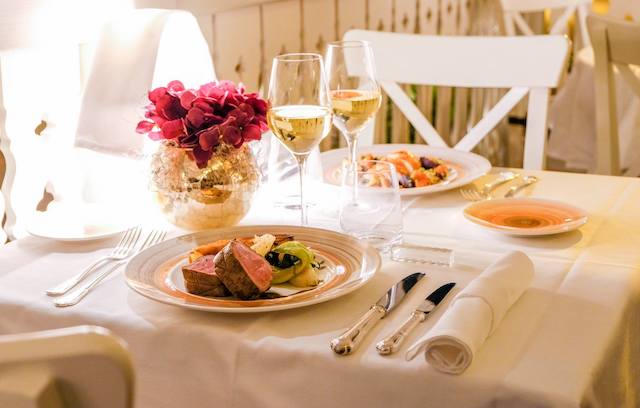 Grand Case is a small fishing village on St. Martin's French side. It's easy to reach, with a central location and a free public parking lot. The main street of the village is often referred to as St. Martin's "restaurant row," with a wide range of excellent eateries.
You can head to Grand Case for a fancy night out, to a high-end French restaurant such as Le Pressoir or Le Cottage. Or bring the kids to the fun courtyard at Blue Martini for delicious burgers. If Caribbean food is what you're after, Grand Case has several famous lolos, casual BBQ beach shacks to choose from.
Whichever restaurant vibe you choose, start with a rum tasting at La Part des Anges, a tasting room dedicated to showcasing Caribbean rum.
Relax on Grand Case Beach
Grand Case may be known for its dining, but it also sits right on a beautiful, gently sloping beach. You could easily spend the afternoon at the beach, and then migrate to restaurant row for sunset cocktails and dinner.
Visit Pinel Island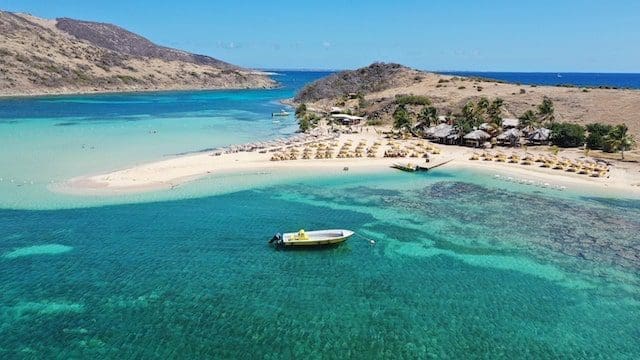 No trip to St. Martin would be complete without a trip to Pinel Island – one of the island's top natural attractions. Many roundups of St. Martin's best beaches surprisingly leave off Pinel Island, but it should not be missed. Spending a day on Pinel Island is hands down one of the best things to do in Saint Martin.
Pinel Island is a tiny cay reachable by a 5-minute boat ride from Cul-de-Sac at St. Martin's northeast end. A small, wooden ferry leaves every 30 minutes, and in no time, you'll be setting up a lounge chair on a pristine piece of white sand.
Pinel Island is popular among island and cruise ship visitors! Get there early and reserve a beach chair in advance at one of the two restaurants on the beach, Yellow Beach and Le Karibuni, to make sure you have a good spot. Both allow advance reservations.
Spend the day at Orient Bay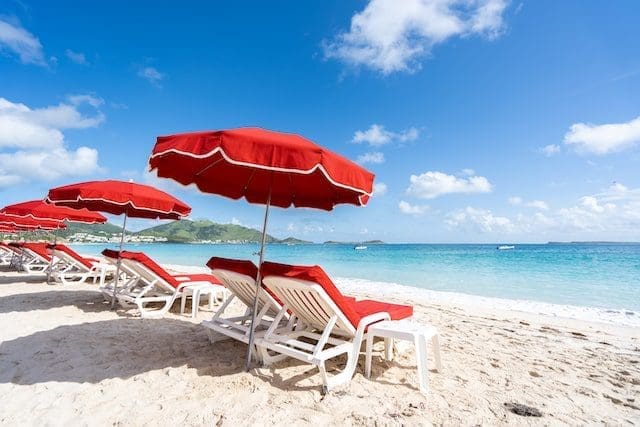 Orient Bay is arguably St. Martin's most popular beach. It makes the list of best things to do in St. Martin because it is more than just sand and sea; it is a whole vibe. The beach is lined with bars, club, restaurants, watersport rentals, and more. (Be aware, however, there is a clothing optionable section at the far south end of the beach.)
Various beach clubs offer chair rentals. Rent chairs in advance from Kontiki, the first restaurant built on Orient Beach back in the 1980s. It remains an island mainstay and you can't go wrong making it your home base.
Take a Sunset Boat Ride
Several tour companies offer sunset cruises in St. Martin. With a stunning coastline, lots of bays and other nooks and crannies to explore, this is a great way to see the island. Many boat cruises leave from the Dutch side of the island in Simpson Bay.
If you prefer to stay on the calmer French side of the island, look for an operator leaving from Marigot, Grand Case, or the marina at Anse Marcel.
Shop in Marigot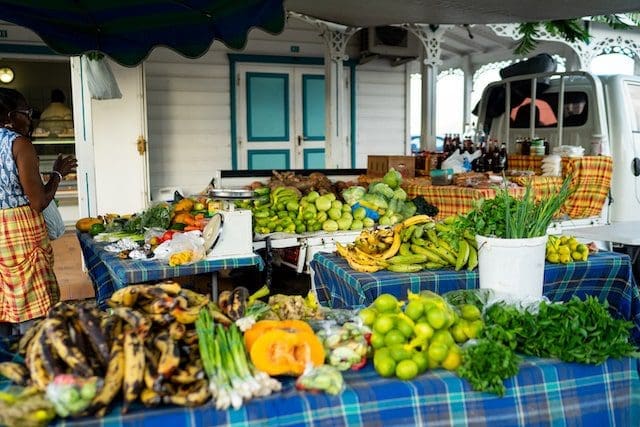 You'll know you're in the French Caribbean when you spend a day in Marigot, the capital of French St. Martin. The city became the capital during King Louis XVI's reign, when he built the fort on one of the town's hills. Learn about this history with a tour of Fort Louis, where you can also get clear views of Marigot—and the neighboring of Anguilla.
While you're in Marigot, don't forget to do some shopping. You'll find several cute French clothing boutiques in town, along with jewelry and cosmetics. For local souvenirs, like colorful dresses, handmade jewelry, and trinkets, Marigot Market offers vendor stands and local cuisine.
Have Breakfast at Croissant Royal
Croissant Royal is the perfect place to start your day in Marigot. It's calm, very French, and has some of the best croissants you will find, in or out of France. Go out of your way to check it out. The food says Parisian elegance, but the restaurant's setting right on the water next to the Marina Port Le Royale will remind you you're in the tropics.
Grab Lunch at Rosemary's
Marigot offers numerous dining options, but Rosemary's offers some of the best authentic, local cuisine on the island. Rosemary herself sits behind the counter, whipping up simple but delicious jerk chicken, lambi creole, and other island staples. Your lunch will be hustled out to plastic tables and chairs under a tent in the Marigot Market.
After an overflowing plate of rice and beans, plantains, salads, and potatoes, you may not have any energy left for strolling. Do your shopping first, then reward your efforts with lunch at Rosemary's.
Take a Day Trip to Anguilla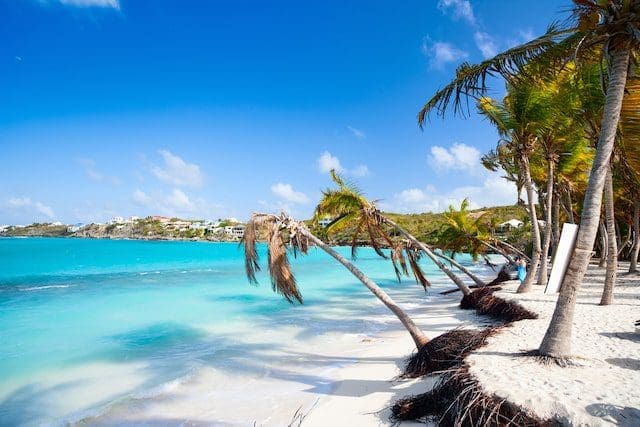 Anguilla is another island that lies only a 25-minute ferry ride from St. Martin – an easy day trip! The ferry leaves from the port of Marigot, so you could start with breakfast at Croissant Royal and then spend the day island jumping.
Anguilla offers a different vibe. Whereas St. Martin's beaches are relatively small and active, Anguilla has long stretches of white sand and a more low-key experience. The two most popular Anguilla beaches are Shoal Bay and Meads Bay, with Rendezvous Bay Beach getting a nod as the best beach for families.
Explore Loterie Farm
Formerly a sugar farm, Loterie Farm is now a private nature reserve just a few minutes from Marigot. If you're looking for things to do in Saint Martin off the beach, it's a great option. Here you'll find hiking trails, a refreshing jungle-themed pool (for adults and kids 13+), and a playground with its own kids' pool.
Loterie Farm's biggest draw is likely to be the zip line course, which speeds you through a forest canopy while traversing a valley below. The course takes about an hour to complete and operates on a first-come, first-served basis. Hikes are self-guided and offer sweeping views of the island.
Hike to Pic Paradis
Another great hike can be found at Pic Paradis, a nearly 3-mile trek to the highest point of the island. The trailhead can be found near Colombier on the French side of the island. The trail is well-marked and of moderate difficulty—but bring plenty of water and be prepared to scramble for small stretches. Many hikers spot monkeys along the path. Branching trails will take you to other crests of the island, including through the abandoned town of Petit-Fond, where you can still see ruins and tombs.
The hike to Pic Paradis makes the list of great things to do in St Martin because, at the top, you'll be rewarded with a panorama of all of Orient Bay, and all the way out to nearby St. Barth on a clear day.
Make Your Own Perfume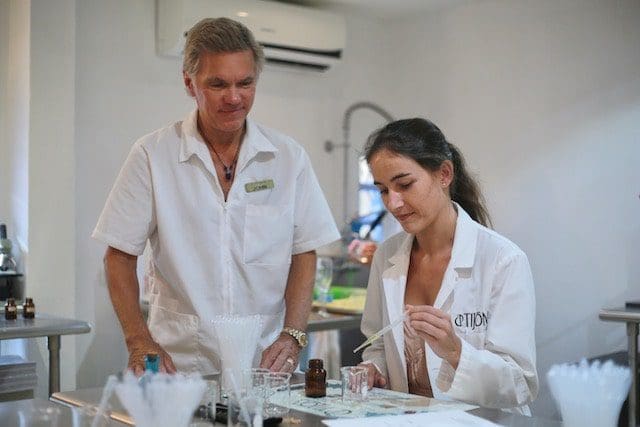 Many visitors will want to stop by the Tijon factory in Grand Case for the chance to develop their own unique perfume. Under the guidance of an experienced perfumologists, participants will mix their own oils and create their own, personal fragrance.
Tijon began at St. Martin, but now has outposts in Charleston and New Orleans. Guests will have a chance to experiment with scents that blend French sophistication with the Caribbean's tropical notes. Everyone takes home their own bottle and formula should they wish to order more.
Unwind at Anse Marcel Beach Resort
Anse Marcel Resort offers the perfect setting to enjoy Saint Martin's beautiful beaches. The resort is perched on Anse Marcel bay, one the island's best spots for enjoying the ocean. You can reserve chairs ahead of time, and the hotel's restaurant offers a celebrated lunch service right by the shore.
The ocean is calm, and the water is shallow for a long stretch, making it perfect for kids. Since the beach itself is off the cruise ship radar, you can be sure of a quiet and relaxing day when the island might otherwise seem crowded. Come for a swim in the morning and then stay through a delicious lunch!
Touch an Airplane at Maho Beach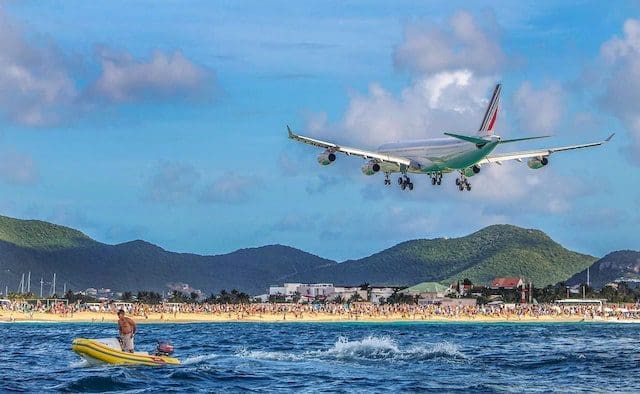 Among the most instantly recognizable images of Saint Martin: beachgoers reaching out to (almost) touch the aircraft that shoot over Maho beach just before landing at the extremely short runway at Princess Juliana International Airport. This attraction requires you to cross over the Dutch side of Sint Maarten, but it's highly recommended even if you spend most of your time on the French side.
Post up at the Sunset Bar and Grill at the end of the beach or just set out a towel, then pull up the airport's arrivals schedule. Bigger planes typically arrive between noon and 3 pm. If you time it just right, you can capture a shot that makes it look like you are grabbing the wing of a jet as it wooshes overhead.
Swim and Snorkel at Mullet Bay
Just north of Maho beach and the airport is the picturesque stretch of white sand around Mullet Bay. The water is clear and, typically, will have hardly a ripple. There are plenty of chairs to rent and a handful of snack and sandwich shacks where you can grab drinks or an easy lunch. Rocks near the beach's northern end offer a chance to snorkel with a range of reef fishes. Pull up, park and plop down on the sand. This is one of the easiest spots to get into the sand and sun of this beachy island.