Saint Martin in the Caribbean Sea seamlessly blends French charm with the Island's spirit. The same is true for its cuisine and for a good reason. Many French chefs fly here for sun, sea and spices—and settle for good. That's why St. Martin's culinary scene is guaranteed to tease and please the most discerning gourmands' taste buds. Here's how to navigate Saint Martin's culinary landscape and the foods you must indulge in on your next trip.
Breakfast Pastries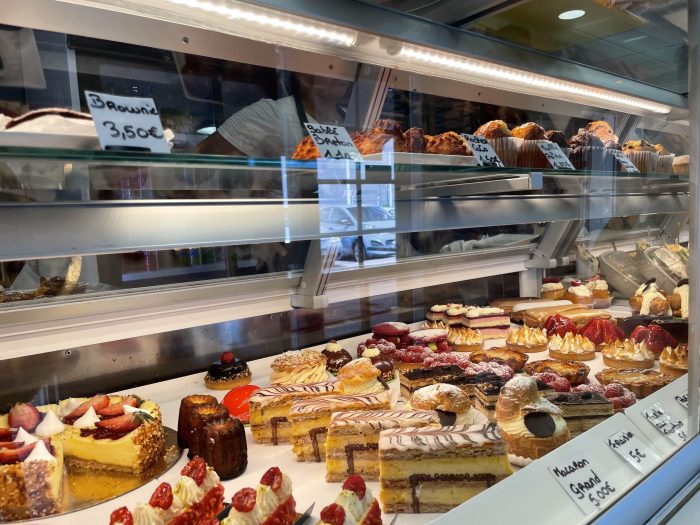 If you'd like your island morning to taste like Paris, start your day with breakfast at the Bacchus Pastry shop. Choose between crispy croissants, fluffy muffins and other baked goodies—or perhaps go straight to desserts of berry tarts and ivory cream puffs.
Johnny Cakes
For a more authentic island breakfast, opt for Johnny Cakes—delicious golden crunchy pastries stuffed with egg, cheese and ham as well as other fillings. A filling dish, it once was a favorite breakfast of fishermen and laborers, providing enough calories for a long hard day. You can find them at one the "lolos," which stands for a local outdoor restaurant, such as Sandy's or at Yvette's Kitchen, another authentically Caribbean restaurant.
Egg Cocotte
If you are craving a brunch, La Terrace—a rooftop restaurant in the center of town is the place to go. The unique dish to try here is traditional French breakfast called Egg Cocotte— an oef baked to liquidly perfection with mushrooms and bacon chips and topped with colorful fresh peppers. Slurp it with a slice of a freshly baked baguette while overlooking the harbor and the azure waves rolling onshore.
Ravioles de Foie Gras
Ravioles de foie gras are a popular lunch option. Enveloped in the thinnest pasta dough and soaked in rich piquant sauce, these duck liver morsels melt in your mouth. Savoir them at Coco Beach, a beachside restaurant where you can go for a swim while waiting for your dish to arrive.
Another place to try them is L'auberge Gourmande, in a more traditional French restaurant setting. For a culinary twist on this iconic dish, order them at L'Astrolabe, which serves them with champignons.
Sushi Foie Gras
An interesting amalgam of surf and turf is sushi foie gras—your classic tuna rolls that arrive with a French twist, topped with tiny mouthwatering duck liver morsels. Try this unique amalgam of French and Caribbean flavors at Rainbow Café, a sunny seaside spot with handmade furniture and artsy décor.
Cheese Tastings
For an afternoon nosh and a lesson on all things cheese, stop by Le Comptoir Des Fromages. This shop hosts cheese and wine tastings, during which you can also learn the history of cheese-making in France and why certain cheeses can only come from certain regions. Once you establish your favorites, buy a couple to take back home.
Dover Sole
As one would expect on an island, seafood is plentiful. One of the favorites, offered in several places is dover sole—a tender, juicy fish with a side of potatoes and vegetables. It is served grilled L'auberge Gourmande and baked at Maison Mere, where it also comes with a camera-worthy performance. As it arrives, your water will debone it with a jeweler's precision while you watch, a feat you'd like to capture on video.
Creole Goat Stew
Feeling like the adventurous foodie you are? Order Creole Goat Stew at Villa Royale—a traditional meaty and veggie treat, rich with local spices. A colorful dish, it goes down remarkably easy, with the goat cubes being tender and pleasantly chewy.
Every dish is a work of edible art at Villa Hibiscus, a unique restaurant that doesn't maintain a la carte menu to order from. Instead, it offers diners a tasting menu that changes daily, but never fails to surprise with presentation and flavors.
One dish to look forward to at Villa Hibiscus is Wagyu steak. Those tender juicy beef chunks with instantly melt in your mouth. The place has an open kitchen so you can watch the chef assemble your dish—and you can even help, too.
French Desserts
Desserts are heavenly on St. Martin and come in a variety of flavors. Unforgettable and uniquely cinematic is Mille-Feuille aux Framboises—a raspberry Napoleon that looks like a miniature tower of several layers of buttery dough propped by rows of impeccable red-pink berries. It's worthy of not only a picture, but a late-night trip to L'Astrolabe.
Tamarind Martini
Speaking of late night, don't miss your chance to savor Saint Martin's signature cocktail that won first prize at the island's inaugural Festival de la Gastronomie of Saint-Martin in 2021. Invented by the local mixologist Daryl Brooks, it's called the Tamarind Martini and features the island's iconic spice tamarind—find it at HotSpot SXM.