Saint Martin is a tiny West Indian island located between the Atlantic Ocean and the Caribbean Sea. It is separated into two parts: the north being French and the south being Dutch. Though it's not very big and has only 67 kilometers of shoreline, it has excellent sailing and snorkeling spots.
If you have a passion for the ocean, you will find paradise in Saint Martin. The island is known for its 37 picture-perfect beaches with white sand and clear water. In addition, according to Safari Nomad, this is one of the safest Caribbean islands. If you enjoy sailing and want to test your seagoing prowess, the area is a terrific place to drop anchor.
How to get to St. Martin?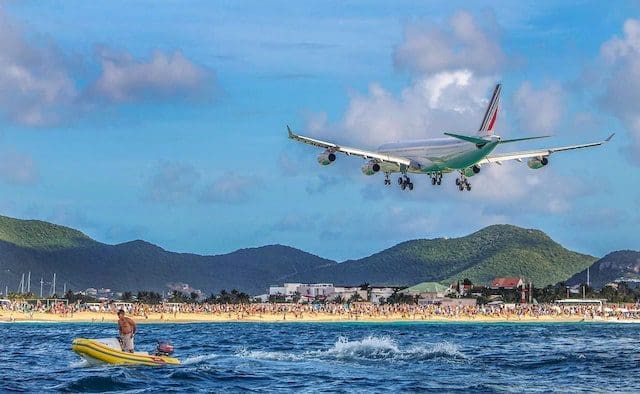 St. Martin, is split into the French and Dutch halves.
Even though there isn't a physical border between the two regions, each side of the island has separate admission procedures. At the entry and exit, they ought to be made necessary.
The border police (PAF) undertakes an immigration check prior to entering French territorial waters (12 miles off the coast of St. Martin). There are immigration laws in France. Before disembarking passengers, the captains of ships flying the French flag or those traveling outside France must report to the harbormaster.
There are two airports on St. Martin: the bigger Princess Juliana International Airport on the Dutch side and the smaller Grand Case Regional Airport on the French side. From St. Martin, regular boats to Anguilla, Saba, and St. Barts are accessible for day trips and inter-island travel.
Which locations on St. Martin's French side make for the best sailing?
Along with fantastic snorkeling locations, St. Martin also provides you with unique sailing locations! Below is a list of our picks for the top sailing locations in St. Martin. We're about to set sail, so prepare your boats and anchors!
Baie Rouge and David's Hole
Baie Rouge, often known as Red Bay, is a well-known beach with reddish sands in northwest St. Martin's Les Terres Basses area. The collapsed sinkhole known as David's Hole and the breathtaking reef that spreads out a few hundred feet from the shoreline are the primary attractions as you go east toward Bluff Point. It is widely regarded as one of the best places to go sailing on this side of the island due to the abundance of fish and other marine life there.
Creole Rock
A bird rookery, the teeny-tiny island of Creole Rock is a popular destination for snorkeling and sailing, however, it is best suited for more experienced swimmers and sailors. Located just to the north of Grand Case, this destination allows visitors to either swim from the beach or, for those with less skill, join an organized tour for an exceptional sailing adventure. When you get there, you will be greeted with waters that are incredibly clean and filled with gorgeous tropical fish.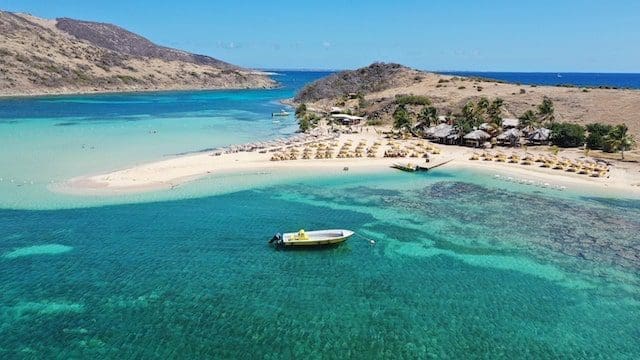 Pinel Island
Superb sailing and snorkeling opportunities may be found on the islands offshore from Orient Bay, located in the northeastern corner of the island. From Cul de Sac, a short ferry ride across the lagoon will take you to Pinel Island, which is situated in a protected Marine Reserve. 
When you get there, take the pathway to the right and proceed south to find the Pinel Island Marine Track. This is an authorized snorkeling trail that will lead you along the reef in a safe manner and is marked with white buoys. You should be prepared to observe a variety of fish, including some stingrays and possibly even turtles, as you snorkel along the reef. There are also several great sailing locations on the island's north side.
Orient Bay Islands (Petite Clef, Caye Vetre & Tintamarre)
In addition to the larger Ile Tintamarre a few miles offshore, there are a number of smaller islets and rocks in and around Orient Bay that all provide excellent sailing opportunities.
A Sample Saint Martin Sailing Itinerary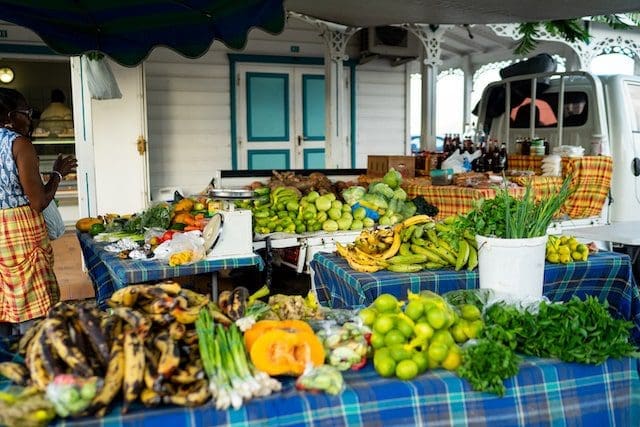 There are a plethora of options for a cruise to St. Martin. Here is a sample sailing adventure itinerary.
Day 1 – Marigot
On the French side of St. Martin, Marigot serves as the capital city. The waterfront is lovely, there are many stores and boutiques, and there are several restaurants with a variety of menus renowned for fine French cuisine. Of course, there are also plenty of fast-food restaurants and busy bars with live music. The best way to get used to a St. Martin's yacht charter is to cruise around Marigot.
Day 2 – Orient Bay
Yachting at Orient Bay, which is on the northeastern shore of French St. Martin, is well-liked by sailors visiting the northern Leeward Islands. The bay has a gentler side in addition to its stunning white sand beach and abundance of activities, including kite and windsurfing, kayaking, and the many restaurants and shops. 
It is possible to find bare-legged beaches and wild nightlife, but a favorite is to spend a leisurely evening at sea in a picturesque harbor. Orient Bay's only drawback is that, depending on the weather, it may be challenging to enter. Careful attention is required at all times.
Day 3 – Gustavia
Gustavia's picturesque and upscale harbor, which is located on the south side of the island close to its western extremity, serves as the primary port of entry for visitors to St. Barts. Rich superyacht owners prefer this harbor because it is safe and private. Although there are also more casual dining options tucked away on the charming streets, boutiques with internationally renowned designer clothing and jewelry compete for space with the best French-focused eateries. 
Gustavia has a distinctive personality thanks to the red roofs on many of the structures. The Caribbean Riviera, as some seafarers, refer to it. One of the best parts of any Eastern Caribbean yacht charter is cruising in the waters around Gustavia.
Day 4 – Anse de Colombier
This horseshoe-shaped harbor near the westernmost point of St. Barts is scenic and well-protected, and cruisers frequent it for its charm, beaches, and snorkeling. You may see a variety of boats anchored in the azure waters that are surrounded by steep hills. A home constructed by the Rockefeller family, who originally owned Anse de Colombier, is located on the southern hill. It is currently a part of St. Barts Marine Reserve. 
There is no road access to the bay, but there is a walk up the hills to the settlement of Anse de Flamandes, located near a beach. You will undoubtedly discover the beauty and allure of the Eastern Caribbean when boating in Anse de Colombier.
Day 5 – Road Bay
Road Bay, the primary port of entry to the British territory of Anguilla, is among the best anchorages in the northern Leewards. There are several casual restaurants and pubs along the beachfront, which has a lovely white sandy beach. For some, one of the main draws of Road Bay sailing is how relaxed and unpretentious everything is on Anguilla.
Day 6 – Crocus Bay
With cliffs towering from white-sand beaches, Crocus Bay cruising takes you to a tranquil and remote harbor.
Important Annual Sailing Events in St. Martin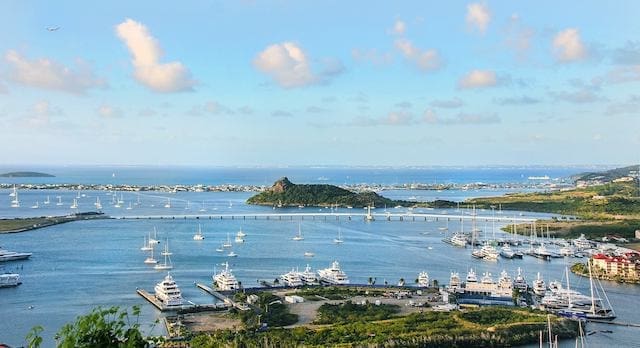 The St. Martin Heineken Regatta is often considered to be the Caribbean's biggest and most prestigious sailing competition due to the fact that it regularly attracts more than 200 boats. Each year in the month of March, the anchorages of St. Martin become home to a massive competition that lasts for four days and features a variety of exciting activities. 
Keep an eye out for the Course D'Alliance if you happen to be in the area during the month of December. This exciting three-day regatta takes participants from St. Martin to St. Barts and Anguilla and then back again.
Weather and Climate in St. Martin
The average temperature of the air in Saint Martin is between 21 and 30 degrees Celsius throughout the year. Hurricane season runs from June to November. However, the months of August through October are when tropical storms and hurricanes are most likely to make landfall. 
The humidity level in the Caribbean is consistent year-round at about 70%. The water is consistently between 26°C and 29°C, which is warm enough to swim, scuba dive, and sail without feeling uncomfortable.
Frequently Asked Questions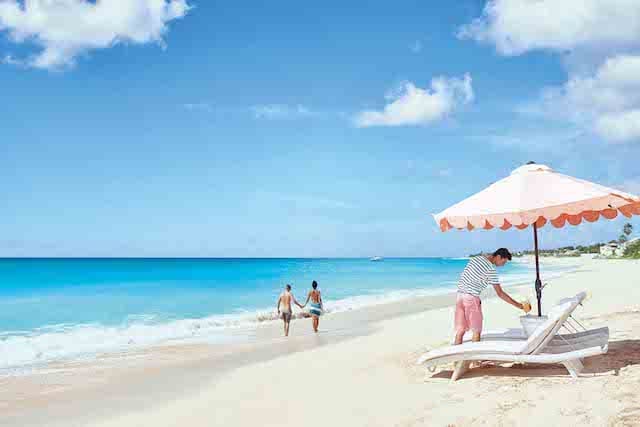 What language is used in St. Martin?
Most people speak English on the island, although French is widely spoken on the French side. In the cultural melting pot that is St. Martin, people speak Dutch, Spanish, Creole, and Papiamento as well.
What is St. Martin's currency?
Euros are the official currency in St. Martin, but US dollars are widely accepted on both sides of the island.
Which kind of documentation do I need to sail to St. Martin?
In order to sail to St. Martin, you must have a US passport that is valid for three months after your return date. A ticket for your return or next flight is also required. A visa is also required if your stay is longer than three months.
How do I travel around St. Martin?
Consult airport websites for information on business hours and contact information since many major vehicle rental businesses have offices there. Regular taxi service is accessible in front of the airport's buildings.
What kind of Wi-Fi is there in St. Martin?
There are numerous bars and eateries with internet access throughout the cruising grounds, which St. Martin sailing charters can use. Depending on the zone, cell phones may work, but remember to account for roaming charges.