New England is home to so many charming and beautiful towns. The state of Maine in particular has dozens of these pretty towns around every corner. Let Maine be top on your travel list this year and jot down some of our most beautiful towns across The Pine Tree State.
Bar Harbor
By James Ian of Parks Collecting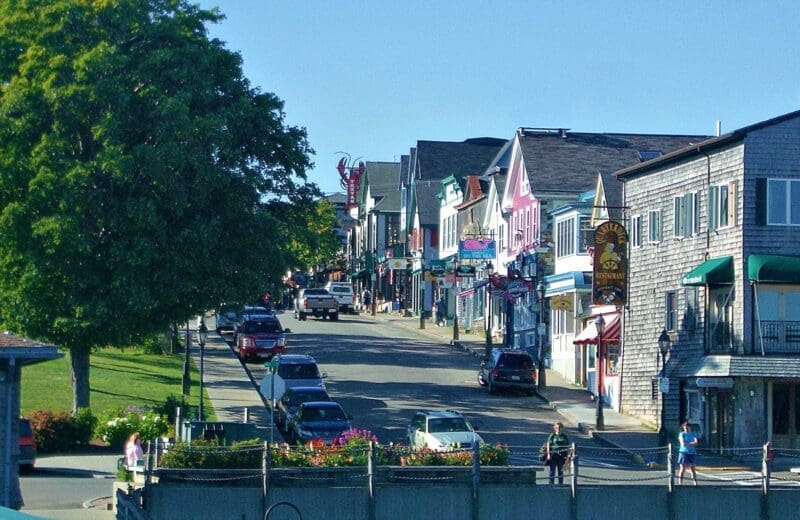 Bar Harbor is located on Mount Desert Island, which is reached over a short bridge from the mainland. The nearest major town is Bangor. The tiny Hancock County-Bar Harbor Airport is nearby, but for a larger airport with more flights, you can fly into Bangor International Airport, one hour and 15 minutes away.
Bar Harbor lies just outside Acadia National Park, so most people visiting Acadia stay there. There's a free shuttle from Bar Harbor into the park.
A highlight of any visit to Bar Harbor is hiking. There are dozens of trails in Acadia, including the famous Beehive, which has you climb up iron rungs with steep drop offs and ends at the top of the "beehive'-shaped mountain with stunning views. For something more relaxing, you can take a horse-drawn carriage ride along the historic carriage trails, built by Rockefeller in the 1920s and 30s, and have popovers (kind of like an eggy muffin) at Jordan Boat House beside the scenic Jordan Pond.
Bar Harbor is a beautiful town with classic New England homes, and it's a lovely place to walk around. It's also one of the centers of Maine's lobster fishing industry, so it's a great place for fresh lobster that you can order online at www.getmainelobster.com for a door-to-door delivery. For food to die for and gorgeous ocean views, head to Reading Room Restaurant.
A great hotel choice is the Bar Harbor Grand Hotel. The luxury boutique house is a replica of the historic Roddick House. It's convenient location and attention to detail make it the perfect base from which to discover the picturesque town and nearby regions.
Blue Hill
By Ruma Dey Baidya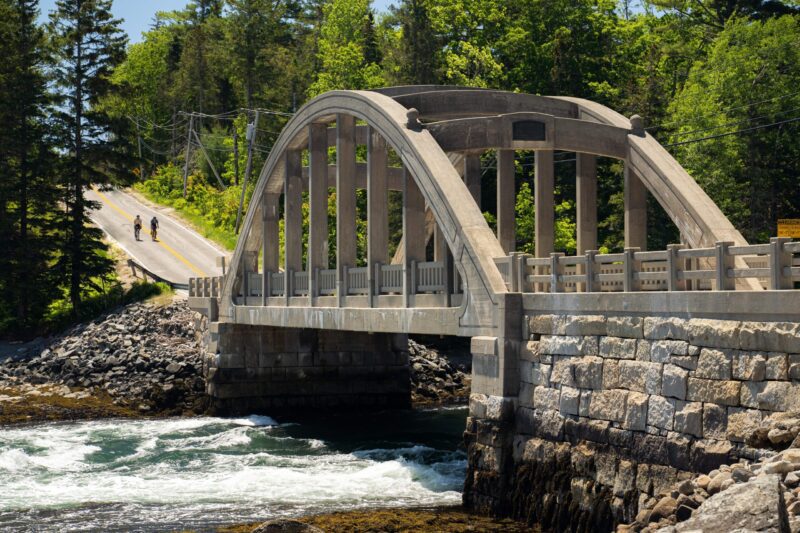 Blue Hill is a picturesque small town on the Blue Hill Bay in Hancock County of Maine, United States, named after the region's tallest peak. The first settlement in this area was back in 1762. The earlier citizens indulged in shipbuilding and granite quarrying as their primary occupation.
Portland is a major city nearest to Blue Hilltown. The distance between the two is 220 km. The most efficient way to reach Blue Hill from Portland is by driving, and it takes around 3 hours to cover the distance by road. Public bus service between the two takes five and a half hours to complete the journey. The Bar Harbor Airport is 18 km away from the town.
The Blue Hill Mountain Trail is the visited place here, known for its beautiful mountain trails. It shows nature's serene look that compliments the crisp Maine weather.
Toddy Pond is another exciting place to visit when touring Blue Hill. Picnic lovers mainly frequent this spot as it has a camping ground, a fishing spot, hiking and biking trails. It's a great place to relax and unwind amidst nature.
The Blue Hill Public Library is also a place to visit. It organizes art exhibitions and other events for public recreational purposes. 'The table' is a people's favorite cafe in town. It uses local ingredients and the chef's garden products for its delicious dishes.
In small towns like this, local inns are the most favored accommodations. The Claremont Hotel is a high-end luxury hotel in the area. It's fully air-conditioned and equipped with modern amenities, including a swimming pool, spa, restaurant, etc.
Boothbay Harbor
By Kelly of Girl with the Passport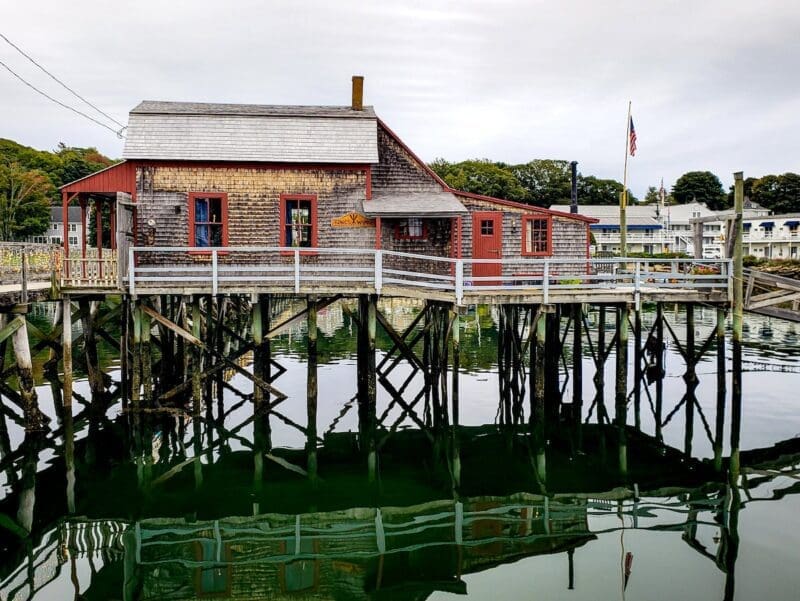 Without a doubt, one of the most beautiful towns in Maine has to be Boothbay Harbor. It's a charming little fishing village filled with quaint boutiques and idyllic restaurants that overlook the harbor of the same name.
It's a popular tourist destination along the mid coastal region of Maine since it's only 1.5-hours up the coast from Portland and is home to a historic footbridge that pedestrians can use to walk across the harbor and admire all the lobster boats bobbing around in the water.
But, if that's not quite enough excitement for you, other fun things to do in Boothbay Harbor include admiring Hendrick's Head Lighthouse from Hendrick's Head Beach, petting sharks at the Maine State Aquarium, and going whale watching with Cap'n Fish's Cruises.
However, no trip to Boothbay Harbor would be complete without grabbing some fresh lobster on the pier from Boothbay Lobster Wharf and doing an authentic Maine clambake with Cabbage Island Clambakes.
Trust me, this clambake is the real deal since they take you to a private island and treat you to a clambake field with fresh lobster, chowder, clams, blueberry cake, baked potatoes, boiled egg, and corn on the cob.
Then, when you feel like you can't eat another mouthful, spend the night at Captain Sawyer's Bed and Breakfast. Rooms inside this historic, Victorian home are well-appointed with four-poster beds, whirlpool tubs, and stunning views of the harbor – ensuring that you'll enjoy a luxurious stay while in Boothbay Harbor.
Camden
By Trijit Mallick of Dog Travel Buff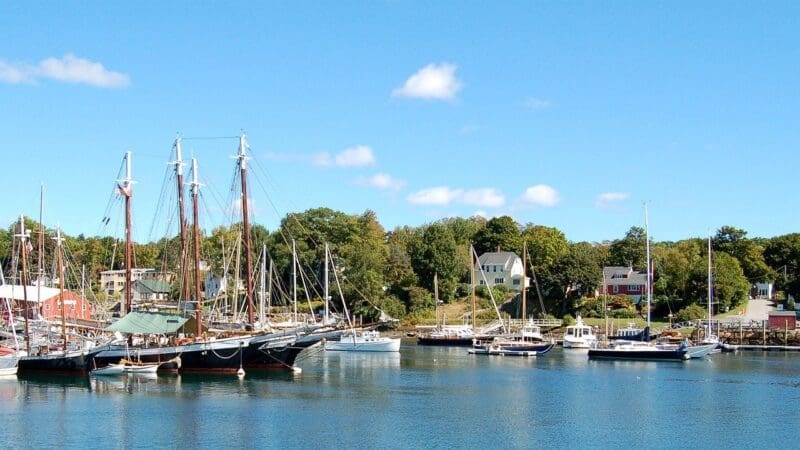 Located between Bar Harbor and Portland, Camden is a beautiful, charming town in Knox County. If you are looking for ocean, outdoor adventures with a small-town vibe, this picturesque seaside town in mid-coast Maine is a must-visit place for you. Portland is located just 81 miles away from Camden and Boston is around 3 hours distance via I-95 N. From both Portland and Boston airport, you can take Concord Coach Lines bus service to reach Camden bus stop.
Camden is a small coastal town, but it has plenty of things to offer its visitors. Camden has some beautiful beaches. Laite Memorial Beach is a low-key harbor beach that is also considered one of the best dog-friendly beaches in Maine.
The best way to explore Camden is to rent a bike and bike along the coastline from Rockport Harbor to Camden Harbor. Camden Hill State Park is a haven for outdoor enthusiasts. The park features scenic hiking trails, campsites, picnic spots, and Mount Battie. You can hike 780-foot Mount Battie. It's a little bit hard but the amazing view of Camden Harbor and Penobscot Bay from the top is truly a rewarding experience.
Camden is a great place to try seafood. McLoon's Lobster Shack is a highly recommended restaurant that offers delicious seafood. You should not miss their hot buttered lobster roll. You can stay at Camden Maine Stay Inn which is located on the outskirts of the busy harbor. All of their rooms are uniquely decorated with an eclectic collection of art. They also have a fireplace in the living area, a beautiful large garden.
Cape Elizabeth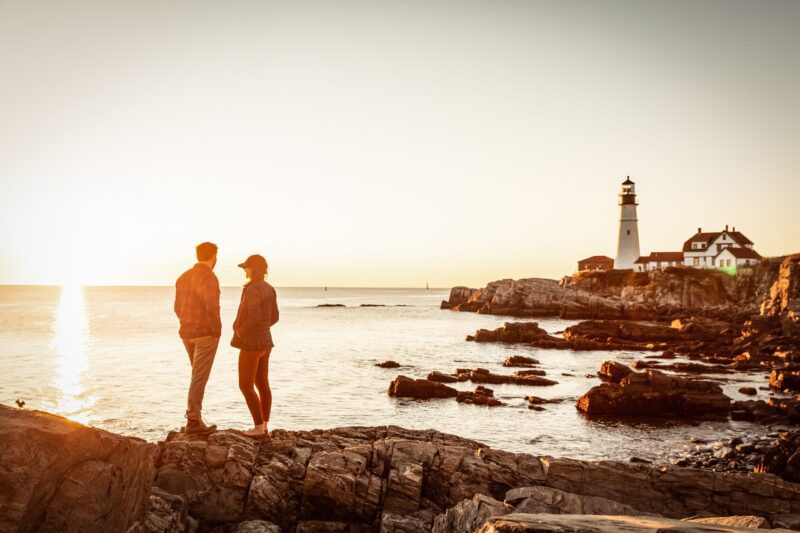 Cape Elizabeth is a beautiful coastline town that stretches twelve miles into the Atlantic Ocean. This pretty town in Maine is home to the Portland Head Light, the most photographed lighthouse in the world. Though there are no trains that go through Cape Elizabeth, getting here is easy as the nearest interstate is just five miles away. This pretty New England town is just twenty minutes from Portland.
Cape Elizabeth is the location of the Beach to Beacon 10K road race. The road race that starts Crescent Beach State Park and finishes at the Portland Head Light. In addition to cycling and running, this town is a popular destination for coastal walks, picnicking, fishing, and hiking.
One of the most popular places to set up a picnic or explore for the day is Two Lights State Park. This state park is set on Cape Elizabeth's rocky shoreline. Crescent Beach State Park also has a snack bar, picnic areas, and a bathhouse with cold-water showers.
There are many great restaurants in and nearby Cape Elizabeth. Top choices include The Lobster Shack at Two Lights, Tacos Y Tequila, The Good Table, and The Well at Jordan's Farm. Please note that most of these restaurants are open seasonally.
If you are looking for a hotel to stay overnight at, the favorite is the eco-resort, Inn by the Sea. This luxurious hotel also has an on-site spa and restaurant. Inn by the Sea is located just minutes from Portland's vibrant Old Port. The Inn also boasts breathtaking ocean views, and it is a pet-friendly hotel.
Castine
By Lora Pope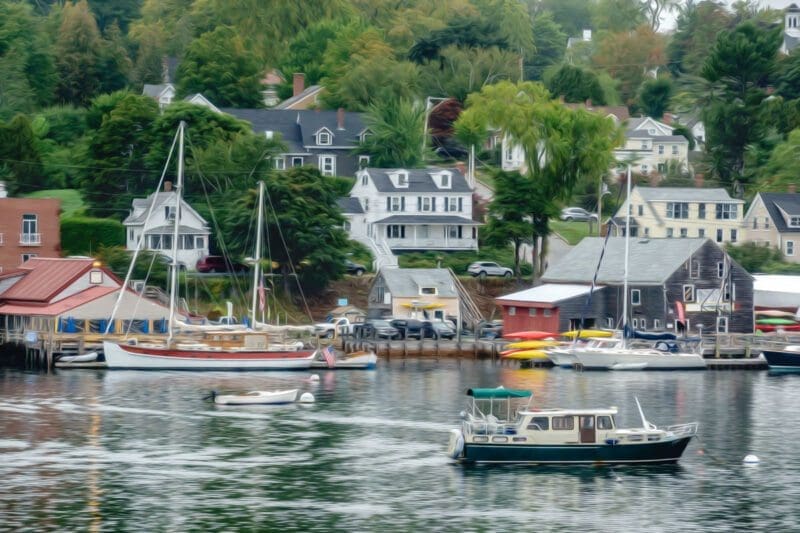 Castine is not only one of the most beautiful towns in Maine but one steeped in history. It's considered one of the oldest towns in New England, with a fascinating history of battles and occupations since the 1600s that you can learn about at the museums and historical landmarks.
This gorgeous seaside village is in eastern Maine at the top of a quiet peninsula where you can get away from it all. The closest city is August, which is just under two hours away, making it a perfect east coast weekend road trip.
There are plenty of cozy inns and hotels to choose from, like The Castine Inn. This historic hotel was built in 1898 and is just one block away from Main Street. You'll love relaxing on the wraparound porch and perennial gardens that overlook the charming harbor.
While Castine offers a relaxing vacation, there are also plenty of things to do to keep you busy. Soak in the beautiful natural scenery on a hike, sailing trip, or kayaking tour, and then head to Dennetts Wharf for a delicious meal of freshly caught seafood. To learn more about the history, take a walk up the hill to Battle Ave where you can see over 100 historic monuments and bunkers.
Kennebunkport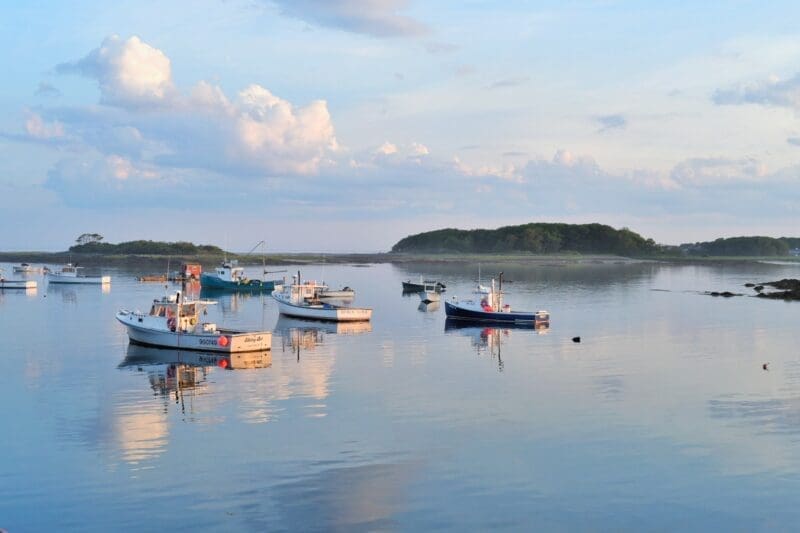 Arguably one of the prettiest towns in Maine is Kennebunkport. This charming year-round destination in Maine has been a popular resort getaway locale for over 100 years. Beaches and coastal activities are two of the top reasons that people from all over New England visit year after year.
Vacationers love to come and relax on the sandy Goose Rocks Beach as well as the smaller Arundel Beach. Coastal activities include swimming, sailing, fishing, hiking along the coast, and whale watching in-season.
Top attractions for visitors to Kennebunkport include the Seashore Trolley Museum, Kennebunkport Historical Society, the Maine Art Gallery. There are also guided tours available around town, including guided tours with the Intown Trolley Company.
For shopping and souvenirs, some of the best gift and specialty food shops are Auntie's House Bakery and Chocolate Shop, Coffee Roasters of the Kennebunks, Sea Love Candles & Company, The Port, and The Good Earth.
Some of the best picks for overnight stays in Kennebunkport are Colony Hotel (open May-October), Kennebunkport Inn, and the 'Instagrammable' Yachtsman Hotel & Marina Club.
Ogunquit
By Alisha Mansfield of Travel Today Work Tomorrow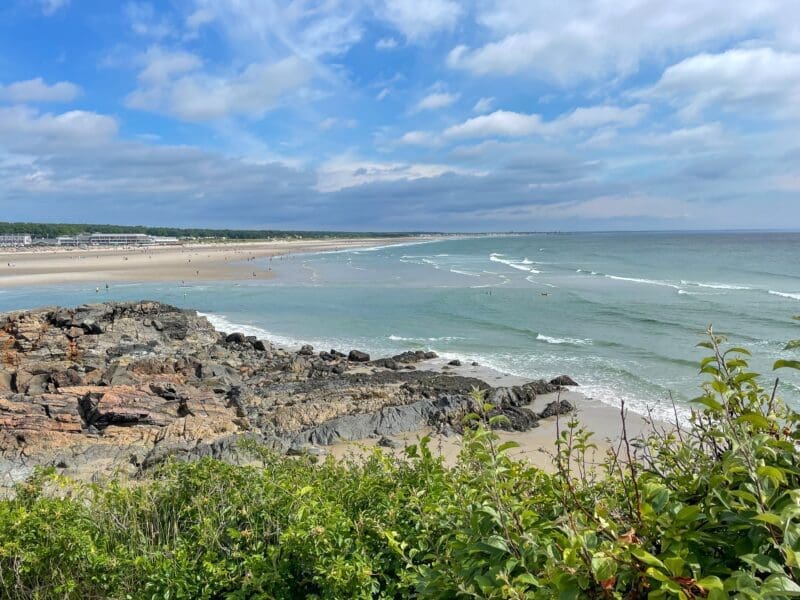 When exploring the quintessential beach towns of Maine, Ogunquit tops the list. This vibrant coastal region is bursting with scenic views, arts and culture, white sandy beaches, fresh seafood, and plenty of activities for the entire family to enjoy.
Ogunquit is a little slice of New England paradise along the southern coast of Maine. The historic town is located just over an hour north of Boston and a 45-minute drive from Portland. It is the perfect destination to escape the city for a weekend getaway.
Experience Maine at its finest by booking your stay at the Cliff House, a luxurious hotel located right outside of downtown Ogunquit. The oceanfront resort sits perched atop a cliff boasting stunning views of the rugged Maine coast.
You will not be disappointed with the array of activities to do in Ogunquit. Walk along the Marginal Way, a path that winds along rocky cliffs and features gorgeous views overlooking the ocean or enjoy some sunshine on the white sands of Ogunquit Beach. Don't miss out on venturing to the ever popular and storied Ogunquit Playhouse. This well-known theater has been producing Broadway musicals since the 1930s.
A visit to downtown is a must, grab an ice-cream cone at Sweet Pea's and mosey along the lineup of beach shops and art galleries. For fine dining, consider making a reservation for dinner at Northern Union, an elegant restaurant that features a world-class wine selection and seasonally inspired food served alongside a cozy ambiance.
The picturesque coastline and welcoming small-town charm are some of the many reasons why you need to visit the beautiful seaside village of Ogunquit.
Rockland
By Lori Sorrentino of Travlinmad Slow Travel blog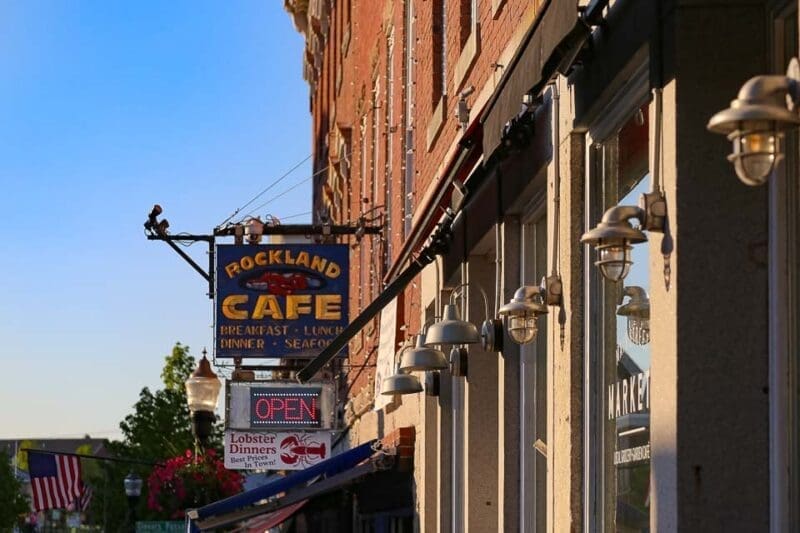 Just 78 miles north of Portland, Maine is the charming mid-coast town of Rockland. Starting in Freeport, Highway 1 which runs along the scenic Maine coast makes getting to Rockland an easy hour and a half drive, with plenty to explore along the way.
Rockland at its core is traditionally a fishing town, and Maine lobster is always on the menu. The town displays its bounty from the sea by hosting the annual Rockland Lobster Festival every year on the first weekend in August, the proceeds of which support the local volunteer fire company.
But food is just a part of its New England charm. Art and culture lovers will recognize the local landscapes made famous by the Wyeth family. The famous American artist, Andrew Wyeth, made Rockland his part-time home and his works are on display at the Wyeth Center at the town's Farnsworth Museum. Founded in 1948, the Museum is dedicated solely to American and Maine-inspired art.
For a more insightful look into Wyeth's art, make the short drive to the village of Cushing to tour the historic Olson House where Andrew Wyeth painted some of his most famous works including his masterpiece, Christina's World.
If you have the time, book a sailing adventure, one of the Maine windjammer cruises that sail out of Rockland, or take a day trip to Boothbay Harbor and Monhegan Island.
Dining ranges from casual waterfront restaurants to more formal dining at The Landings and Primo. And for a luxurious stay, it doesn't get any better than the 250 Main Hotel with direct views of the harbor.
Rockport
By Disha Smith of Disha Discovers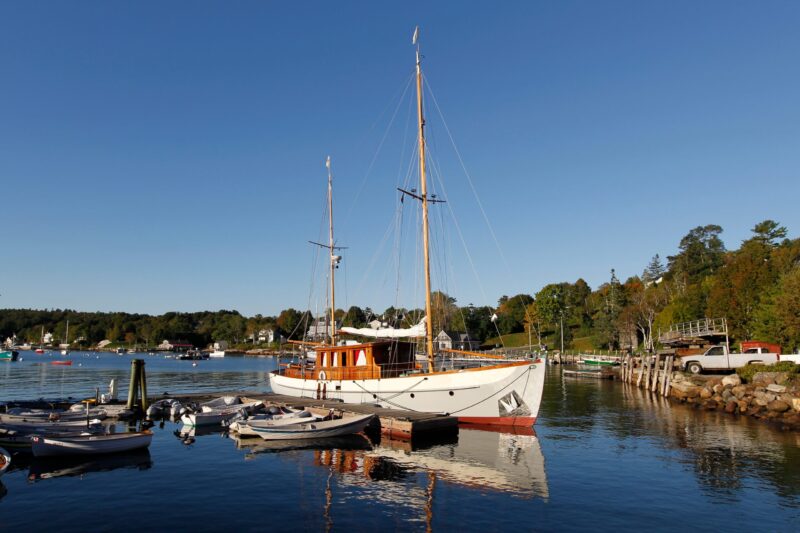 Rockport is one of the most beautiful towns in Maine. It's a picturesque seaside town that has wonderful landscapes and beautiful views of Penobscot Bay and Camden Hills State Park.
Located in the Mid-Coast region, Rockport is located about 37 miles from Augusta and makes for the perfect stop on a New England road trip.
It's a quiet and charming escape and is especially popular for its marvelous coastline and gorgeous historic buildings.
There are plenty of things to do when visiting Rockport. One of the top things to do is to visit Aldermere Farms. Its mission is to teach visitors about conservation and sustainability. The bright green pastures are home to the Belted Galloway, which look like Oreo cows.
Beech Hill Preserve is also another must-visit. It encompasses around 300 acres of land and is home to about two miles of scenic trails. It offers stunning views of Penobscot Bay and is the only bald hilltop in the region. It's the perfect place to have a picnic.
Next, rent a kayak and explore the harbor. Make sure to see Indian Island Lighthouse which was built in 1875. It's not accessible since it's private property, but it's easily visible from the water. Then, relax at Rockport Marine Park and soak in the views.
18 Central is a delicious restaurant to try fresh local oysters and craft cocktails. The best hotel to stay at in the area is Camden Harbour Inn. The rooms are luxurious and offer beautiful views.
Wiscasset
By Marco from Travel-Boo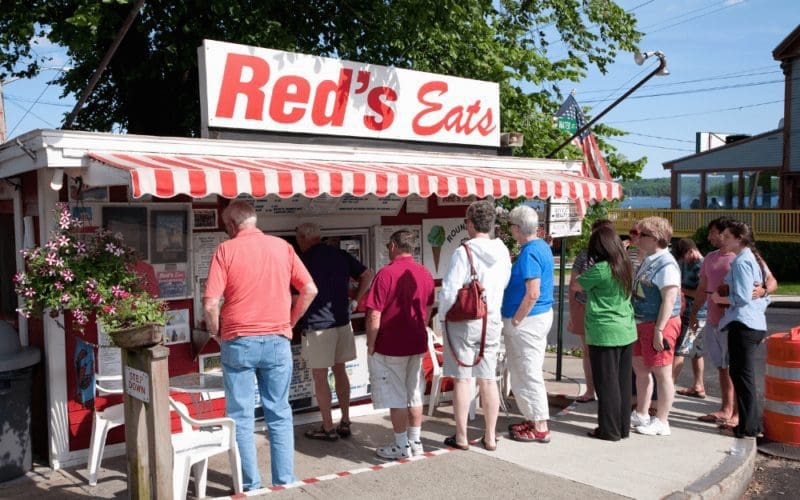 Situated just shy of 45 miles from Portland, and 23 miles south of Augusta on Maine's Coastal Route 1, you'll stumble upon the charming town of Wiscasset, the seat of Lincoln County.
With its historic architecture and rich history, it is no wonder that Wiscasset is often touted as one of the most beautiful towns in Maine. Set on the banks of the Sheepscot River and boasting a well-kept and architecturally pleasing historic downtown, it is easy to see why Wiscasset has become a favorite weekend getaway destination!
Here you can find interesting sights such as the well-preserved Nickels-Sortwell House, a great example of Federal-style architecture, as well as the Wiscasset Old Jail, both of which date back to the early 1800s. Other notable attractions include Castle Tucker, the 1790 Tiny House, as well as a selection of art galleries and antique stores for those looking to buy the perfect Wiscasset keepsake.
Of course, no trip to Wiscasset would be complete without a pitstop to the famed Red's Eat lobster shack that's been serving their delicious lobster roll, along with other delectable dishes for over 80 years, and was even featured on the Food Network in Zimmern's List!
Fun fact: The name Wiscasset is an Abenaki name that translates as "coming out from the harbor but you don't see where" and bears testament to the town's Native American heritage.