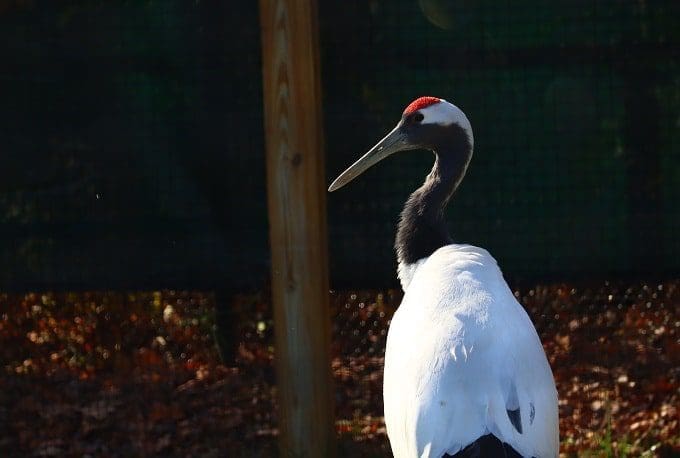 The Ripley Waterfowl Conservancy in Litchfield, CT has been dedicated to preserving threatened and endangered species of waterfowl since 1985. The nonprofit was founded by S. Dillon Ripley and Mary Livingston who had a lifelong appreciation of waterfowl and dedicated their lives to the breeding and conservation of birds.
Ripley houses 70 species of waterfowl (ducks, geese, swans) as well as cranes, raptors and shorebirds. This brings the total close to 90 species in total.
S. Dillion Ripley was the first to breed the Red-breasted goose, Emperor goose, Laysan teal, Philippine duck, and New Zealand scaup in North America, all of which are still at the conservancy today.
The Ripley Waterfowl Conservancy is home to one of the largest and most successful Sea Duck aviaries in the country, despite the notorious difficulty of breeding and maintaining flocks of sea ducks.
Ripley's primary focus is on threatened or endangered cold-hearty waterfowl and is home to 60 species of geese, ducks, cranes, and even a wild flock of Great Blue Herons who set up a rookery in the pines by one of the ponds.
We had the pleasure of experiencing a tour led by Gavin Berger, Executive Director, and Andrew Ocampo, Director of Agriculture who introduced us to Ripley's residents.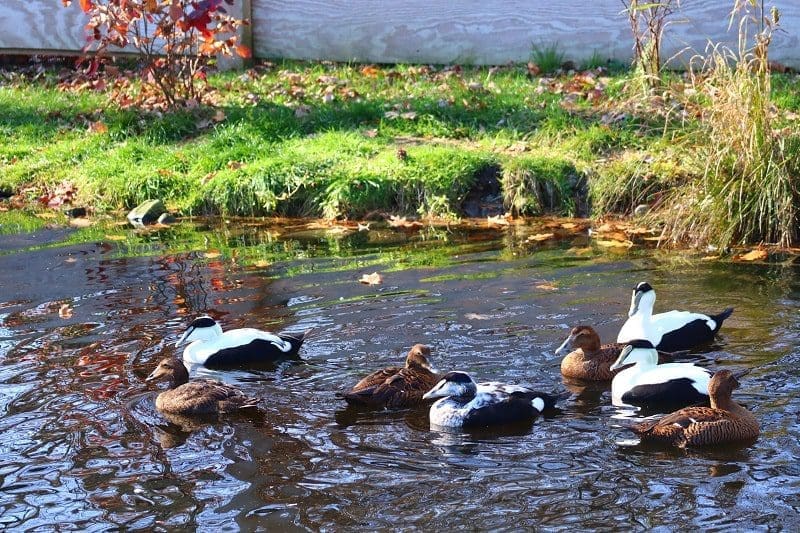 Ducks
Ripley is home to 36 species of ducks including the Bufflehead Duck is named for its buffalo-like mane and the critically endangered Baer's Pochard. This is a species with only 400 left in the wild. Baer's pochard are native to Asia and are rarer than the Giant panda.
Ripley is home to the second-largest flock in the US and the largest on the East Coast. They were one of very few facilities selected to receive the rare Madagascar Teal in 2012.
The conservancy also has a flock of West Indian Whistling ducks. West Indian Whistling Ducks or Cuban whistling duck are native to the Caribbean. They are the only threatened whistling duck of the eight living species. One species has gone extinct.
Vagrant Cuban whistling ducks have appeared in the American south, but it is usually an individual bird. They are the largest in size and most threatened of the 6 species of whistling ducks.
The oldest resident is an 18-year-old White-winged Scoter. The White-winged Scoter is only found at one other facility. The Scoter was instrumental in research studies on behavior and food analysis and is enjoying his retirement at Ripley.
Ripley houses three species of Mergansers: the Common Merganser, The Hooded Merganser, and the Scaly Sided Merganser. The Scaly Sided Merganser is a species that thanks to a project funded by Ripley, is experiencing an increase in Russia due to strategically placed nesting boxes.
Eiders
Sea Duck species include the Spectacled Eider, a species that is only in captivity in 2 other facilities besides Ripley. While population numbers put the spectacled Eider in the "least concern" category, the entire population of these birds meets off the coast of Alaska each year and forms a raft. The entire species population converging in one place puts the species at risk of endangerment or extinction in the event of an oil spill or other disaster.
There are 3 other facilities with breeding capabilities for this species. Ripley represents one of the largest collections with 16 individuals, 3 of which were bred at the facility this breeding season.
King Eiders are part of the Sea Duck aviary as well as Common Eiders who exhibit a rare green feather pigmentation. The origins of this pigmentation are a mystery to ornithologists. The conservancy is assisting Peabody with research studies to discover more about the matter.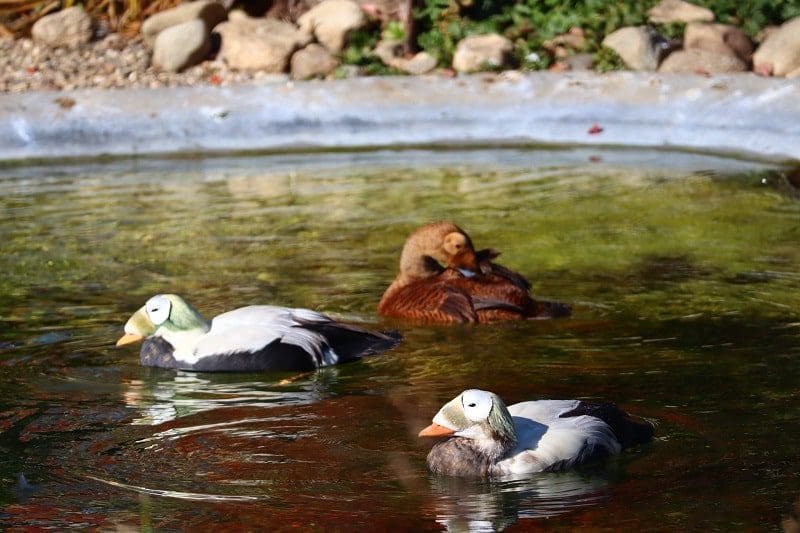 Geese
Ripley is well known for its goose population including the Red-Breasted Goose, Magpie goose, Lesser White-Fronted Goose known for its striking yellow eye-ring, and Emperor Geese.
Ripley was 1 of 3 zoological facilities in the U.S. to raise Emperor geese this year. We met the Greater Snow Geese. These geese are well suited for their arctic habitat with a robust bill to dig through the ice.
Swans
A breeding pair of Tundra Swans sang their "triumph call" across the pond. This call solidifies pair bonding in swans. Trumpeter swans are bred at Ripley and released into the wild in Iowa. Future conservation efforts slated to take place in Oregon in the future.
The Trumpeter Swan was hunted to near extinction in the 1950s. Thanks to captive breeding programs, the species now enjoys a "least concern" status.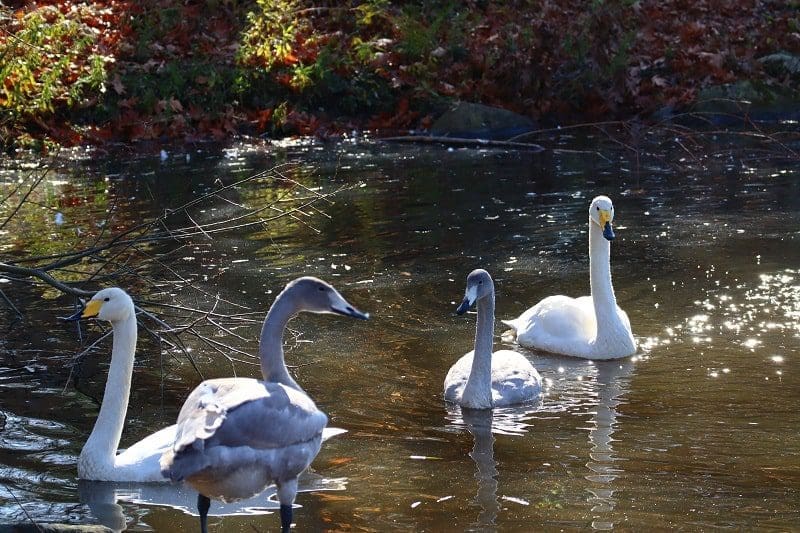 A rehabilitated Black Swan from Casco Bay Maine is also a happy resident of Ripley. Ripley houses a family of Whooper swans, a pair, and two juveniles, which are notoriously difficult to breed in captivity.
Cranes
The critically endangered Siberian Crane has a captive population or 20, 2 of which reside at Ripley. This species has an eastern population in China, Mongolia, and Russia, and a Western population Iran, India, and Russia.
Only a single crane returns to India and has been named "Omid" meaning "Hope". Efforts are being made to conserve the species.
Demoiselle cranes, the smallest species of cranes in the world, call Ripley home. The conservancy is also home to a newly mated pair of Red-Crowned Cranes. The Cranes solidify their pair bond through a dancing ritual that this pair engages in each day at dusk.
Events
Ripley hosts many events throughout the season including an annual benefit, February's Ducks in Love event, and recurring Owl Prowls where guests are invited to walk the grounds at dusk while owl calls are played to entice the raptors to pay a visit.
Ripley also offers a summer camp, an education department, and the Jr. Aviculturist program that allows tweens hands-on learning about raising birds and flock management.
A unique and exciting program is Hawk Walks, a walk in the woods accompanied by a trained Harris hawk flying from guests gloved hands to the trees and back during an informative discussion about raptor behavior and conservation.
Rearing Facility
The rearing facility offers everything young birds need to get a healthy start and encourages natural behavior. The Ripley Waterfowl Conservancy offers wet brooders for ducklings within the first 24-48 hours of life to emulate the natural hatching process in the wild. Ripley offers dry brooders for goslings and swans within the first 24-48 hours.
The unsung heroes of the rearing process are a group of Cochin and Modern Game chickens. These chickens help incubate the eggs in their coop when outdoor conditions are too humid or for younger bird mothers that are just getting the hang of incubation.
The team raised 80-100 birds last year. The adult birds will remain at the facility or be exchanged to other conservancies or zoos.
Membership and Donations
The COVID-19 pandemic has severely impacted guest traffic and events and has decreased income for these worthwhile endeavors. When visiting this Connecticut based center, please consider donating or becoming a member. Membership is a great way to give back to a worthy cause and will ensure access to future members-only events and privileges.
Ripley is open May through November on Saturdays and Sundays from 10am to 4pm.