Chile is one of the most diverse, interesting, and beautiful countries in South America. It has breathtaking landscapes from the Atacama Desert to the Andes Mountain Range, ancient historic sites such as Easter Island, and a rich culture combining its indigenous heritage with Spanish colonial influences.
As such, the country has something for everyone, including exciting outdoor adventures, delicious food, fascinating stories, and untouched beauty. But with so many things to see and do in Chile, it can be hard to decide what to prioritize as a first-time visitor. 
To help narrow it down, here is the ultimate 2-week itinerary for your first-time visiting Chile, to ensure you see and experience as many highlights of this incredible country as possible in one trip.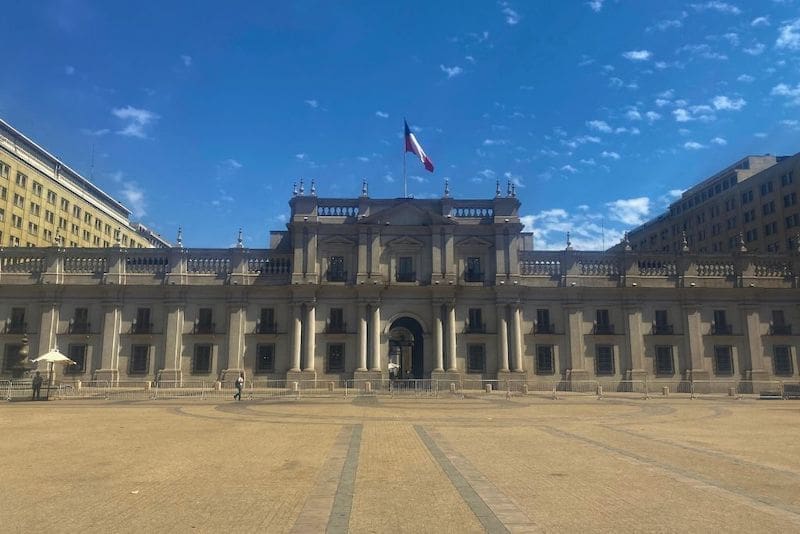 Day 1-2: Explore Santiago
The best way to begin (and end) your trip is in Chile's capital and largest city, Santiago. Not only is Santiago a bustling and fascinating city, but it's also the easiest place to get to in Chile, with the country's only major international airport and direct flights from North America, Europe, and Australia. 
Ideally, you really do need at least 2 full days to properly see the city's key attractions and explore its vibrant neighbourhoods. As a first stop, you should visit the 'Plaza de Armas' which is the city's central historic square, dating back to 1541, and serves as the reference point for measuring the distances to all other parts of Chile. 
The square also features some of Chile's most architecturally significant buildings, including the Central Post Office (formerly the Governor's Palace), the Metropolitan Cathedral, and the Natural History Museum of Chile (formerly the Royal Court of Justice). Another key landmark to visit nearby is the 'Palacio de La Moneda', which houses Chile's presidential offices and was the country's official mint.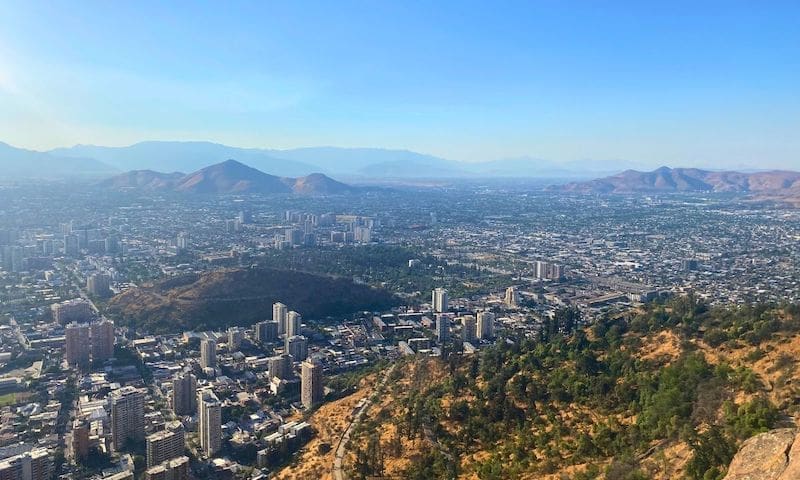 In addition to seeing Santiago's historical downtown area, there are also several must-see neighbourhoods to explore. Lastarria is a hub for art and culture, with cobblestone streets, art deco buildings and street vendors. Bellavista is the bohemian quarter, known for its colourful buildings and lively music and nightlife scene. And Barrio Italia is a picturesque neighbourhood home to plenty of boutique stores and some of the city's best restaurants. This is a great place to go to try some authentic Chilean food and sip on a Pisco Sour, Chile's national drink!
Next, for the best view in Santiago, head to the top of Cerro San Cristobal (San Cristobal Hill). The hill is the centre of South America's largest urban park and has unobstructed panoramic views of the city below and surrounding Andes Mountain range. Plus, on its peak, you will find one of Chile's most important religious sites and an icon of Santiago – the Sanctuary of the Immaculate Conception and a 14-metre-high statue of the Virgin Mary. There are two ways to get to the top of Cerro San Cristobal – either by hiking or by riding the Santiago Cable Car.
Finally, if you have time, Santiago is also home to some of Chile's most interesting museums. In particular, the Museum of Memory and Human Rights will teach you about Chile's controversial history and politics. And the Chilean National Museum of Fine Arts houses more than 5,000 Chilean and international works and is South America's oldest museum!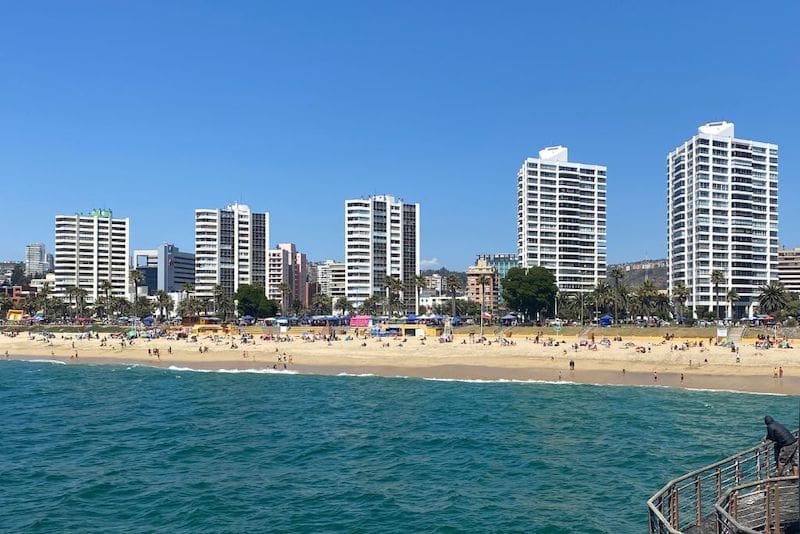 Day 3: Day Trip to the Beach
One of the best things about Santiago is its proximity to some of Chile's other popular destinations making it a great base to take day trips from. In particular, it's only a 2-hour drive from the beach and the beautiful coastal towns of Valparaiso and Vina del Mar. You can either rent a car and drive here yourself, take the bus, or book yourself onto a day tour.
Although these towns are within close proximity of each other, they each offer completely different experiences and are both worth visiting. Vina del Mar is a resort-style town and the most popular domestic tourism destination. And with good reason! It has a lively promenade along a huge stretch of sandy beach, and plenty of attractions including street vendors, performers, open-air markets and a casino.
In addition to the beach, there are several other sights to see in Vina del Mar, including the historic German-built Wulff Castle, the Flower Clock – which is fully functioning and made from Swiss machinery and red flowers, and the National Botanical Garden.
Valparaiso on the other hand doesn't have many beaches, but it's brimming with culture and charm. The town was once a thriving shipping port which is made up of late 19th-century European buildings, charming hillside funiculars and vibrant neighbourhoods. In particular, Cerro Concepcion and Cerro Alegre are the two most iconic areas in Valparaiso, full of colourful graffiti, charming boutiques and cute cafes. Interestingly, there's also a strong British and German influence here, dating back to settlers from the 19th century. 
Day 4: Experience Chile's Wine Country
By day 4 you're probably ready to take a break from sightseeing. Luckily, next on the agenda is to enjoy some downtime by savouring Chilean wine at some of the country's best vineyards. 
Santiago is conveniently located in the middle of several of Chile's most renowned wine-producing regions, so you can easily visit one or more of them on a day trip from the city. 
To the north you have the Aconcagua Valley which has a long tradition of producing red wines. Northwest from the city is the Casablanca Valley which is known for having Chile's best white wine. And south you will find the Maipo Valley, famous for its Cabernet Sauvignon, and the Colchagua Valley, which is one of Chile's most promising wine regions.
If you have rented a car, you can plan your own trip to wine country, based on the wineries which interest you most and type of wines you want to sample. However, for an easier option, there are several different tours which you can book, departing from Santiago, which take you on a full-day excursion to multiple wineries, complete with tastings.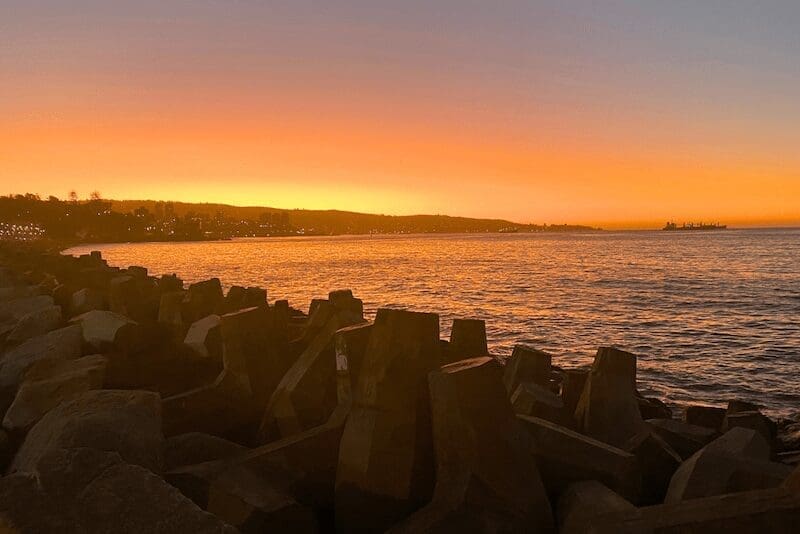 Days 5-6: Visit the Atacama Desert
Departing Santiago, your next stop will be San Pedro de Atacama. Here, you will get to explore the unique Atacama Desert landscapes, made up of mountains, volcanos, salt flats, lagoons, and hot springs.
To get there, you will need to take a 2-hour flight north to Calama Airport, ideally departing early in the morning. Upon arrival in Calama, there are free airport shuttles to San Pedro de Atacama, which is about a 1-hour drive away. 
The altitude here is quite high, at 7,982 feet (2,433 metres) above sea level, so it's best to take it easy on your first day while you acclimatize. A great way to do this is by visiting the Meteorite Museum, which houses a collection of over 3,200 meteorites found in the surrounding desert, including some dating back as far as 4.5 million years ago. 
In the evening, you'll want to watch the mesmerizing sunset above the Atacama Desert. The best place to do this is over the wind-sculpted sand dunes of the Moon Valley. Located, 11 miles (17 kilometres) from town, you will need to book either a guided tour or a taxi to get here, but it's well worth the effort!
Once you return to town, enjoy some traditional Chilean cuisine at one San Pedro de Atacama's local restaurants. Adobe is one of the most popular restaurants in town, with excellent food and a huge bonfire in the middle of the restaurant. Or, if you want to enjoy dinner accompanied by some live music, La Casona is a traditional restaurant with three differently themed rooms, where local artics play a range of musical styles every day. 
The next day, have an early start to visit the Salt Flats. Doing this excursion as part of a tour really is the easiest and best way to see as much as possible and learn about the fascinating landscape. Most tours will pick you up from your hotel room and take you to several stops throughout the day, including the Licancabur Volcano, the Aguada de Quepiaco wetland, and of course the Tara Salt Flats, where you will see unique landscapes, lagoons, giant rock formations, and a range of wildlife including flamingoes.
Once you return to town, enjoy some downtown and dinner before joining a stargazing tour. The Atacama Desert is one of the best places in the world to see the night sky, thanks to high altitudes, low humidity, and almost non-existent light pollution. You will get to observe the constellations both with the naked eye and through a telescope while learning more about astronomy, for a memorable last night in the desert.
Day 7: Fly to Punta Arenas
After a busy first week in Chile, day 7 will be a travel and rest day. Departing from Calama Airport, you will have a 5-hour flight (via Santiago) to Punta Arenas in southern Chile. Upon arrival in Punta Arenas, take some time to relax at your hotel and explore the small city on foot, to see its monuments, street art and varied architecture. There are also plenty of restaurants in the city offering local and international cuisines, so you will easily be able to find somewhere to grab some dinner.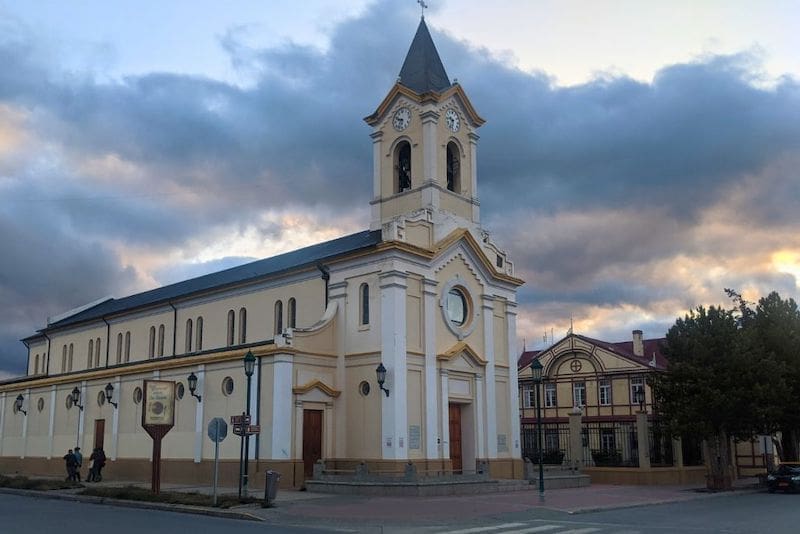 Day 8: See the Penguins on Magdalena Island
Today you will get to experience the playfulness of thousands of penguins in their natural habitat by taking a tour to Magdalena Island. Departing early in the morning, the tour takes you on a scenic cruise through the Strait of Magellan before arriving at Magdalena Island where the boat docks and you get to see this cute colony of birds up close. Weather permitting, the cruise will also pass by Isla Marta where you can see sea lions and seals lounging on the rocky shores.
Upon your return to Punta Arenas, catch an afternoon bus to your next destination, Puerto Natales, the gateway to Chilean Patagonia. The ride takes about 2 hours and once you get there you will be ready to check-in to your hotel and head into town for some dinner at one of the many local bars or restaurants.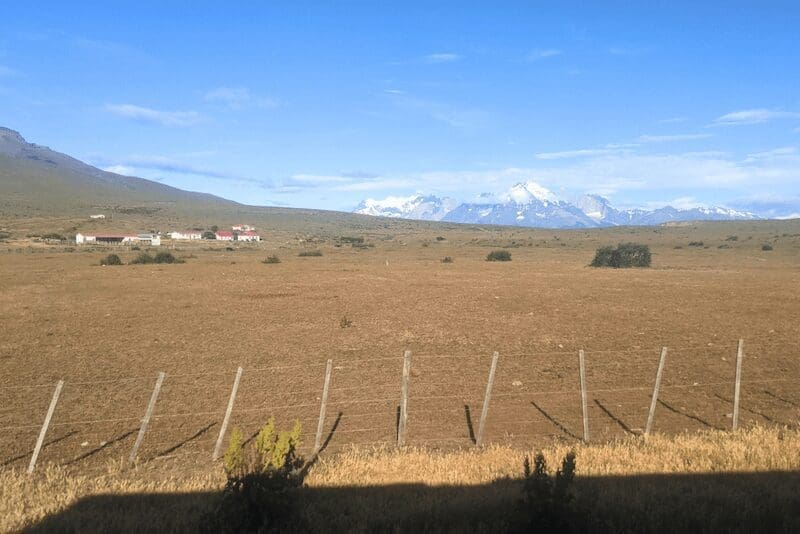 Day 9: Spend the Day at an 'Estancia'
Estancias (ranches) are the heart of the Patagonian lifestyle and culture. Departing from Puerto Natales, take a full-day tour to Estancia La Peninsula, a 19.000-hectare family-owned ranch, where you will get to experience the Gaucho lifestyle for yourself. Plus, you'll get to see the breathtaking Patagonian Fjords on your way, as the tour begins and ends with a boat ride through the Last Hope Fjord, taking you to and from the estancia. 
Upon arrival, you will have the option between going on a 2-hour trek or horseback ride, to explore the ranch's grounds. Then, you'll get to refuel with a traditional lamb barbeque lunch before learning more about the work and life on the ranch with a herding dog and sheep shearing demonstration. You will then get some time to explore on your own or enjoy a glass of Chilean wine before getting the boat back to Puerto Natales for the evening.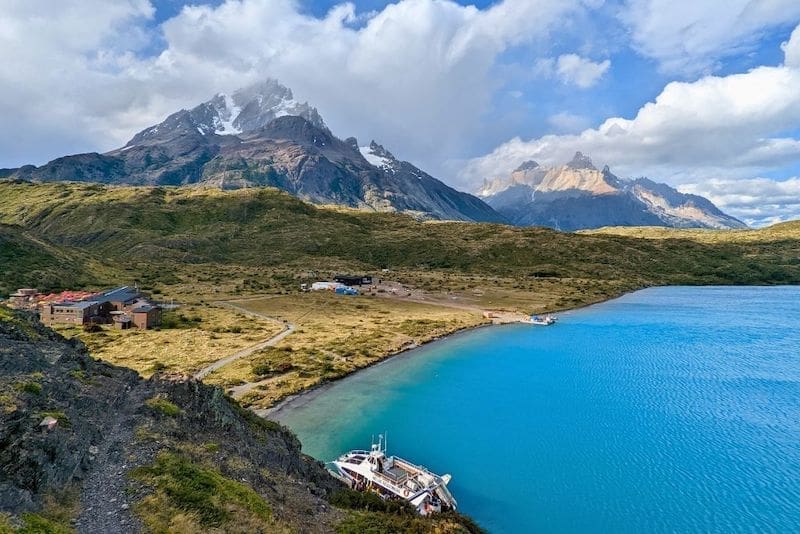 Day 10-12: Explore Torres del Paine National Park
Saving the best for last, the final destination on your Chilean adventure is Torres del Paine National Park, the crown jewel of Patagonia. The park has some of Chile's best hikes and adventure activities and is arguably the most scenic destination in the country.
Torres del Paine is best known for its three distinctive granite peaks (after which the park is named) and the surrounding valley landscapes full of dramatic mountain peaks, huge glaciers, bright blue lakes, unique ecological zones, and rugged hiking trails. The park really is a hiker's paradise! 
To truly experience Torres del Paine, you should book to stay inside the park. Fortunately, there are a range of different accommodation options to suit all types of travelers, including hotels, 'refugios' (more basic style mountain hostels) and camping. 
With 2-3 days to spend in the park, you can tailor your itinerary to suit your level of fitness, hiking experience and interests. Some of the key sites to see include the Britanico Lookout, the French Valley, Lake Pehoe, the Grey Glacier, and the lookout at the base of the Torres del Paine peaks. You can also book activities such as a cruise or kayaking at the base of the Grey Glacier, or ice hiking on the glacier!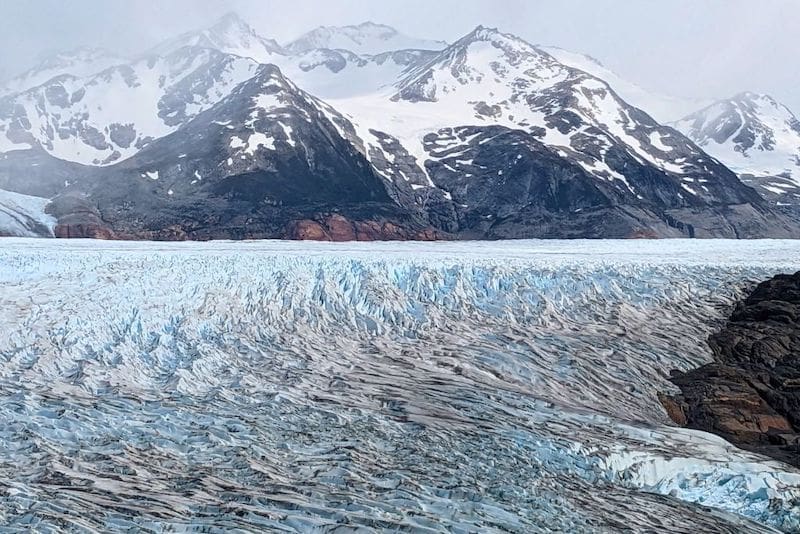 With 2 nights to spend in the park, the best spot to base yourself will be either the Refugio Paine Grande on Lake Pehoe, or Hotel Grey near the Grey Glacier. Paine Grande is actually located at one of two entrances to the park, which is reached by Catamaran. And the Catamaran also operates between Paine Grande and Hotel Grey.
Alternatively, you can spend one night at Paine Grande or Grey, and then travel by Catamaran and bus to the park's other entrance, Laguna Amarga, where you can spend a night at the Refugio or Hotel las Torres and hike up to the Torres del Paine lookout to see the iconic three peaks.
If you can allow a bit of extra time in your itinerary, then the absolute best way to explore Torres del Paine is actually by doing one of the park's multi-day hikes, the W Trek or O Circuit. These treks take between 3 to 9 days to complete and will take you to all the highlights of the park, allowing you to fully immerse yourself in this breathtaking environment. 
Day 13-14: Travel back home via Santiago
Once your Patagonia experience comes to an end, it will be time to travel back home via Santiago. It's a short flight back to Santiago from either Puerto Natales or Punta Arenas, where you can either get a connecting flight or spend a final night in Santiago before flying out the following day.