From new and notable apparel brands to delicious post-workout snacks, we unpack the latest gym bag essentials for your regular trips to studio.
Bellabooty Belt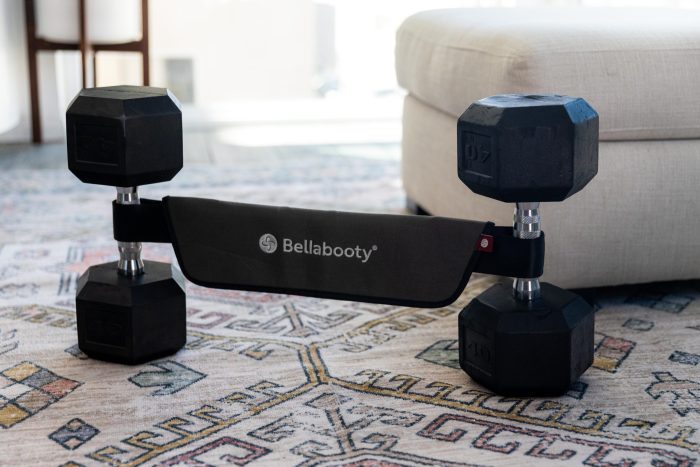 Wherever your workout takes you, the Bellabooty Belt will make exercising with weights even more seamless and convenient.
Its easy-to-use design is effortless to set up and can hold dumbbells, kettlebells, and plates up to 400 lbs. Perform a variety of exercises such as hip thrusts, squats, lunges, push-ups, planks, dips, and more! The comfortable padding allows you to focus on your form rather than stabilizing or holding the weight.
Caught in the Midi
Beyond Yoga
Beyond Yoga's best-selling Caught in the Midi legging is made from its iconic buttery soft Spacedye fabric that is made from responsibly sourced materials. The leggings have 4-way stretch, are moisture-wicking, and have no outer seams. Available in core and seasonal colors including but not limited to Sapphire Blue Heather, Fern Green Heather, Silver Mist, and Nocturnal Navy (pictured above).
Beyond Yoga is a female-founded yoga and athleisure brand with pieces that are designed to seamlessly transition from the gym to the street. The brand also sells maternity styles.
BUILT Bar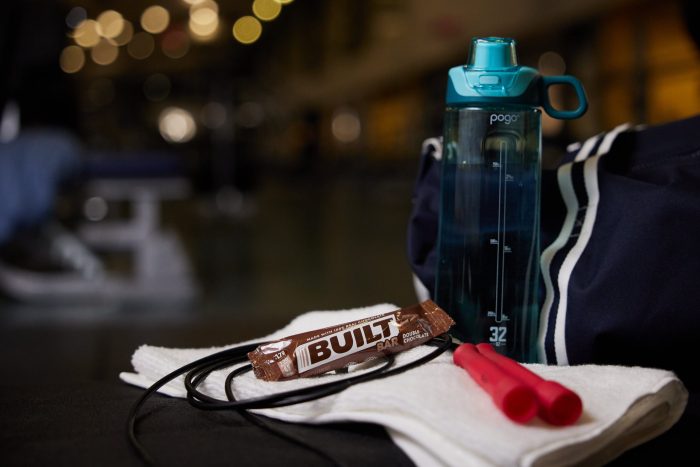 Choosing the right pre- or post-workout snack to keep in your gym bag is essential. BUILT Bar is a USA-made protein-packed nutrition bar that comes in a wide variety of flavors like Cherry Barcia, Cookie Dough, Peanut Butter Brownie, and Raspberry Cheesecake.
Each bar packs in a minimum of 15gs of protein while being low fat and high in fiber, ensuring your body is fully fueled for any workout.
CRYSTAL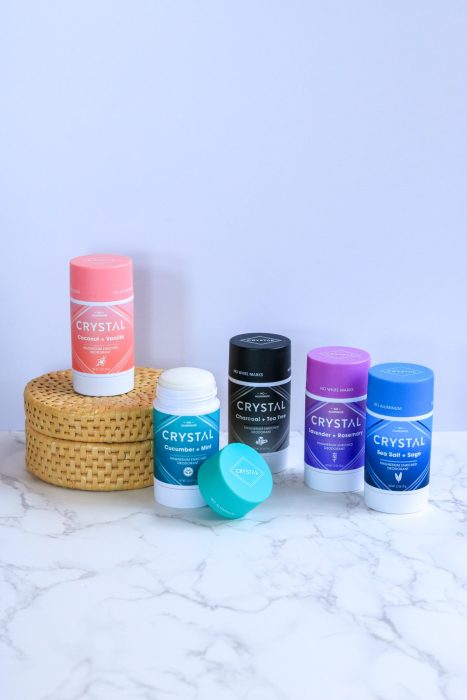 A perfect essential addition to your gym bag, CRYSTAL's deodorant sticks are vegan and offer 24-HOUR odor protection without aluminum, white marks, or drying irritants like baking soda.
They are also the first and only natural deodorant brand to receive the prestigious Clean Label Project® Purity Award for every product in the company's line. Clean Label Project, is a nonprofit organization focused on bringing truth and transparency to consumer product labeling.
Flipped Lab
Add a flare of color to your workout routine. Flipped Lab is a female founded sustainable activewear company that offers a wide selection of activewear pieces in fun and unique colors and patterns.
Popular selections from Flipped Lab's current collection include the Rose Quartz Sports Bra, Cherry Checker Shorts, and Raspberry Checker Bra (pictured above). Plus, all Flipped Lab packaging is plastic free.
Good Human Sweatshirt
Mon Coeur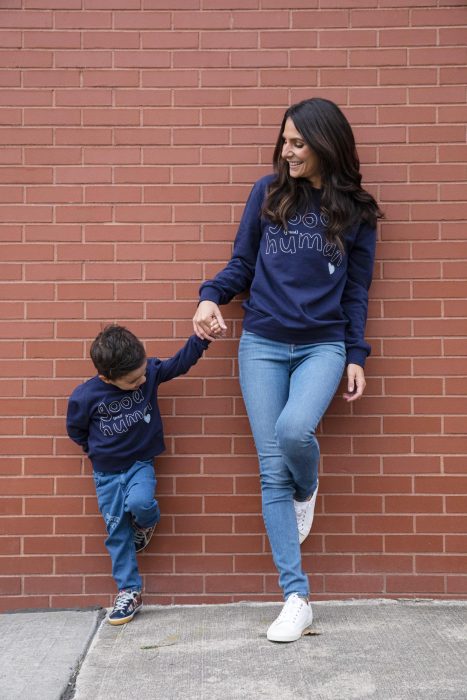 Perfect for cooler days, the Good Human Sweatshirt by Mon Coeur is extremely soft and comfortable for post-gym hangouts. Made sustainably in Portugal from recycled cotton and up-cycled plastic bottles, using non-toxic ink.
This sweater also comes in a kid's size so you can have a matching moment with your little one! For each purchase, 1% of sales go to the restoration of the natural environment.
GUILTY
GUILTY is an athleisure and leisurewear brand based in Los Angeles. Each new collection includes a selection of seasoned casual style pieces accompanied by designer accessories. Several of GUILTY's pieces are ideal for changing into after the gym, including the Acid Washed Oversized Hoodie, Holly Sweatpants, and Acid Washed Oversized T-shirt (pictured above).
GuruNanda Concentrated Mouthwash
GuruNanda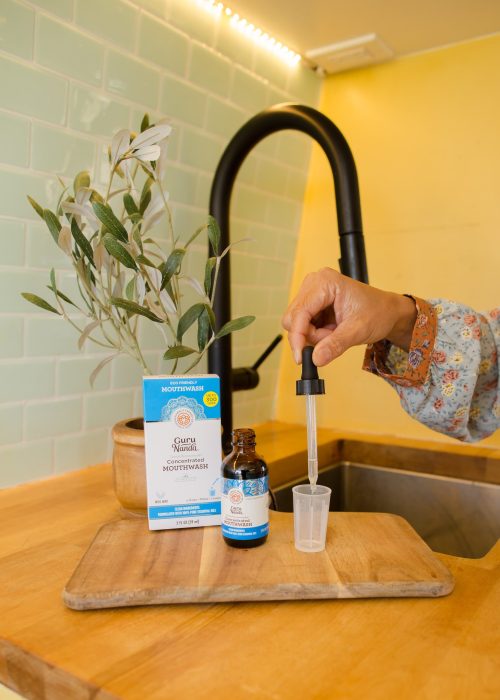 As opposed to quickly going through a standard size bottle of mouthwash, simply dilute a few drops of Concentrated Mouthwash into water and then swish. A single two-fluid oz. bottle has as many "servings" as ten 16-oz. bottles of conventional mouthwash.
GuruNanda's mouthwash with 100% pure essential oils contains no alcohol, fluoride, preservatives, gluten, or toxic chemicals and it is not tested on animals. Their bottles are made from recycled plastic and are TSA friendly!
Kuli Kuli Superfood Energy Bars
Kuli Kuli Foods
Kuli Kuli Superfood Energy Bars are the only "salad in a bar" on the market. Each bar provides half a cup of leafy greens with simple wholesome ingredients. Perfect for the gym, the energy bars are vegan, gluten-free, and made with Fair Trade Certified chocolate and non-GMO ingredients. Flavors are Black Cherry and Dark Chocolate.
MOSH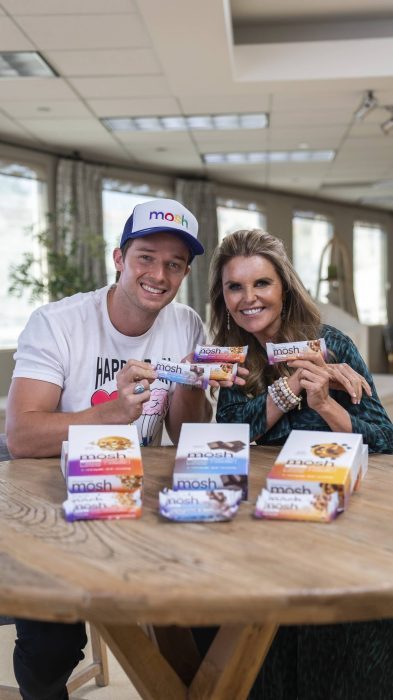 Founded by Maria Shriver and Patrick Schwarzenegger, the MOSH protein bars are made with deliciously mind-blowing ingredients and make for an excellent snack choice post-workout. MOSH bar flavors include Cookie Dough Crunch, Blueberry Almond Crunch, and Peanut Butter Chocolate Crunch, among others. The bars are also non-GMO, Keto friendly, gluten-free, and Kosher.
Multi-Tasker 4-in-1 Makeup Brush
Alleyoop
Alleyoop makes affordable and compact beauty essentials for the woman on the go, including makeup, skincare and body care products all with a mission to become plastic neutral.
Their Multi-Tasker 4-in-1 Makeup Brush packs in all of the essential beauty applicators: concealer sponge, blush, brow, and eyeshadow brush, in one easy tool. The concealer sponge is replaceable and Alleyoop sells refills. Best of all, it's travel friendly and helps save space in your gym bag or handbag.
Organic Creamy Protein with Oatmilk
Garden of Life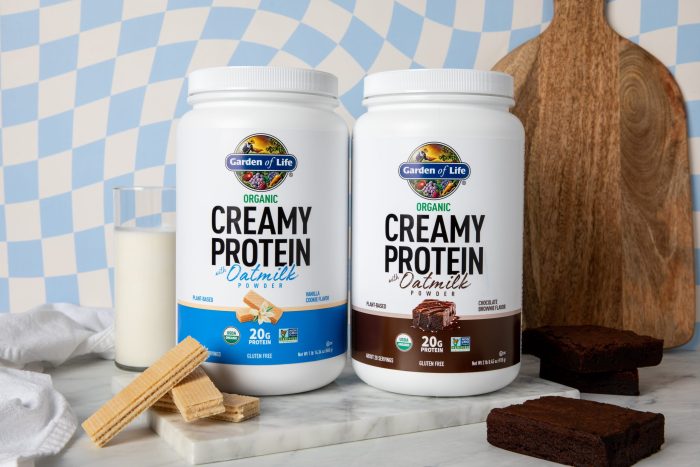 Garden of Life, headquartered in Florida, has recently debuted their new Organic Creamy Protein with Oatmilk, available in Vanilla Cookie and Chocolate Brownie flavors. Perfect for as part of a post-workout smoothie, the new Organic Creamy Protein with Oatmilk is high in protein and contains no added sugar. Certified USDA organic, non-GMO, vegan, and gluten-free.
OS1st
Compression bracing and performance sock brand OS1st, is essential for having in your gym bag. Perfect for a wide variety of exercises and sports including running, pickleball, agility training, and lifting, OS1st socks are meant to keep you active and pain free. Styles include Thin Air Performance Socks, Compression Bracing Socks, Active Comfort Socks, and The Pickleball Sock – No Show (pictured above). Each style is available in a wide range of colors.
R1 Percussion
ROLL Recovery
ROLL Recovery is a Boulder, Colorado based athletic performance and functional recovery company that recently launched the R1 Percussion as part of their line of recovery tools. The R1 Percussion uses the force of percussive therapy to improve performance and accelerate recovery.
Designed to prime the body pre-workout and accelerate recovery post-workout, the R1 features a compact size (perfect for the gym bag), a supremely quiet motor, and a long-lasting battery. Available in four colors including Mint Green, Champagne Gold, Ruby Red, and Carbon Black.
Raw Edge Wide Leg Pant
TKEES
The Raw Edge Wide Leg Pant is the comfortable essential apparel piece for your gym bag. Made of 100% cotton, these pants easily take you from the gym to the office. The sweatpants feature a wide leg and front flat-panel waist with pintuck detailing.
Available in three colors: Black, Earthen, and Sand. Responsibly made in Toronto, Ontario.
TKEES creates timeless and elevated essentials for the modern woman. The brand began with a vision to reimagine the traditional flip flop as a refined wardrobe staple and over time expanded with a full apparel line for women and children.
That's it.
Best known as the two-ingredient Fruit Bars (made from only fruit). That's it. fruit bars can easily be tossed into a gym bag without the worry about a potential mess or bruising. A perfect healthy snack while on the go, the fruit bars are non-GMO, allergen free, and gluten-free.