Helvetia & Bristol is Florence, Italy's centrally located sophisticated and elegant hotel that welcomes couples and families alike. Offering impeccable service with beautiful, individually appointed rooms and suites as well as world-class amenities, this boutique property provides the ideal place for travelers with discriminating tastes to unwind during their visit to Firenze.
Rooms and Suites
The Helvetia & Bristol offers some of Florence's most luxurious and comfortable rooms and suites. Each room boasts traditional Italian furnishings with high ceilings and large windows to provide plenty of natural lighting; cozy single rooms and expansive suites are available to meet every need and preference. The design elements are perhaps divided into two wings: The Helvetia Wing and Bristol Wing.
The Helvetia Wing
The 64 rooms in the Helvetia Wing are characterized by refined and elegant settings embellished with antique furnishings and carefully restored artworks.
The Helvetia Wing at Helvetia & Bristol hotel offers 64 elegantly designed rooms and suites featuring both classic and modern decor, offering ultimate comfort during their stay – featuring amenities such as high-speed internet, flat-screen TVs and plush bedding – in every room or suite – providing unforgettable city views from each.
Helvetia & Bristol hotel's two Panoramic Suites exude an elegant ambiance of Florentine history on its fifth-floor aristocratic living quarters, measuring an expansive 67 square meters each and offering spectacular panoramic views of Cathedral, Bell Tower by Giotto and Palazzo Strozzi.
Each suite is equipped with two Italian marble bathrooms for added luxurious touches and decorated with antiques, refined objects, and paintings by notable artists, in combination with modern amenities designed to meet guest's every need.
The Bristol Wing
In the Bristol Wing, the 25 rooms and suites that are "seductive" bear the signatures of Anouska Hempel. She was inspired to create the design by the sumptuous Florentine Palaces from the past. Historical Florentine artists have decorated the spaces with original, unpublished artworks.
Anouska Hempel's remarkable design skills can be seen throughout her Presidential Suite, which covers over 100 square meters and comprises two interconnecting rooms and an elegant sitting area boasting luxurious velvet sofas, marble surfaces, and an inviting fireplace.
Italian artisans create spectacular four-poster beds from antique mirror paneling or wrought iron with exquisite Italian silk shantung fabrics and curtains to complete this alluring space.
Enhancing the beauty of these rooms were handcrafted bronze lamps by Bronzetto, Bianco Bianchi's scagliola occasional tables, antique mirrors with brass decorations on them, and brass decorations on furniture pieces.
The Presidential Suite boasts three bathrooms elegantly tiled in white Carrara marble. Most notable among them is the master bathroom, which boasts twin washbasins, an expansive Devon & Devon bathtub positioned opposite the fireplace, Turkish bath facilities, and a shower for an indulgent experience.
Amenities
Helvetia & Bristol Hotel goes far beyond offering basic hotel accommodations – it offers an unforgettable experience! Offering amenities for families through the Starhotels Family Program.
At Helvetia & Bristol, guests can indulge in top-of-the-line amenities that offer maximum comfort and convenience. The Starbed features luxurious and comfy bedding to guarantee guests a restful night's rest, while Pillowmania allows them to find their ideal pillow from various options.
All rooms and suites come fully stocked with modern amenities like high-speed Wi-Fi, flat-screen TVs, comfortable bedding, and exquisite marble bathrooms complete with luxurious bath products, slippers, bathrobes, and fluffy towels – everything needed to provide a memorable stay! With multiple room or suite options to choose from, you are certain to find what meets your individual needs perfectly!
Dining at Helvetia & Bristol
At Helvetia & Bristol, embark on an authentic culinary adventure! Their menu offers something deliciously tempting that draws inspiration from tradition: food and wine research, the passion of local producers, the enhancement of territory and raw materials – an authentic culinary journey with each bite that pays homage to Florence & Tuscany's culinary legacy! They promise an experience sure to please both foodies and those simply seeking culinary adventure – make time to experience these delectable tastes today at Helvetia & Bristol's menu!
Get lost in an unforgettable culinary journey at Helvetia & Bristol's delectable and dynamic menu, drawn from tradition.
Breakfast by Maestro Iginio Massari
Helvetia & Bristol offers guests an unforgettable dining experience through Breakfast by Maestro Iginio Massari. Over his distinguished career, Massari has revolutionized Italian breakfast by revisiting classic recipes and offering high-quality pastries featuring unexpected flavor combinations.
Today at his Iginio Massari Alta Pasticceria, you can experience this unforgettable dining experience made up of a rich yet light breakfast using only premium ingredients handpicked personally by Massari and his children Debora and Nicola himself!
Helvetia & Bristol offers guests a breakfast menu featuring freshly filled brioche and croissants, plum cakes, biscuits, cakes, cheese, fresh fruit, and cereal. Fresh coffees, tea, and juice are served alongside the delicious breakfast spread. An a la carte menu is also available.
Massari's pastries that make every season taste delightful. Plus, Massari's seasonal specialties in Tinello with exquisite decor for an inviting ambiance and spectacular morning service!
Cibreo Caffe
Enjoy Italian culinary excellence at Helvetia & Bristol Hotel with Cibreo Caffe, located inside this exclusive collaboration between a historic Florentine name and Helvetia & Bristol Hotel. Ideal for coffee, lunch, aperitif, and special dinner events in Florence's center, with charming interior spaces and an outdoor area offering breathtaking views of Palazzo Strozzi facades as a bonus.
Cibreo Caffe's culinary offerings are an array of authentic aromas and traditional flavors that follow each season's rhythms. Their menu showcases only premium products sourced from eco-sustainable productions that represent Italian culinary excellence. Each dish, from delectable antipasti to mouthwatering pasta dishes to sumptuous main courses, is artfully prepared in their entirety to embody Italian gastronomy excellence in each way possible.
Cibreo Caffe is an absolute must for those in Florence seeking an unforgettable dining experience, boasting its unmatched ambiance, exceptional cuisine, and outstanding customer service – it truly stands out among Florence's culinary landscape!
Cibreo Ristorante and Cocktail Bar
Experience an extraordinary dining experience with Cibreo at Helvetia & Bristol Florence's legendary Cibreo restaurant – an established Florentine catering operation celebrating over four decades of success – now featuring an entirely new concept!
At Cibreo Ristorante & Cocktail Bar, they pride themselves in creating an original menu highlighting Italian specialties with dishes like crepes with ricotta cheese and white meat ragu as representative examples of generosity within Cibreo cuisine and "Filet of Fassona Piemontese," representing quality Italian raw materials.
Additionally, Cibreo's opening has taken on even greater sophistication and uniqueness with the debut of their brand-new Cocktail Bar – dominating the main room of their restaurant with a yellow Siena marble counter and serving up original signature cocktails specific to Cibreo as well as international classic cocktails, spirits, and liqueurs from across Europe and Asia.
Massimo Adario, an award-winning Italian architect renowned for creating exquisite spaces such as Cibreo Ristorante & Cocktail Bar in the Bristol wing of the Hotel, designed a refined image for this new Cibreo Ristorante & Cocktail Bar located therein. His talent and creativity shine through in each detail of this restaurant, making it both a pleasant and appetizing experience for eyes and taste buds alike!
At Cibreo Ristorante & Cocktail Bar in Florence, Cibreo stands out as a must-visit destination. Offering exquisite cuisine and cocktails, in addition to impeccable service and beautiful design features, make for an unforgettable dining experience and make Cibreo the ideal spot for special events or even just evening outings in the city.
Bristol Winter Garden
Step into the magic of Bristol Winter Garden, a handsome space topped by a historic Liberty-style glass ceiling. The intimate space is adorned with mirror-backed screens, mirroring exquisite petroleum blue velvet seats while its delicate wallpaper depicting Tuscan fauna alludes to classic 18th-century chinoiserie motifs.
The Winter Garden leads into the Tinello, an exquisite piece of Florentine craftsmanship and the heart of our hotel designed by Riccardo Barthel. Serving lunch or dinner during various parts of the day, guests are invited to experience some of Italy's best culinary creations while basking in the luxury of this space.
Tinello can also be booked for private events, dinners, and chef's tables of up to 12 guests. With exceptional cuisine, impeccable service, and luxurious surroundings – making for an exceptional dining experience right in Florence itself!
La Spa
La Spa, Helvetia & Bristol's luxurious spa and wellness center, provides guests (and day visitors) with treatments designed to relax, revitalize and unwind – from traditional massages and facials to unique services such as Roman Baths, Aquamotus, or other signature treatments.
This tranquil, modern spa oasis boasts a Salt Room, Hammam, Finnish Sauna, Frigidarium, Emotional Showers, Gym, and massage rooms with a sauna and hot tub.
There's an indoor gym so guests can work up a sweat before or after treatments with a lesson.
Additionally, the outdoors is the perfect setting for a walk, run, or cycle activity. With its relaxing environment and professional staff providing world-class treatments – La Spa is an ideal place for visitors looking for pampering during their time in Florence!
Starhotels Collezione
The Starhotels Collezione offers 13 iconic hotels across Italy's most stunning and culturally vibrant cities, such as Paris and London, each providing its own unforgettable experience for luxury-minded travelers seeking comfort and style. Each property represents the art and design of its city of origin – offering unique traveler journeys every time!
At each hotel in this collection – from Florence's elegant Helvetia & Bristol to Paris' Castille Paris – guests experience authentic culture, history, cuisine, and design through authentic, immersive experiences of their city's culture, history, and cuisine. Offering excellent services, world-class amenities, and stunning design, the Starhotels Collezione provides unforgettable travel experiences in some of Europe's iconic cities.
Nearby Points of Interest
Helvetia & Bristol Hotel offers guests an ideal base to experience Florence. Just steps from its most-famed attractions, such as the cathedral or Duomo, Piazza della Signoria, Palazzo Vecchio, Palazzo Strozzi, Dante House Museum, and the picturesque Ponte Vecchio.
Santa Maria del Fiore Cathedral
The Cathedral, or Duomo, officially known as Santa Maria del Fiore Cathedral, is one of Florence's most recognizable landmarks and an outstanding example of Italian Gothic architecture.
The cathedral boasts an eye-catching pink, white, and green marble facade that impresses visitors from afar, complete with intricate details and statues that draw visitors in closer.
Inside is just as captivating, with an impressive nave and stained-glass windows which allow natural light to fill and light up its surroundings. Visitors to Florence must see Florence Cathedral/Duomo to experience its vast culture, history, and architectural masterpiece. Climb the Dome for stunning panoramic city views!
Visiting Duomo or Cathedral should not be skipped during their travels through Florence; its experience will provide unforgettable moments!
Piazza della Signoria
Piazza della Signoria in Florence has long played an essential part in Florence's political and cultural history for centuries, playing a central role in its political life and cultural development.
This square in Florence houses the Palazzo Vecchio, Florence's historic town hall, Michelangelo's David statue, and various essential sculptures and architectural landmarks. Visitors to Piazza della Signoria can stroll around, admiring its stunning architecture and art while thinking back on all of the historical events that have taken place there. A must-visit destination for anyone interested in Florence's rich cultural and historical legacy, an emblem of Florence as an important center of art, politics, and culture.
Palazzo Vecchio
Palazzo Vecchio is Florence's iconic landmark and must-visit destination. Constructed as Florence Town Hall during the 14th Century, this architectural wonder is an everlasting reminder of Florence's political and cultural importance today. Palazzo Vecchio boasts stunning architecture and is filled with exquisite art and sculptures, such as Giorgio Vasari's impressive Hall of the Five Hundred with its breathtaking fresco cycle.
Visitors can climb to the top of its tower for breathtaking panoramic city views from up there; Palazzo Vecchio serves as a testament to Florence's long and rich history while allowing visitors to immerse themselves in Florence's culture, art, architecture, history, and heritage. It should be noticed!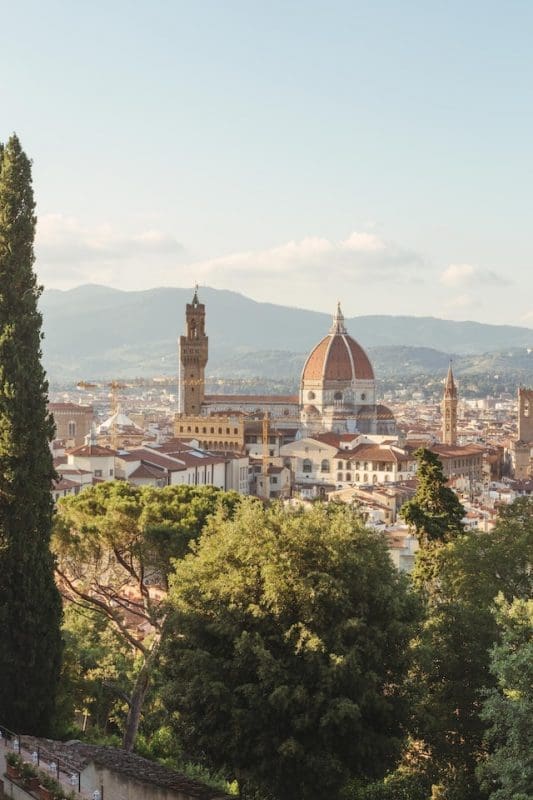 Palazzo Strozzi
Strozzi Palace in Florence is an outstanding example of Renaissance architecture that should be noticed on any visit to Florence. Built for the wealthy Strozzi family during the 15th century, this palace features an exquisite courtyard and striking facade featuring ornate details and carvings.
Today, Strozzi Palace is a contemporary art and culture hub in Florence, hosting exhibitions, concerts, and other events year-round. Visitors can immerse themselves in Florence's rich cultural legacy and modern developments through exhibitions or other forms. Strozzi Palace embodies its lasting significance – a must-visit destination for anyone exploring Florence's vibrant artistic heritage!
Dante House Museum
The Dante House Museum in Florence is essential for anyone wanting to gain more insight into Dante Alighieri and his life and works. Housed within a historic building that many believe was once home to Dante, visitors will learn all about his incredible life and work here. This museum showcases Dante's life and works, including rare manuscripts and first editions of his legendary poem – Divine Comedy.
Visitors of all ages will delight in exploring this museum, which boasts four beautiful rooms decorated and furnished to recreate an atmosphere typical of Florentine homes during Dante's time. A must-visit destination, The Dante House Museum honors one of Italy's greatest poets while simultaneously providing visitors with an incredible journey into its literary and cultural heritage.
Ponte Vecchio
Ponte Vecchio should be on any visitor's itinerary in Florence. Built during the 14th century, its breathtaking views of the Arno River and cityscape make it a landmark that cannot be missed! Now lined with shops selling jewelry, art, souvenirs, and much more, it has long been popular with tourists and locals.
Stroll across it while admiring its architecture and history – truly experiencing Florence at its full potential is worth your while if visiting Ponte Vecchio! It truly showcases Florence's cultural and architectural history, while its unique charm and beauty must not be missed!