A stay at Hotel Plaza e de Russie in Tuscany will take you further into the heart of Italian culture, cuisine and hospitality. Hotel Plaza e de Russie is a sophisticated 5-star design hotel and is a distinguished Relais & Chateaux property on the coast of the Tyrrhenian Sea.
Situated on the coast of Viareggio's Art Nouveau district along the route of the Grand Tour, the newly redesigned hotel has hosted prominent figures throughout the past century. Notable high society figures include Austrian poet and novelist, Rainer Maria Rilke; Italian composer Giacomo Puccini; and Italian conductor Arturo Toscanini. The hotel still reflects the sophistication and ambiance of days gone by while entwining modern comforts, and a luxurious interior design portfolio.
This Tuscan hotel features many unique amenities for visitors with impeccable service. The cosmopolitan Hotel Plaza e de Russie is home to 44 rooms and suites, including two penthouse suites each with a spacious private terrace.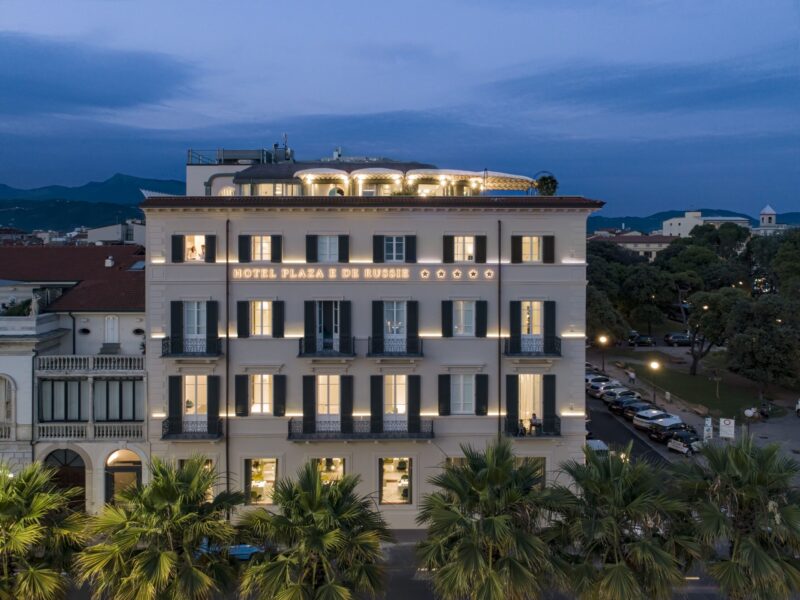 Rooms & Suites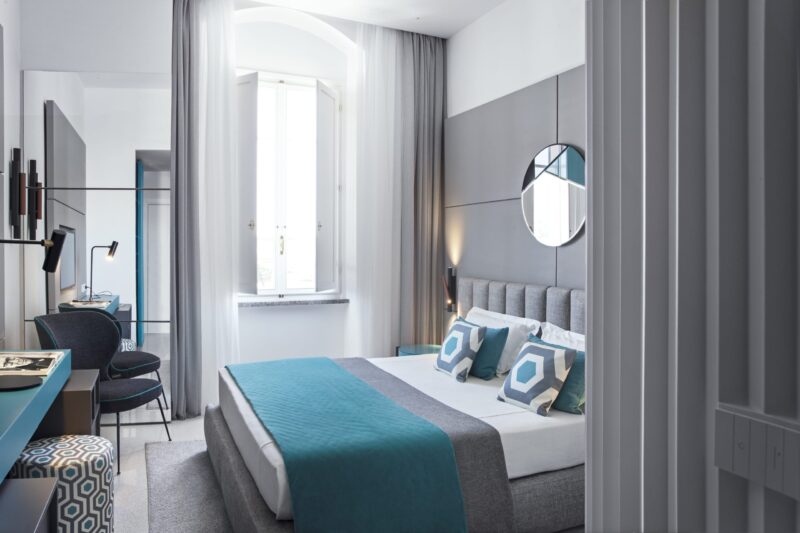 Hotel Plaza e de Russie offers 33 rooms for guests, including superior and deluxe rooms as well as junior suites. Each room boasts its own unique character with warm understated tones that embody the essence of luxurious Italian hospitality. Each room includes a flat-screen TV with satellite programming, a safe, Wi-Fi connection, and a fully stocked minibar.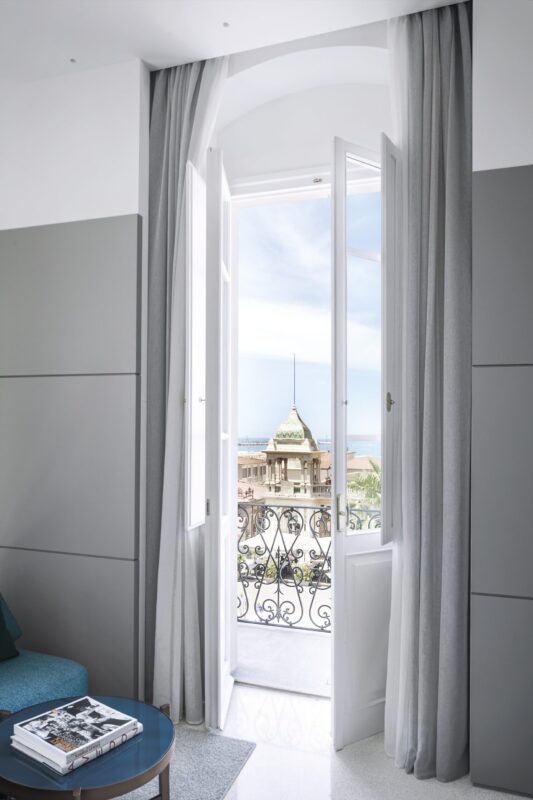 This charming, seaside hotel has 11 suites. Each suite evokes intimate charm and refined elegance, perfect for a group of friends or the whole family.
The Family Suite, for example, is a bi-level, two-bath apartment with generous amounts of space, comfort, and relaxation. Stay for the weekend or for a longer getaway on the Italian coast.
The epitome of luxury at Hotel Plaza e de Russie are their two penthouse suites: Penthouse Nord and Penthouse Sud. Gorgeous private terraces span the entire suite, and full-length French doors invite in the Mediterranean sun.
Each penthouse evokes its own character style and character. The interior design evokes warm subdued tones, making for a most relaxing and peaceful stay at Hotel Plaza e de Russie.
Both penthouse suites feature endless amounts of style and comfort. Guests will be graced with spacious living and dining areas, as well as equally ample yet intimate bedrooms, and luxurious bathrooms. For example, Penthouse Nord boasts a round, king-sized bed paired with breathtaking views from the two penthouse terraces. Guests will soak in unparalleled sunrises and stunning Mediterranean sunsets overlooking both the sea and landscapes from Cinque Terre to the Apuan Alps.
Dining at Hotel Plaza e de Russie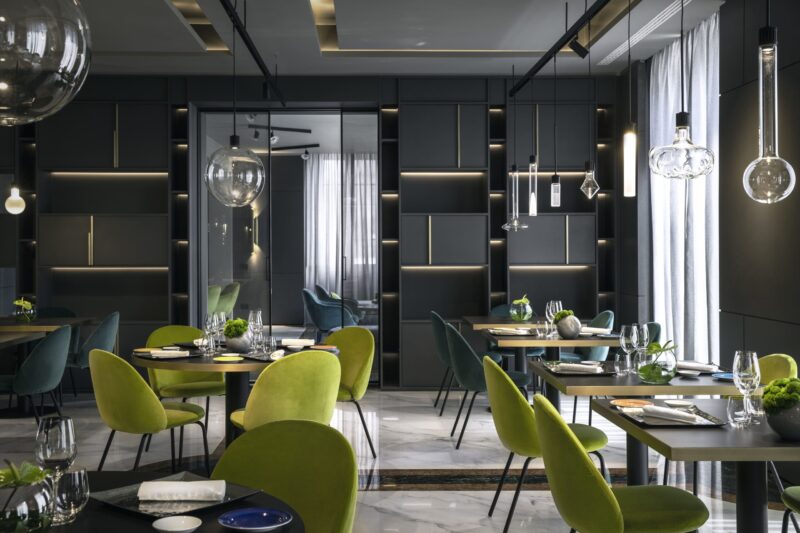 Lunasia Restaurant
Lunasia Restaurant is led by recently honored Michelin-starred chef, Luca Landi. The fine dining menu cleverly mixes traditional and innovative cuisine while featuring distinctive flavors, aromas, and a colorful presentation. Each dish is presented as a work of art. Chef Landi masterfully creates dishes that reflect his home region of Tuscany. The menu offers a selection of fresh Mediterranean fish and seafood as well as a variety of local, seasonal ingredients.
Lunasia Restaurant also allows guests to see the chef and kitchen staff hart at work with their see-through glass wall.
Most notably, Chef Landi works closely with Slow Food International.
Nearby Points of Interest
Explore the wonders and bounties of Tuscany and let Hotel Plaza e de Russie be your gateway. Explore the charming towns and villages across Tuscany, book a cooking class, a cycling tour, wine tastings and vineyard tours, and so much more than you could ever expect. Notable points of interest within a close proximity to the hotel include:
Villa Puccini
Leaning Tower of Pisa (30 minutes away)
Plage Maurizio

Viareggio Boardwalk
An event not to miss is the annual Viareggio Carnival. The Viareggio Carnival takes place during the month of February and early March.
Hotel Plaza e de Russie Booking Information
Book your stay at Hotel Plaza e de Russie for your vacation to Italy and learn more by clicking here. Note that breakfast is always included in the room rate. This Relais & Chateaux property also offers vacation deals and packages that can be booked directly on their website. Packages offered include a Romantic Journey, Gourmet Experience, and a special prepaid rate.