Are you ready to hit the beach or pool this summer? Then it's time to start looking for swimwear that suits your style and fits comfortably. But choosing the right pieces can be tricky, so here are a few tips on what to keep in mind when shopping for swimsuits. From selecting the perfect fit to understanding fabric types, these guidelines will help you find a look that is both fashionable and functional. 
Think Style and Design
When buying swimwear, it is important to consider the style and design. This will help you choose a bathing suit that looks good and fits well. Lots of women take full advantage of amazing Aerie coupons offered by Coupon Chef in order to broaden their choice further and find the best designer outfit for the beach. Make sure to look into every opportunity that comes your way. Different styles of swimwear can flatter different body shapes, so it's important to find one that is flattering on you.
Additionally, certain designs are better suited for certain activities such as swimming laps or playing beach volleyball. By considering the style and design of your swimsuit, you can ensure that you have a suit that looks good and performs well in your favorite activities!
Consider Comfort and Fit 
When choosing swimwear, it is important to consider comfort and fit. If the swimsuit is too tight or too loose, it can be uncomfortable when swimming or playing in the water. The right fit helps you move freely and have fun without any discomfort. 
It is also important to make sure the fabric of the swimsuit feels comfortable against your skin. Different materials have different levels of stretchiness that can affect how comfortable you feel while wearing them. Additionally, pick something you personally feel comfortable wearing in public. Swimsuits come in a variety of styles and cuts, so you can mix and match to find something that is both attractive and flattering.
Look at the Fabric
Swimsuits are made out of different materials. These could be the following:
nylon 

spandex/Lycra/elastane

polyester

polyamide

polyurethane

microfiber

neoprene

cotton/linen blends
The fabric should be comfortable, breathable, and dry quickly so that it is comfortable to wear in the pool or ocean. Checking for these properties can help you decide which type of swimsuit is best for you.
Try out different fabrics to find out which one feels best against your skin. This will help you decide what type of fabric is the most comfortable and suitable for swimming. Also, make sure to check how long it takes for the swimsuit to dry after use. 
What's Your Body Type?
When it comes to buying swimwear, it is important to consider your body type. This will help you find the perfect swimsuit that fits and flatters your body shape.  Different ones require different kinds of swimsuits.
For example, those with an apple-shaped body would look better in a one-piece suit or tankini while those with a pear-shaped figure could wear a two-piece suit that has more coverage on the bottom half of their bodies. Knowing your own shape can also help you decide if you want more coverage or less coverage when it comes to choosing the right style for you. 
Try to figure out which body type category best fits your shape and look for swimwear that accentuates the parts of your body you want to highlight. This will create a more flattering look while also making sure you are comfortable with what you are wearing. 
What Will You Be Doing?
Different swimming activities need different types of swimwear. For example, if you are going to be swimming in a pool, then a one-piece swimsuit may work better than a two-piece. However, if you are going surfing or doing any other water sport that involves more movement, then wearing board shorts and rash guards can help protect your skin from the sun and provide extra coverage as you move around in the water.
Additionally, it is important to know how much time you will be spending in the water and make sure that your choice of swimwear is comfortable enough for those activities.
Check UV Protection 
UV protection means the fabric of the clothing will help keep your skin safe from too much sun exposure. The higher the UPF rating (Ultraviolet Protection Factor), the more protection it provides against harmful rays, which can cause sunburns or even skin cancer.
It is especially important to wear UV-protective clothing if you are going to be in direct sunlight for a long period of time. Additionally, wearing a hat and applying sunscreen can also help protect your skin from too much sun exposure while swimming or at the beach.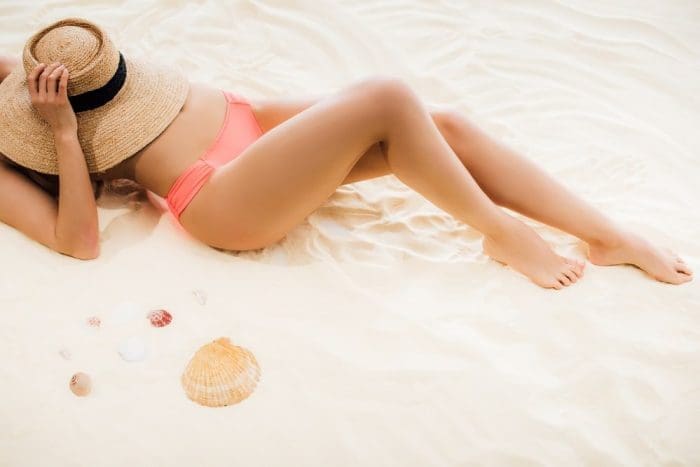 Choosing the right swimwear is an important part of having a great day at the beach or pool. Consider your body type, activities you will be doing, and fabric comfort to ensure that you pick something fashionable and functional for your needs.
Don't forget to check UPF ratings so that you can protect against too much sun exposure while also enjoying all of your favorite water sports! With these tips in mind, now it's time to hit the stores and find yourself some stylish new summer swimwear.