LongHouse Reserve in East Hampton celebrated its annual Summer Benefit on Saturday, July 22nd in East Hampton. The gorgeous event honored the joyful creativity of artist Mary Heilmann and the literary genius of A. M. Homes.
Gala Chairs Dianne Benson, Cindy Sherman, and Robert Wilson, Art Chairs Pamela Willoughby and George Negroponte, with LongHouse Board of Trustees, greeted friends and supporters – including Alice Aycock, Candace Bushnell, Rosanne Cash, Renee Cox, Bill T. Jones, Laurie Lambrecht, Sophie Chahinian and Robert Longo, Lisa Perry, and G.E. Smith – to the MidSummer Dream themed evening, full of wonder.
About the Summer Benefit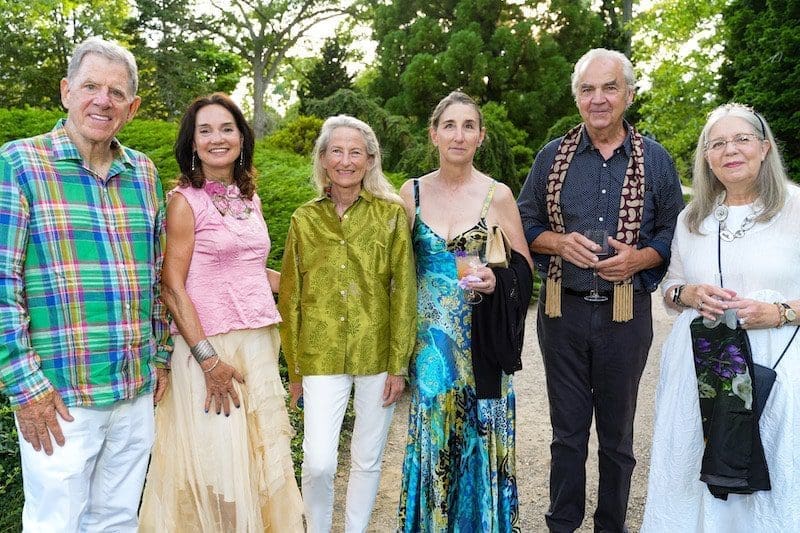 Guests entered through the sand dunes, into a whimsical world with pop-up performances including stilt walkers, musicians, dancers, a horse rider, a merman in the pool, trapeze aerialists and acrobats roaming the gardens, enhancing the sensual space that is LongHouse.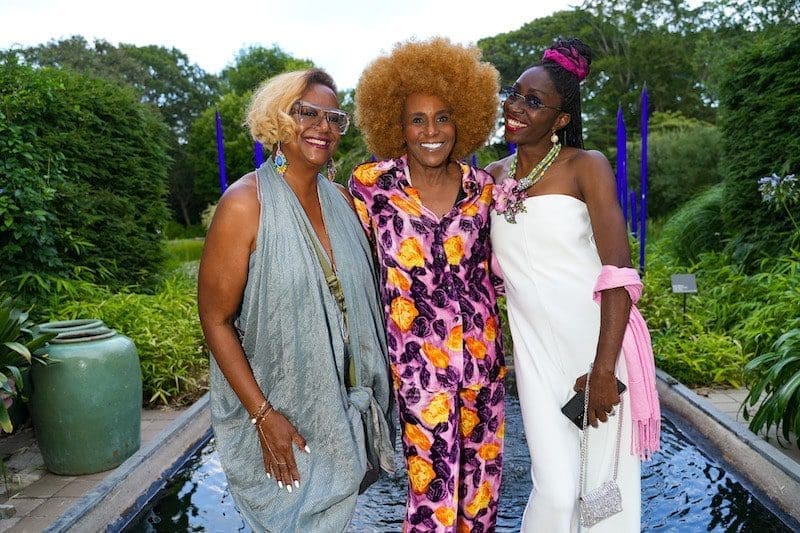 The entire 16-acre grounds were open to discovery with art at every turn, including this new works by Wyatt Kahn and Fitzhugh Karol (both in attendance), loans from Daniel Arsham and Ai Weiwei, as well as permanent works by Buckminster Fuller, Sol LeWitt, Yoko Ono and more. The evening raised over $650,000.
Dinner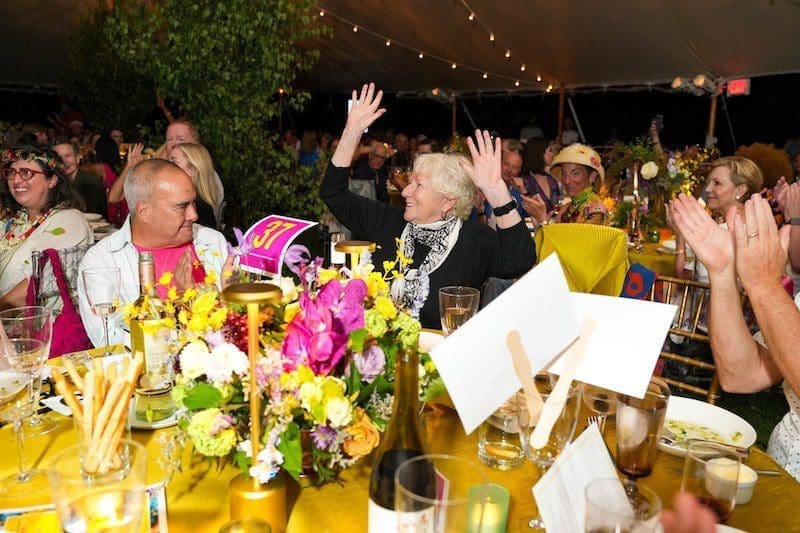 Dinner began with a video of the late LongHouse Founder Jack Lenor Larsen walking the gardens sharing "change involves the new and there's something magical about the new. Let's look at what could be done; at what hasn't been done. How to get away from the ordinary and the conventional, to discover. Let's do that, even in a small way, and see what we can find."
During the dinner, A.M. Holmes took the stage to share "an odd piece of trivia that I'm sure no one knew when they selected me for this honor. Jack Lenor Larsen has been part of my life since I was 3 days old—literally.
In 1960 my parents built a modern glass house at the edge of Rock Creek Park in Washington D.C. At three days old I was carried through the front door; the first thing I passed were beautiful woven curtains—fabric by Jack, and then I was carried down the hall to my parents room and placed on their bed, fabric by Jack, and the drapes in that bedroom, by Jack.
My first experiences, my first visions were influenced by Jack. For the entirety of my childhood, I viewed the outside world through the weave of Jack Larsen."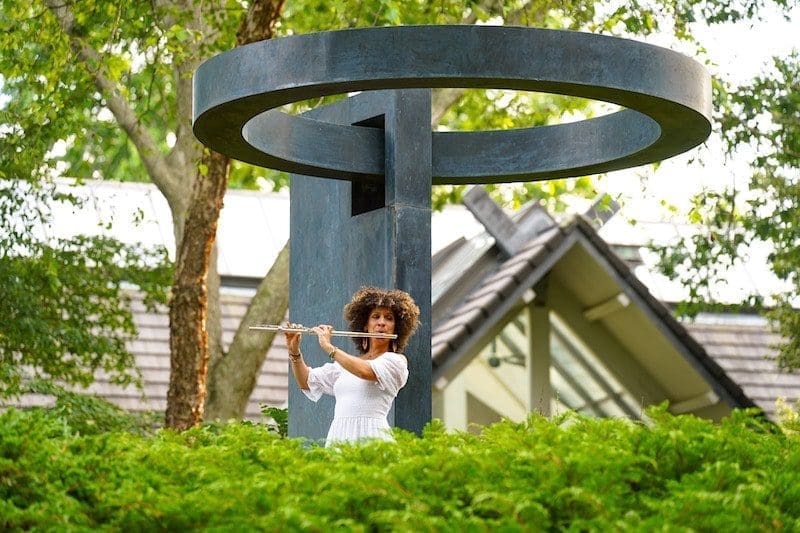 Artist Almond Zigmund introduced honoree Mary Hailmann, "One of my favorite people and painters. Mary's work gives you permission to luxuriate in the now.  I don't surf but I imagine looking at her work is similar to the experience of catching a perfect wave, where the absolute chaos of the ocean and tranquil sublimity of catching the wave are combined and distilled into a perfect gesture.  That is what Mary's paintings are to me."
Junior Committee Hosted After Party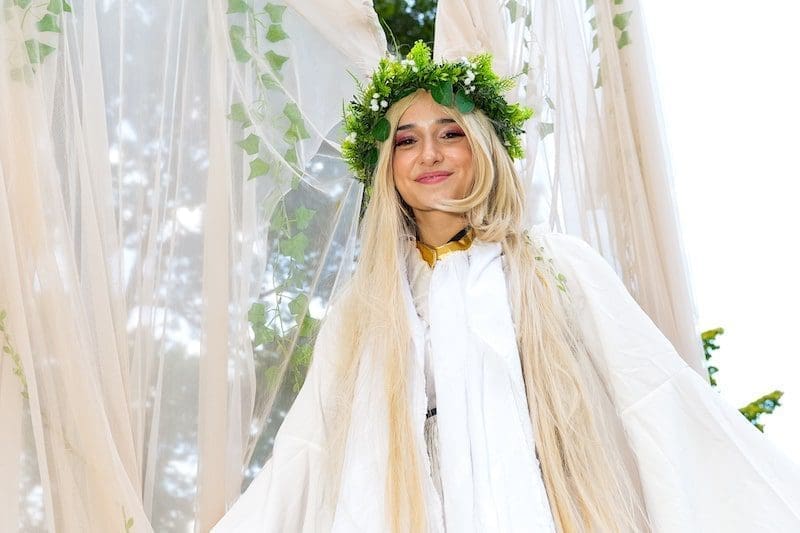 A Junior Committee – including Emma Wrazej (Chair) and Hilary Cianciolo, Noah Erni, Emma Grayson, Mary Kantor, Robert Ladov, Vivienne Lange, Victoria de Lesseps, Sami Lyons, Owen McGowen, Ben Mitchell, and Morgan Wilkins – hosted the afterparty with cocktails, dessert, and dancing with DJ Amber Valentine until midnight
Art Auction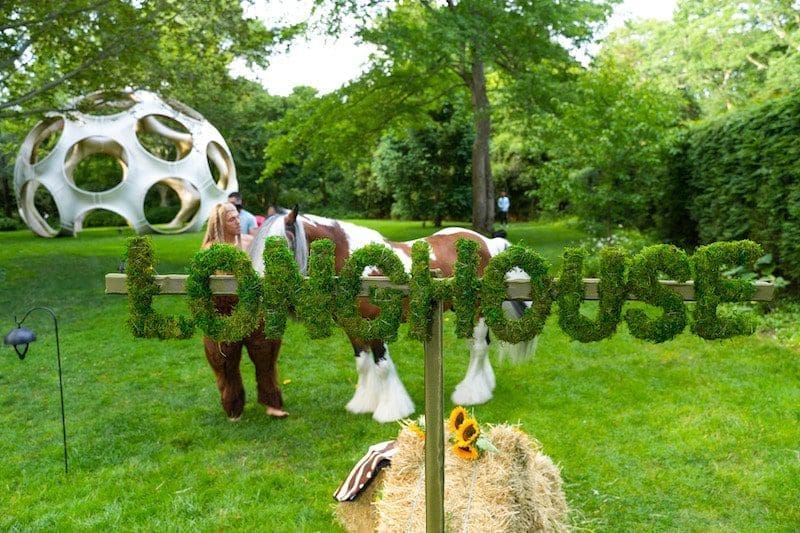 This years art auction, benefiting education at LongHouse, included works by Annie Albers, Bjorn Amelan, Laurie Anderson, Ross Bleckner, Cyril Christo & Marie Wilkinson, Peter Dayton, Dawn DeDeaux, Michael De Feo, Sally Egbert, Maryam Eisler, Connie Fox, Joe Gaffney, Judy Hudson, Peter Hujar, Anton Perich, Fitzhugh Karol, Mel Kendrick, Laurie Lambrecht, Jeff Muhs, Randy Polumbo, Marcia Resnick, Ugo Rondinone, Cindy Sherman, Kiki Smith, Arlene Slavin, Clintel Steed, Suzannah Wainhouse, David "Mr. StarCity" White, Lucy Wynton, Mark Wilson, and Robert Wilson.
Upcoming Events at LongHouse Reserve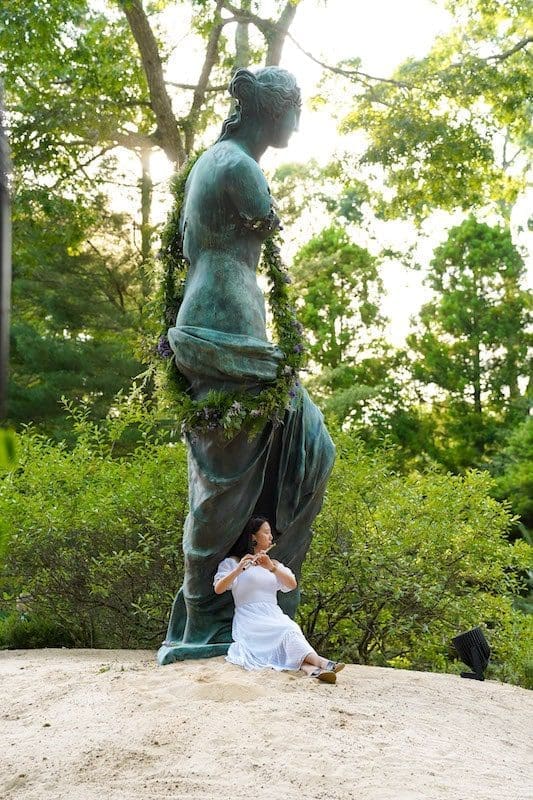 In the coming days LongHouse Reserve will host conversations and book signings with actress Alexandra Auder with her book Don't Call Me Home: A Memoir on August 13th.
Gifted virtuoso pianist and composer Llewellyn Sanchez-Werner will share an evening of enchanting music under the stars in celebration of Jack Larsen's birthday on August 5th, made possible by the generous support of Barbara Tober.
LongHouse Reserve is open April-December, Wednesdays through Sundays from 12:30pm until 5pm.
A Membership allows you to visit LongHouse Reserve throughout the season. General admission is $20, with reduced price tickets for seniors and students, and no charge for children, veterans or active-duty personnel.
Click here to learn more about LongHouse Reserve and how to plan your visit.