National Yoga Month has begun! Throughout the month of September, luxurious hotels and resorts from the Caribbean to the Cape salute and celebrate 'om' and flow.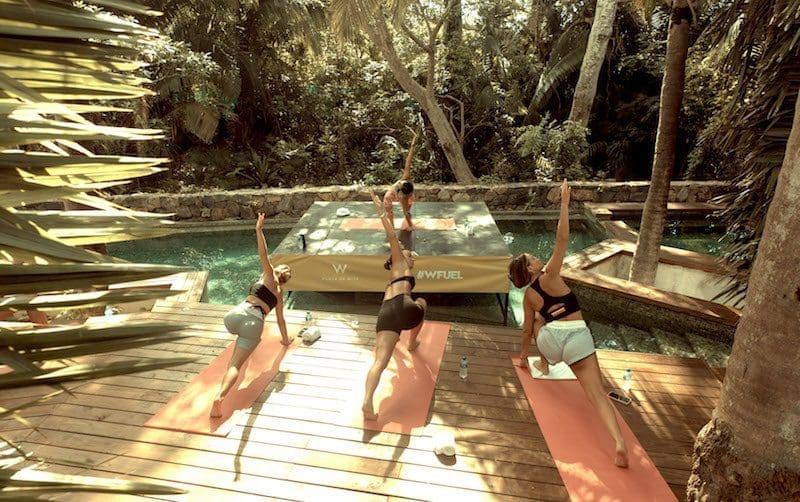 Find Your Zen the Indigenous Way
W Punta de Mita 
A chic beach resort located on Mexico's coveted Riviera Nayarit, W Punta De Mita offers an idyllic escape for yoga enthusiasts. Situated on one of Mexico's best surf breaks, it is edged with lush rainforest that unfolds in winding, tree-lined paths. Nestled in the heart of this jungle paradise, guests can practice their downward dog at the AWAY Spa's relaxation deck. The deck is surrounded by ancient papelillo trees, or on their Camino Huichol.This is a walkway made up of more than 700,000 individual mosaic tiles. The tile designs are inspired by the area's indigenous natives. The walkway extends from the lobby out to the ocean. It has stairs designed to represent the ups & downs of life, not to mention gorgeous beachfront views. After yoga and some relaxation, guests can feast on fresh beachside ceviche, or lounge at the poolside WET Deck listening to smooth, relaxing beats.
Lakeside yoga in the Guatemalan Highlands
Casa Palopó
Casa Palopó is perched above Lake Atitlán. The lake is famous for its natural beauty, three mesmerizing volcanoes and 12 colorful Mayan villages that dot its shores, each with its own personality. The private home turned boutique hotel offers just 15 uniquely decorated guest rooms. The rooms are adorned with colorful walls, Latin American artwork and handwoven textiles. The rooms also offer breathtaking views of the lake and the three volcanoes. Casa Palopó invites guests to practice yoga in different areas of the property. The most popular is the green grass helipad with it's 180-degree views, and where you'll want to namaste all day. 
The Marker Key West Harbor Resort
Guests vacationing at The Marker Key West Harbor Resort have the opportunity to start their day with Aqua Yoga on Saturday mornings from 9am-10pm in the resort's heated pool. The immersive yoga class uses the medium of water to decrease pressure in joints while increasing buoyancy in the body. Following this refreshing and relaxing class, patrons can continue lounging by the pool, indulge in breakfast at the resort's Starboard Restaurant, or enjoy all the other activities the resort and Key West has to offer.
Yoga with a view of the Caribbean's brightest blues
Wymara Villas
Wymara Villas welcomes guests to one of the most lavish lodging experiences in the Caribbean. Celebrate National Yoga Month at your picturesque, multi-bedroom oceanfront villa located on the coveted Turtle Tail area. Inspired by the island's natural beauty, the villas feature floor-to-ceiling glass windows and fully foldable doors. Simply open and allow the breezy ocean air to flow through.
Each villa offers a private oceanfront infinity pool flanked by an over-the-water swim platform with direct ocean access. This area also doubles as the perfect spot for yogis to get in tune with themselves and their magical surroundings. 
Zen Service Hyatt Centric Las Olas Fort Lauderdale 
Fort Lauderdale's newest hotel is helping guests channel their inner yogi in honor of National Yoga Month. There are a selection of on-demand yoga classes available via their in-room TV's.
Guests of Hyatt Centric Las Olas can also request 'Zen Service'. This is a calming, in-room amenity that consists of yoga mats, scented cold towels, incense, and non-alcoholic beverages.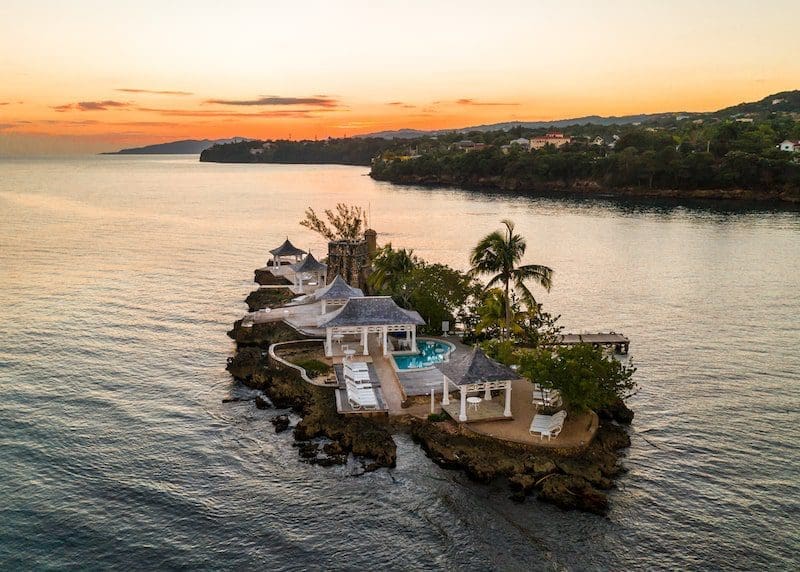 Ohm on a Private Island 
Couples Tower Isle
Located in Ocho Rios, Jamaica, Couples Tower Isle is an all-inclusive and adults-only oasis. The property spans 19-acres alongside the Caribbean's sparkling waters and fine white sand. It is also teeming with stunning and expansive outdoor spaces for an unforgettable yoga practice.
Moreover, the resort has its very own au naturale private island located just a few yards off the beach. Guests seeking ultimate seclusion can choose to sail away to the island for a relaxing afternoon. There are numerous open-air gazebos, wooden decks leading to the ocean, and more create a yogi's paradise.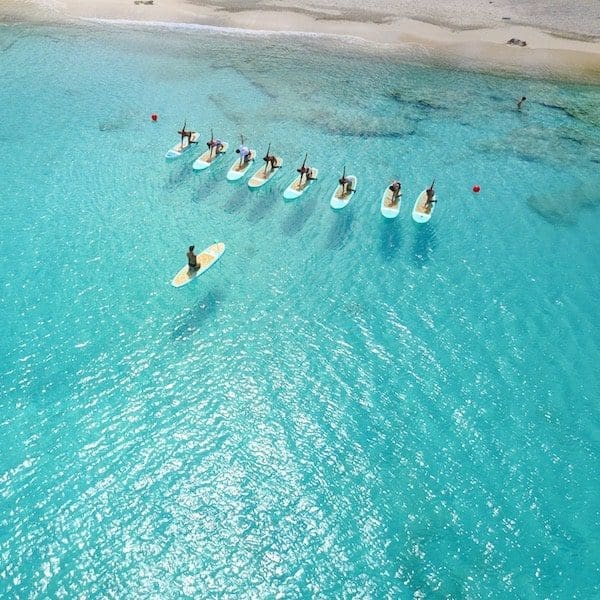 Floating yoga in the Caribbean Sea
Playa Knip, Curaçao
Open for all ages and skill levels, join local Curaçaoan yoga instructor Liberty Surares for SUP yoga. Class will overlook Curaçao's stunning clear blue seas. Dushi SUP is the island's first and only floating yoga studio. Once you've stretched out and relaxed, you can enjoy the rest of Playa Knip.
Winner of TripAdvisor 2016 Travelers' Choice Award, Playa Knip is one of Curaçao's most acclaimed beaches. With its pristine sands, sparkling turquoise waters, and breezy palapas, the beach has become a traveler favorite. The beach is also ideal for snorkelers, as the shallow reef is just a short swim from shore.
Vinyasa with a View
Marriott Puerto Vallarta Resort & Spa
At Marriott Puerto Vallarta Resort & Spa, there's no shortage of breezy outdoor spaces to get your 'om' on. Roll out your mat on a jetty over the glistening Pacific or along a private sandy beach hugging the Banderas Bay. Or, hop on a paddleboard for the ultimate balancing act.
Everything you ever dream of for experiencing National Yoga Month in Mexico is here. From postcard-perfect panoramas over Puerto Vallarta's largest infinity pool to a smoothie bar to refuel, this beautiful beachfront resort caters to those looking for a vacation to vinyasa.
Courtyard Yoga and Activations in Coral Gables
THesis Hotel
THesis Hotel in Coral Gables is offering yoga classes on Thursdays at 6:30pm and Saturdays at 10am on the Paseo de Riviera courtyard in partnership with Green Monkey Yoga. Green Monkey Yoga is a local studio that aims to inspire people to improve their health and well-being. 
This expansive and spacious courtyard is also home to other weekly activations such as art displays, local markets, and dance parties. In addition, the hotel offers on-site dining with bites by James Beard Award winner Chef Niven Patel at Mamey and Mamey on Third.
Asanas on the shores of The Cape
Ocean Edge Resort
Nestled on the coast of Cape Cod, Ocean Edge Resort & Golf Club invites its guests to hatha yoga classes on the resort's Bay Pines Beach. The private classes, which cater to all levels, take place on Brewster Flats during low tide.
Instructor Anne Saimeri sets up towels for each participant, decorated with a few seashells and heart-shaped stones. Anne focuses on more meditative work on the sand, with the option to try more advanced poses on the flats. After savasana, guests will spot the ocean at high tide where they earlier enjoyed their asanas.