Ryland Life Equipment, the Hamptons based menswear and accessories store, recently celebrated their one year anniversary in March. In addition to their Sag Harbor storefront, Ryland Life is also a global e-commerce platform that features some of the most sought after and carefully curated brands and products from around the world. You receive 10% off and free shipping on your first order when you subscribe to their newsletter.
Ryland Life is owned and operated by Ryland Hilbert, a longtime Hamptonite who grew up in Southampton and now lives in Sag Harbor.
The Sag Harbor Storefront
"What I love most about Sag Harbor is the year-round community. So many great creatives have their roots in Sag Harbor."
Recently, Hilbert completed an expansion of the store, which will open up the second floor, doubling their retail space. Ryland Life has developed strong relationships with several great brands including RE/DONE, Missoni, Rivieras, Veja, and many others. RE/DONE, for example, is a brand based out of Los Angeles and sells bathing suits, denim, and polos.
"RE/DONE has been around for fifteen years and were one of our first brand partners," says Hilbert. "They rework and redesign vintage Levi's jeans to be more modern, their work is really cool."
Ryland Life also has an in-house cashmere line, Hank. The line includes cable knit sweaters, so popular they've brought in fifteen new color options this year, focusing on fun, bold statement shades, adding to the five colors they carried last summer.
19-69 Fragrance
"We carry nine scents from the brand 19-69, each with a matching scent and candle. We love them and we'll have around thirteen scents by the summer," explains Hilbert. Their fragrances, which are suitable for any gender, are perfect to give as a gift for any occasion.
Hilbert's Hamptons Roots
"I grew up in Southampton, as well as in between the Hamptons. My grandfather and great-grandfather lived in Sag Harbor," says Hilbert. "What I love most about Sag Harbor is its year-round community. There is a more engrained, year round feeling compared to other towns across the Hamptons. So many great creatives have their roots in Sag Harbor."
What is a typical day for Ryland Hilbert in the Hamptons during the summer months? "I typically start the day with either a SoulCycle or a Barry's [Bootcamp] class. I love the exercise community out here. Then I head to the store, which I do seven days a week. If I am lucky, I get to go to the beach. I also host and attend dinner parties. If we're going out, restaurants we love include American Hotel, and Il Cappuccino, which has the best family-style Italian."
Cooking and Dining Out
When it comes to cooking at home, Hilbert likes to keep it very clean and healthy. "I shop at local, in-season farm stands, like Serene Green in Noyack. My go-to dish is baked salmon with sautéed veggies. One of my favorite things to make at home is Thai style green curry with chicken. For dessert I make Laduree's Riz Au Lait (rice pudding) recipe"
Dinner Party Tips
Hilbert's Dinner Party hosting tips are:
Prep meals beforehand and get all the hard work out of the way before your guest arrives. Otherwise you are just cooking and cleaning in the kitchen the entire time.
Soups, salads are all great appetizers that can be made before guests arrive.
Create simple menus that aren't overly complicated. So many people are on various diets and require specific dietary needs that you can choose safe meals like simple proteins (chicken, fish, etc.) that tend to be in the safe zone.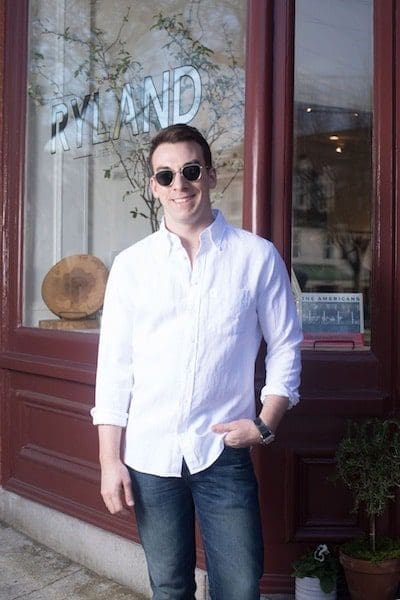 Favorite Fashion Pieces
Everything in the store is handpicked by Hilbert himself. Some of his favorite pieces include the Hank V-Neck Tee in black. "We carry them year round, they are so soft and comfortable and a great staple tee."
Hilbert also loves the Rainbow Bar fragrance from 19-69. "I wear it everyday, like my pair of Mr. Leight sunglasses. I also love the Farmhouse Pottery incense sticks." Farmhouse Pottery is a line of handmade ceramics that also offers garden pots, berry bowls, fruit plates, hanging bird shelters, and much more.
Perfect Hosting Gifts
Ryland Life Equipment has so many great gift ideas for your hosts. "We have beautiful pottery pieces from a collaboration with Whichford in the store. The pottery ranges from little espresso and tea cups, and vases, with price points below $100."