South Carolina, also known as The Palmetto State, is one of the most charming southern states and is filled with many pretty small towns, villages, and cities. Charleston and Hilton Head Island may come to mind right away for those who frequent this beautiful state, yet there are so many more picturesque destinations around the state to discover. Just outside the city of Charleston, for example, visitors can find some of the country's oldest living trees, The Angel Oak, estimated to be over 500 years old.
Below we highlight the prettiest towns and cities across South Carolina to provide an opportunity to uncover more hidden beauties and bounties across this southern state.
Bluffton
By Erin Clarkson of Savannah First-Timer's Guide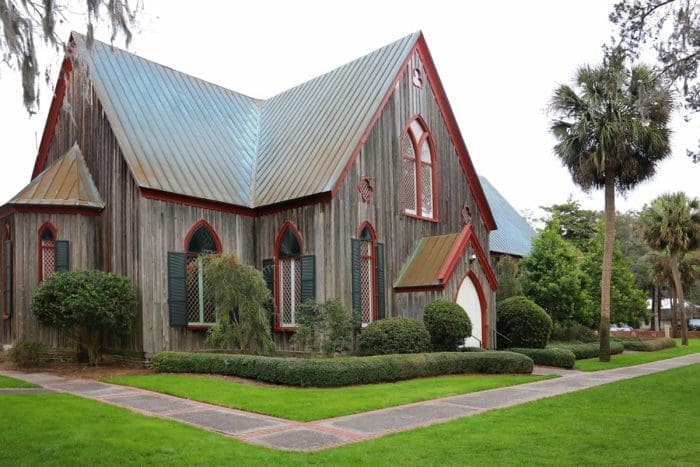 Bluffton is a picturesque town located in the beautiful South Carolina Lowcountry. It's sandwiched between Hilton Head Island and historic Savannah, Georgia.
To get there, fly into the SAV/HH International Airport and then drive approximately 25 miles into Bluffton. Alternatively, you can fly into the (much smaller) regional Hilton Head Airport and drive approximately 15 miles from Hilton Head to Bluffton. If you're visiting while on a road trip, you'll take the HWY 278 exit off I-95.
For being such a small town, Bluffton has quite an impressive food scene. FARM Bluffton is one of the most well-known restaurants in the area, but May River Grill, Old Town Distillery, and Frankie Bones are also popular.
The Bluffton Seafood Festival and the town's annual Oyster Roast are two of the biggest food events of the year. Burnt Church Distillery is a fun place to go for spirits with unique names like Sin Eater and Devil's Elbow.
The main street in Old Town Bluffton makes a nice place to go for a stroll. It's lined with charming boutiques, galleries, and furniture stores. Be sure to walk down to the Church of the Cross to check out the sunset over the May River!
Old Town Bluffton Inn is located near the town center and is within easy walking distance of restaurants and attractions. For a luxury stay, try the Montage Palmetto Bluff. Although it's only a short drive away, it feels like a total escape from the rest of the world.
Charleston
According to Explore Charleston, this beautiful city in South Carolina has been voted America's #1 Small City, 10 Years & Counting! Charleston is famous for its cobblestone streets, trendy shopping villages, horse-drawn carriages, international and southern cuisine, and pastel antebellum houses. The city's most famous districts are the elegant French Quarter and Battery district.
Charleston International Airport (CHS), about ten miles outside the city center, hosts airline carriers including American, Delta, Southwest, and United Airlines.
There is so much to see and do in Charleston for everyone of all ages. Animal and nature lovers will enjoy Cypress Gardens, Freshfields Village is the perfect shopping and dining destination, and visitors can discover Charleston's rich cultural heritage at the Gibbes Museum of Art.
Some of the best restaurants to visit for families of all ages include La Patisserie for pastries, The Reel Bar & Sunset Deck overlooking the Charleston Harbor, Virginia's on King for traditional southern cuisine, and Kaminsky's Dessert Cafe for heaping milkshakes and specialty coffee.
For overnight stays in Charleston, look no further than The Loutrel, one of Charleston's newest luxury hotels. Centrally located in historic Charleston, The Loutrel is even rated as one of the best hotels in the USA.
Edisto Island
By Bradley of Dream Big, Travel Far
One of South Carolina's Sea Islands, Edisto Island abounds with stunning beaches, diverse wildlife, charming old plantations, and an incredible food scene. It's a beautiful town where time has essentially stood still. You will not see any skyscrapers or fancy hotel buildings, and there is only one grocery store, one gas station, and a few local stores here.
The Botany Bay Plantation Heritage Preserve and Wildlife Management Area is one of the must-see destinations on the island. It's a wildlife paradise that is also home to a few historic sites and buildings from the 19th century. With 2,500 acres of wetlands and two miles of coastline, one could easily spend half a day simply exploring the area.
The best way to get here is to drive as Route 174 is the only access to the island. Alternatively, if you want to fly or catch the train to Edisto Island from further away, for example from Las Vegas, the best thing is to travel to Charleston first, and then drive the rest of the way.
Don't forget to stop by the harbor front joint, Pressley's at the Marina, which serves signature seafood dishes and refreshing cocktails by the marina. In terms of accommodation, Club Wyndham Ocean Ridge is an excellent beach retreat set on 300 acres of property with gorgeous bay and lagoon views. There's a beach cabana within, as well as a grove of oak and cypress trees that make for a lush and relaxing atmosphere.
Folly Beach
By Aimee Mielke of babiesandbeaches.com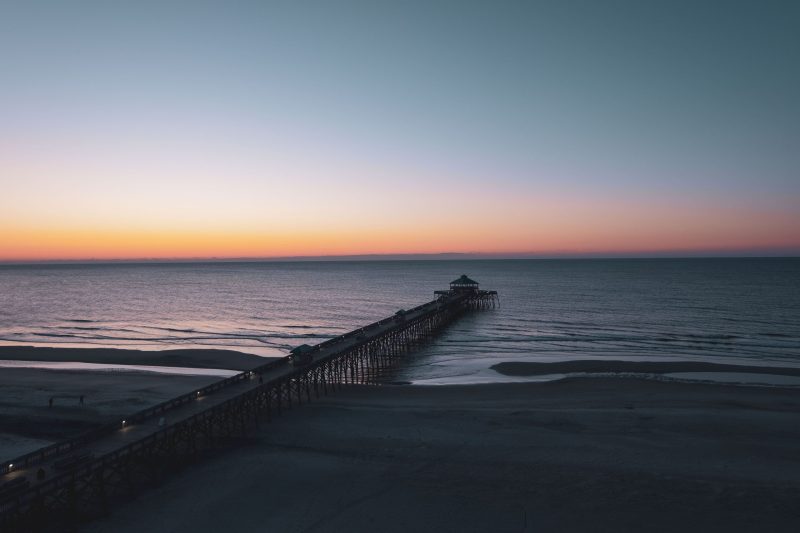 If you're looking for a charming and beautiful town to visit on the coast of South Carolina, look no further than Folly Beach. This idyllic city is located just 20 minutes south of Charleston and is easily accessible by car.
Once you arrive, there are plenty of things to do. The Folly Beach Pier is a popular spot for fishing and sightseeing.  The pier stretches over 1000 feet into the Atlantic and is free to visit. 
Surfing is also popular in Folly Beach. While the waves can be challenging, beginners can find lessons at one of the many local surf shops. If you're not up to surfing, you can enjoy the view of the waves from the beach. 
For a unique experience while visiting Folly Beach, be sure to check out the Morris Island Lighthouse.  Built in 1876, it is the tallest lighthouse in South Carolina, standing at 161 feet tall.  While no longer in service, the Light once marked the southern entrance to the Charleston Harbor.
Folly Beach is also home to some great restaurants.  Locals and visitors alike love Taco Boy, which serves up delicious tacos and nachos with fresh ingredients. If you're in the mood for brunch don't forget to try one of their breakfast tacos!
If you're looking for a place to stay, Tides Folly Beach is a great option. This hotel sits directly on the beach and offers breathtaking views of the Atlantic and the Fishing Pier.
Georgetown
Georgetown is the third oldest city in South Carolina and considered to be one of the most beautiful places to visit in this southern state. This charming seaside town is home to many historic homes and sites, museums, shops, and notable restaurants.
Georgetown is set half-way between Myrtle Beach and Charleston. The Georgetown County Airport is less than five miles away from the city.
Historic Georgetown has so many options for shopping from bookstores and giftshops to antique stores and galleries.
Visit Old Georgetown Creamery for delicious ice cream and delectable southern seafood at River Room Restaurant along the waterfront. Notable shops include The Ship's Booty for gifts and jewelry, Front Street Guitars, and Open Road Clothing Company for men's clothing and accessories.
For cat lovers, Georgetown is home to the cat cafe named Purr & Pour Cat Cafe. Visitors can grab a cup of coffee or tea and relax and interact with among the adorable and adoptable cats.
620 Prince in the heart of historic Georgetown is a luxurious bed and breakfast in a fully restored 19th century house. This B&B serves a European-style continental breakfast, outdoor swimming pool, bicycles to borrow, and complimentary on-site parking, and many more high-end amenities.
Hilton Head Island
Hilton Head Island, referred to as HHI, is located two hours south by car from Charleston and less than an hour away from Savannah, is known for its Atlantic Ocean beaches and sprawling golf courses. In fact, there are 24 public and private championship golf courses across the island. Hilton Head is considered to be one of the most beautiful islands in the world.
There are many activities to enjoy on Hilton Head Island. Explore the 12 miles of Atlantic coastline with some of the most beautiful beaches in the USA. For a quiet and relaxing beach day, head to Daufuskie Island. You can only arrive there by ferry. View the ancient oak trees and make sure you try the delicious, low-country cuisine.
Harbour Town is a picturesque destination where you can witness the Harbour Town Lighthouse which is a working lighthouse and museum. The lighthouse is 90 feet tall and you can climb up it for breathtaking views of Hilton Head. Explore the marina docks nearby, boutique shops, and discover many fun dining destinations. Hilton Head is also an excellent destination for those who love biking, with some of the most extensive bike paths in the state.
Restaurants to know in HHI include Sweet Carolina Bakeshop, Old Oyster Factory Restaurant for great seafood, and The Pearl Kitchen & Bar in the historic art district of Bluffton. There are also several wineries and breweries to visit during your stay.
The Omni Hilton Head Oceanfront Resort is considered to be one of the best and most luxurious hotels on HHI. The Omni Hilton Head has onsite dining experiences, a spa and fitness center, and boasts the largest oceanfront resort rooms and suites on the island.
Kiawah Island
By Brittany Sawyer of Travel by Brit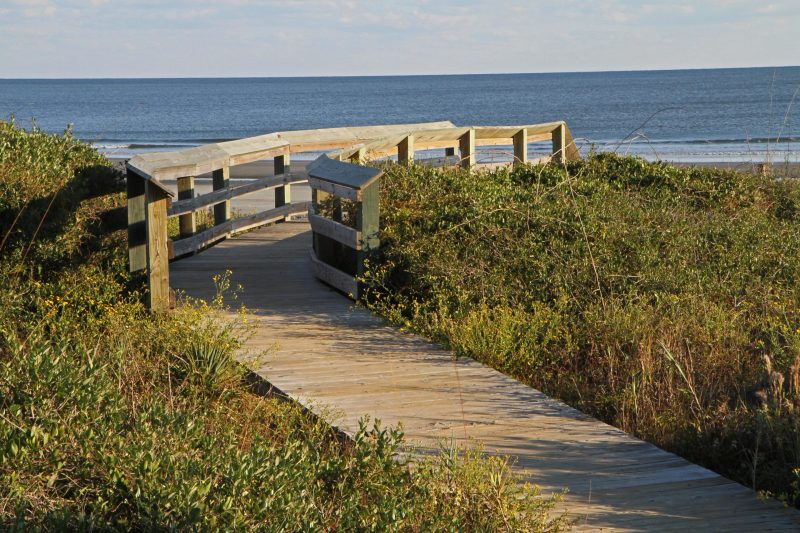 Kiawah Island is one of the most beautiful towns in South Carolina and arguably one of the most beautiful beaches in the entire United States! Most of the beach is privately owned, but there is a small strip of public beach access at Beachwalker Park on the island's west side. 
Kiawah Island is just a short 26-mile drive from Downtown Charleston, making it one of the easiest weekend or day trips from Charleston in South Carolina. Kiawah Island is a beautiful, clean beach perfect for lounging around. If you're feeling more adventurous, you can rent a boogie board, kayak, or stand-up paddleboard to play in the waves. If you're a golfer, you can also book a tee time at The Sanctuary at Kiawah Island Golf Resort. 
Kiawah Island is full of untouched natural beauty, making it easy to enjoy a relaxing, laid-back getaway. You won't find large, noisy crowds here! Plus, the island is full of wildlife, including butterflies, bobcats, and sea turtles, so if you are lucky enough, you may see one or two of these creatures during your trip.
The Sanctuary at Kiawah Island Golf Resort is the best place to stay on Kiawah Island. Here, you can enjoy excellent upscale restaurants, like Jasmine Porch and The Ocean Room, spa services, golfing, bicycle rentals, and other fabulous amenities. If you're looking for more dining options, head to Freshfields Village. Hege's Restaurant and FortyEight Wine Bar & Kitchen are great stops in this shopping center.