From the quaint, historic towns filled with haunted stories from over the centuries, to the breathtaking waterfalls and lakes surrounding the Georgia areas, these beautiful Georgia towns should be on your bucket list. Filled with rich history dating back to the pre-civil war era to the sites of famous television series, the beauty of Georgia will grant an astonishing trip wherever you go. 
Athens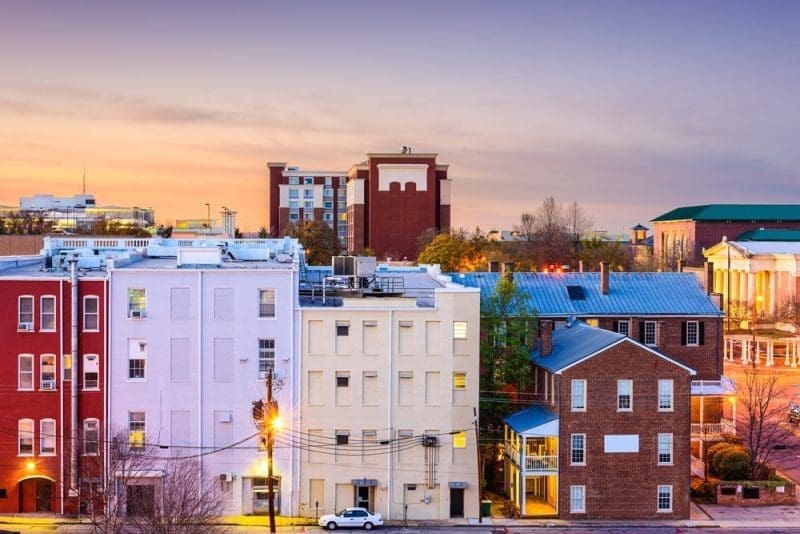 Just 70 miles northeast of downtown Atlanta, Athens is a lively town in Georgia, home to a large performing arts scene, fine Southern cuisine, and nightly live music. This town has a mix of beautiful parks to visit and outdoor activities, as well as specialty shopping experiences and art galleries.
Bike through Firefly Trail and enjoy the scenic route built on the old Georgia Railroad. To experience Athens' Southern heritage, stroll through Victorian-era Downtown Athens. From unique shops to beautiful galleries, the downtown area is a must see. 
For the art lovers, visit the Georgia Museum of Art, home to over 18,000 works. The museum has a mix of Southern/modern art, as well as a special collection of 17th century Spanish art to see up until early 2024. 
While in Athens, you should dine at the Five & Ten, located at the historic Hawthorne House, for a mix of American food with French and Italian influences. Another option is the Madison Bar & Bistro at Hotel Indigo Athens. This restaurant's menu includes local selections and specialty cocktails. 
To enjoy the rich history of Athens, book your stay at the Colonels on Angel Oak Farm. This pre-war bread and breakfast was originally established in 1860 and offers more than 30 beautiful acres of land. It's a quick 15 minutes from Downtown Athens and the perfect place for the long weekend getaway. 
Blairsville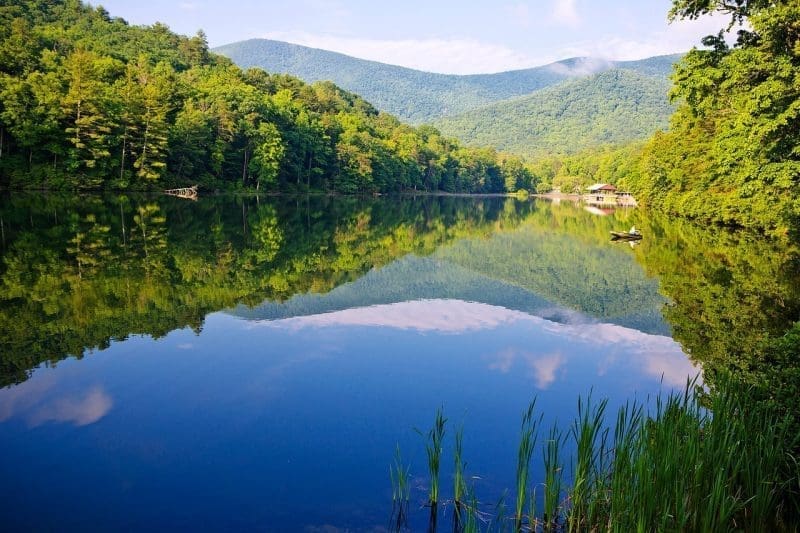 One of Georgia's hidden gems is the beautiful town of Blairsville. Home to beautiful bodies of water and scenic hiking trails, this town is the ideal place for a relaxing escape. With many beautiful parks and numerous trails to hike. Blairsville is a spot you'll surely want to see. 
Start your trip off on the Union Country History Trail. Explore different landmarks and attractions learning about the history of Blairsville. Helton Creek Falls Trail is a gorgeous hiking trail that leads to two incredible waterfalls you won't want to miss. Sundance Gallery Gifts is a family-owned boutique including pottery and handcrafted jewelry.  
For breakfast and lunch, head to The Sawmill Place and enjoy delicious homemade biscuits. This is a casual dining place with cozy dishes. Serving meals since 1931, the Hole in the Wall diner is another fantastic option. 
The Odom Springs Vineyard Lodge can accommodate up to 12 guests if you're looking to book a large family or friend vacation. It's a cozy mountain cabin in the North Georgia Mountains. The Season Inn and Plaza is a family-owned 25 room motel right in downtown Blairsville. The motel is within walking distance to different shops and restaurants.
Blue Ridge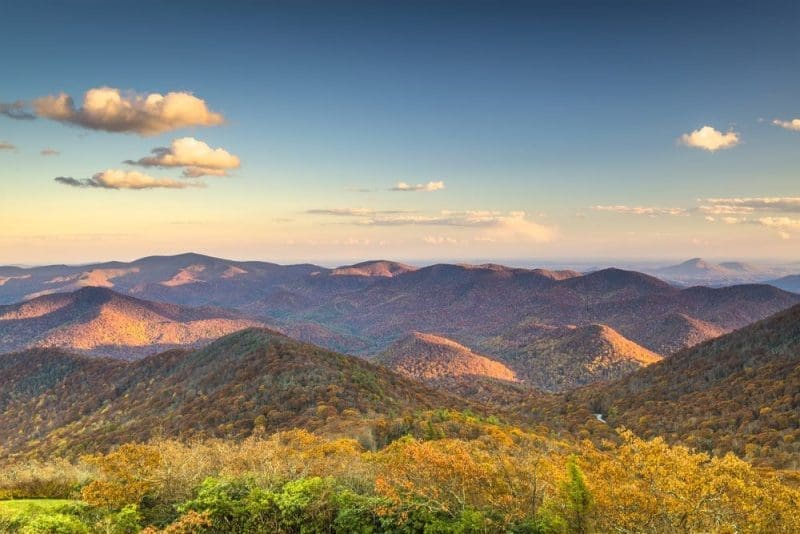 Only 90 miles north of Atlanta is the town of Blue Ridge, Georgia. This small town is known for its hiking trails, exquisite wineries, and exploring the mountain range. When you take a trip to Blue Ridge, you'll find that it's more than you hoped for. 
Start your trip by going horseback riding in the Chattahoochee National Forest for a memorable experience. Departing from downtown Blue Ridge is the Blue Ridge Scenic Railway, a 4 and a half hour trip through the town with a 2 hour layover. The train leads to McCaysville and then just steps away from Tennessee. The Blue Ridge Historic Walking tour is another attraction, providing a great deal of history on the town. 
The Black Sheep Restaurant Bar and Patio, located in the historic Butt house, serves dishes from local and seasonal ingredients. Take in the historic feel of the house while enjoying a great meal. Chester Brunnemeyer's Bar and Grill located in downtown Blue Ridge provides a rustic feel to the atmosphere, serving delicious dishes and signature cocktails. 
The Blue Ridge Inn Bed and Breakfast is a cozy choice when looking for wear to stay in Blue Ridge. Built in 1890, this Victorian home is just minutes away from shops and restaurants. There are also many cabin rentals for a more intimate stay, including the Blue Ridge Escapes and the Blue Sky Cabin Rentals. 
Covington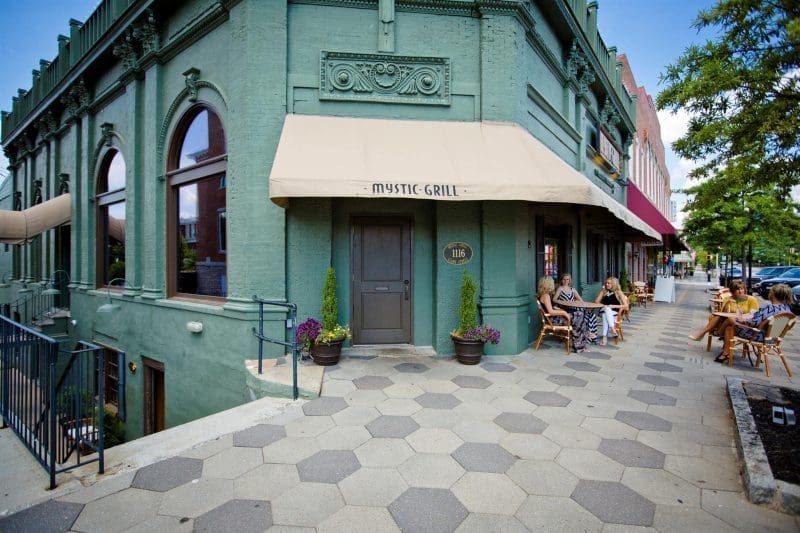 Known for its historic charm and haunting atmosphere, the town of Covington in Georgia is a place you will not want to miss. Approximately a 35 minute car ride to Atlanta, Covington will grant you some small-town atmosphere away from the city. 
Covington was founded in 1822 as Newtonsboro and later named to honor war general Leonard Covington. Walking in downtown Covington, you'll find locally owned boutiques, great cuisine, and antique shops. 
While this town is home to antique shopping boutiques and ghost tours, Covington is also the place where some of your favorite TV shows were filmed. Home to over 160 film productions, vacationers can visit sites from their favorite sets and live out their fantasy to reality. These famous TV shows include The Vampire Diaries and Sweet Magnolias. 
To have the full Covington experience, try out the Covington Ghost tours and walk through the haunted sites of the town. Take a ride with Main Street Trolley Tours to see filming locations of famous movie sets and TV shows. 
If you want the full experience from The Vampire Diaries, dine at the Mystic Grill and enjoy great seasonal Southern dishes. This is a great place to eat at after visiting fan-favorite sets from the show. The attractions from the show are one of the many reasons tourists flock to Covington.
While visiting this charming town, stay at Twelve Oaks Bed & Breakfast. Built in 1836, this historic mansion known as "Hollywood of the South" is on the National Register of Historic Places. This is the perfect place to get a feel for the rich history in a weekend getaway before heading back to the Atlanta Airport.
Greensboro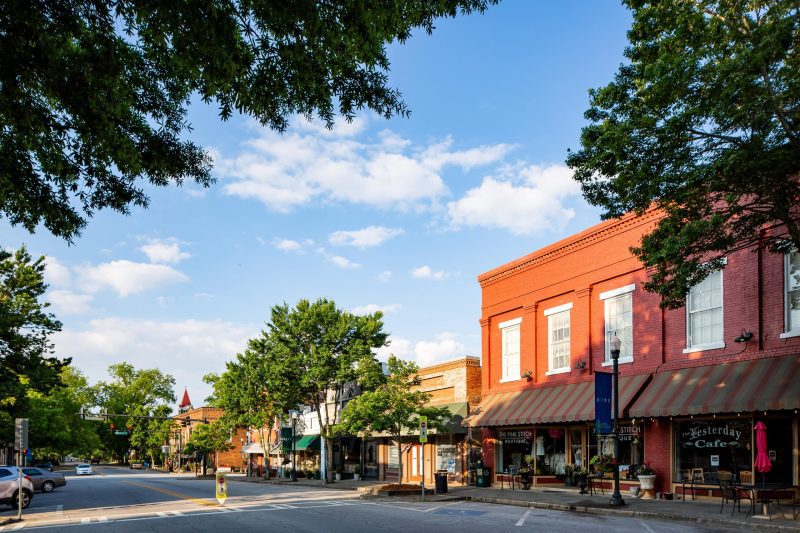 Known for its small-town charm and its location near Lake Oconee, Greensboro's stunning environment is a must-see on your vacation bucket list. From shopping to water sports to golf, Greensboro has it all. 
Starting off your trip Greensboro at the Oconee Brewing Company is the way to go. A renovated cotton mill warehouse, this brewery offers tasting tours and has a beautiful patio area to enjoy their beer. Young Harris Water Sports allows you to rent jet skis, wake boats, kayaks, tubes, and more. If you're taking a trip during the warmer months, you'll definitely be wanting to try them out. For some history lessons check out the Old Gaol, the oldest standing masonry jail in Georgia. 
Head to Café 44 for breakfast or lunch. Voted the best place for coffee, this cafe will leave you feeling stuffed after eating. For dinner, check out Gaby's By The Lake at the Ritz-Carlton. Famous for their Lobster Grilled Cheese, this restaurant has delicious dishes waiting for you. 
Stay at the stunning Ritz-Carlton Reynolds, Lake Oconee for a relaxing trip. There's spa amenities, golf courses, and delicious dining at the Ritz. If you're looking for a different kind of scene, the Goodwin Manor Bed and Breakfast is the place. It's a 19th century restored home with a historic feel. 
Helen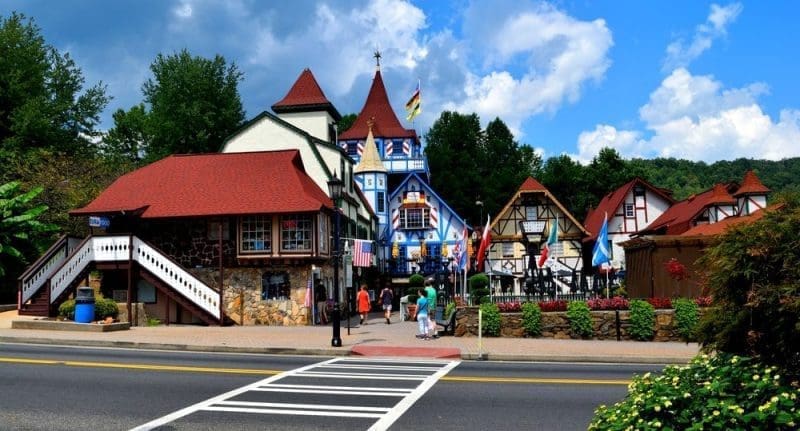 Helen, Georgia takes inspiration from the beautiful villages in Germany. It's located along the beautiful Chattahoochee River. From the downtown shops and restaurants, Helen will make you feel as if you've taken a trip to Germany. From hiking and tubing to downtown shopping and dining, Helen has much to offer. 
Though there are many beautiful waterfalls near Helen, Anna Ruby Falls remains to be the best. It's made up of two waterfalls and can be accessed through a walking path. This is a sight you will not want to miss!
If you're up for an adventure, you can go zipline at Unicoi State Park. This course goes through the Chattahoochee National Forest. One of the main attractions to visit is the Babyland General Hospital. This is where the Cabbage Patch Dolls are born! There is a store and a museum to explore the history behind it. 
For the authentic German atmosphere, the place to eat is at Bodensee Restaurant. This beloved Helen spot is home to delicious German dishes and beers. Cowboys and Angels is another restaurant specializing in steaks, lobster, and Southern dishes. 
Helen's most luxurious stay is at The Valhalla Resort Hotel. This beautiful resort has a rooftop bar and areas for golf. For a more casual stay, the Biscuit Inn has dog-themed rooms and is pet friendly! Both hotels will make you want to book another trip to Helen in a heartbeat.
Savannah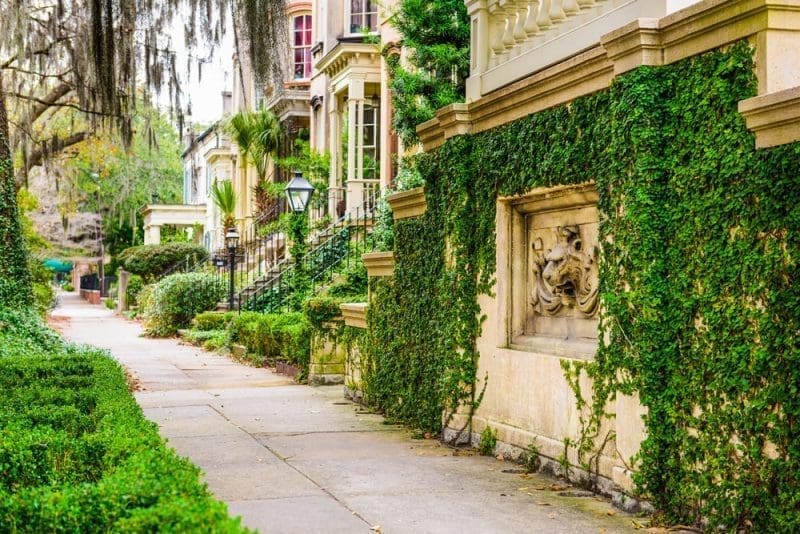 If you're looking for Southern small-town charm, look no further than Savannah, Georgia. Fly into the Savannah/Hilton Head International Airport during the warm months for an unforgettable trip.
Savannah is home to vibrant art and architecture, its haunted ambiance, and delicious Southern food. Whether you're there for the ghost stories or a simple vacation, you'll leave Savannah wanting to go back quite soon. 
For history lovers, visit Old Fort Jackson. Located in Tybee Island, the Civil War era fort is a must-see attraction in Savannah. You can explore the old barracks and military spaces as well as find out how the fort eventually fell.
From there, you can head 10 minutes down the road to Bonaventure Cemetery. Built in 1846 and covering nearly 103 acres, this Savannah cemetery is a serene walk-through many visitors adore. While roaming the most haunted city, taking a ghost tour through Savannah is sure to spook you. Visit some of Savannah's most haunted places by walking or in a funeral hearse. 
The Olde Pink House restaurant is one of the most sophisticated in Savannah. Enjoy delicious Southern food in a historic pink mansion! Vic's on the River is another beautiful option, with scenic river views and fresh seafood to enjoy. 
During your stay, book a room at the Drayton Hotel that's pet friendly and has a beautiful rooftop to explore. For a different kind of atmosphere stay at the Marshall House, the oldest operating hotel in Savannah. With a haunting history, the Marshall House is definitely worth the stay. 
Tallulah Falls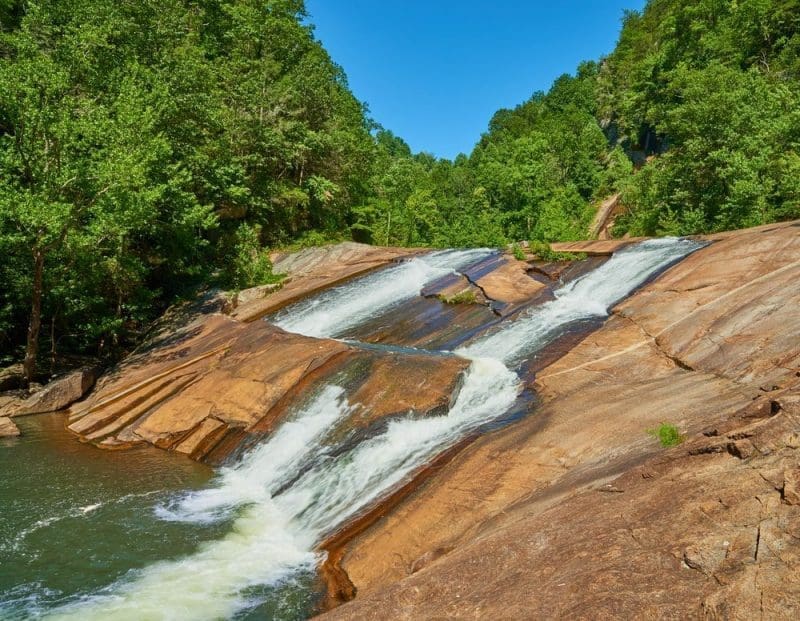 Tallulah Falls, Georgia is a scenic town in Georgia that overlooks a series of captivating waterfalls, hence its name. The main attraction is exploring these beautiful waterfalls, along with pleasing trails to hike through. 
Visit the Tallulah Gorge State Park for picturesque views, hiking trails, and viewing the stunning waterfalls. After, head to the Tallulah Point Overlook and visit the shop filled with different kinds of Nostalgia. At the serene Lake Tugalo, you can take a boat out and go fishing for some relaxing downtime. Although this is a small town, the memories you make will be big. 
The Tallulah 1882 Teahouse is the best spot for a quick coffee and bite to eat. They serve healing herbal teas and baked goods that are to die for. The Glen Ella Springs Restaurant is perfect for dinner, serving unique and delicious dishes. 
The Glen Ella Springs Inn will accommodate your trip to Tallulah Falls perfectly. It's a historic bed and breakfast located in the picturesque Blue Ridge Mountains. Another option could be the Lake Rabun Hotel and Restaurant. Running since 1922, this historic hotel is right across from the beautiful Lake Rabun and has a range of activities.