New Balance sneakers have exploded in popularity over the past few years, with some models being some of the most sought-after shoes on the planet. It isn't a surprise either, as New Balance now creates some stylish and versatile shoes; here are a few of the best.
327 Sneaker
The 327s are a great combination of modern design and the vintage running shoe style that New Balance is known for. They offer a great sole for extra comfort, which is also a fairly unique shape to ensure your feet stay at the right angle when walking. 
They come in numerous colorways and designs and are one of the best sneakers to start your New Balance collection.
Fresh Foam Roav V1
New Balance has begun to compete with the likes of Nike, Adidas, and Puma in the running shoe department, and their Fresh Foam Roav V1 is arguably one of the best running shoes out there. 
Not only is the shoe ultra-stylish, but it is still very versatile. You can look like you have just stepped out of a New Balance photoshoot while on your walk or run. 
574 Core Sneaker
The 574s are arguably the most recognizable New Balance shoes and the ones that has is loved the most by everyone from movie stars to streetstyle experts. They are simple yet incredibly stylish. 
The 574s are a brilliant all-around sneaker as they can be worn with almost any outfit to any event, and can fit into the wardrobe of most people, no matter their tastes.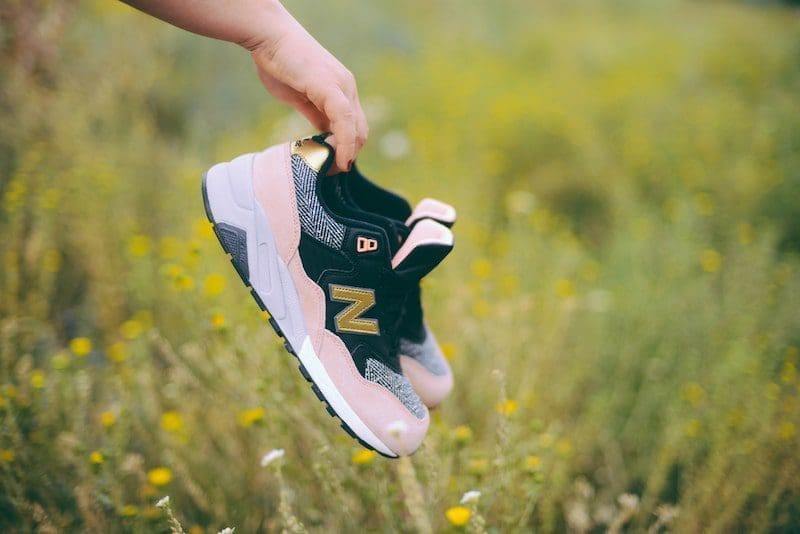 9060 Sneaker
The 9060 sneakers from New Balance are more of a rugged shoe compared to others on this list; you can think of them as a streetcar but with off-road tires. They have the same style as the 574s but with an added touch or two. 
The thing that many people love most about the 9060s is the amount of colors and color combinations you can get them in. You can get them in the classic New Balance cream and beige, but also gray, terracotta, green, pink, baby blue, and brown.
Fresh Foam X 860v13
Another brilliant running shoe in the New Balance line-up is the Fresh Foam X 860v13s. With a similar shape to many Nike, Puma, and Reebok sneakers, New Balance sets themselves apart by offering wearers a super comfortable sole and insert.
You don't even have to be a runner to enjoy these shoes; they are perfect as everyday shoes or ones you just slip on when heading out to the store. 
Fresh Foam X Hierro Mid
New Balance has also expanded into the hiking boot market, with the Fresh Foam X Hierro Mids combining hiking boot functionality with Fresh Foam and New Balance comfort. Once again, you don't have to be a hiker to enjoy these, as they are ideal for those looking for a shoe that offers additional ankle support. 
They aren't just all looks either; the Hierro's are great on the trail and while climbing and have a very grippy sole that stops you from slipping and sliding. 
237 Sneaker
The 237s have a similar shape and style to the famous Nike Cortez's but with the classic New Balance stylings and colors. Another brilliant everyday shoe, the 237s don't try and do anything fancy; the focus here is on function, not form. 
While they still definitely look good, they are a more subdued shoe, meaning they can be paired well with almost anything. 
550 Sneaker
A list like this wouldn't be complete without mentioning the 550s. Styled to look like something out of the 90s, the 550s are one of the most popular New Balance shoes on the market, and it isn't hard to see why. 
Simply put, they are very cool looking. They have a shape that is reminiscent of the Nike Air Force 1s but with added details and color. The 550s are a pair of shoes that is far more fashion-forward compared to many of its competitors.
RC30 Runner
The RC30s are billed as a running shoe, but they are definitely more of a hybrid. The shoe captures the essence of some of the earlier running shoes produced by New Balance and is combined to create a far more modern and functional sneaker. 
The two colorways are eye-catching, to say the least; one being olive oil with washed burgundy and turtledove, the other being vintage indigo with tobacco and turtledove. 
57/40 Sneaker
Finally, the 57/40 sneaker is another simple yet very comfortable and stylish sneaker. They are also one of the more affordable New Balance sneakers, making them ideal for those looking for something that will just get the job done. 
While there is only one colorway to choose from, the colors are subtle enough that you can wear them with most outfits in both Summer and Winter. 
As you can see, New Balance has established itself as a sneaker powerhouse that has created shoes fit for everyone. Whether you are a runner, a fashion lover, or someone looking for a good, all-around sneaker, New Balance has it all.