Fashion manufacturing—more specifically, shoe manufacturing—comes at a huge environmental cost.
Textile production creates

42 million tons of plastic waste

every year, second only to the packaging industry.

The footwear and garment industries together are responsible for 8% of all greenhouse gases globally.

Shoes with a lot of small and unique parts are more complex and environmentally intensive to produce because each component must be accounted for from materials (sourcing) as well as a labor assembly perspective.

Most shoes are made in China in coal-powered factories and then transported across the world on super-polluter

cargo ships

where they ultimately end up on the feet of consumers; the environmental cost of this transportation is also high.
The answer to reducing the carbon impact of textiles production is three-fold: simple designs, recycled materials, and close-to-home manufacturing:
Simple Designs
The average running shoe has

65 discrete components

; the carbon cost of refining, preparing, and assembling that many materials and parts is significant.

The solution: shoes and clothing of simpler design require less raw materials and labor to produce and assemble, simplifying and streamlining the manufacturing process, and ultimately lightening the carbon load of production.

Take PSUDOS, for instance: they're made of three parts (an insole, an outsole, and a fabric wrap), which greatly simplifies the production process.
Redefining Responsible Consumerism: PSUDO X Blumaka
PSUDO collaborates with Blumaka, redefining responsible consumerism. Blumaka innovatively transforms foam scraps into high-performance soles, complementing PSUDO's recycled plastic sneakers. Together, they create a powerful force for positive change, reducing waste and foam production for a lasting environmental impact.
Crafting Sustainability: PSUDO's Expertise in Recycled Footwear
PSUDO Blu showcases sustainability through recycled water bottles and sublimation printing. Each pair is crafted with unmatched expertise in small-batch, on-demand manufacturing. PSUDO Blu embodies unparalleled craftsmanship, perfect for the Hamptons' high-quality lifestyle and sustainable fashion.
Making a Positive Impact: PSUDO Blu's Environmental Legacy
PSUDO Blu makes a meaningful impact with every step. Each pair recycles 7.2 plastic bottles, easing ocean and landfill burdens. Blumaka's visionary approach uses just 4 grams of water per pair—a remarkable 99% reduction. Stride responsibly with PSUDO Blu, leaving a lasting positive impact on the environment.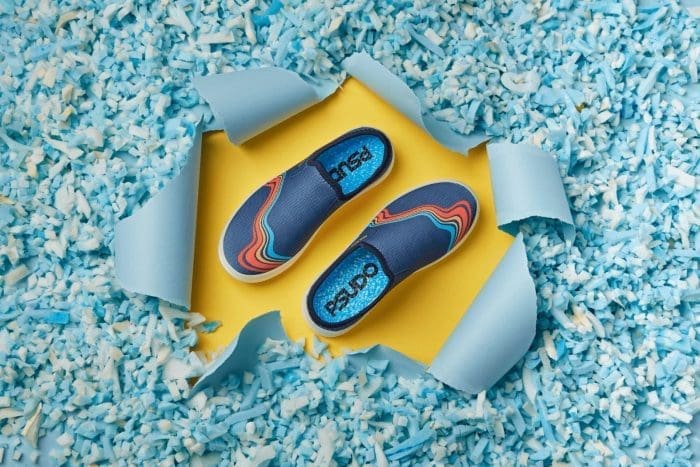 Style and Consciousness Unite. The Sneaker for Every Occasion.
PSUDO Blu epitomizes style and consciousness, ideal for the Hamptons' lifestyle. Versatile and chic, they suit beach strolls and casual get-togethers. Embrace quality, comfort, and sustainability in one pair. PSUDO Blu empowers conscious consumerism, making every step a statement.
Empowering Responsible Consumerism
Choose PSUDO Blu to drive change. Inspire eco-friendly choices in businesses and individuals. Embody sustainability and high-quality living with each step you take. Style and consciousness unite, paving the way for a greener, stylish future in the Hamptons and beyond. Join us on this transformational journey—one step at a time.