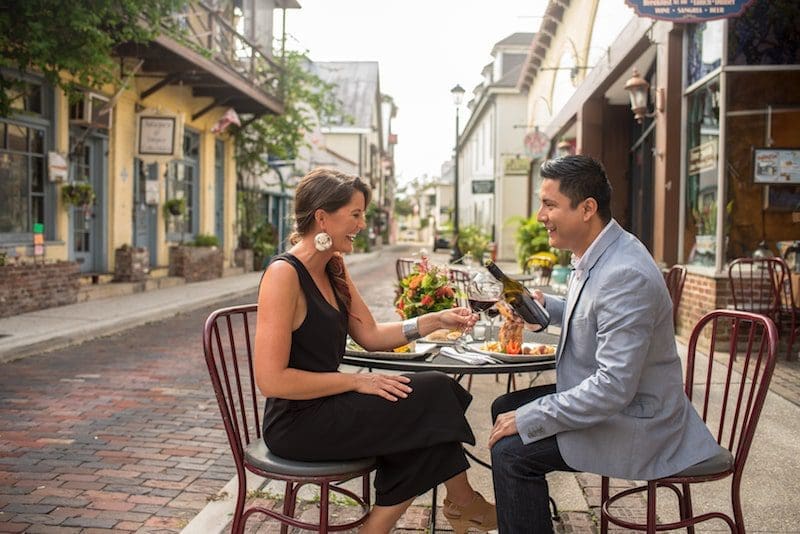 When it comes to setting precedents, St. Augustine in Florida does it pretty well. After all, it was the first city founded by settlers in the United States and also boasts the oldest fort. Add in an impressive lighthouse, white beaches, and the Fountain of Youth, and you've got a destination steeped in history and beauty. 
What you may not expect is that this northern Florida city is filled with culinary delights. So, for a vacation with lots to offer and a top-quality foodie scene, head to this coastal locale to delight both your senses and taste buds. We have created a full culinary itinerary highlighting some of the best restaurants in St. Augustine. Included are our favorites for brunch, dinner, drinks, and every experience in between. 
Breakfast and Brunch
Maple Street Biscuit Company
Offering "comfort food with a modern twist," the Maple Street Biscuit Company is a small chain restaurant in the southeastern US. They make decadent waffles and hearty bowls, but their specialty continues to be their creative biscuit combinations, such as the Blues BBQ Biscuit and the Chocolate Chip Biscuit S'more.
Metro Diner
For authentic Southern dishes, such as Fried Chicken and Waffles and Classic Eggs Benedict, head to Metro Diner. It's located near the Old City, so you can grab an early breakfast (they open at 7am) and head out for the day. 
Aviles Restaurant and Lounge
Although they serve all three meals, many faithful locals head to Aviles Restaurant and Lounge to grab a bit of morning sustenance. Their menu is filled with classics like pancakes, eggs any way, and biscuits and gravy, although their claim to fame is their World's Best Waffle, topped with fresh berries.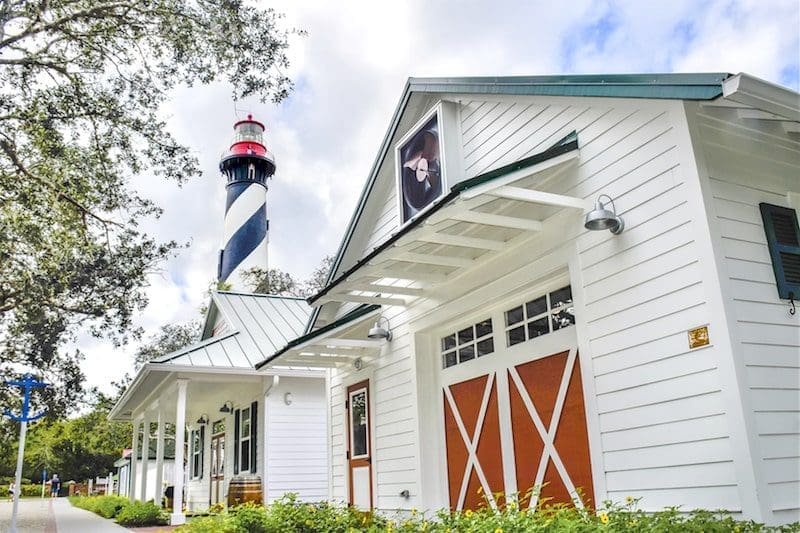 Lunch
Cafe Alcazar
Dining at Cafe Alcazar in St. Augustine is a unique experience. Not only is it inside of the Lightner Museum, but the cafe used to be a massive indoor swimming pool. The upscale dining space has images from yesteryear to give patrons a glimpse into the building's past.
Harry's Seafood Bar and Grille
It makes sense that Harry's Seafood Bar and Grille would have amazing seafood since it's right by the water. With a Louisiana flair – think grits, beignets, and jambalaya – this eatery has ample outdoor space and often has live music. 
Smoked Southern BBQ
Smoked Southern BBQ is the perfect restaurant stop in St. Augustine if you are planning on visiting The Fountain of Youth. No ticket is required as the restaurant sits right outside of the attraction. If you have a group, try one of the platters to get a sampling of the BBQ and the fantastic sides.
Dinner
Meehan's Irish Pub
Florida, Spanish heritage, and Irish food may not mix, but one taste of the cuisine at Meehan's Irish Pub will change your mind! Pub fare and fresh seafood await at this restaurant along the main ocean causeway.
Raintree Restaurant
Offering a fusion of American, Asian, and Mediterranian cuisine, Raintree Restaurant prides itself on fresh ingredients and unique dishes. The St. Augustine eatery resides inside of an 1879 Victorian-era mansion, which adds to the historic vibe.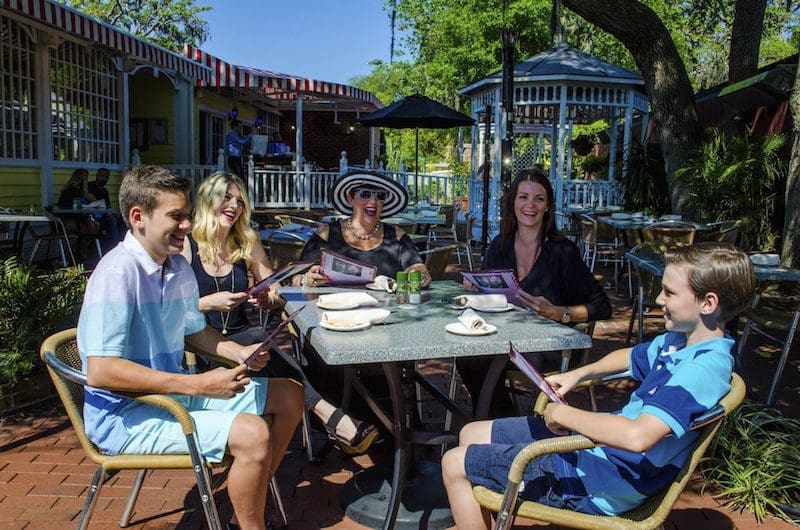 The Floridian 
The Floridian's mantra is that they have "innovative southern fare for omnivores, herbivores, and locavores." Their menu contains many vegetarian-pleasing options, and they pride themselves on a list of light, vibrant, and healthy comfort food. 
Dessert
Chocolattes
Any eatery that combines chocolate and a frothy coffee drink in its name is a winner in my book! Not only does Chocolattes have delectable house-made chocolate-centric desserts and coffee, but they offer light fare as well. 
Cousteau's Waffle and Milkshake Bar
If you prefer to drink your confections, then Costeau's Waffle and Milkshake Bar is the place. Handspun milkshakes and fluffy Belgian waffles are their specialties, and their menu of add-ins is hard to beat.
Peace Pie
This family-owned gem lies on Aviles Street, which is the oldest street in the United States, but the real claim to fame is its ice cream sandwiches. Peace Pie's treats are based on pie flavors for a unique twist on a classic dessert. 
Drinks
Odd Birds Bar
Not only does Odd Birds have amazing cocktails, but it serves what is called "odd bites" with "odd" being a good use of the word – promise! Its primary focus is the art of cocktail making and creating unique, flavorful drinks for their patrons.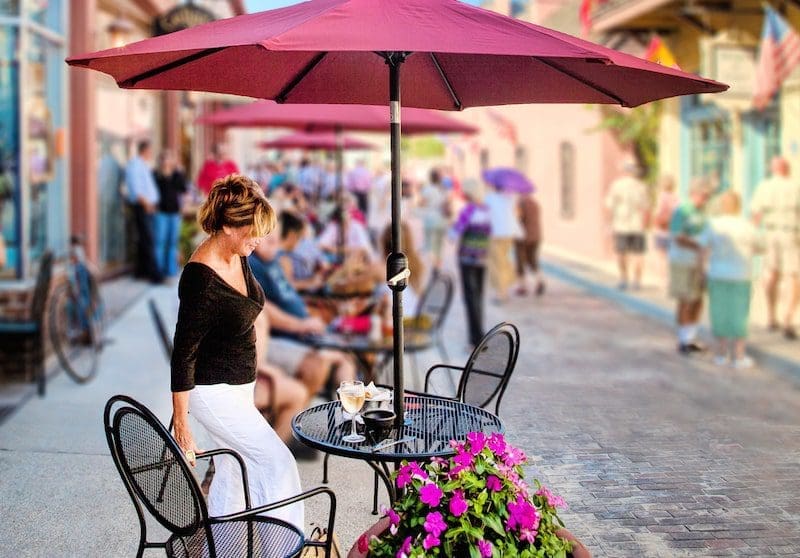 St. Augustine Distillery
Their small-batch spirits—think whiskey, vodka, rum, and gin—are crafted in a historic ice plant. You can sample tasty cocktails made by St. Augustine Distillery, and you can take a complimentary tour to learn the distillation process.
The Tini Martini Bar
Sip a martini overlooking Matanzas Bay, but that beverage isn't your only choice as The Tini Martini Bar offers a collection of spirits. Enjoy a single malt Scotch, a vintage wine, or a frothy brew al fresco on their patio. 
Bonus
The Tasting Tours 
If you still can't find what you're looking for, or if you want to experience a lot of what St. Augustine has to offer in a short amount of time, consider an excursion with The Tasting Tours, where you can eat, drink, and experience the vastness of the city's culinary scene.
St. Augustine also has a lovely old town area, which includes many of the recommendations above. The quaint St. Francis Inn, for example, is within walking distance to many of these eateries. St. Francis Inn offers a hearty breakfast for their guests so they have a delicious start to their daily journeys.