Vienna, Austria is a city steeped in imperial grandeur, musical history, and architectural splendor. But beyond the enchanting charms of Austria's capital lies a treasure trove of neighboring destinations waiting to be explored.
Below, we embark on a journey to discover the best day trips from Vienna, highlighting some of the most captivating nearby cities and picturesque regions for those seeking to venture beyond the city's limits, from the charming city of Graz to vibrant city of Brno in the Czech Republic.
Bratislava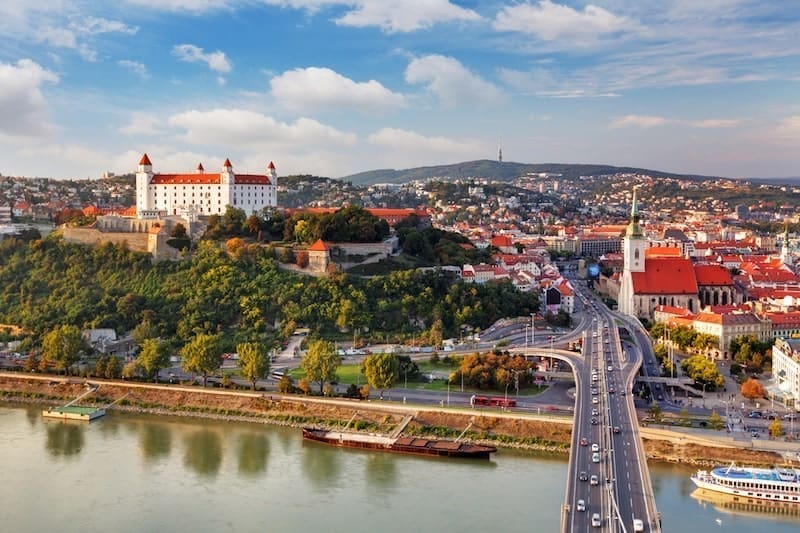 Bratislava, the charming capital of Slovakia, is a fantastic day trip destination from Vienna, offering a captivating blend of history, culture, and picturesque scenery. Located just an hour away by train or boat along the beautiful Danube River, Bratislava is easily accessible, making it a perfect day excursion from Vienna.
Once you arrive, explore the historic Old Town with its cobbled streets, medieval architecture, and iconic landmarks like Bratislava Castle.
Art enthusiasts will appreciate the Slovak National Gallery and the Danubiana Meulensteen Art Museum, both showcasing remarkable collections of Slovak and international art.
For dining, try out traditional Slovak dishes at Flagship Restaurant or enjoy the contemporary culinary creations at UFO Restaurant, perched high above the city for panoramic views.
To add a touch of luxury to your visit, consider staying at the Grand Hotel River Park, a refined five-star hotel located on the banks of the Danube, offering impeccable service and a central location for exploring Bratislava.
Brno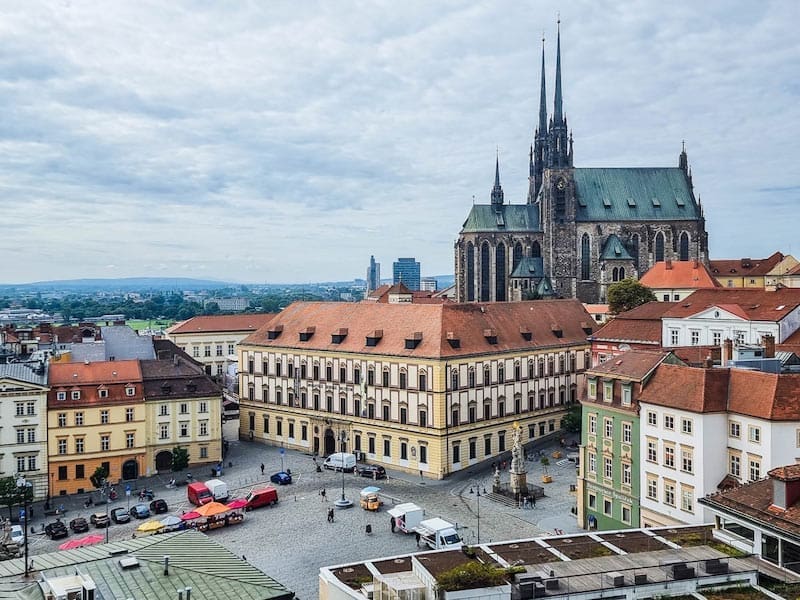 By Joanna of The World In My Pocket
Brno is the second largest city in the Czech Republic, located very close to the border with Austria. You can easily get to Brno from Vienna by either train or bus in around one hour and  half. There are plenty of things to do on a day trip to Brno.
Brno has a small and compact historical centre, which you can easily visit on foot. You should start with the Špilberk Castle, which is on top of a hill that overlooks the city. Don't miss visiting the old water tanks of the castle which have only recently been open to the public. 
The ossuary in Brno is another interesting place to visit. This is the second largest underground ossuary in the world, after the catacombs in Paris. Don't miss the underground labyrinth under the Vegetable market, which is a very unique place to learn about the history of the city. 
Families with children would like to visit the Technical museum in Brno, which has some amazing interactive exhibitions. They include a computer area where adults will remember their childhood by playing Space Invaders on arcade machines. 
When it comes to food, there are plenty of great restaurants in Brno. For traditional Czech food head to Lokal U Caipla or Stopkova Plzeňská Pivnice. Brno is home to a large Vietnamese community, so if you are looking for some authentic Vietnamese food, this is the place to get it. Don't miss Domovina for lunch.  
If you are spending the night in Brno, you should stay at Hotel Passage.
Burg Kreuzenstein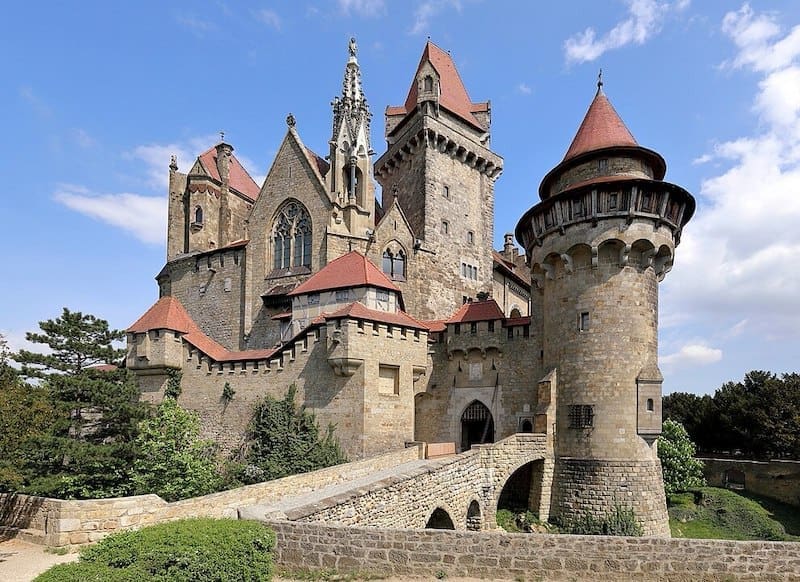 Burg Kreuzenstein, located approximately 20km from Vienna, is a captivating day trip destination that immerses visitors in medieval history and stunning architecture. This impressive castle offers a glimpse into the past with its authentic period interiors and extensive collection of armor and artifacts.
Explore the ancient halls, towers, and the beautifully landscaped gardens, providing a rich historical and picturesque experience.
For dining the nearby Gasthaus Schwarzer Adler offers Austrian specialties in a charming setting, or you can savor a gourmet meal at Schloss-Restaurant Kreuzenstein within the castle's grounds.
If you wish to extend your visit, the nearby Schlosshotel Mailberg offers luxurious accommodations in a historic setting, ensuring a memorable and immersive experience in the region.
Cesky Krumlov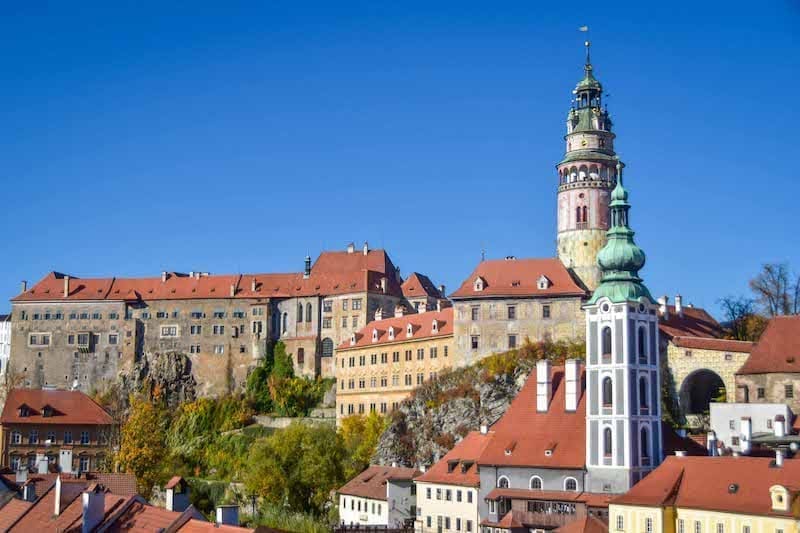 By Catherine Xu of Day Trip Nomad
Cesky Krumlov, a quaint town in the Czech Republic, feels like it's been plucked right out of a fairytale. Less than 3 hours drive from Vienna, this medieval locale is a great day trip for those interested in European history, culture, and just a scenic destination. 
Cesky Krumlov has kept much of its original appearance and is also recognized as a UNESCO World Heritage Site. This medieval town is known for its well-preserved architecture, built along the Vltava River. 
With a day there, start your trip walking among the mostly car-free cobblestone streets of the old town. The Old Market Square is the best place to find charming restaurants and hip cafes. If you happen to come in winter, a traditional Christmas Market livens up this space even more. 
A few minutes walk from the old town along the river, you'll find the iconic Cesky Krumlov Castle. The castle complex is huge, filled with exhibitions, viewpoints, beautiful gardens, and grand interiors. You can even climb the stairs up the Castle Tower for a view of the whole city.
For accommodation, the Hotel Mlýn is located right on the river's edge, with a serene view of the city. Its central location is an easy walk to all parts of town.
Esterhazy Palace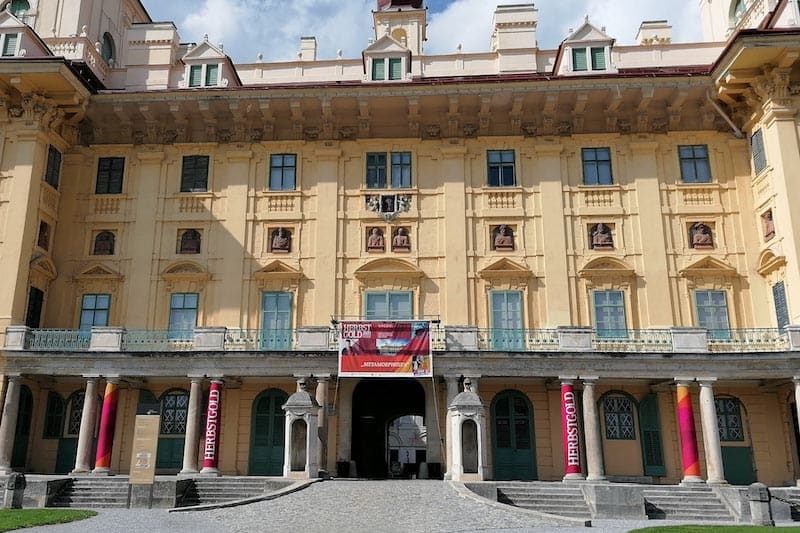 By Marina Helene & Paul of Paul Marina Travel
The Esterházy palace is a grand baroque style palace belonging to the famed Esterházy family in Eisenstadt. The city is the capital of Burgenland, a region in Austria, and the palace mostly takes over the small town with its vast gardens and stunning royal residence. 
Joseph Haydn, a well-known classic music composer, worked and lived in the Esterházy palace. The stunning banquet hall is named after the composer, and it's one of the most acoustically perfected halls still used today for various music events. Roman and Greek mythological frescoes combined with polished stucco work decorate the not-to-miss Haydn Hall. 
An exhibition on the first floor talks about the life of Joseph Haydn and his time at the Esterházy palace. Besides, visitors get a chance to explore some princely rooms such as the red room and the family's private art and silverware collection can be viewed as well. Other highlights include the wine cellar, the Haydn house and the stunning baroque gardens. 
A few steps outside the palace take you to the city center. Seek the Haydnbräu for a typical Austrian lunchtime meal and don't forget to try a slice of Esterhazy Schnitte, which is a traditional-layered Torte cake. Get a room with a view of the Esterhazy palace at the Hotel Galántha, a 4-star hotel, to complete your experience and time in Eisenstadt.
Graz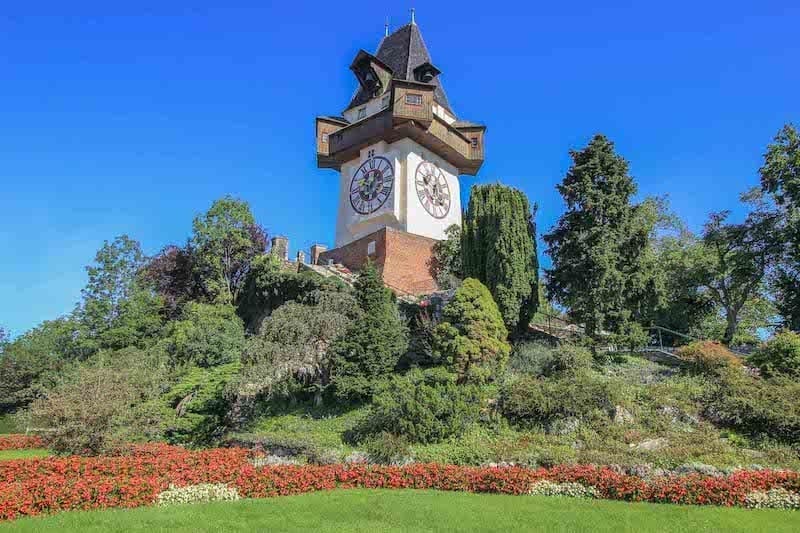 By PlacesofJuma
Graz is undeniably an excellent choice for a day trip from Vienna. It holds a significant position within Austria and offers a multitude of captivating attractions and splendid architectural marvels that make it an ideal destination for a day excursion.
There are so many amazing things to do in Graz. The historic old town is particularly impressive, housing numerous points of interest, museums, and excellent shopping opportunities. The standout feature and iconic landmark is the Schlossberg, crowned by its towering clock tower, which offers unparalleled panoramic views of Graz.
Don't miss the main square, where the vibrant buildings create a charming backdrop. The quaint alleys are equally enchanting, concealing upscale boutiques and fantastic dining establishments.
Exploring the city's museums is a must, with notable options including the Zeughaus, Joanneumsviertel, and the futuristic Kunsthaus by the Mur. You can enhance your museum experience with the Museums-Card, granting access to all major museums in Graz for just 12 euros.
This romantic city is situated in Styria and is conveniently located just about a 2-hour journey from the Austrian capital, Vienna. Graz can be easily reached by car, bus, or more conveniently by train, offering a well-connected link between Vienna and Graz.
If you want to stay in Graz we can recommend you the Hotel Weitzer, a wonderful 4-star hotel in the heart of Graz.
Linz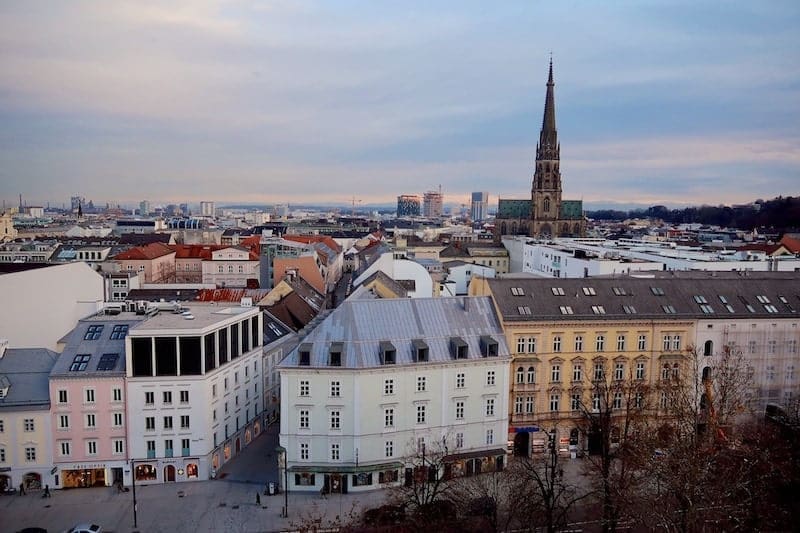 By Soline of On the Road Diary
Linz is a charming city in northern Austria, crossed by the Danube River. You can easily visit it on a day trip from Vienna. There are direct train journeys between the two cities that take around 1 hour and 15 minutes.
Alternatively, you can also rent a car and enjoy a scenic 2-hour drive through the Austrian countryside.
We recommend starting your day at Linz's Old Town. It is an extremely pleasant place to stroll. Colorful and medieval buildings line both sides of the streets, and their architecture is very picturesque.
Then, you can walk, cycle or even hop on a river cruise on the beautiful Danube river.
For art lovers, Linz offers an impressive array of museums and galleries. The most famous is the Lentos Art Museum, which showcases a collection of modern and contemporary art. 
The Ars Electronica Center is another great museum, both for adults or families. It combines science, technology, and art in an interactive and engaging way.
A day trip to Linz would not be complete without eating traditional dishes like schnitzel, goulash, and strudel. Try the goulash from the restaurant of Gasthaus "Zur Eisernen Hand".
If you wish to extend your stay in Linz, you can rent a full apartment at FEWO am Neuen Dom in the center of the city.
Melk to Krems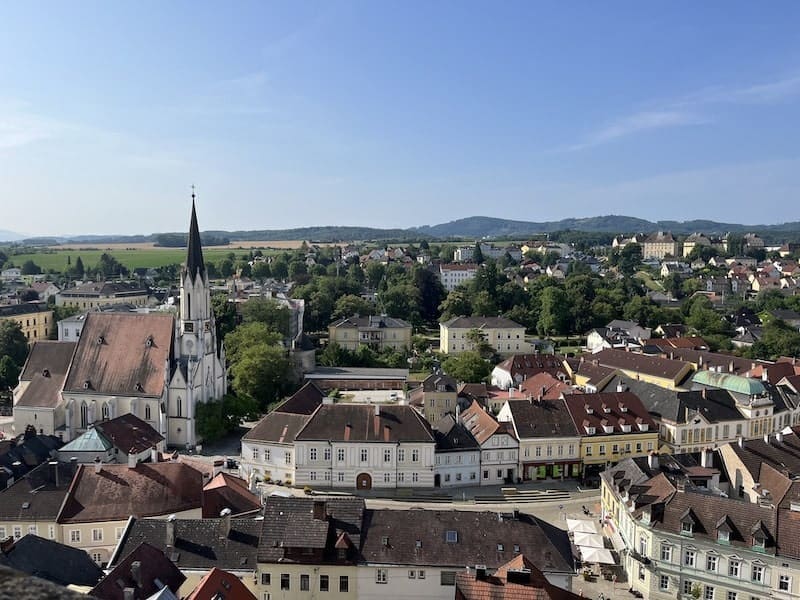 By Delilah Hart
With Vienna being one of the most beautiful cities in Austria it can be hard to find excuses to explore beyond the borders. However, Austria is home to some of the most stunning landscapes in Europe, so taking a day trip outside the city is a great way to see something different.
The Wachau Valley is an easily accessible and popular day trip from Vienna. Most travellers opt to ride a bike through the valley between the towns of Melk and Krems.
You'll start your journey in Melk which is easily reached by train from Vienna's Westbahnhof Station in about an hour. It's a good idea to head there early. Once you arrive, head straight up to explore Melk Abbey. This splendid Abbey is a UNESCO world Heritage Site and a must-visit. Entrance costs about €12.
After this, make your way down to the start of the trail to rent a bike before embarking on an easy 2-3 hour bike ride along the river. Make sure to start on the right-hand side of the river before changing half-way to the left-hand side via a barge. It's a good idea to pick up a tourist sim card in Austria when you arrive or download offline maps on Google to help you find your way.
Along the way you will find a number of castles, as well as small towns (Durnstein is our favourite) and wineries (Domane Wachau is a good choice). Feel free to stop wherever you like to explore or enjoy a wine tasting.
Although we advise visiting as a day trip, you could extend your time here by staying in either Melk or Krems. Arte Hotel Krems is a popular pick.
Mikulov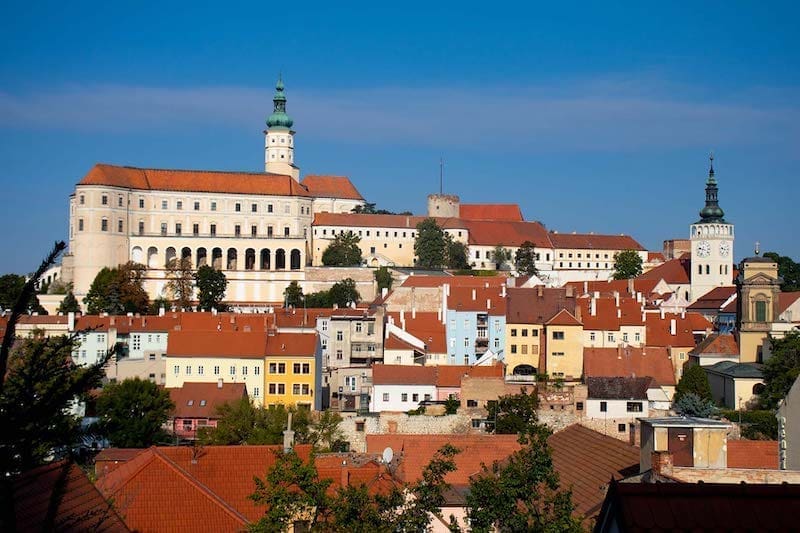 By David Angel
As introductions go, Mikulov is a pretty impressive first sight of the Czech Republic. The hilltop Castle and medieval town seem to float above the Czech-Austrian border dominating the horizon for many miles around.
This gorgeous South Moravian wine town is around an hour's drive north of Vienna, on the road to Brno. It's the centre of the Mikulovska wine region, where several varieties of white grape are grown. Harvest time is a great time to visit, when stalls in the streets sell burčák, the massively moreish 'early wine' which goes beautifully with the last of the summer sun.
Mikulov is hilly, and there are plenty of great walks very close to the town. The longest of these is the climb up Holy Hill (Svatý Kopeček) but the shorter hike to Goat Castle (Kozi Hradek) offers a better view over the town.
Mikulov (Nikolsburg in German) was also home to a strong Jewish community for centuries. The small Jewish quarter below the Castle has some of the most picturesque streets in the town. It also has an impressive, restored synagogue and Jewish cemetery well worth seeking out.
There are some great places to stay in Mikulov, including the Boutique Hotel Tanzberg, which was once home to the local rabbi. The Hotel has one of the best restaurants in the town, the food at Bistro Drogerka is also excellent.
Salzburg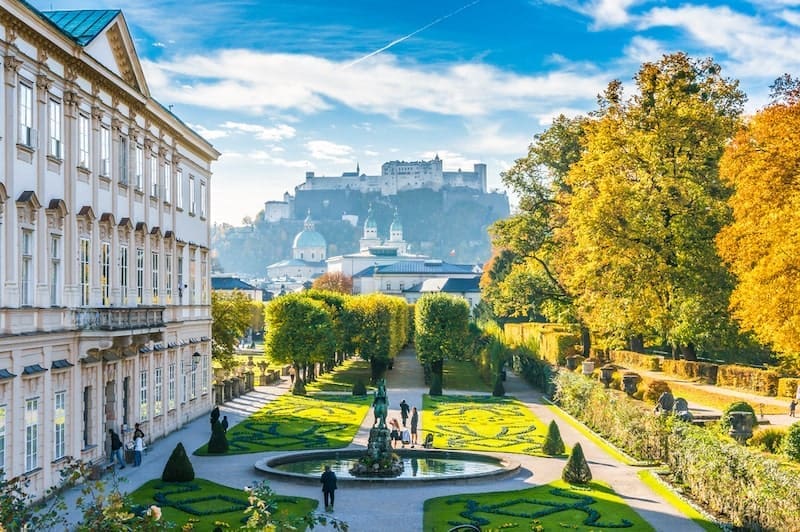 Salzburg, with its enchanting charm and rich cultural heritage, makes for a splendid day trip from Vienna. Located just 2.5 hours away by train, the journey offers picturesque views of the Austrian countryside.
Salzburg is renowned as the birthplace of Mozart and is steeped in musical history. Visitors can explore the Mozart Residence and birthplace, as well as the iconic Hohensalzburg Fortress, which boasts panoramic views of the city and the surrounding Alps.
Art enthusiasts will appreciate the Residenzgalerie. The Residenzgalerie is home to an impressive collection of European paintings. Salzburg also offers scenic opportunities for outdoor exploration. The Mirabell Gardens, with their well-manicured hedges and vibrant flower displays, are a serene oasis for a leisurely stroll. You can also take a scenic boat ride on the Salzach River, providing a unique perspective of the city's historic architecture.
Additionally, don't miss the charming Getreidegasse, a picturesque shopping street lined with traditional wrought-iron signs, boutiques, and quaint cafes, perfect for some shopping or a relaxing coffee break.
For dining, indulge in Austrian cuisine at St. Peter Stiftskulinarium or the charming Goldener Hirsch Restaurant.
The Hotel Sacher Salzburg is a top luxury hotel choice, offering opulent rooms and a riverside location.
The Schneeberg Mountains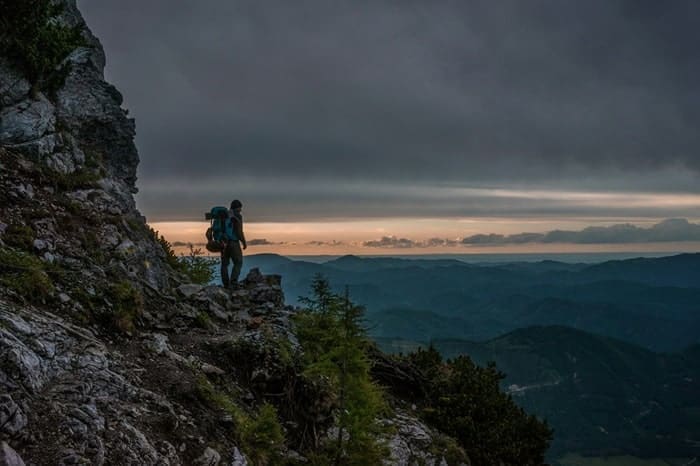 By Brittnay of The Travelling House Sitters
The Schneeberg Mountains are nestled in the Austrian Alps. These mountains offer a haven for nature enthusiasts and adventure seekers. Towering peaks are covered with snow during winter and lush meadows in the warmer months make it a wonderful year-round destination to visit.
If you're after an authentic culinary experience, you have to indulge in the region's gastronomic center "Gasthof zur Schneebergbahn." This charming restaurant has panoramic views of the surrounding landscapes but also serves traditional Austrian dishes. Some favorites include the Wiener Schnitzel and hearty stews.
If you're looking for an excursion, take the historic Schneeberg Railway for a scenic journey to the summit. The train provides breathtaking vistas as it winds its way through alpine terrain, offering unforgettable views.
For families or adults seeking adventure, the Schneeberg offers all sorts of outdoor activities. Hiking trails cater to all skill levels, providing opportunities to explore the stunning scenery. In winter, the mountains transform into a winter wonderland, perfect for skiing and snowshoeing.
As the day ends, head to the picturesque Alpenhof Hotel. This hotel has managed to bring modern comfort with rustic charm together. 
The warm hospitality and proximity to the Schneeberg make it an ideal base for your mountain retreat. Whether you seek culinary delights, outdoor escapades, or a cozy retreat, the Schneeberg Mountains promise a memorable experience.
Schlosspark Laxenburg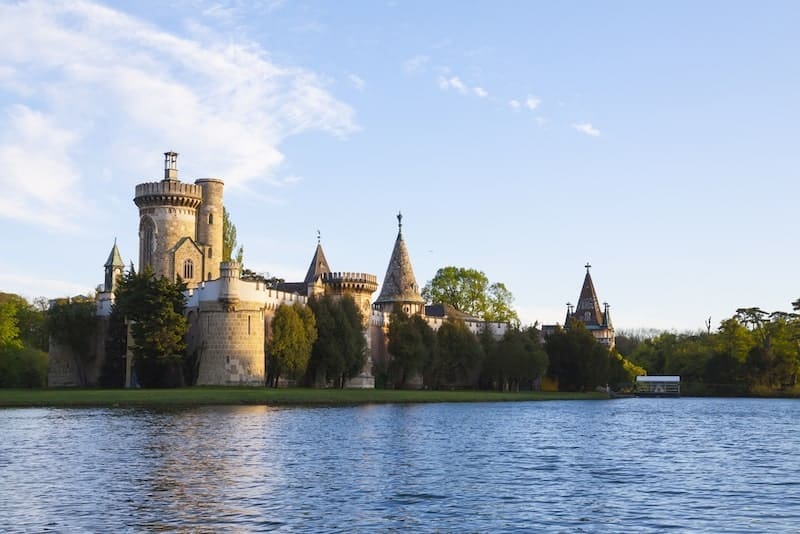 Schlosspark Laxenburg, just a short drive from Vienna, beckons as a perfect day trip destination for those seeking a tranquil escape from the bustling city. Located approximately 15 kilometers from Vienna, this historic park boasts picturesque landscapes, serene lakes, and captivating architecture, including the Franzensburg Castle.
Visitors can enjoy leisurely walks or bicycle rides along scenic pathways, explore the charming boathouse, and embark on a relaxing boat tour around the idyllic lakes.
The nearby Parkrestaurant Laxenburg offers a delightful dining experience with a garden terrace. Another option is Fischer's Heuriger, where you can enjoy traditional dishes and local wines.
For those desiring a luxurious overnight stay, the Hotel Landhaus Moserhof, situated in close proximity to Schlosspark Laxenburg, provides elegant accommodations and a peaceful retreat after a day of exploration.
Semmering Hirschenkogel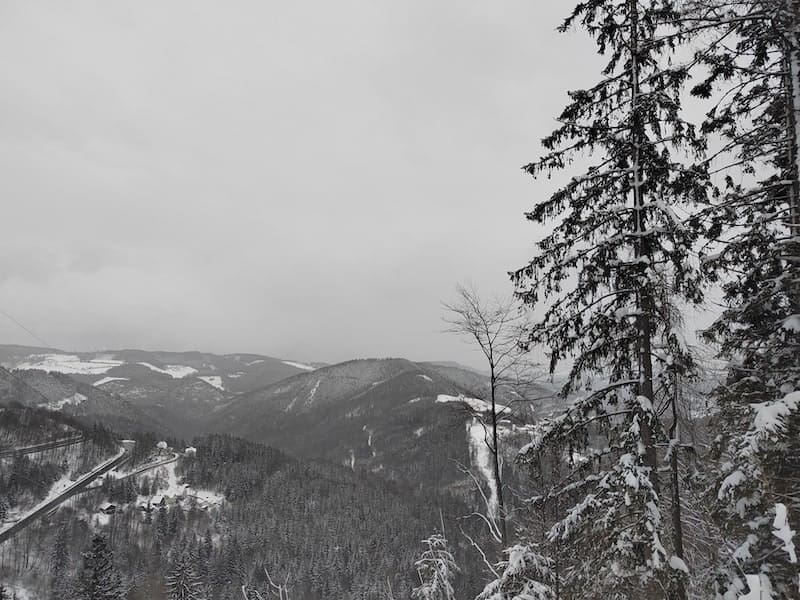 By Franzi of The Introverted Solo Traveller
Austria has a fair share of great ski resorts, though many are too far from Vienna for a day trip. However, Semmering Hirschenkogel is a small yet notable ski resort just over an hour away from Vienna by car. There's ample free parking available at Semmering.\
If you prefer public transport, it's about a 2-hour journey, including a 25-minute walk from the Semmering train station.
The winter season usually starts around early December and lasts until mid-March.
The resort offers 5 different runs (one blue and four red), totalling 14 kilometres of slopes. While not extensive, it's perfect for a day trip. And easily accessible via the cable car to the top.
The blue run is 3.5km long, which keeps beginner skiers or snowboarders entertained for a while.
For those interested in tobogganing, Semmering has a 3km long adventure toboggan run. You can rent a sledge at the ski hire place at the bottom of the ski lift, though it's advisable to be early as they can run out.
The Liechtensteinhaus restaurant at the top of the mountain is a good spot for traditional Austrian meals, with a nice view over the mountains.
Close to the lifts, Der Löffler am Semmering Bed & Breakfast provides a modern and comfortable stay, with a great breakfast and only a 5-minute walk from the cable car.