The West Coast is famed for having some of the most beautiful cities and locations, not just in the US, but in the whole world. From the Canadian to the Mexican border, you've got over 1000 miles to play with. If you wanted to, the whole coast could take just over a day to travel down in one go. Of course, why would you do that when there are so many exceptional places to stop and enjoy.
With that in mind, here are the best West Coast road trips for you to add to your itinerary.
Cannon Beach
These road trip ideas and spots are presented in no particular order – you can choose how many of them you visit, and in which order you do them in! We'll kick things off with Cannon Beach, famous for appearing in The Goonies.
While you won't find the cast of The Goonies anywhere near this beach anymore, you will see a phenomenal setting that blows your mind. It's one of the many beaches you'll see along Oregon's coast, and it's home to a small town with plenty of quaint things to see. It's not the sandiest beach you'll ever see, but that's part of the beauty. There are lots of little rock pool formations with crabs and other cute critters to see.
Big Sur
Over to California, and you've got one of the best roads for a road trip you'll ever encounter. The journey to Big Sur is iconic as the roads are twisty and zigzag through hilly areas along the coast and into Redwood National Park.
The whole time, you have the sea outside your window and some of the best views you're ever going to see while in a car. Redwood forests and beaches can be seen, meaning there are plenty of places to stop along the way. A lot of travelers like to stop and go hiking in the hills around Big Sur, which is a fantastic idea. Just make sure you bring the right gear, EcoGearFX.com stocks a range of flashlights and backpacks that are ideal for a long hike.
Redwood

 National Park

We'll stay in California for now, taking you over to Redwood National Park. Redwoods are an iconic feature of the Californian landscape, and you can get a lot closer to them on this particular road trip.

Journey to this National Park to see hundreds of these old trees kissing the skyline. It's a wonder to behold, and you can spend a day just wandering around hiking through the forests. You get the sense of feeling like an ant walking around Redwood National Park – some of the trees exceed 100m in height, making them feel like skyscrapers.
Crater Lake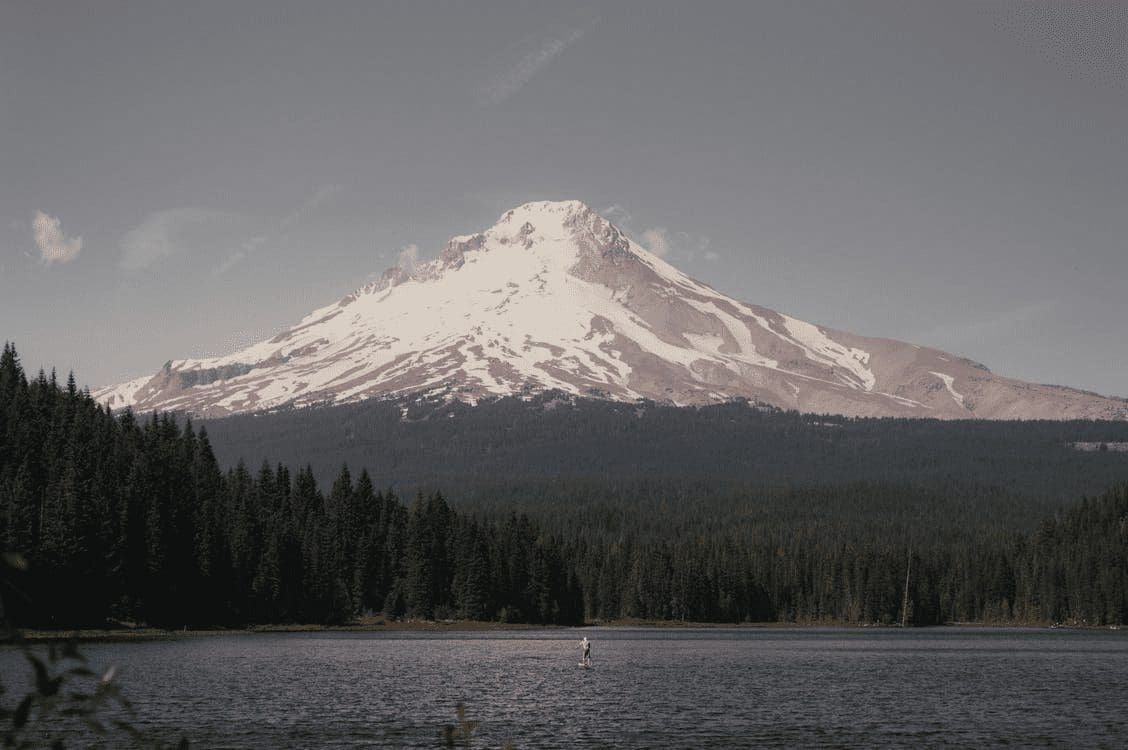 We're back in Oregon for this one, and it's a road trip opportunity you simply can't miss. Crater Lake is the deepest lake in the US, and it is famed for its sparkling blue water that's always extremely clear.
There's an intriguing story behind this great lake as the crater itself was formed by a volcano that collapsed. So, it's interesting to stare across this vast hole in the ground filled with water and wonder…what if? In a different universe, perhaps there's a huge volcano here – and what would that mean for the surrounding area?! It's an incredibly beautiful sight, and the road up to it through South-Central Oregon is equally pleasing.
Mount Hood
Mount Hood is a stratovolcano, which is fancy talk for 'big giant mountain that may or may not be an active volcano.' It's one of the key sights to see in Oregon state, and there are plenty of reasons why. It's visible from Portland, which is a great place to visit on your road trip while you're in the area. You can ski down the slopes of Mount Hood basically all throughout the year, so bring your winter sports gear if you're feeling active.
The area around the mountain is a National Forest, and it's famed for delivering exceptional camping opportunities and views. Bring all the right gear with you as it can get chilly, not forgetting your camping flashlight to see the great mountain sparkling in the twilight.
La Push
We can't talk about West Coast road trips without including some sites and scenes from Washington. While there is definitely a lot to see, your road trip should take you to La Push. It's a small village of the Olympic Peninsula in Washington State, and the fantasy buffs amongst you may recognize it as the setting for some of the Twighlight films. Don't worry, vampires and werewolves won't be found here, but you will find a ruggedly beautiful area, complete with a gorgeous beach setting. It's one of the best and quietest beaches on the West Coast, meaning you can enjoy the typical coastal delights without tourism.
Solvang
Fancy experiencing a taste of Denmark in California? Not a sentence you expect to hear every day, but this is exactly what the town of Solvang brings to the table. It's unique in that it literally looks like someone has plucked a little Danish town out from Europe and plonked it on the West Coast of America. We're talking Danish architecture, Danish food, and a really beautiful place to explore. It's the kind of town you just have to stop in for at least one night during your road trip.
Yosemite National Park
Another Californian National Park that's well worth a trip. Again, you have so many camping opportunities here, as well as a village that's full of shops and places to stay. It's one of the most iconic parks in the whole country, and there will be no shortage of hikes and other activities to partake in. With a blend of rocky waterfalls and fresh woodland areas, there's so much natural beauty to this place. It's definitely best to come here during the latter stages of summer where you get the leaves starting to turn orange and the weather isn't overly hot. 
So, if you're looking to head out on a road trip around the West Coast, be sure you add these destinations to your travel schedule. Of course, there is still so much for you to experience and enjoy, but these are the creme de la creme!