From spooktacular treats and allergy-friendly baking kits, to super soft tee shirts with plenty of personality, these are the Halloween gifts and activities your children will be enjoying the whole month of October. Read our full Children's Halloween Gift Guide below:
Dylan's Candy Bar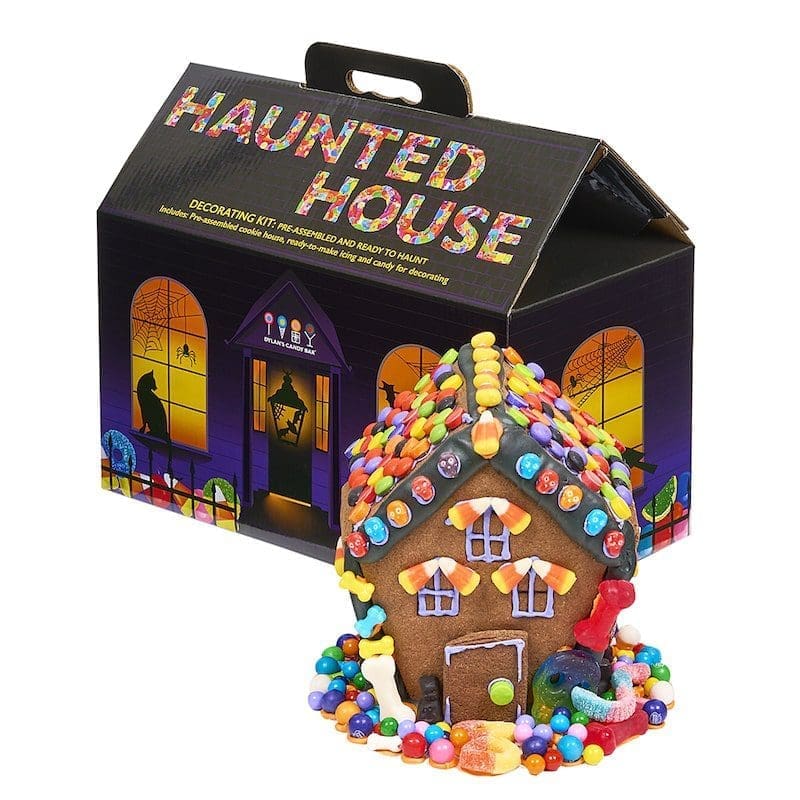 Dylan's Candy Bar, including their location in Hudson Yards, has a wide range of Halloween treats for everyone on the list.
Move over pumpkin carving and let the haunted house take center stage this Halloween! The whole family will love decorating their own haunted chocolate cookie house with plenty of ghoulish candies. The cookie house comes pre-assembled for easy fun this spooky season.
Dylan's Candy Bar also has a location in the Hamptons in the town of East Hampton that is open seasonally.
Know Yourself Bones of the Body Book Set
Halloween is the perfect time for kids to learn about the skeletal system! The award-winning company offers Dr. Bonyfide's Bones of the Body Workbooks full of fun and educational activities for children eight and up.
Children will enjoy activities such as crossword puzzles, mazes, x-ray vision, and more. The workbooks feature an in-depth exploration of the human body guided by Dr. Bonyfide and his friends. They will help develop a lifelong love for science, an appreciation for one's body, and the path to learning to Know Yourself.
The book set is also available on Amazon.
Little GF Chefs
These super cute baking kits by Little GF Chefs are designed to build confidence, empower and educate children of all ages. Halloween kits include all of the dry ingredients, decorating supplies and a baking tool needed to make a fabulous treat! From Unicorn Donuts to gingerbread houses, the kits are made for all seasons or for everyday fun.
Little GF Chefs baking kits are gluten free, contain no artificial dyes and are free of the the most common food allergens like nuts, soy, eggs and dairy. Pick the plan that works best for you, from 1–12-month subscriptions and one-time kits.
Petite 'n Pretty
Add a touch of sparkle outside the lines this Halloween. Your little ones will love expressing and embracing individuality with beauty products developed just for them.
Petite 'n Pretty L.A. Luster Glitter Hair Spray
A weightless, glitter-packed spray to dress up your child's favorite costume. The spray is non-tacky, goes on evenly and effortlessly, and is infused with their signature, super yummy Cloud Mine™ scent. Available at Ulta Beauty.
Petite 'n Pretty Gen Glitter
A multidimensional hair and body glitter that's weightless, non-tacky, easy to apply and infused with our signature, super yummy Cloud Mine™ scent and botanical extract.
Petite 'n Pretty WhimsiCali Eye & Cheek Palette
All the pigments of your imagination make up this fresh-picked bouquet of age-appropriate eyeshadows in blooming pastels. It also includes a rose-garden pink blush and crystalline violet highlighter.
Like all Petite 'n Pretty kid's makeup, the WhimsiCali Eye & Cheek Palette is pediatrician and dermatologist-approved with ophthalmologist-approved eyeshadows and makes the perfect gift for your tween or teen! Available at Ulta Beauty.
The Spunky Stork
Whether you are celebrating baby's first Halloween or are curating those perfect photo ops at the local pumpkin patch, these adorable tee shirts and bodysuits are adorable for perfect for your little ones this Halloween.
The Spunky Stork is a cheerful and modern fashion brand that creates organic, non-toxic clothing for children of all ages. The Spunky Stork handprints charming and whimsical designs onto the softest organic cotton baby bodysuits, and toddler/youth tees. They have several Halloween and autumn inspired designs to choose from.
The fall and Halloween collection includes designs that say: Little Pumpkin, Meet Me At The Pumpkin Patch, Keepin' It Corny, Little Monster, My First Thanksgiving, Little Turkey, and many more. Their designs are also available on Amazon.
YearCheer Halloween Box
Halloween is officially delivered with your children's YearCheer Halloween Box. Children will have fun all month long celebrating with this spooktacular gift!
YearCheer boxes contain everything you need to celebrate for families with up to four children Each box includes a YearCheer Happy Halloween Banner, YearCheer Honeycomb Spiders, and a Halloween Neighborhood Scavenger Hunt.
Make this Halloween more fun by BOO-ing your neighbors! YearCheer also includes Candy Eyeballs, a ghost cookie cutter, Spider Boo Boxes and fun recipe ideas to drop off treats for your neighbors.