With sustainability at the forefront, we have curated our sustainable Holiday gift guide featuring our favorite, fun-filled holiday surprises for children. From hands on and creative to super soft apparel, these gifts are sure to warm the heart and create lasting memories.
Stainless Steel Dinnerware Set
Ahimsa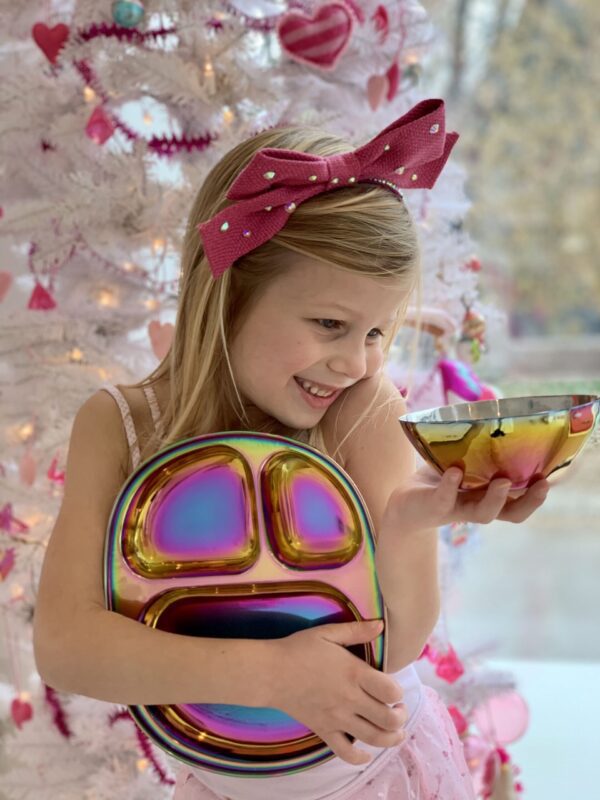 Ahimsa, the world's first colorful stainless-steel dinnerware set for kids, makes the perfect gift for infants and toddlers.
Dr. Manasa Mantravadi, a board-certified pediatrician and mom of 3, developed this line of colorful stainless steel dinnerware collection after the American Academy of Pediatrics released a policy statement in 2018 that highlighted the harmful effects of plastic on children's health. They instead recommended stainless steel or glass to serve and store food.
Ahimsa's stainless-steel bundles & sets are perfect for sustainable gift giving this holiday season. Our favorite is the Mindful Mealtime Set in rainbow. Dishwasher safe and built to last a lifetime.
Children's books by Christy Cashman
Christy Cashman, who co-owns Kilkea Castle in Ireland with her husband Jay Cashman, is the author of the book series, The Not-So-Average Monkey of Kilkea Castle and Petri's Next Things. This book series is inspired by the true story of the brave little monkey who saved the day at Kilkea Castle.
Both books, which are perfect for ages 1-8, are available on Amazon. Read these books again and again with your children and share these stories with their friends and neighbors this holiday season.
The ROAR Kids Sweatshirt
Cotonly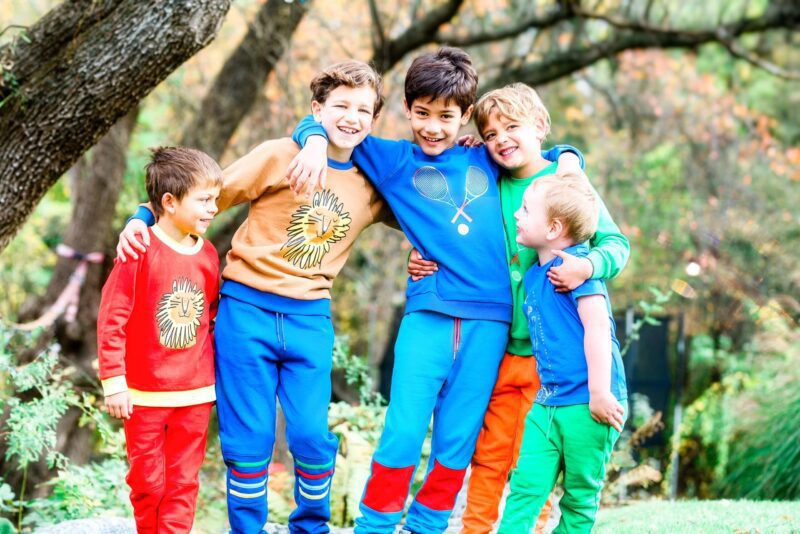 Cotonly, which sells heirloom-quality children's clothing for boys and girls in sizes 2-12, focuses on ethical, sustainable manufacturing processes designed to reduce waste and produces high-quality clothing.
Cotonly's boys clothing line is full of bright, vibrant colors! For the girl's, the crop sweatshirts and ruffled sweatshirts have been very popular with customers.
Wether it be in the jungle, dessert, or rainforest, let your child express him or herself with their own style. Our particular favorite style is the ROAR Kids Sweatshirt. It is made with 100% organic cotton, is machine washable, and is free of hazardous chemicals.
Kids Color Your Dreams into Reality
Dejha B Coloring
This holiday season, find peace of mind with inspiring coloring books for both adults and children. These coloring books help decrease anxiety, destress, and brings out your inner creativity. Each has positive images, and positive affirmations you can color in.
Their "Kids Color Your Dreams into Reality" and "Kids Color Like It's Your Birthday" are notable picks for this festive season. The "Kids Color Your Dreams into Reality" coloring book features inspirational illustrations, and motivational quotes to help children follow their dreams, and to think positive.
The "Kids Color Like It's Your Birthday" coloring book highlights all the things we do special for our birthday. This includes illustrations of getting your nails done, getting your hair done, and blowing out birthday candles. Find each coloring book by Dejha B Coloring on Amazon or directly on their website.
Penny Winter Boot
Kamik
Based in North America and made in the USA, Kamik sells a wide variety of sustainable winter boots for the whole family. Their Penny style boot, as pictured above, is a vegan friendly, waterproof boot made with up to 97% recycled materials.
These boots are lightweight, have a recyclable RubberHe bottom, and foam and fleece insulation. They also have a -40°C/ -40°F comfort rating, make these boots perfect for playing in the snow all morning or afternoon without concern.
The Penny is topped with a faux fur collar that is easily adjustable. Parents will also love that Kamik's boot liners can be removed and washed!
The Penny boots by Kamik are available in pearlized pink, black and purple.
Family Time Fun! Activity Kit
Little Bridges
The Family Time Fun! Activity Kit is a unique collection of more than 45 boredom-busting game and activity ideas that encourage connections, teamwork, and remarkable conversations through fun and memorable play.
The activities and challenges in the Family Time Fun! Activity Kit use easy-to-find household items. Think cups, toothpicks, and ice, to name a few. With so many options and tips to make play time easier or harder, everyone can play together, again and again.
The kit includes 10 Timed Challenges, 10 Team Activities, Keepsake Family Puzzle, 25 Table Talk conversation cards, 6 Double-sided colored markers, chalk, and a sand timer. Ideal for ages 4 and up.
Kid's Crew PACAS Socks
PACAS
Super cute and super fun. PACAS is a sock brand that creates fashionable and sustainable socks made from alpaca fur. These Alpacas, who roam free, eat grass at Peru's highest elevation. Alpacas are sheared not only for the fur, but also to keep bacteria from forming underneath their thick coat.
PACAS socks are some of the softest you will ever find. Their hypoallergenic kids' socks come in an array of bright, fun colors, and patterns, keeping feet toasty warm this holiday season.
Apple + Broccoli Hair & Body Wash
Pleni Naturals
Clean and hydrate hair, scalp and skin gently yet thoroughly with this sustainable high-foam and easy-to-rinse shampoo and body wash. It is bursting with broccoli seed oil, California grown organic olive oil, and other beneficial fruit and vegetable-based ingredients.
Their Apple + Broccoli Hair & Body Wash is crafted with a family friendly formula that is certified vegan, allergy tested, and cruelty-free.
Hand Soap Pens
SoaPen
A handwashing experience children will look forward to this holiday season! SoaPen's hand soap pens for kids will create plenty of fun for children at the sink while keeping them clean and germ-free. Children may write on their hands with the three different colored pens, and then sud up and rinse off!
The hand soap pens are free of parabens, phathalates, EDTA, and animal byproducts.
Santa Baby Organic Cotton Tee
Tenth & Pine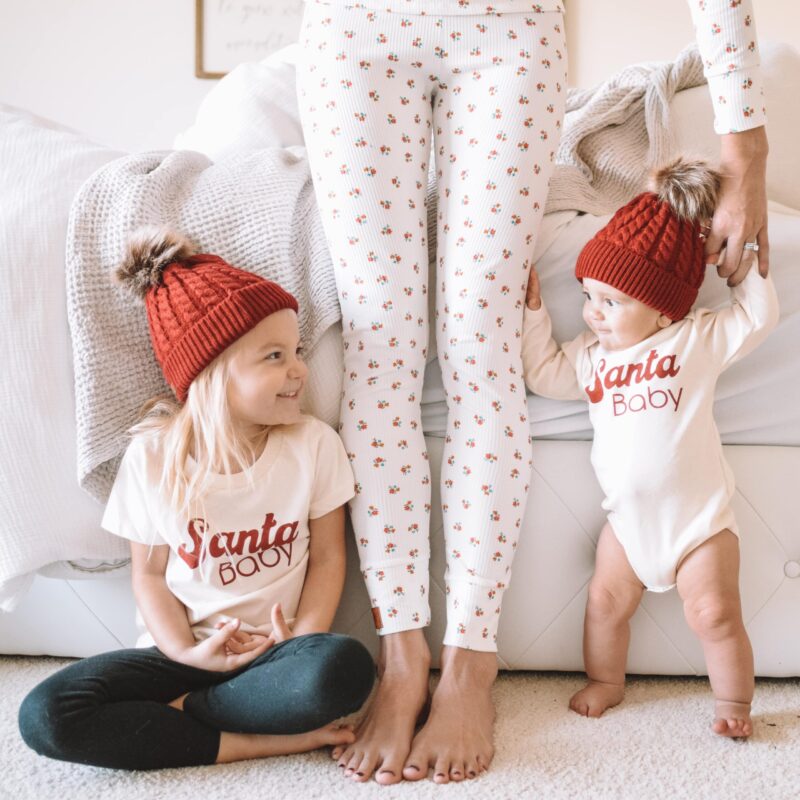 Tenth & Pine has always been committed to using only certified organic, sustainable, and environmentally friendly materials. Their eco-friendly fabrics are locally grown without pesticides, or insecticides. Made in the USA, this adorable brand has designs to help families enjoy every special moment and milestone.
Their Santa Baby Organic Cotton Tee comes in sizes 12-18 months to children's size 10. Tenth & Pine also sells organic cotton Santa Baby bodysuits.
Mason's Planets Handmade Sidewalk Chalk
TWEE
Children will create plenty of joy this season with creative sidewalk chalk that gives back. TWEE, a woman-owned Philadelphia maker's studio that specializes in eco-friendly childhood classics, has created unique handmade sidewalk chalk shapes, including planets and winter wonderland donuts.
Each order of Mason's Planets Mason's Planets contains nine planets, even Pluto! Each planet is like a geode; the large change colors three times and the small two times. $2 from every sale benefits the Center for Autism Research at the Children's Hospital of Philadelphia.