As a city that has grown so much since the
UAE was formed in 1971
, its food scene is as big as its international reputation. Many consider Dubai the Las Vegas of the Middle East and they're not far wrong. The glittering Emirate is a lively, cosmopolitan city with plenty of wow-worthy appeal. This includes some of the world's tallest, largest, and most unique attractions. Discover what must be tasted and experienced in the capital with our full
Dubai Food Bucket List
.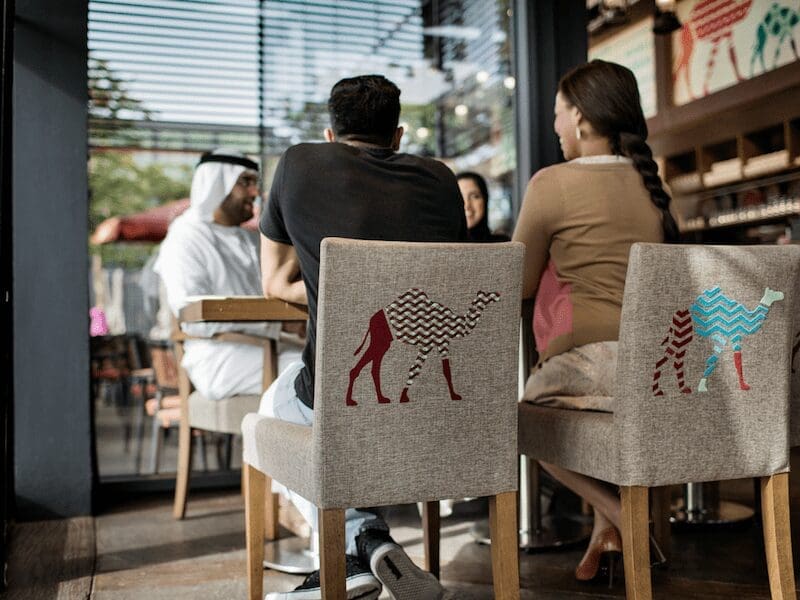 Book a table at Hell's Kitchen
The flagship culinary establishment at Caesar's Bluewaters Dubai resort is part of world class chef Gordon Ramsey's stable and only the second restaurant of its kind outside of Caesars Palace casino in Las Vegas.
The kitchen is built to reflect the show kitchen from the British chef's famed reality cooking show, Hell's Kitchen. It is complete with dangling pitchforks and the HK logo. Signature dishes include braised short rib with potato puree, pulled beef and carrot crisp, Ramsey's Beef Wellington and his sticky toffee pudding.
Book and sit inside so you can enjoy the theater in the kitchen, it's well worth it.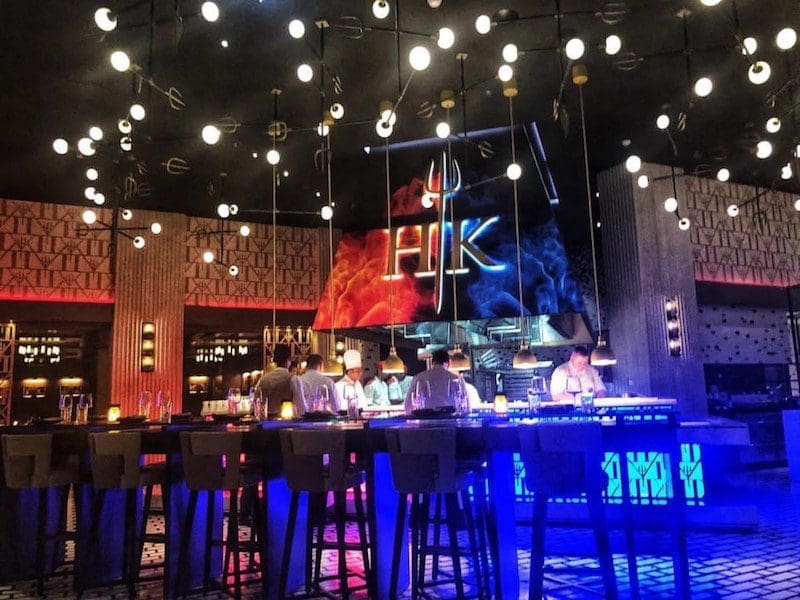 The famous Queen Elizabeth II ocean liner is now a hotel and permanently docked in Dubai's Port Rashid. Today, the legendary ship not only hosts overnight hotel guests, but also welcomes foodies to its collection of restaurants.
Take a tour of the grand dame before heading to The Pavilion. Then, enjoy a meal overlooking Mina Rashid Yacht Club and the city's glittering skyline in the distance.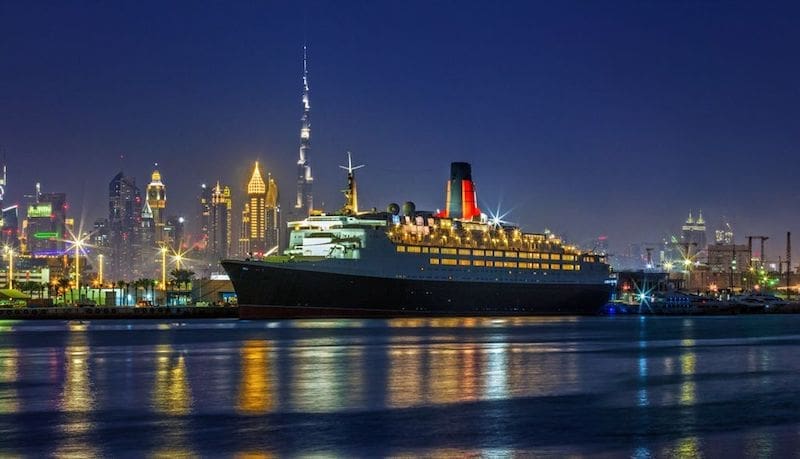 Dining 50 meters in the air is not everyone's cup of tea. But, for the foodie daredevils out there, it's the ideal way to see Dubai. Capture some carefree selfies in one of the most unique dining environments in the Emirate.
Strap yourself in and prepare to swivel and enjoy the views of Dubai Marina and the city's "culinary heights". Tick this adventure off your Dubai food bucket list, and you will be talking about it for years to come!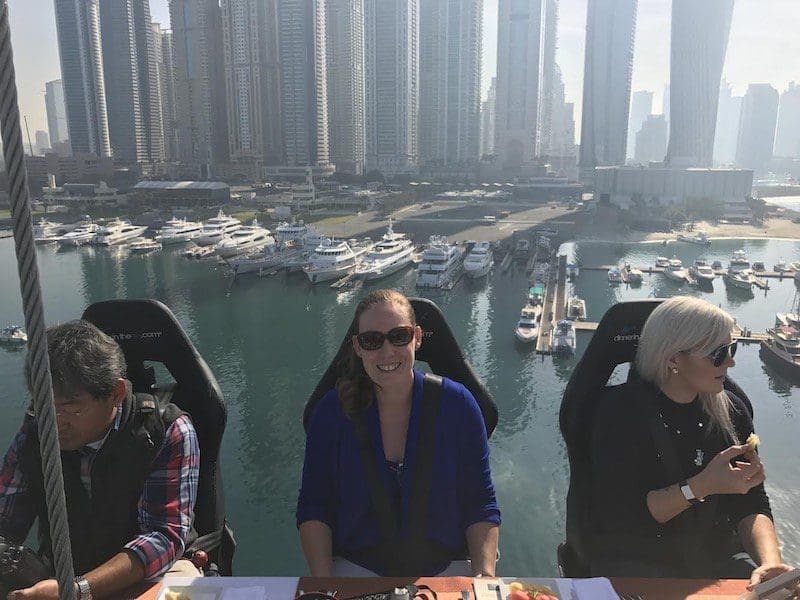 What began as a small food van at the city's popular Kite Beach is today an expanded dining space where 'Salters' can enjoy a casual beachside bite and a coffee with friends.
Pitched as an urban food experience that brings people together, this coastal cafe culture at its finest.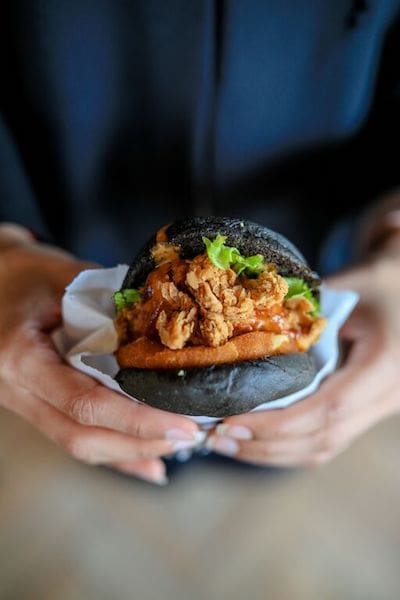 If a visit to Dubai's incredible Atlantis, The Palm hotel isn't exciting enough, a meal at Nobu is the cherry on top.
The acclaimed establishment is part of world renowned chef Nobu Matsuhisa's international dining collection. Come in and savor modern Japanese-Peruvian inspired food in a sleek, luxurious environment. 
The team at Aseelah has done a good job at offering an authentic local dining experience by offering traditional food in a zhushed up modern environment. The menu here is divided into traditional Emirati dishes and international options made using Emirati ingredients.
Try lamb harees, fish machboos or a camel stew from the comfort of the Radisson Blu hotel in Deira.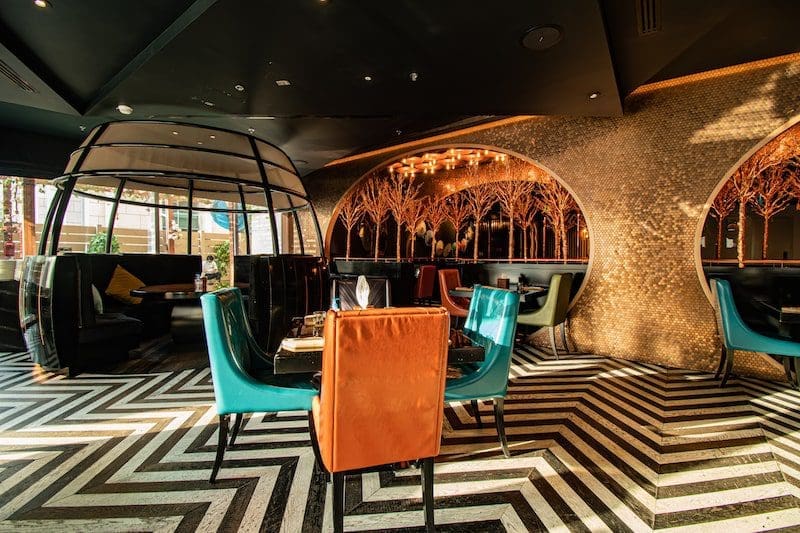 Carnival by Trèsind
Considered a celebration of modern cuisine in a creative manner, this restaurant is perhaps the best in the Dubai International Financial Centre hub.
Serving up quality and contemporary Indian cuisine, the menu at Carnival by Trèsind is as inviting as the space it is served in. Think artichoke masala, chili paneer and Rendang Indonesian lamb stew.
Part of one of the most inviting precincts in the city, the Souk Madinat Jumeirah, this restaurant boasts two outdoor terraces with stunning views of the water. There is a more intimate dining area and an open kitchen for patrons to enjoy.
Folly is owned by Nick Alvis and Scott Price, who worked for Gordon Ramsay for 15 years. The pair launched Folly by Nick Scott in 2011.
Chef Massimo Bottura's first restaurant outside of Italy is right at home at the W Dubai, The Palm. The mastermind behind three Michelin-starred Osteria Francescana, takes patrons back to the Italian Riviera of the 1960s at Torno Subito and does so in a playful, colorful manner.
Guests can sit by the beach, alfresco or in the booths inside, either way, the food is as good as the atmosphere itself.
This independent chef-owned concept is positioned by the Jumeirah Fishing Harbour. It is also a favorite with residents. Named by Forbes as one of the 10 Coolest Places to Eat, 3fils boasts harbourside community dining and serves up delectable Asian food that's focused on Japanese flavors.
The motto here is 'Our home is your home', so make yourself at home here.
This establishment's biggest calling card is the views it affords of the Arabian Gulf and the famous Burj Al Arab hotel beyond.
The Mediterranean menu is bursting with incredible flavors. The restaurant's Ocean Vibes menu offers a three-course menu at a good price (Dhs 375 per person).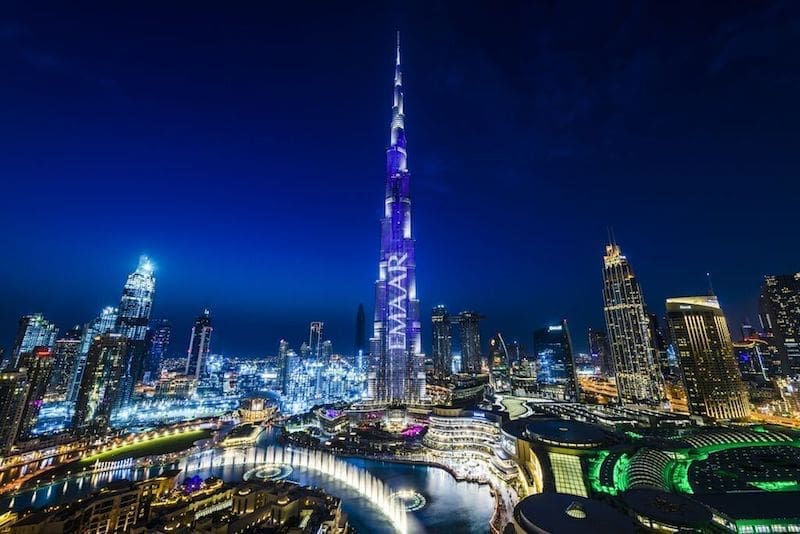 At.mosphere at Burj Khalifa
From its skyhigh perch 442 meters above the ground is where you'll find this dining destination. Guests enjoy some of the best views of the emirate's famous dancing fountains.
At.mosphere sits proudly on floor 122 of the world's tallest tower, the Burj Khalifa. Fulfill your Dubai food bucket list at this grand restaurant. They serve breakfast, lunch, dinner and private dining options. A must-do for international visitors, and don't forget your camera!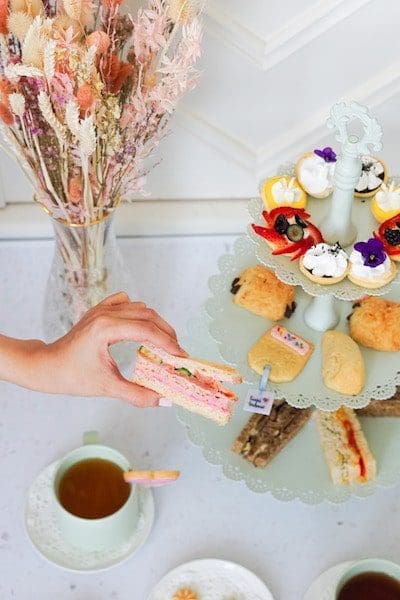 Tania's Teahouse is an Instagrammer's dream. The cafe that's taken up residence on the popular Jumeirah Beach Road is stylishly decorated and full of puns that are 'made to a tea'.
Owner Tania Lodi is a big tea enthusiast. She blends her own varieties, as well as being a certified cake decorator and overall creative talent.
Tania's Teahouse serves up specialty flavored teas, coffees, an all-day breakfast, tea sandwiches, super bowls, pastas, sliders, and of course beautiful desserts.
Led by the culinary prowess of one of Portugal's most renowned chefs, Tasca serves up Portuguese flavours with a twist and does so from the rooftop of the city's Mandarin Oriental Jumeira luxury hotel.
Full of character and packed with sleek design appeal, the menu uses only fresh ingredients and includes dishes like Algarve prawn ceviche, seafood rice and Portuguese salads. There's a dedicated kids menu and a Friday brunch.
For spectacular views of the Dubai skyline and tasty Mediterranean food you can't go past The Boardwalk jetty-restaurant at the Dubai Golf & Yacht Club.
Positioned creekside and with indoor and outdoor seating options, guests can enjoy a casual breakfast, lunch or dinner meal with friends in a relaxed environment.
Opt for an Italian meal or indulge in fish and chips by the creek.
MasterChef, the TV Experience restaurant
Anyone familiar with the global television phenomenon of the same name will love this 'screen-to-plate' style restaurant. It is also the first Masterchef eatery in the world. Complete with its own Mystery Box experience. 
This experience allows patrons to choose five ingredients from a selection of 10. Then, they have a menu created from them and dishes inspired by Masterchef show winners from across the world.
The establishment is led by Venezualan chef, Maria 'Margarita' Vaamonde-Beggs and positioned within the Millennium Place Marina property.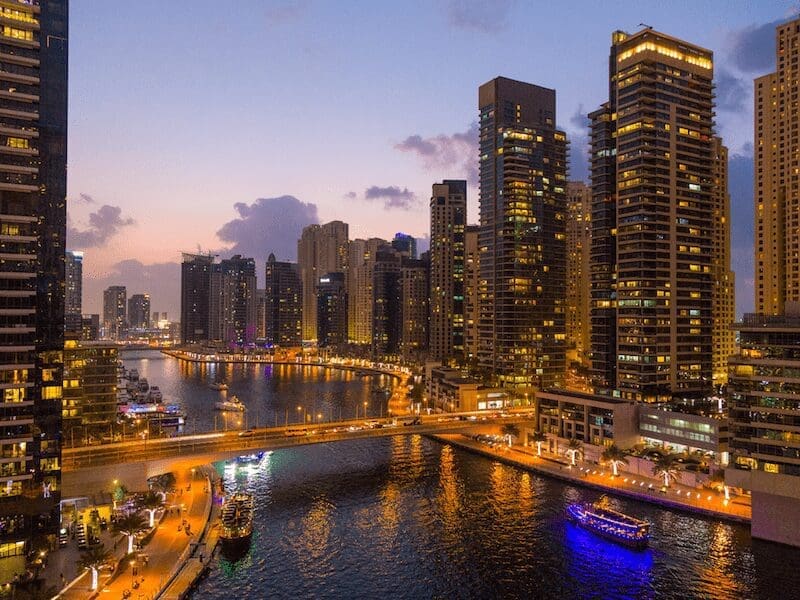 More a hub than a particular eatery, Pier 7 is a collection of seven restaurants stacked one atop the other in the recognisable circular structure in the popular Dubai Marina precinct.
Providing views of the city's skyline and the Gulf beyond, each of the restaurants offer a contrasting culinary experience.
Their restaurants are: Asia Asia, Atelier M, Abd el Wahab, The Scene by Simon Rimmer, Cargo, Fume and Mama Zonia.
For a more grassroots food experience consider joining a curated culinary food tour with Frying Pan Adventures.
Whether it be a six-person tour or a private guided walking experience, travellers can undertake a Dubai Souks and Creekside Food Walk, a Abu Dhabi Food Bucket List, or a Little India on a Plate tour.
Prices start from Dh425 per person.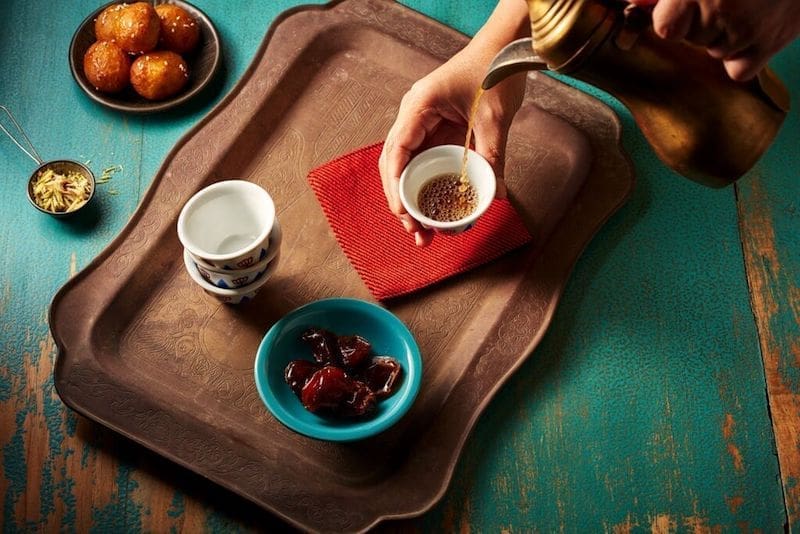 Set up in one of the oldest parts of the emirate, the Al Fahidi District, this museum is a 'strong' contender for international coffee enthusiasts.
The site not only explains the roasting and brewing styles of various countries, but also displays a number of coffee books and documentaries.
There is a museum shop that features some of the world's most fascinating coffee accessories.
Rounding out our Dubai Food Bucket List is the Arabian Teahouse. With more than 150 different tea varieties, this quaint tea house is one of the best of its kind in the Al Fahidi Historical Neighborhood. This area was once known as Al Bastakiya.
Operating out of a traditional wind tower, it's best to visit the Arabian Teahouse during the winter months so you can sit outside and enjoy the original cultural heritage of the emirate in the cosy courtyard environs.
Enjoy a sandwich, pastry or Emirati desserts alongside your tea.