Scones with jam and cream are one of the glories of an English afternoon tea. But do you put the jam or the cream on first?
Surprisingly, this choice can be very controversial, and even resulted in a Facebook petition to make 'jam first' legal.
Devon vs. Cornwall
Much depends on geography and heritage. The custom of serving scones with jam and cream dates back to the eleventh century and originated in Southwest England.
In the county of Devon, clotted cream is always placed on the scone first, with jam second on the basis that the cream prevents the jam from entering the scone. Just across the county border in Cornwall, the opposite is true. Jam comes first, which allows it to sink into the warm scone, while the cream rests on top.
Both methods can be found throughout the UK and countries like Australia and Canada, where this delicious tradition has been introduced over the centuries.
Queen Elizabeth II and the Scone Debate
The debate shows no sign of ending, as anyone unlucky enough to post an image of this succulent treat on social media quickly discovers. Even the Queen had been involved in the controversy.
Darren McGrady, a former Buckingham Palace chef, stated on Twitter that it was "Jam first at Buckingham Palace garden parties. The Queen always had homemade Balmoral jam first with clotted cream on top in the royal tea tent and all royal garden parties."
Perhaps this royal choice is not surprising since the Prince of Wales bears the additional title of Duke of Cornwall!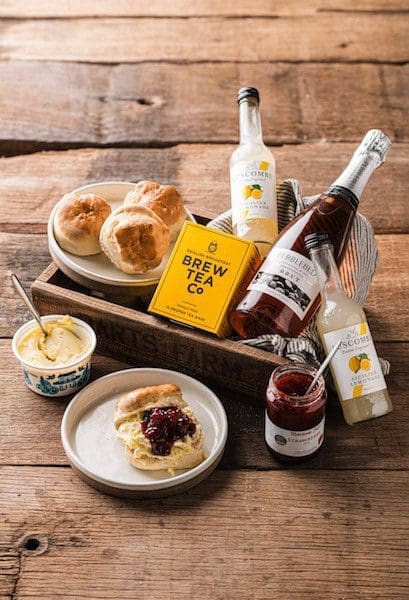 The Essential Clotted Cream
No matter what the personal choice of method, the use of clotted cream is what makes West Country cream scones stand out.
This is a very special type of cream as Francis Clarke of Trewithen Dairy explains: "Clotted cream is the thickest and richest type available and originates from Cornwall. It is a silky, golden-yellow cream made by allowing unpasteurised cow's milk to sit and slowly heat before cooling. The best clotted cream is said to have a good, firm crust atop smooth, thick cream. Cornish clotted cream has been awarded the EU's Protection Designation of Origin.  At Trewithen, our milk comes from local herds within 25 miles of the dairy farm in the Glynn valley. We created a traditional local recipe which has a beautiful depth of flavour."
West Country
Wherever you go in the West Country, cream teas with scones are widely available. Every village, every town and leisure attraction has a cream tea on offer.  With such an extensive choice, finding the best is not always easy. There are even cream tea guides and cream tea websites listing potential locations.
Throughout the West Country, farm shops such as Darts Farm, Exeter in Devon attract both locals and tourists in vast numbers. Otterton Mill even produces its flour from which it makes its own scones.
Historic Locations in the West Country
Historic locations are a great place to relax with scones and cream. The Salutation Inn, Topsham has a reputation for gourmet feasting and its cream teas are no exception. The Clock Tower at Sidmouth is based in an old sixteenth century lime kiln, just above the beach. During World War II, it even played a role as a gunnery. Now it is a family owned café where you can enjoy cream teas with great seaside views.
Among the most popular cream tea locations are cafes attached to National Trust Historic Sites. These include Castle Drogo, Buckland Abbey, Knightshayes. You can even enjoy a cream tea at Agatha Christie's former home at Greenways.
In Cornwall, dramatic locations like The Lizard provide a really iconic setting for a splendid cream tea. Likewise, cider farms such as Healy's near Truro where cider sampling is a great starter to a cream tea!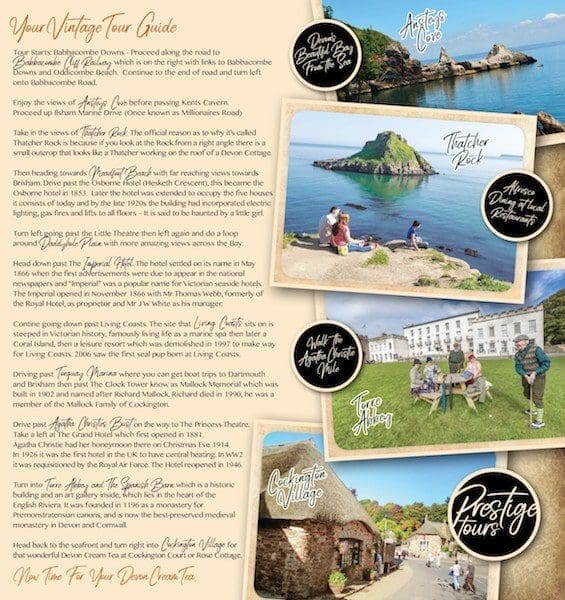 Vintage Cream Tea Tour
For something different, the Cary Arms & Spa at Babbacombe offers diners a very special experience in the form of a Vintage Cream Tea Tour.  Sit back in a 1930's style Beauford Tourer cream colored luxury vintage car and enjoy a tour around the picture postcard scenery of the English Rivera. The journey ends with a delicious cream tea.
Cream Tea Delivery in the UK
In recent years, some changes have crept in. If you live in the UK you can order a cream tea online. Darts Farm commented that when the pandemic began in March, there were lots of orders from people sending them to their neighbors to join in a socially distanced 'Cream Tea Afternoon.' Businesses were ordering them as a treat for employees to enjoy during Zoom meetings.
The Dairy Scone Revolution
You can even find Gin & Cream teas available, while most recently Trewithen have sought to introduce a Dairy Scone revolution by reimagining the cream scone.
Trewithen Dairy fans were encouraged to send in flavor ideas via a 'Scone Revolution' hashtag. This resulted in new scone recipes inspired by classic British desserts such as Cherry Bakewell, Lemon Meringue and Banoffee Pie.