Embrace the quintessentially British tradition that is afternoon tea. While in London, explore some of the most notable hotels and venues for traditional afternoon tea across the city. Many of these stylish settings also serve seasonal and rotating themed afternoon teas from season to season. Lavish yourself and your beloved guests with our curated list below.
The Berkeley
Nestled between bustling Knightsbridge and leafy Belgravia, The Berkeley is the essence of contemporary chic and innovative luxury. The Berkeley, centrally located in London and just minutes away from Harrods, is most famous for their Prêt-à-Portea afternoon tea, that rotates each spring/summer and fall/winter season.
Prêt-à-Portea showcases couture cakes inspired by designers from Tod's to Versace. A firm favorite with fashionistas with a sweet tooth, Prêt-à-Portea at The Berkeley gives a contemporary twist to afternoon tea with a collection of bold catwalk cakes.
The Berkeley also offers seasonal and event-inspired afternoon teas like their Wimbledon Afternoon Tea.
Brown's Hotel
The iconic Brown's Hotel, located within a three minute's walking distance from the Royal Academy of Arts, serves one of the most coveted traditional afternoon tea experiences in London. The Drawing Room serves one of London's most famous, award-winning afternoon teas, consisting of a choice of 17 teas, including Brown's own blend. The tea is served along with delicious finger sandwiches, an assortment of delicate pastries, fruit and plain scones with clotted cream and strawberry preserve, as well as freshly baked cakes from the trolley.
For the more health-conscious palate, Brown's Hotel offers a Plant Based Afternoon Tea, a nutritious twist on a quintessential British classic. With well-being at the forefront, Brown's Executive Chef has created both sweet and savory guilt-free alternatives with an optional champagne addition.
Claridge's
In a league of its own, Claridge's in London's Mayfair neighborhood offers a fancy, traditional afternoon tea that is splendid experience for the whole family. Their legendary afternoon tea, perfect for the whole family, is served in The Foyer & Reading Room.
The afternoon tea experience is complete with fancy finger sandwiches, pastries, and freshly baked scones. Claridge's also offers complementary, unlimited finger sandwiches to enjoy during the experience. Afternoon Tea is served daily between 2:45 and 5:30pm.
The Connaught
Afternoon tea at The Connaught is always a fun and playful experience for everyone. The stylish Jean-Georges in Mayfair sets a bright and lively scene for a traditional afternoon tea in London with a twist.
Bring your taste for adventure and discover a selection of rare teas paired with a glass of bubbly. Then, their classic British finger sandwiches meet Jean-Georges' passion for bold Southeast-Asian flavors. Think cucumber with a hint of mint, oak smoked salmon, and turkey and tandoori yoghurt in Mediterranean bread. All of their sandwiches are home-made daily.
For a touch of tradition, their cakes are accompanied by English scones that are served warm from the oven with Cornish clotted cream, and homemade strawberry jam.
Corinthia London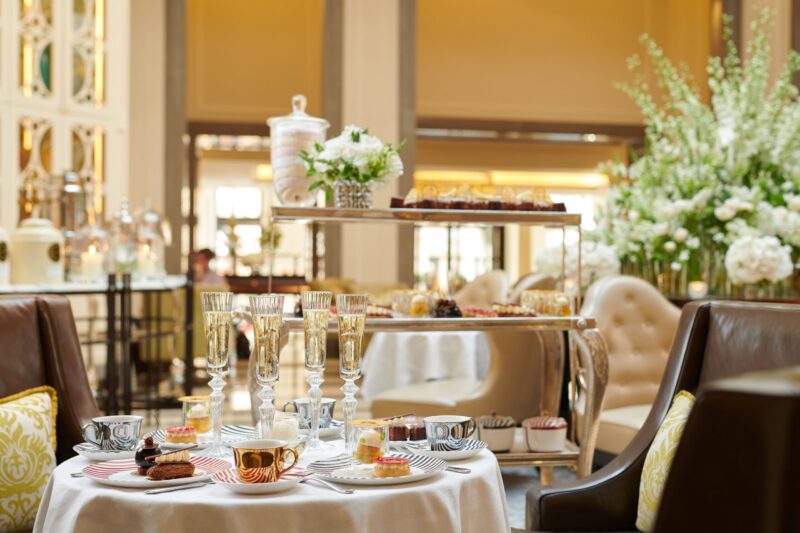 Afternoon tea at Corinthia London, one of the most luxurious hotels in Central London, is a true treat not to be missed. Corinthia London is located within an easy walking distance of the theatre district, National Art Gallery and Trafalgar Square. Aside from being an ideal escape from the busy city, guests may settle in and relax in their ultra-comfy chairs and listen to a live pianist play whilst sipping tea. During the experience, choose from a wide selection of artfully crafted pastries from an elegant cart brought directly to your table.
In addition to their traditional afternoon tea, Corinthia London also serves a Rosé afternoon tea, and Caviar afternoon tea, to name a few.
Corinthia London serves afternoon tea Monday to Friday from 2-6pm, and Saturday to Sunday from 1-7pm. You may also wish to dine at The Northall pre or post theatre.
The Dorchester
Afternoon tea at The Dorchester is the definitive, quintessential experience, full of tradition, celebration and a tremendous amount of cake. Guests can enjoy a seasonal selection of afternoon tea delights, courtesy of the hotel's master pastry team, as well as traditional tea paired with a glass of champagne!
Additionally, at The Dorchester, afternoon tea in London is not limited to the afternoon. Guests can enjoy the beloved British tradition at any time of the day. An indulgently warm and delicious occasion, afternoon tea at The Dorchester is a must for a most memorable experience.
Egerton
The Egerton House Hotel, a short stroll away from the Victoria and Albert Museum, unveiled brand new 'Down the Rabbit Hole Tea Picnic' inspired by the new Alice in Wonderland exhibition at the V&A: Alice: Curiouser and Curiouser.
Guests will enjoy their themed Alice in Wonderland afternoon tea complete with around the clock cocktails, homemade champagne truffles, and other delicious delicacies for adults. A selection of Cheshire Cat tea sandwiches, homemade White Rabbit scones, and a selection of Alice cakes and pastries are also a part of the afternoon tea celebration.

For the youngest guests, their afternoon tea experience includes potions, brownies, and ice cream sandwiches.
The Goring
The Goring in London's Belgravia district celebrates a traditional British afternoon tea, featuring the finest and first-flush teas from around the world. This elegant and historic hotel is located around the corner from Westminster Abbey and Buckingham Palace, making for a truly royal experience in central London.
The tea menu at The Goring rotates with the seasons to offer the freshest, locally sourced fruits. Top of your afternoon tea experience with a glass of Bollinger Champagne, as part of The Bollinger Tea experience.
Afternoon tea is served seven days a week. Seating is in The Veranda Sunday through Friday, and in the dining room on Saturday. A gluten-free afternoon tea may be requested in advance. If you visit during the late summer, you may even spot Teddy the Shetland Pony. He has visited The Goring on a number of occasions and is always the perfect companion!
Hotel Café Royal
Hotel Café Royal offers a luxurious traditional afternoon tea as well as two new extensions of this tea service. The hotel's two new tea experiences are The Van Gogh Afternoon Tea, and the Sweet Afternoon Bubbles Experience. The Sweet Afternoon Bubbles tea is created by the 'World's Best Pastry Chef', Albert Adrià.
Traditional or contemporary? The choice is yours! Their traditional afternoon tea service is accompanied by a choice of more than 20 teas and infusions, and a live pianist.
The Van Gogh Afternoon Tea is served in the Oscar Wilde Lounge. In partnership with one of the most successful global immersive exhibitions to date; guests can embark on a historical tasting journey through his most famous art works. For any dietary concerns, gluten free, vegan, and halal options are available. This tea service is available Thursday to Sunday from now until January 5, 2022.
Sweet Afternoon Bubbles Experience offers a parade of exceptional desserts and pastries alongside a wide selection of Champagne and sparkling wines. Guests will enjoy a truly unique contemporary take on the afternoon tea experience Cakes & Bubbles is currently available for delivery or collection. If staying at the hotel, in-room dining is available during your stay. The Cakes & Bubbles experience is available 2-6pm daily with signature desserts available throughout the day.
The Lanesborough
The Lanesborough near Hyde Park Corner in London offers exclusive afternoon tea experience in collaboration with world-famous bakery, Peggy Porschen.
The collaboration combines one of London's most beautiful afternoon tea settings, under the naturally illuminated domed glass roof of Michelin-starred Céleste, with the fairy tale pink aesthetics of Peggy Porschen.
Guests for this afternoon tea experience can expect a celebration of beautiful floral features, pastel hues and exquisite tastes. The tea features some of Peggy Porschen's signature creations, classic afternoon tea essentials such as finger sandwiches, scones, clotted cream and jam, plus the bespoke afternoon tea blends of Peggy Porschen and The Lanesborough.
Highlight sweet treats include Peggy's Pink Pavlova, lemon & elderflower tartlet, cherry and chocolate chip cupcake, salted caramel and popcorn cupcake, and a slice of lemon, raspberry & rose layer cake.
This afternoon tea will be served until November 11th. Beginning on November 12th, a festive Peggy Porschen Afternoon Tea will be served.
The Milestone Hotel 
Afternoon Tea is a quintessentially English tradition and is upheld in its finest form at The Milestone, in the heart of the Royal Borough of Kensington. The Milestone Hotel offers a traditional afternoon tea service.
The Milestone also offers unique, rotating themed afternoon tea experiences. For example, a most recently executed themed afternoon tea is The Art of Bond Afternoon Tea in celebration of the release of the film, No Time To Die.
Taste a vast collection of loose-leaf teas at your leisure in fine surroundings, or perhaps a glass of Lanson Champagne, holder of a Royal Warrant to the Court of England since 1900.
Gluten-free, vegetarian, and vegan afternoon teas are available with a 24 hours' notice.
The Mirror Room at Rosewood London
Rosewood London's Art Afternoon Tea is an ongoing property ritual inspired by a very British tradition, that currently pays tribute to prolific artist Yayoi Kusama through the property's Kusama Art Afternoon Tea.
As part of this experience, the property's Executive Pastry Chef Mark Perkins has created a show-stopping combination of unique Japanese flavors with traditional French pastries.
For two to share, ten savory dishes [five per person] feature Clarence court egg, truffle, mustard cress in a mini brioche tin loaf, and Corn-fed chicken, and tarragon mayonnaise on turmeric bread. These are to be enjoyed alongside raisin and plain scones and Mariage Frères Tea.
To finish, Chef Perkins has taken inspiration from the upcoming Kusama exhibition at the Tate Modern to create three artfully created sweet pastries. This includes the famous Kusama 'Pumpkin', with milk chocolate mousse, passionfruit ganache, flourless chocolate sponge, and sable biscuit. Orders for two people will include six pastries. 
Radisson Blu Edwardian Berkshire Hotel
Located minutes from Bond Street and Oxford Street tube station, this 4-star deluxe boutique hotel in central London is home to the wood-paneled Scoff & Banter Tea Rooms, a peaceful sanctuary with intimate spaces for private and group dining. 
Distinguished by its abundance of natural light, the tea rooms at Radisson Blu Edwardian Berkshire Hotel offer a truly unique bespoke experience with an indulgent menu of homemade savory and sweet delicacies. 
Guests have the freedom to personalize their afternoon tea. They could do this by mixing and matching their personal favorites from an array of exquisite dishes, including finger sandwiches, flavored scones as well as classic and contemporary desserts. 
Afternoon tea is served on Saturday and Sunday between 1 and 5pm.
The Rosebery at the Mandarin Oriental
Discover a delightful British experience with traditional afternoon tea at The Rosebery, one of London's most fashionable destinations. With an extensive selection of the finest teas from around the world including Oriental Afternoon Blend, Orange Pekoe from Sri Lanka and the Golden Monkey leaf from China, their dedicated Tea Master has created an enticing menu of bespoke blends.
To complement the choice of selected teas, The Rosebery at the Mandarin Oriental serve a range of perfectly matched delicacies created by their experienced team of pastry chefs.
Set against a stylish, contemporary backdrop, afternoon tea in The Rosebery at Mandarin Oriental Hyde Park is a truly memorable occasion.
The Rubens at The Palace
The Rubens at The Palace on Buckingham Palace Road in London serves one of the most sophisticated afternoon tea experiences in the city. Their afternoon tea is exquisitely styled in their palace lounge at overlooks The Royal Mews. The gated entrance of The Royal Mews is where the royal family enter Buckingham Palace.
Afternoon Tea at The Rubens at The Palace has a reputation as one of the best tea experiences in London. In addition to their traditional afternoon tea, they also offer a wide range of tea menus. These include vegan, vegetarian, gluten-free, and halal. Their delicious afternoon tea features delicate finger sandwiches, and mouth-watering pastries that were influenced by the House of Windsor, especially Her Majesty the Queen.
Unique to The Rubens is their nod to Royal Family favorites. Particular treats are noted as tributes or favorites of members of the British Royal Family.
The Stafford London
The Stafford London is a five-star luxury hotel located in the heart of prestigious St. James near many of London's most recognizable landmarks. The hotel's main restaurant, The Game Bird, focuses on providing authentic British culinary experiences, including their timeless traditional afternoon tea.
The Stafford Afternoon Tea features a cake-stand filled with delicious finger sandwiches, and homemade pastries with clotted cream and jam. The real showstopper of the experience is the Tea Ceremony. This special ceremony features tea from Camellia's Tea House. This includes their exclusive The Game Bird Blended Tea, is served in the finest china.
Visitors can see the ceremony any day between 12-7pm. Guests may even book a luxurious Private Afternoon Tea for an extra special celebratory occasion.