Hartford County, like many other areas within Connecticut has several restaurants embracing the exciting trend of Igloo Dining. Restaurants throughout the state are eager to join in the trend with many longtime local favorites having already added the igloo experience to their seating options. Here are our top picks for Igloo Dining in Hartford County.
Fleming's Prime Steakhouse & Wine Bar
West Hartford
Fleming's Prime Steakhouse & Wine Bar in West Hartford offers the best in steak and seafood in a formal atmosphere. The restaurant is known for its prime cuts of meat and fresh seafood. Fleming's also offers a wide range of plant-based options. Fleming's Prime Steakhouse constructed the Igloos for outdoor dining in the winter of 2021 and will reopen the igloos this year. Igloos accommodate up to six guests.
Millwright's
Simsbury
Millwright's in Simsbury is a well-known farm to table restaurant noted for its innovative New American style cuisine and spectacular waterfall and river views. In order to offer additional outdoor seating during colder seasons, Millwright's has converted the bridge outdoor seating area to include pods. These seat two people or larger Greenhouses for parties of to three to twelve people.
Rizzuto's Wood-Fired Kitchen & Bar
West Hartford
Rizzuto's Wood-Fired Kitchen & Bar in West Hartford is located in the Bluback Square shopping and dining hub. Wood-Fired Kitchen & Bar serves a menu of modern Italian cuisine and has added eight greenhouses for winter outdoor seating that are available by reservation to accommodate two to six guests.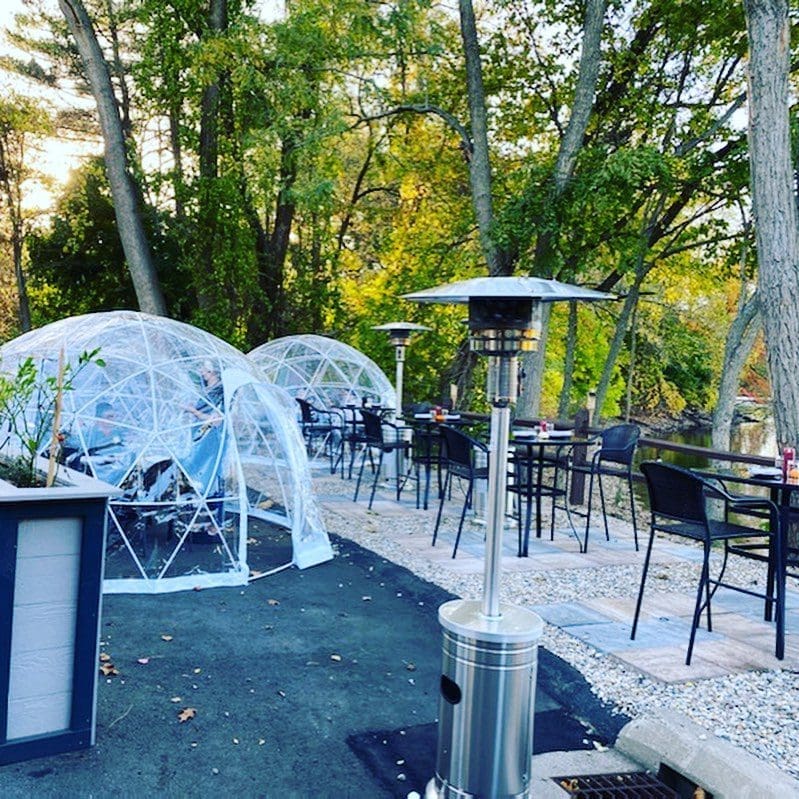 Toro Loco
Farmington
Toro Loco in Farmington offers a unique menu of Mexican and Spanish small plates with a focus on local farm to table purveyors. Toro Loco has added igloo seating options for groups of 4-6. Dining guests can enjoy a four-course chef's tasting menu accompanied by a carafe of Margaritas. Smaller groups of two or three people may make reservations Tuesday through Thursday only.