Your happily ever after should begin with a dream wedding. And just as you would put in the effort to plan an epic island holiday, you want this day to feel special. Imagine you're at a family reunion years later, and a guest approaches to say how much fun they had at your wedding celebration. Have you gotten down on one knee and popped the question with an engagement ring? Now is the moment to personalise your wedding in a way that makes it uniquely yours. Consider the tips below to add a personal touch to your big day. 
Select the best wedding ring
with the many wedding ring styles and alternatives available, knowing where to begin can be difficult. It would be best if you visit a jeweller to assist you in choosing the right wedding ring or making your own. In any case, there's no need for it to be costly, especially if diamonds have no personal importance for you and your perfect half. If money is an issue, try something more personal, such as gold bracelets etched with specific words from each other. However, it is a fantastic standard to ensure they are stylish. 
Wedding invitations
Since the wedding invitation is the first thing your guest will see, you should consider adding charm to create an idea of how your wedding will go. It can be as simple as creating an invitation to suit the wedding theme. If you're a non-traditional couple looking to wow your guests, consider sending them a one-of-a-kind wedding invite by selecting unconventional wedding stationery. You will undoubtedly capture your guests' attention and have them counting the days until your big day.
Wedding paper bags
Wedding welcome bags come in a variety of styles and sizes and are excellent for handing out wedding invitations. You can meet with select close relatives and friends to hand deliver your wedding invitation in this packaging, personalised to match your wedding aesthetic or theme. Also, consider including a delightful gift package of dried fruits, chocolates, sweets, and so on to commemorate this happy news. You could add you and your spouse's name and hashtag, save the date, and so on. Highlighting the locale's distinctive cuisine and beverages, including useful maps and guides, or treating your invitees with a few considerate touches can make great impressions. 
Assign badges
Customised badges such as "team groom and "team bride" have become highly popular during weddings. Badges are fun, and people like taking photographs with these keepsakes. Your guests will likely treasure the souvenirs long after the wedding. The nicest part about personalising them is that you could have them printed in your preferred language, colour, font, and text. You may even print your wedding hashtag on it and urge everyone to wear it to your wedding. 
Write your own vows
It is not a big deal to get help with writing your vows. After all, not everybody is born a wordsmith. However, you should let your words come from your heart. If you want your wedding to feel unique, avoid using the same words you read from an online magazine or the vows your parents or grannies said to each other. Dig deep into your honest place, and you will be surprised where the words would come from. It's almost as if you're drafting your own personal constitution when you write your own vows. It's as if you're telling yourself, your love bunny, and the world everything you desire for each other in your relationship, and how you mean to carry it out. What distinguishes this particular moment from others? You can also tell your lover why they make your life worthwhile. Discuss how far you've gone as a couple and who you've become due to this relationship.
Put your name all over the place.
You don't get to share your last name or change it every day. So why not share your excitement and show off your new initial by printing and displaying it throughout your wedding venue? Apply this unique touch on centrepieces, napkins, and other items. You can also have stand-alone letters in the centre of your venue or on tables to make a statement. You can use several eye-catching marquee letters to set the tone for your big day. Putting your new initials on a customised tabletop can add a pleasurable and original element to your wedding.
Create a unique hashtag
Imagine if there was a simple and effective way to track all photos taken by your bridal party and guest throughout the ceremony. That's the beauty of hashtags. A unique hashtag is an excellent way to remember these social media photos because you may add captions, comments, and posts shared by your loved ones and guests all in one place. Even individuals who could not attend the event would share your journey via their Instagram, Facebook, and Twitter accounts by following your unique wedding hashtag. 
Get a meaningful song for your wedding
The song's lyrics could be a poem or passage that means something to you and your partner. These words will create the tone for the wedding in an original way. If you can't find your perfect song, you can contribute music to dozens of websites and have it created just for your wedding day occasion. You should save several songs before the big day to have choices if anything doesn't go as planned. Also, ensure that your DJ/band knows the types of tunes they require ahead of time. You can also give them a list of songs not to play if you have any.
Serve some signature drinks
Make your bar your own! As your trademark drink, you can serve your favourite cocktail, perhaps the one you had on your first date or a beverage from your college bar. Your options are limitless. You may have settled on an open bar or handpicked a beer and wine list. However, offering a unique drink might be a fun complement that symbolises your connection. Switch up your favourite drink or make something new using your favourite ingredients. You can select a drink from either or both of your home cities. Whatever drink you choose, make it about the two of you, and remember to give them unique or witty names to jazz up the occasion.
Use your handwritten vows as a backdrop
Wedding backdrops are a focal point that will highlight the most crucial moment of the day. Plus, you can use it as a picture background for guests or a centrepiece for the reception table. There are many backdrop ideas and designs by pros, but putting a spin by using handwritten vows can make an exquisite statement. This is nothing super crafty; perhaps an idea you can DIY with the help of your designer or florist.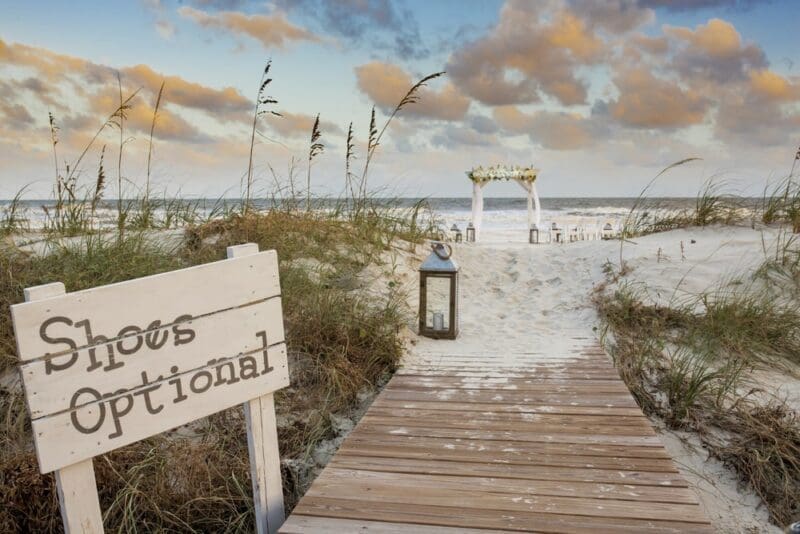 Add a wedding signature
Installing a tiny photo booth during a reception or wedding is becoming increasingly common. Not everyone is interested in the same old boring flower backdrop photos. If you are a young couple and prefer a fun aspect, you can set up a photo booth to take amazing images. You could install a vintage photo booth or use a 360 photo booth as props to take photos with your guests. You can also check out Booths By Lux for more unique ideas to set up an excellent prop to take the perfect photos. 
Late-night snack or appetiser
This is more for popcorn lovers. You can serve your favourite popcorn alongside your appetisers during cocktail hour. Can you go a day without the morning latte? Consider renting a charming coffee table. Adding your favourite food, especially late-night snacks or appetisers, is a great opportunity to add a personal touch to your wedding. Not only does it personalise your event, but it also offers a way to enjoy your yummy treats with the people you love. 
Number your tables
Table assignments or numbering is a personalisation trend everybody loves. You could put a picture of you and your other half or an amusing fact about one of you on your tables. For instance, table two could have photos of you on your first day at the creche or one from your first date night. This is a fantastic way to add uniqueness to each table with no effort. 
Send off your guests with gift boxes
When it comes time to thank your guests for being a part of your beautiful journey ahead, offer them a symbol of love. This could be your chosen present in a personalised gift box. Customised gift boxes are quite attractive and will elevate the gifting experience. You can create your gift box to fit the colours and theme of your wedding or hire someone to design a personalised package that is unique to your special day.
With these suggestions, you can provide a personalised and one-of-a-kind experience for your guests, leaving them with memories they will treasure for a lifetime. You may only have one chance to be a bride or groom, so do everything that brings you joy.