Hawaii is a tropical paradise full of beautiful beaches, stunning scenery, and fun activities to sink your teeth into. If you are planning a visit to Hawaii, you should take advantage of everything the islands have to offer. There are plenty of fun activities to try in Hawaii, from surfing and ATV rides to luaus and visiting volcanoes. We will break down some of these activities so you know about the best things to do on your next trip to Hawaii. By the end of this brief guide, you will be ready to start planning your trip!
Surfing
Whether you are planning a family holiday to Hawaii, a friend's trip or a romantic getaway, you will want to soak up the local weather and take part in the popular activities on the islands. One hugely popular activity in Hawaii is surfing. With warm water and consistent waves, these islands are a great place to surf. The surf is suitable for beginners and experienced surfers alike. 
If you are new to surfing, there are plenty of surf schools where you can take lessons. Or, if you are more experienced, there are many different breaks and wave types to test your skills. You will for sure find plenty of great spots to catch some waves. No matter your level, surfing in Hawaii is sure to be a blast. 
ATV Rides
One of the best ways to see Hawaii's natural beauty is from the seat of an all-terrain vehicle (ATV). There are many companies that offer ATV tours, so find a tour that suits your needs. The best thing about North Shore ATV rides is the incredible view of the oceanfront and the beautiful Hawaiian countryside you get as you ride. And when you are finished having this fast-paced adventure, you can cool off with a dip in one of Hawaii's many pristine beaches.
If you are traveling with children, remember that generally kids under 8 will not be able to take part in ATV rides, and people under the age of 16 might be restricted in which size of ATV they can drive. That being said, it is a great activity for families to enjoy together!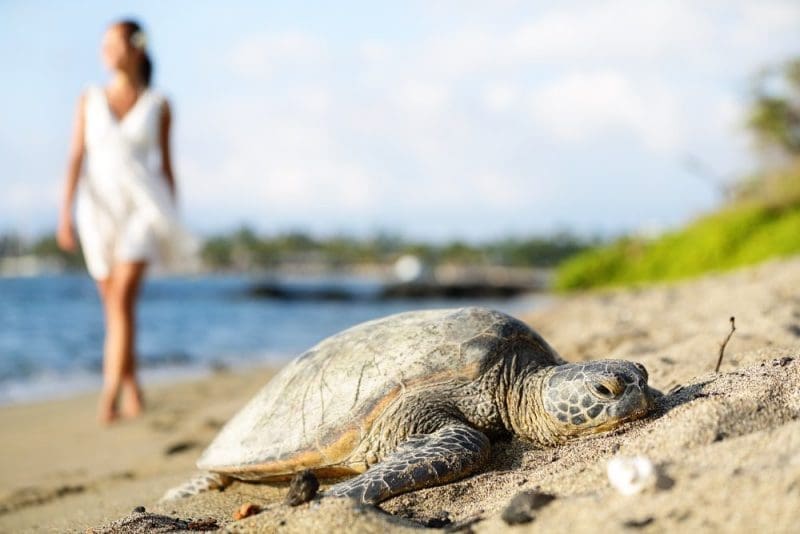 Beaches
If there is one thing that everyone thinks of when they imagine Hawaii, it is the white sand and clear blue waters of a tropical beach. There are many different beaches that you can visit while in Hawaii. Each beach has its own unique characteristics. Let's have a look at some of the most popular beaches to visit on your trip.
Waikiki Beach is one of the most loved beaches on the island of Oahu. It is known for its beautiful golden sand and bright blue water. There are also a lot of shops and restaurants in the area, so it is ideal for a day out for the whole family. Oahu is the third largest Hawaiian island, and also boasts a lot of fun activities, shopping, and eating opportunities for tourists.
Hāna Beach Park is a top-rated swimming spot on the island of Maui. It is known for its stunningly clear water and beautiful white sand beaches. Maui is the second largest island in the state of Hawaii, Hawai'i island being the largest, and it is a top tourist destination.
Finally, Poʻipū is another hugely popular beach on the island of Kauai. It has a small natural wading pool for young swimmers. This is the second oldest island in Hawaii, geologically speaking, and another top tourist destination.
Luaus
A luau is a Hawaiian feast that typically features a roasted pig, fish, and other traditional Hawaiian dishes. It is often accompanied by hula dancing and other Polynesian entertainment. Historically, and to this day, luaus are very important to the Hawaiian people and have a deep, rich, spiritual meaning. At a traditional luau, some food might be offered to the ancestral Gods.
The word "luau" actually refers to the special Hawaiian dish which contains a root vegetable called taro, as well as coconut milk and chicken or octopus. However, the word luau, which refers to the leaves used in these dishes, was wrongly interpreted as a word for "feast" by newspaper reporters in the 1970s and it stuck. A luau is a great way to experience Hawaiian culture and cuisine.
Before you go to Hawaii, however, we should clarify that the famous "Hawaiian pizza", which is topped with pineapple and ham, is, in fact, not Hawaiian and will not be featured at a traditional luau!
Volcanoes
One of the most popular activities for tourists in Hawaii is visiting a volcano. Hawaii is home to some of the most active volcanoes in the world and seeing one up close is an experience you will not forget any time soon. Visit the volcanoes national park on the island of Hawai'i to see the effects of lava on the land.
There are several different volcanoes you can visit in Hawaii, each with its own unique characteristics. The Kilauea Volcano is one of the most popular, as it is the most active volcano in Hawaii and has been erupting continuously since 1983. Another popular choice is the Mauna Loa Volcano, which is the largest volcano in Hawaii and one of the largest in the world.
Visiting a volcano can be a very adventurous experience, but it is essential to be safe while doing so. Make sure to follow all safety guidelines provided by tour operators and local authorities. Moreover, pack comfy walking shoes and sunscreen! Lastly, bring your camera – you will not want to forget this.
This has been a guide to planning your next visit to Hawaii. Now you know that there are plenty of fun activities to keep you entertained while on the islands. From surfing and exploring the natural beauty of the islands on an ATV ride, to luaus, beaches, and volcanos, there really is something for everyone in Hawaii. This is shaping up to be the trip of a lifetime. Start planning your trip today and get excited about your next big tropical holiday!