Afternoon Tea at The Berkeley Hotel is where food meets fashion. Prêt-à-Portea is derived from the term Prêt-à-Porter, or ready-to-wear fashion, as opposed to bespoke or tailor, made. Whether you adore fashion or are snagging a seat at the catwalk for the first time, you will fall in love with this one-of-a-kind afternoon tea experience. And what better location than in London's Knightsbridge neighborhood?
The Berkeley Hotel, located between Hyde Park and fashionable Knightsbridge, is the epitome of modern British Luxury and is just a short walk away from the landmark shopping destination, Harrods.
History of Prêt-à-Portea
The fashion-focused afternoon tea has been celebrated for twenty-eight seasons thus far. It first launched in the spring of 2005. In total, 95 designers' creations have appeared throughout the history of Prêt-à-Portea. Past designers have included Anya Hindmarch, Philip Treacy, Simone Rocha, and Victoria Beckham. Prêt-à-Portea has also popped up elsewhere around the globe including in New York. Their destination across the pond was Bergdorf Goodman's on Fifth Avenue.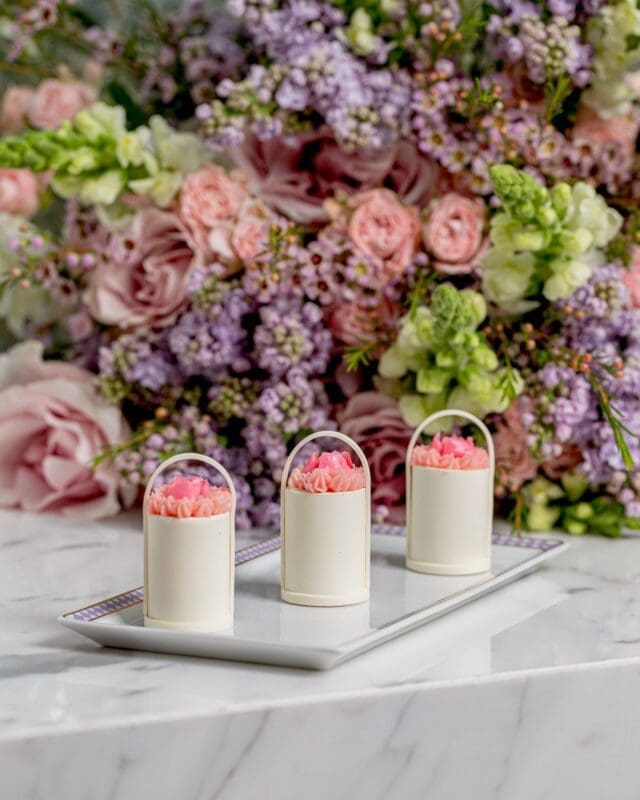 "From Catwalk to Cakewalk"
The Spring/Summer 2022 collection includes confections inspired by the following designers' runway fashions: Oscar de La Renta, Michael Kors, Gucci, Richard Quinn, Saint Laurent and Schiaparelli.
This season's collection opens with Oscar de la Renta, a striking orange gown crafted with apricot bavarois, salted Manuka honey and apricot ganache, topped with a meringue frill. A hero handbag from Michael Kors, whose bags were seen filled with flowers on the catwalk, has been created as a Victoria sponge with fresh strawberry jam, wrapped in an Opalys chocolate cylinder with flowers intricately piped with lime butter cream.
Gucci's pink silk tuxedo has been reimagined in bourbon vanilla mousse and Emmanuel sponge, layered with peach compote and glazed with shimmering pink icing. This is finished with a thin chocolate jacket and bow tie. Meanwhile, Lanvin's towering floral platform heels will stomp down the cakewalk made from chocolate biscuit, painstakingly piped with royal icing. 
Schiaparelli's couture golden mini dress combines caramel sponge, dark Valrhona chocolate and hazelnut praline, all topped with a shimmering, chocolate oversized collar.  Richard Quinn's buttercup yellow gown is immortalized in ice cream – chocolate wafer cones are filled with fresh fruit compote and pineapple and star anise sorbet, topped with bright yellow chocolate waves. 
Finally, the Prêt-à-Portea pastry team have created showstopper of a cake – designed to share – paying homage to Saint Laurent's floral jumpsuit. It is an oversized red rose made of lychee mousse with fresh raspberry, set on a glossy white coconut cake and finished with a green chocolate leaf.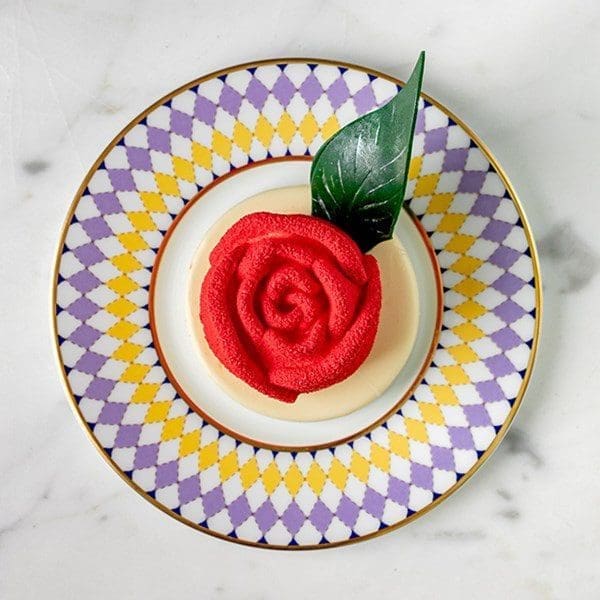 The Stylish Afternoon Tea
The three-hour afternoon was so memorable. It must be expressed that this is an experience one would hope to have season after season. In fact, for all fashionistas and foodies, it should be a must at least once per season. It is also the perfect opportunity to treat loved ones for their birthday, anniversary, or for any reason to celebrate.
"An experience that will fit your palate like a glove."
A personalized place setting is set on the table for your party. Get ready to sit, relax, and bask in an experience that will fit your palate like a glove.
The tea menu includes a selection of green, oolong, yellow, white, tisane, pu erh, and black teas including rare and seasonal teas. Coffee is also available as is hot chocolate that is served with fresh whipped cream. Favorite teas from the vast selection are Ceylon & Rose, Vanilla Black, Jasmine Silver Needle, and Dragonwell Green at the beginning of your tea experience.
The Berkeley tea sandwiches are some of the best tea sandwiches in London. If you had ever considered grabbing seconds for your tea sandwiches, The Berkeley is most certainly the spot where this is a must (no, we don't care how full you already are!) Two notable tea sandwiches are the Roast Corn Fed Chicken with truffle cream braised leeks & parmesan on sourdough bread; and Baked Heritage Beetroot with aromatic peppered goats cheese, pickled walnuts, French sorrel on tomato bread.
Afternoon Tea Booking Information
Prêt-à-Portea's base price is £64 per person and is served everyday between 1-5:30pm. We recommend the Couture Champagne Prêt-à-Portea, with a glass of Laurent-Perrier Rosé. For younger guests, the Signature Mocktail Prêt-à-Portea with a glass of a refreshing Mango & Rooibos mocktail is an excellent choice.
Reservations may be made online.