Dining out on the East End is one of the most anticipated, and delicious, activities of the summer season. And for people avoiding animal products, it has never been easier to find a satisfying vegan bite to eat thanks to the variety of new options available. Here is a selection of restaurants and specialty food businesses on the North Fork where vegans and non-vegans alike can share in an unforgettable tasting experience.
Ali Katz's Kitchen
Mattituck
Need a quick bite for lunch or a vegan-friendly addition to a meal? On the weekends, stop by Ali Katz's Kitchen located on Route 48 in Mattituck and owned by local resident Alison Katz. Though primarily known for delicious (non-vegan) baked goods, Ali Katz Kitchen also offers dairy-free mason jar salads as well as quarts of fresh soup such as Veggie Minestrone and Roasted Cauliflower.
The Giving Room Market and Juice Bar
Southold
Begin the day with something simple at The Giving Room Market and Juice Bar on Main Road in Southold. Owned by local yoga teacher Paula DiDonato, The Giving Room offers fresh, dairy-free smoothies and juices made with local, organic ingredients. Jarred overnight oats are also available, layered with a healthy combination of nuts and fruit.
Magic Fountain
Mattituck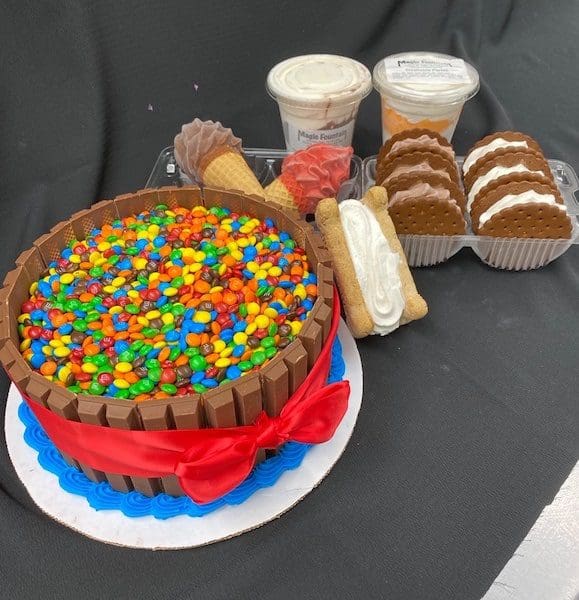 The popular ice cream parlor Magic Fountain on Main Road in Mattituck now offers a variety of vegan flavors. Pomberry is a light, summery flavored sorbet made from pomegranate and berries.
Coffee Almost Fudge provides a great midday pick-me-up with a chocolate twist. And Funky Monkey—flavored with bananas and peanut butter fudge—is a sweet treat for all ages. According to owner Choudry Ali, Magic Fountain will offer alternating vegan flavors during the summer based on customer feedback.
Noah's
Greenport
Noah's Restaurant in Greenport has several notable vegan dishes on their menu. The owner, Noah's mom, Penny Schwartz, heads up Slow Foods East End and is a devout vegan. Upon request, many of his menu items can be tailored to be served vegan.
Two vegan dishes to note are the Teriyaki Glazed Tofu, and Crispy Polenta served with local mushrooms. All of his side dishes are local vegetables. In fact, Chef Noah is considered to be the expert on all things local North Fork produce.
North Fork Doughnut Company
Mattituck
If ordering ahead for dessert or breakfast is possible, contact North Fork Doughnut Company, located on Love Lane in Mattituck. Ask about their made-to-order vegan doughnut options.
According to owner Kelly Briguccia, available vegan flavors include caramel coffee cake, fruity pebbles, black raspberry jelly-topped, and classic chocolate or vanilla with sprinkles.
Pride Enjoy
Pride Enjoy Radical Rainbow Cookies, founded by Janel Ordemann, has created a strong presence on the East End's specialty food market scene. Her popular Italian Rainbow Cookies, for example are allergen-free, gluten-free and vegan. In fact, these cookies are: wheat-free, dairy-free, soy-free, nut-free, vegan, cholesterol-free, non-GMO, and made with neither artificial colors or preservatives. Their fruity, moist, chocolate-layered cookies for in school birthday celebrations and parties at home.
Pride Enjoy sells their baked goods at Sarikopa in Riverhead, and at my specialty grocery stores across the Hamptons.