Puerto Vallarta is a beautiful coastal city in the state of Jalisco, Mexico. It's known for being the place to go for a beach getaway, but Puerto Vallarta offers much more than just beaches. It's got plenty of family-friendly activities, too!
From boat excursions to museums, adventure parks, and of course, beach time, there really is something for all ages. What not to do in Puerto Vallarta? Don't skip these family activities! Read this guide to know the best things to do for your family trip to this region of Mexico.
10 Best Things to Do with Family in Puerto Vallarta
Ready to plan a trip to Puerto Vallarta? Here are 10 family activities to consider. 
1. Puerto Vallarta Malecón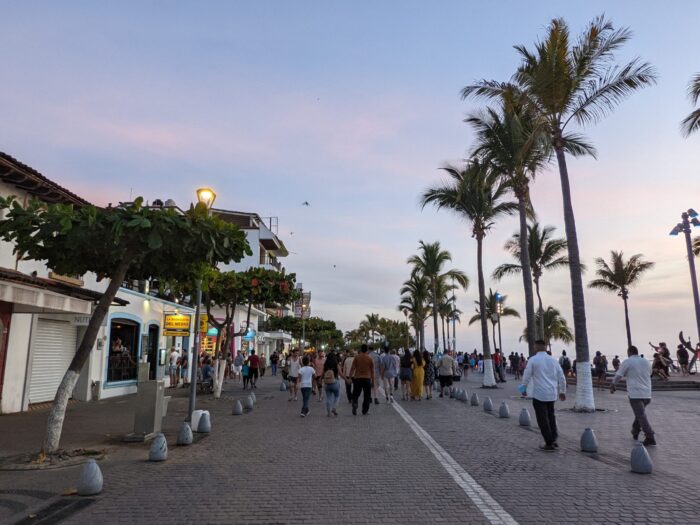 Puerto Vallarta's Malecon is a 1-kilometer-long boardwalk that runs along the coast of Puerto Vallarta. Here, you can find tons of shops, restaurants, art exhibits, cultural sites, and entertainment to keep the whole family busy. 
Start at one end of the promenade and walk along, taking in the ocean views and seeing what sculptures and art installations you come across. You'll also notice lots of street performers and vendors. The best time to visit the Malecon is in the early evening. You'll be treated to sunset views and see the area come alive with lights and performances.  
2. Los Arcos Amphitheatre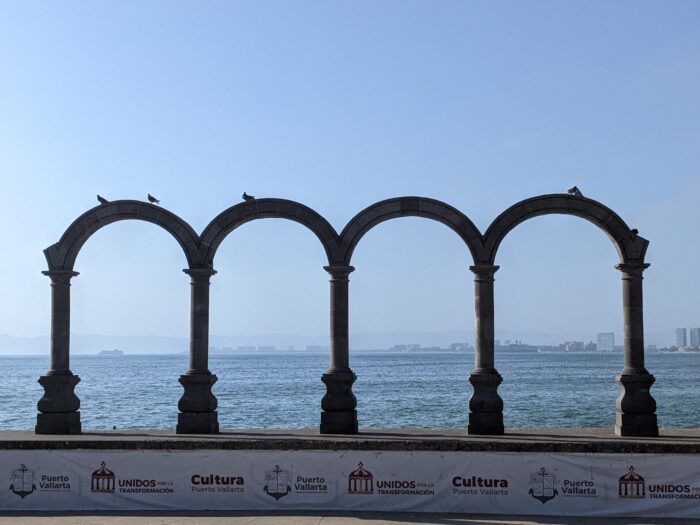 The Los Arcos Amphitheatre (also known as the Aquiles Serdán Theatre) is a Puerto Vallarta landmark near the start of the Malecon. It's easily recognizable because it has 4 distinctive stone arches as well as a small amphitheater where you can comfortably sit and watch performances.

Los Arcos Amphitheatre is regularly used as an open-air theater for cultural performances and festivals on weekends and during holidays. You can see performances from choirs, bands, and dancers on most nights, and it's totally free! 
If you head to the ampitheater for a show, go early so you can catch the sun setting over the ocean, behind the arches. 
3. Playa Camarones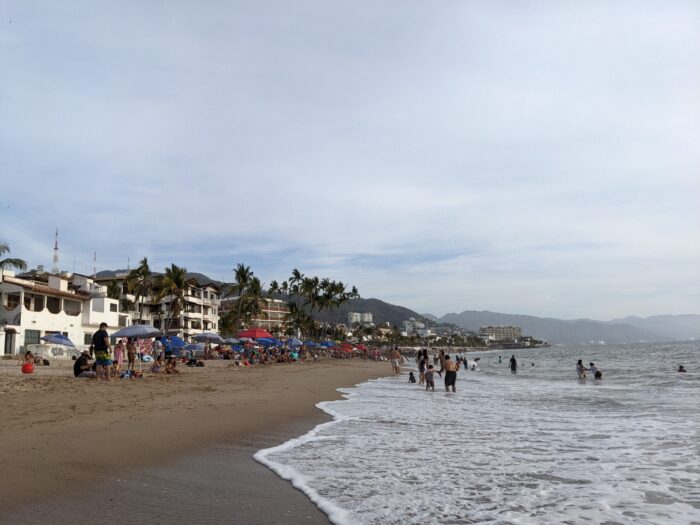 Playa Camarones is a central beach in Puerto Vallarta. This long, sandy beach is very close to the northern end of the Malecón, making it convenient to get to by walking. 
Playa Camarones is really large, which makes it less busy than the beaches near the Romantic Zone. It's easy to find a spot to put out your chair or towel, and with less crowds, it's much easier to keep an eye on the kids.  
There are lots of vendors on the beach, offering activities like parasailing, jet skiing, and paddle boarding.  During the high season, Playa Camarones has lifeguards on duty. Right off the beach are plenty of amenities and shops, including bars and restaurants. This means you'll have access to everything you need if you visit Playa Camarones for a family beach day. 
4. Playa Las Animas
Playa Las Animas is a long, sandy beach that has a pier, restaurants and bars, and plenty of activities. This beach is about 9 miles south of the Romantic Zone, and it's only accessible by boat or by hiking. 
If your kids are older, you can hike from Boca de Tomatlan to Playa Las Animas. But the simplest way to visit this beach is to go by water taxi, which takes about 25 minutes.
At Playa Las Animas, you can enjoy a meal and a drink, hang out on the beach, and go for a swim. The beach is perfect for families because it has all important amenities, including public bathrooms and lifeguards. 
There are vendors renting out water sports equipment like snorkeling gear and paddleboards, which are great options for keeping the kids busy.  
5. The Chocolate Museum (ChocoMuseo)
The Chocolate Museum is an easy sell for kids, because it's a museum that runs classes where you make and eat chocolate! Even if you don't take a class, the Chocolate Museum is worth a stop just to browse around the shop, and try some free samples.
There's a couple different classes you can choose from, including a Bean to Bar Workshop, Chocolate Truffle Workshop, Mole Poblano Workshop, and Total Chocolate Experience. In each class, you'll be walked through the museum and given a briefing about the history of chocolate and how it is currently farmed and processed. 
6. Whale Watching Tour
Puerto Vallarta is a fantastic whale watching destination, because every year, whales come to the Bay of Banderas to mate and give birth. This means if you time it right, you could see baby whales!
Humpback whales are the most common to see on Puerto Vallarta whale watching tours, but you might also see blue whales, grey whales, and Bryde's whales. 
The best season for whale watching in Puerto Vallarta is during the migration season, which typically runs from December through March. Puerto Vallarta has several specialized whale watching companies that run morning and afternoon tours. Most tours last between 3-4 hours and leave at either 9:00 am, or early afternoon. 
Whales are active throughout the day, so it doesn't matter what time you book. A morning tour might be the better choice because you'll avoid the heat of the midday sun. 
7. Mirador La Cruz Del Cerro Lookout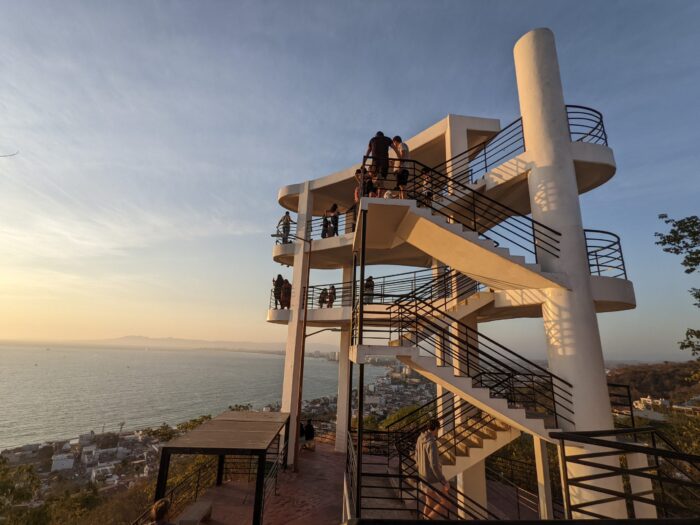 Mirador La Cruz del Cerro (The Cross on the Hill Lookout) is the best lookout point in Puerto Vallarta. From this lookout you have a great 360° panoramic view of the city and the bay. 
The lookout is easy to find and has a well laid out route, but the climb up can be tiring. Given this, this activity is only a good fit for families with older kids that can handle 15 to 20 minutes of walking a steep hill and stairs. 
The easiest route to Mirador La Cruz del Cerro is to follow Josefa Ortiz de Dominguez Street, a straight uphill route with a gradual slope that increases as you approach the top. Another route is to follow Abasolo Street. This route is a bit more direct and starts from the Malecón, uphill toward the peak.
The climb up is absolutely worth it for the incredible views of the city, hills, and ocean. It's the perfect sunset spot for a family photo! And the best part? This activity is totally free. 
8. Aquaventuras Water Park
Aquaventuras Park is the premier water park in Puerto Vallarta. This park has over 10 water slides, several excellent pools, a lazy river that you can tube down, and a children's play area with a wading pool and pirate ship. 
Aquaventuras Park is guaranteed to be a hit with the kids, and while they enjoy the rides, you can relax in a beach chair with a cold drink. 
9. Release Baby Sea Turtles
Releasing baby sea turtles is an exciting Puerto Vallarta activity that's not just for kids – adults will love it, too. From June to December, you can book through a turtle release camp to partake in this wholesome activity.

The Boca de Tomates Saving Sea Turtles release camp and sanctuary is right behind the Puerto Vallarta airport on the beach, making it convenient to get to. The baby turtles are released at sunset to minimize the risk of the little turtles ending up as prey for birds, fish, and other natural predators.

You can book a tour to release baby turtles which includes ground transportation, an educational talk, and the releasing. Tour fees also include a donation to the sea turtle camp conservation program.

Donations to the sea turtle release camp help keep the conservation efforts alive by supporting the hard work of a dedicated team of Mexican biologists and volunteers to increase the survival rate of these sea turtles. 
10. Marigalante Pirate Ship 
Marigalante Pirate Ship is an exact replica of the famous Santa Maria ship, which Columbus sailed on his maiden voyage to the New World. This epic wooden ship weighs approximately 700 tonnes, has 3 masts with triangular sails, and has 4 decks.
You can take the whole family on either a daytime pirate adventure, or sunset adventure aboard the Marigalante. The cruise includes a live pirate show, with sword fights and cannon blasts, as well as dancing, games and contests. 
On the daytime adventure cruise, you'll get to walk the plank for banana boat rides, snorkeling, kayaking, beach volleyball and a buried treasure hunt. The cruise includes a breakfast and lunch buffet, along with a complimentary open bar. On a sunset Pirate Cruise, you'll get to enjoy a dinner buffet and open bar, a pirate show and fireworks.
Final Thoughts: Best Family Activities in Puerto Vallarta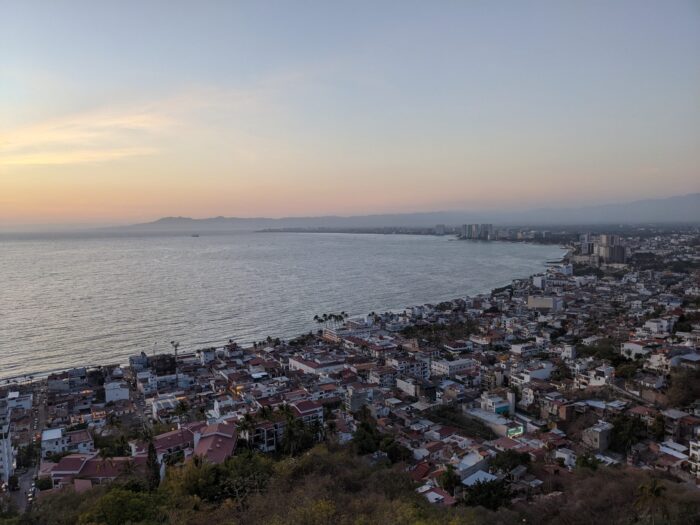 Puerto Vallarta is very family friendly! You'll find hotels in this coastal city have all the amenities you need to keep the whole family happy, and there are plenty of free activities, as well as tours and attractions, to keep you and your kids busy throughout your stay.