Let's not beat around the bush – Jay Z owns a Richard Mille worth close to $5 million. Today, we'll be talking about the 10 most expensive watch brands on the planet. Some of these less known watch brands will be expensive due to their exclusivity, however, others might be far more well-known. Below we share the ten most expensive watch brands and some of their priciest watches available to buy. 
Patek Philippe
In no particular order, let's start with the watch that you do not own yourself but the one you merely look after – Patek Philippe. Patek finds its origin in 1839, named after the two founders, Antoni Patek and Adrien Philippe. Patek is certainly not going to be the flashiest timepiece in your collection, but rather follow a trend of understated and stealth wealth. Some of the most famous models Patek has ever produced include the Nautilus, the original Calatrava, and the Grand Complications. 
But let's talk price – what can you expect to pay for one of these? Well, the most expensive Patek on Chrono24 is the Grand Complications 6300G Grandmaster Chime Double-faced, which will cost you a whopping $9,000,000. The cheapest Patek will cost you around $5,000, and then the watch is barely alive anymore – not looked after. 
Audemars Piquet
Another of the Holy Trinity when looking at high horology is Audemars Piquet, which you've probably seen on the wrist of your favorite celeb once or twice. Famous for models such as the Royal Oak, Audemars has been on the forefront of producing some of the most sought-after watches you can find. Audemars has been producing watches since 1881, and the most expensive Audemars ever sold was a gold Royal Oak Grande Complication, clocking in at a staggering $741,000.
Even a base steel Royal Oak (ref. 15510ST.OO.1320ST.08) will cost you $27,000 – for a time and date watch. Audemars Pique is known for producing some of the most sought-after models in limited numbers, meaning the market value is immense. 
Richard Mille
What if you prefer innovation more than tradition? What if you like wearing a watch that many say has more in common with aero development than it does traditional watchmaking? Well, for you, might we suggest the often polarizing Richard Mille? RM is perhaps the youngest company on this list and traces its roots back to 2001. Known for their tonneau-shaped cases and the use of extreme skeletonization to display the inner workings, RM will tickle your inner geek… or engineer. Hopefully, that's a pretty expensive engineer, seeing as even the cheapest of Richard Mille's will cost you well above $100,000.
If we're looking at some of the really expensive offerings, we could reference the RM 056, which was made especially for rapper Jay Z, and costs an eye-watering $2,500,000. If you prefer something a bit more approachable, then the RM 52-05 Tourbillon Pharrell Williams will cost you a reasonable $1,000,000 – bargain. You'll see RMs on the wrists of everyone who is everyone – Sly Stallone, Charles Leclerc, Rafael Nadal, and Lebron James.
Read: How Rolex Became the Top Watch Brand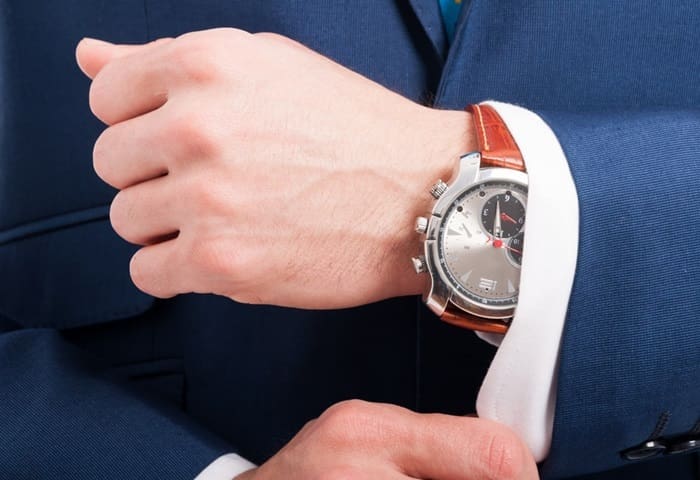 Jacob & Co.
Jacob & Co. is perhaps not the first company that springs to mind when thinking about high horology or spring drive movements. However, those in the know, know that "Jacob the Jeweller" has risen to be amongst the top brands of watch producers. This all started with the release of the 5 Time Zone watch, a quartz-powered watch embezzled with diamonds and displaying 5 different time zones. Celebs ate this watch for breakfast. Jay Z, Naomi Campbell, Pharrell, and many more. 
Since then, Jacob has been producing some beautiful timepieces that are polarizing to some, while others have come around to appreciate the design language. Perhaps the most famous models include the newly released 'Billionaire Timeless Treasure', a timepiece that contains a staggering 161 ct of diamonds and was limited to 18 pieces worldwide. The price for all this opulence? Well, sit down and have your nurse hand you a pen to write a cheque for 20 million dollars. This may seem like a lot for a company and a watch with no significant horological significance, but the cultural role Jacob has played cannot be underappreciated. 
Rolex (Vintage) 
What about something a bit more subtle? What if your idea of flash isn't diamonds but simply the word 'COMEX' written on your watch? So minute that most wouldn't even notice that your Submariner might cost $500,000 – for a simple steel diver. This may seem like the the biggest upset on the list, however, if you go onto websites like Chrono24 you'll soon notice that vintage Rolex, certain models of course, can go for a pretty penny.
What about a 6264 gold 'Paul Newman' Daytona from the 1970s for a measly $1 million. Again, this is a simple gold chrono, but because of the enormous significance this model has in Rolex's history, the prices are massive. Paul Newman's actual Daytona sold for $17.8 million, just in case you were interested in wearing something flashy that's still steel. At that price, it's a steal. 
You can expect prices to continue to grow. 
A. Lange & Söhne
Taking a quick stint into Germany we come across the bar to which all other Germanic brands are measured – A. Lange & Söhne. Founded in 1845, this brand is almost 100 years older than Rolex and has no problem hanging around with the big Swiss brands. The A. Lange design language can be described as minimalist, but executed to absolute perfection – in fact, many consider A. Lange to have the best finishing in the entire industry. 
To date, the most expensive A Lange & Söhne watch was sold in 2018 for $852,000 at a charity auction, however, the most expensive listing online is the 'A. Lange & Söhne Tourbograph', listed at $866,000. You are unlikely to see this brand on the wrists of celebs or athletes, as this is truly a connoisseur's brand and only those who truly love high horology would be willing to pay these amounts. 
F.P.Journe
Another brand that is truly produced for those who know something about high horology is F.P.Journe. François-Paul Journe himself played a pivotal role in the technological development of the horology world, and today his namesake brand is producing some of the most beautiful yet technologically impressive pieces money can buy. 
How much money to buy one of these? Well, the 'F.P. Journe x Francis Ford Coppola FFC Blue' sold for, as near as makes no difference, $5 million back in 2021. Other 'base' models might be a lot more 'affordable' coming in just north of $100,000. Certain pieces are going to cost you more, due to their significance, but there are a few deals here for you to snag! 
Breguet 
Breguet is another massively important brand that simply isn't getting the recognition it deserves. Louis Breguet developed the Tourbillion, a device that allowed pocket watches to remain accurate despite being in a pocket all day long. The watches the company produces today are known for pushing technological limits within the movement but with finishing methods as well. 
Again, you're unlikely to find these watches amongst 'hype' watches or going for those amounts, but the most expensive Breguet ever, Breguet Grande Complication Marie-Antoinette, sold for $30 million – and it puts most of the other pieces on this list to shame. 
GRAFF
GRAFF might not be a name you recognize, however, they are reasonably significant in the industry. GRAFF doesn't only produce watches, just like Cartier, the company produces a host of other products like jewellery as well. GRAFF was founded by British jeweler Laurence Graff in 1960 and opts for using opulent gems and diamonds on their timepieces to signify its prowess. 
The most expensive listing you'll be able to find is the 'The Graff Diamonds Hallucination' which was listed at $55 million – many consider this to even be the most expensive watch on the planet… 
Jaquet-Droz
From diamonds to something even more opulent! Jaquet-Droz has been around for long enough that it had to be 'rereleased' twice already. Despite the rocky roads of past, Jaquet-Droz still produces some of the most jaw-droppingly beautiful timepieces, with little concern over movement tech – it's all about the looks. Renowned for its use of enamel, an expensive Jaquet-Droz might run you $500,000 – $600,000, depending on the model, etc.