Social distancing, while crucial, has put a damper on most of our social lives and culinary adventures. If you miss going out with friends and enjoying your favorite cocktail you are not alone.
Thankfully, many of our favorite classic cocktails are easy to make at home with only a few simple ingredients! This weekend, be your own bartender with these fun at-home mixology ideas.
Old Fashioned
The old fashioned is one of the most iconic drinks and also has the distinction of being one of the oldest cocktail recipes in mixology history. This whiskey-based drink is made by muddling a maraschino cherry (I prefer Luxardo cherries to the synthetic looking maraschinos you find on top of your sundae), bitters, an orange slice, and simple syrup. Next, fill the glass with ice, add your choice of whiskey, bourbon, or rye and stir. Some people make a variation of this drink by substituting brandy for the whiskey.
Moscow Mule
Moscow Mules are both refreshing to drink and a refreshingly easy mixology recipe to make at home. This versatile cocktail only requires three ingredients. The traditional Moscow mule is comprised of vodka, ginger beer, and fresh-squeezed lime. Make sure you use a true ginger beer, not a ginger ale, to impart the characteristic spicy note of the ginger into your creation.
The Moscow Mule has countless variations. Most of these variations are made by substituting vodka for another spirit. Substitute tequila to make a Mexican Mule, Gin for a Gin Buck, dark rum for a Dark 'n Stormy, or bourbon for a Kentucky Mule.
Kir Royal
The Kir Royale is a sparkling variation on the Kir which is an aperitif that features creme de cassis and white wine. The Kir Royale is a splash of Creme De Cassis (a liquor made from black currants) topped with Prosecco, Cava, Champagne or any dry sparkling wine of your choice. If you can not find Creme De Cassis, many people use Chambord instead.
Bloody Mary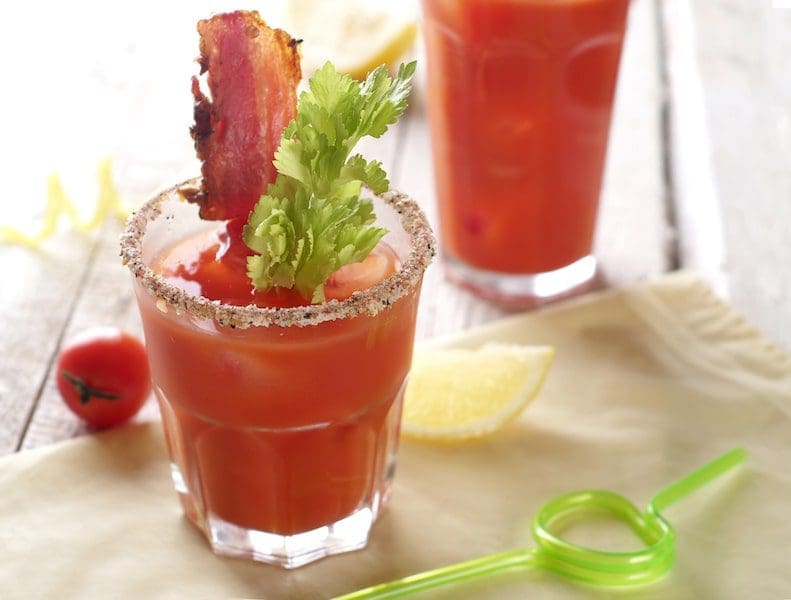 This quintessential brunch drink is the perfect accompaniment to a lazy afternoon. Yes, you can use the premade mix, but the homemade version is so much better and features ingredients most people have in their pantry and refrigerator.
To make your own Bloody Mary mix, start with tomato juice or V8, add a squeeze of fresh lemon, a dash of Worcestershire sauce, a dash of hot pepper sauce, and horseradish to taste. Optional additions include celery salt, black pepper, or add clam juice to make it a Caeser.
Cosmopolitan
Cosmopolitans are one martini that looks as good as it tastes! People love the light pink color of a Cosmo. For this recipe, you will need a shaker. Fill a shaker with ice. Add a serving of vodka, a splash of Triple Sec, Cointreau, or Grand Mariner and a squeeze of fresh lime. Shake vigorously and strain into a martini glass. Add a small amount of cranberry juice. Be careful not to add to much cranberry juice. Add just enough to tint the martini a pale pink.
You don't have to be a master bartender to follow mixology recipes at home. Crafting cocktails can be a lot of fun and offers you total freedom to customize your drinks and try out new recipes and variations.
Here are some of our recommendations for at home grocery delivery here. These options may be useful for purchasing several of your ingredients.