Looking to sample Amsterdam's most awesome foods during a tour of the city? Look no further!
Welcome to the culinary paradise of Amsterdam, where, on every corner, there's a new opportunity to tantalize your taste buds with the city's diverse and delicious foodie scene.
Amsterdam itself is a melting pot of different cultures, making it the perfect destination for foodies who are searching for an exciting and adventurous culinary experience. From traditional Dutch dishes like stroopwafels and bitterballen to international cuisine like an Indonesian rice table, Amsterdam is the perfect place to hop on a food tour and explore delicious sensations.
Get ready to embark on a mouthwatering journey through Amsterdam's vibrant neighborhoods, where you'll discover the unique dishes the Netherlands is known for. Indulge in the city's iconic street food, explore the bustling food markets like Albert Cuyp, and sample Dutch cheeses until you're ready to burst.
Whether you're a food enthusiast or just looking for a fun and unique way to explore during your time in Amsterdam, one of these top food tours will leave you satisfied and craving more at the very same time.
Reve up your appetite and get ready for a culinary adventure like no other!
Eating Europe: Amsterdam Food Tours
Far and away, Eating Europe takes the cake for the best food tour in Amsterdam. It is consistently rated as out-of-this-world and offers visitors the chance to get out of the traditional tourist areas and into the more offbeat areas of the city. 
On an Eating Europe food tour, you'll explore the neighborhood of Jordaan, an up-and-coming foodie scene that is burgeoning with new life and growth. This hipster area will shock your senses as you indulge in the sensational tastes of the Dutch culture. 
Not only will you experience the traditional Dutch foods like bitterballen and herring, but you'll also taste a legendary 400-year-old apple pie recipe. Then, get a crash course in how Indonesian and Surinamese culture have become an integral part of Amsterdam over the years as you nibble on international cuisine.
Of course, it'd be foolish to recommend that you take a food tour in Amsterdam if it didn't include a traditional Dutch cheese tasting! After a few moments with Eating Europe, you'll find yourself wondering how in the world cheese can actually be that good in a hurry.
2. Secret Food Tours Amsterdam
Amsterdam's Secret Food Tours executes a food tour experience like no other, offering a chance to discover the hidden culinary gems of Amsterdam.
This one-of-a-kind journey begins in the picturesque Jordaan district known for its quaint cafes and trendy bars. One of the best local foods in Amsterdam, poffertjes, are on full display during this tour. These tiny, puffy pancakes-often topped with Nutella, whipped cream, and powdered sugar, are a must on any foodie's list. They are to die for!
Along the way, nibble on other traditional morsels such as Dutch gouda cheese, fresh pickled herring, and a Dutch stamppot (also called hutspot), a meal that dates back to the 1600s when Dutch settlers were working to stay sated and fed during winter months in the Netherlands.
Not only will you have the chance to indulge in Dutch treats during your Secret Food Tour, but you will also pass by significant monuments such as the Westertoren, the Anne Frank House, and the Homomonument. 
Finally, it wouldn't be a "Secret" food tour if there wasn't a secret dish waiting for you at the end of your tour! You can likely guess what it might be…but it's much more fun to find out!
3. Amazing Amsterdam Food and Canal Tour Combination
Two things you cannot miss in Amsterdam combined into one: a canal cruise tour around the famous canal ring paired with a fantastic food tour! 
The Amsterdam Food and Canals Tour, a unique twist on the traditional food tour, is the brainchild of Eating Europe and is a perfect way to experience mouth-watering Dutch cuisine while cruising through the beautiful UNESCO World Heritage canals of Amsterdam. 
Savor local delicacies such as stroopwafels, Dutch cheese, and apple pie. Begin your tour in the artistic neighborhood of Jordaan. After, make your way to the Haarlemmmerstraat where you'll taste herring as it's traditionally served- with pickles! 
As you wrap up the food tour portion of your jaunt around Amsterdam, you'll be stuffed to the brim with sausages, other cheeses, and Indonesian food.
Finally, hop aboard a boat cruise, where you can admire the unique scenery of Amsterdam from the water. The canals are an integral part of the city's history and culture, and a fantastic way to see famous landmarks of Amsterdam such as the Anne Frank House, the Rijksmuseum, and the Amstel River.
4. Cheese Tasting Tour with Wine (Henri Willig)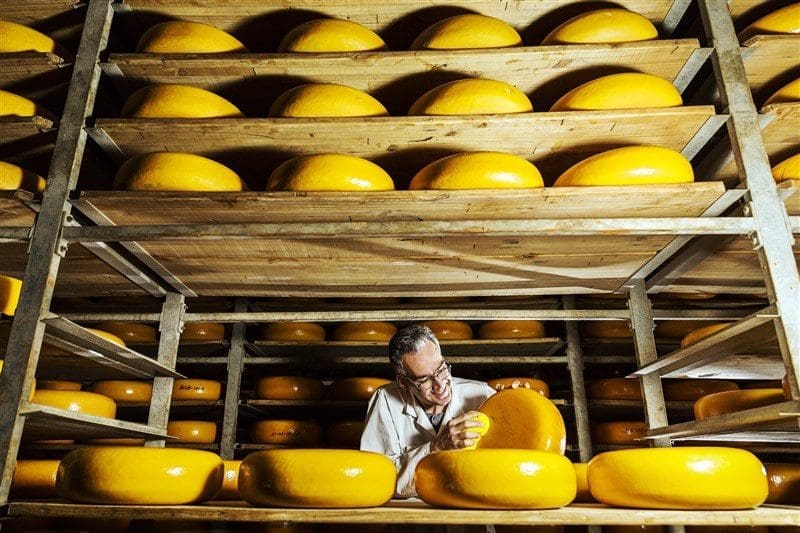 A Henri Willig Cheese Tasting Tour with Wine needs to be at the top of your list of things to do in Amsterdam! It was easily one of the best experiences in the city! You'll walk away with knowledge of the Dutch cheese-making process and a need to buy some aged gouda to take home!
Henri Willig is a well-known Dutch cheese name that has been around since 1974. This family has been creating delectable blends of cheeses from their jersey cows on their organic farm out in the countryside of the Netherlands. Thankfully, they've opened cheese shops in the city where you can have your own cheese-tasting experience!
A friendly cheese expert will guide you through tasting a range of mouthwatering cheeses, each with its own unique profile and character. From creamy Gouda to tangy goat cheese, sheep's cheese, and even fantastic flavors like truffle or pesto cheese, you'll have the opportunity to try it all.
The cheese-tasting experience is not complete without the perfect pairing of wine or beer. Your cheese expert will expertly select the ideal wine to complement each cheese, elevating the flavors and textures to new heights.
As you savor each bite of cheese in Amsterdam, you'll learn about the history and traditions of Dutch cheese-making. You'll also discover the secrets of how to pair cheese with the perfect wine, making you a cheese connoisseur in no time.
The Henri Willig Cheese Tasting is the perfect way to spend an afternoon in Amsterdam. With its charming ambiance, expert staff, and unforgettable flavors, this is an experience you won't want to miss. 
5. Best Free Amsterdam Food Tour
It is even possible to add a free food tour onto your Amsterdam itinerary! Free food tour Amsterdam runs every day, beginning at the very centrally-located Dam Square. 
This means that regardless of how much time you have in the city, you can easily hop onto a free food tour at 10:30am- even with just one day in Amsterdam!
Although the tour is tip-based, there is a small surcharge for samples and city tax, coming out to €4.50 per person. 
Embark on a journey around the city as you try morsels of stroopwafel, a unique Dutch cookie, and, of course, Dutch gouda cheese (because how could you not?). Not to be left out, you'll also encounter the famous bitterballen and herring…if you can stomach it!
When you're finished with the tour, take some of the local recommendations and head out on your own to find the best chocolate in Amsterdam or where to have a delicious Dutch dinner reminiscent of traditional flavors. 
Wrap-Up: Food Tours in Amsterdam
There you have it- the most mouthwatering tours in all of Amsterdam!

Don't leave this world-famous city without embarking on a tour meant to open your eyes to all of the Dutch delicacies around you! 
You're sure to find your newest favorite bite along the way!