Spring weather is finally here, and it feels good to just open the windows and let the fresh air breeze around the house. There are a lot of ways to refresh your home even if you're on the budget. It doesn't take much time and your home will feel fresh as new. Now that the colder months are gone, it's the perfect time to improve your house. Here are 5 tips for refreshing your home after winter. 
Clean
Winter is over, and now is a good time to spring clean your home. It's not the easiest project since you really have to clean inside and out. A good tip for cleaning windows is to use a mix of vinegar and water in a spray bottle. For shiny and lint-free glass, use a piece of newspaper. By having clean windows, you will notice a huge difference in how much light your house gets. Clean all the accessories using a microfiber dust cloth. 
Don't forget to clean every part of your house, even a garage. If your garage is detached from the house, check if it needs some fixing. Inspect if the roof is damaged from colder and windy weather. Or if you need to fix insulation for a metal roof. You don't want to leave your car in a garage that is moist and extremely hot during summer. 
Rearrange Your Furniture
A small change can give the room a totally new look. Just switching the furniture around can be enough. For example, maybe you never moved the couch in the living room, so changing it up might open the space. By doing so, you might even discover that your room is larger than you thought. If your house is larger, you can even change whole rooms around. Maybe your dining room could fit better as a living room, or you can move furniture away from the walls to create a different layout. 
Declutter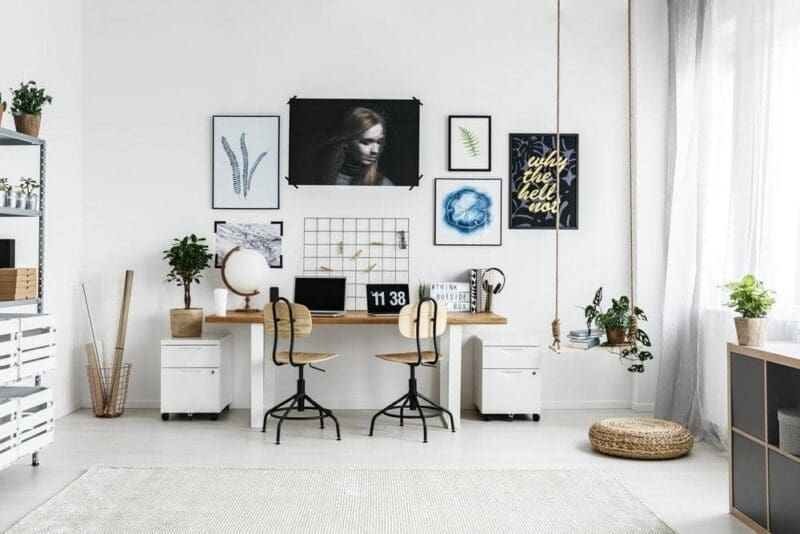 Spring cleaning is the time to get rid of all the unnecessary stuff. You can create different piles for things you want to keep, throw away, or donate. Go into every bedroom, kitchen, garage. Look through every drawer because that's where probably a lot of clutter is. If you work from home, it's essential to keep your home office clean and organized. Also, go through your wardrobe and if you haven't worn a piece of clothing in over a year, it's best to donate it. 
Style
A simple way to decorate any room is to add fresh bouquet of flowers. Bouquets last all week and will add a fresh smell. Another way to style your house is to move around your accessories. Lay them differently than usual to create new and interesting designs. Here's a quick tip, objects look best in odd numbers, so keep this in mind when decorating. Switch it up by using decorations made from different materials, textures, heights, and widths. 
Also, adding new and interesting artwork can turn any boring room into an exciting one. In addition, if you have a lot of jewelry or smaller items, it's best to use a tray to group them together. This way, you won't lose them, and it will look aesthetically pleasing. Put the small tray of items in the bathroom, bedroom, or living room. Another great tip is to assemble the books and mix them to create an interesting layout. Put books on top of each other, next to each other, or group books with similar colors to create an engaging effect. 
Renew Old Furniture
If you're bored of the furniture you've had for years, try giving it a new look by painting it or switching out the fabric. If your lamps are old-fashioned, you can paint them too, or get a new colorful lightbulb to add dimension to the room. 
Finding the balance for your home is key to creating a welcoming and airy space. With these 5 tips, your home will get a deserved refresh needed after a long winter. Don't be afraid to move things around and mix them up to create a new look of the rooms.