The wedding day is one of the most memorable days in a bride and groom's life. Apart from the rituals and food, what makes a wedding memorable is the decor. Wedding decor has evolved beyond just conventional white flowers and pristine tablecloths. Couples are now looking for personalised touches that represent their unique personalities. Several decorative items are available in the market that can make wedding decorations top-notch. Among them, the one decorative item that is being widely used is velvet ribbon. 
Designer velvet ribbons have emerged as a popular wedding decor trend that can add elegance, texture, and color to any theme or style. Here are five ways you can incorporate velvet ribbons into your wedding decor.
Bouquets and Boutonnieres
Bouquets are an essential accessory for the bride and bridal party at any wedding ceremony. Adding a velvet ribbon to a bouquet adds character to the overall appearance of the floral arrangement while complementing the bride's gown seamlessly.
Pairing such bouquets with boutonnieres wrapped around in matching velvet ribbons provides continuity between the bridesmaid's flowers and groomsmen's attire. These simple touches bring harmony to your big-day essentials as they match one another well.
Table Settings
Table settings set up the ambience of any event – particularly weddings, where guests will spend hours dining, sharing stories, and enjoying each other's company. Adding velvet ribbons onto tables is an elegant way of giving a unique personality to tableware elements such as cutlery, plates, glasses, or place cards.
For example, in long communal tables at outdoor weddings, you may want to incentivize conversations by setting groups of people together alongside softly coloured jars filled with wildflowers that feature velvety black ribbons tied around them. While this visual aid might be tiny on its own, once accumulated on several jars lined down the table line, it makes everyone feel immersed in cosiness by encouraging warm interactions during dinner time.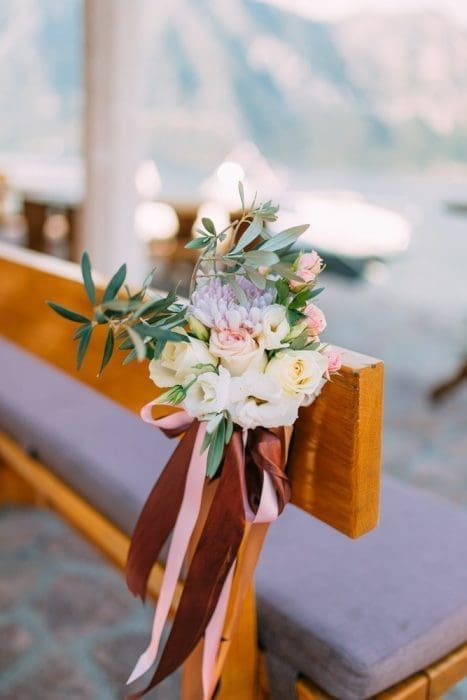 Chair Covers
Chair covers help unify rental chairs if multiple different configurations have been opted for ––they also provide excellent opportunities for personalization through design elements such as fabrications or patterns- so what better than incorporating some beautiful velvet ribbons?
Velvet ribbon bows may be added to the back of every chair or draped from side to side across the top. Adding a velvet ribbon bow will add warmth and elegance to your wedding décor theme and increase appreciation by guests for even the smallest details.
Wrapped Wedding Invitation Suites
The invitation suite is often an indication of tone, style, and colour palette that your entire guest list can anticipate on your big day. By wrapping your invitation suite in velvet ribbon, it gives off an excellent first impression while making a statement about how well you have put thought into incorporating multiple layers of personalisation.
Wrapping lace invitations in soft blush pink ribbon ties accompanied with gold embossed monograms would impart a classic look, while draping Navy-toned velvet ribbons over modern black Zenfolio covers would exhibit understated sophistication. The use of different colours and patterns helps set each couple's preference apart as unique from one another.
Hanging Velvet Ribbon Casements
Draping long curtains made out of gauze fabrics along walls, doorways, or large suspended circular arches might provide a whimsical touch- hanging miniature casements using Velvet Ribbons add as an enhancement too. These bows could also line up along the aisle between rows during ceremony time!
The advantage of using velvet ribbons as opposed to other decorative materials is that you're not asking vendors to adjust installation; hence they make budget-friendly accessories that ultimately contribute towards customising your personalized day template.
Conclusion 
In conclusion, adding velvet ribbons to anything adds charming festivity while simultaneously bringing cohesiveness to every aspect involved in it – especially on your big day!  Incorporating such detail allows guests to understand the personal signatures of both partners who designed their wedding decors through imagination coupled with unique ideas woven together seamlessly.