Winter in the Hamptons means it's time to pack up the beach bags, enjoy the calm-after-the-summer storm, and most importantly, swap out your beachy décor for some more seasonally suitable options. If you're looking for some winter decorating inspiration this season, check out these six new design trends hitting the Hamptons this year.
1) High-end bedding
Before we can discuss any bedroom design accents, we have to start with the main event: the bedding. In the Hamptons, life is all about relaxing, recharging, and looking your best. So, having bedroom design furniture that promotes your best rest is essential! Here are some of the hottest trends you can expect this season.
Mattresses designed for athletes can help ease soreness, aches, and pains, allowing you to recover more quickly and get back to your active lifestyle.
Weighted blankets are great for stress and anxiety relief for those who have trouble getting to sleep after tossing and turning throughout the night.
2) Warm winter accents
Just because the winter's crisp and cool doesn't mean your home has to reflect the exterior. Bringing in some cozy design accents like quilts or knitted throws can make your abode feel like a holiday haven, whether it's your full-time residence or just a vacation home. Here are a few ways you can brighten up your household this winter season.
Ambient lighting: Adding some warm lighting is a simple way to bring warmth and light into your home, even during the coldest months of winter. Switch out some of the lightbulbs in your house with soft white bulbs for instant, festive ambiance. Top it off with a natural light alarm clock to bring some natural-like light into your bedroom during those dark winter mornings.
Seasonal candles: Bringing in natural winter scents from the outdoors is another easy way you can create a relaxed, festive feel in your bedroom. Vanilla, cinnamon, and pine candles are all wonderful scents to choose from.
Colorful textiles: When it comes to finding accent pieces for your bedroom, you'll be seeing a lot of handmade colored textiles in the Hamptons this year. For winter, think warm colors like maroon, oranges, and contrasting greys. Add a knitted throw into the mix for a cozy finishing touch to your winter bedroom.
3) Seasonal florals and plants
Many people associate plants and floral designs with the summer, but there are plenty of plants that thrive in the winter, too. Not only do these small details add interest and beauty to your home décor, but certain plant varieties also cleanse the air and can even boost your mood! Some popular winter plants and flowers include:
Snake plant
Bromeliads
Peace lily
Spider plant
Zebra plant
4) Elegant wallpaper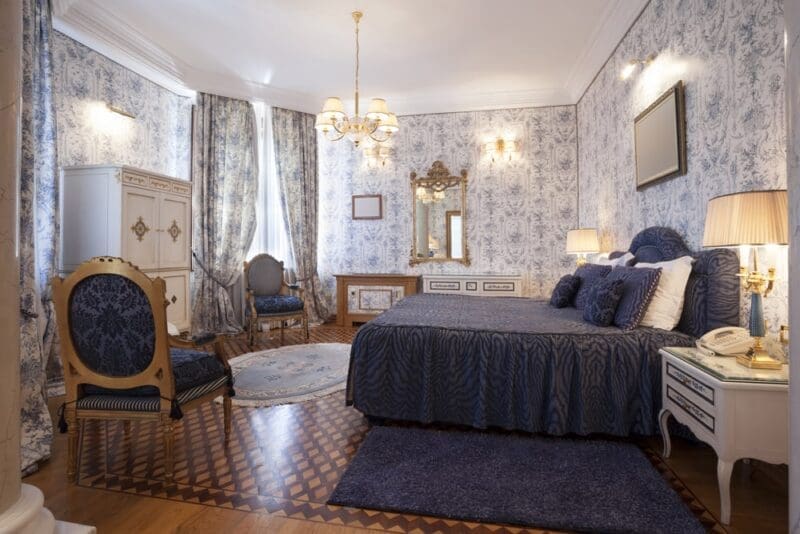 If you're really looking to switch your design up this year, wallpaper is a fun (and temporary) way to redesign your room. For winter, you'll want to go for either neutral or darker designs that incorporate seasonal flowers, trees, or perhaps even a festive winter scene would set the mood for the season.
5) Mid-century Boho themes
The mid-century theme has been around for a while, and in the Hamptons, it's here to stay! Wood and acrylic furniture are both great choices to help you achieve the mid-century look and colorful accents like Persian rugs help bring the whole look together with warm colors and organic patterns.
6) Natural accents
Speaking of cabin style, adding natural elements like wood, rustic metals, into your bedroom design decor can create a perfect balance between Hamptons beach house and a Berkshire Mountain hideaway.
Wrapping Up
As you phase out your fall wardrobe and summer décor, use these tips to help you create the ideal winter wonderland you've been waiting for all year long!