The US Open's celebrity culinary event, Flavors Of The Open, will return to Queens during Fan Week on August 24, 2023 from 6:30-8:30pm. Esteemed culinary icons, including Alex Guarnaschelli, Kwame Onwuachi, Melba Wilson, Masaharu Morimoto, James Kent, Josh Capon, David Burke, and Pat LaFrieda, will showcase an extraordinary array of delectable dishes from their renowned restaurants, right at the USTA Billie Jean King National Tennis Center.
About Flavors Of The Open
US Open's newest celebrity chefs Kwame Onwuachi, Melba Wilson and James Kent will join returning culinary superstars Alex Guarnaschelli, Masaharu Morimoto, David Burke and Pat LaFrieda.
These chefs will interact with the crowd as they prepare and offer the world-class food and beverages associated with America's Grand Slam. Each of the chefs will offer one of their marquis dishes from their on-site US Open restaurants.
Highlighted beverages provided by US Open sponsors include Heineken, Lavazza, Maestro Dobel Tequila and the signature Grey Goose Honey Deuce cocktail.
In addition to savoring exquisite cuisine, attendees will have the pleasure of witnessing a special performance by the legendary doubles duo, Bob and Mike Bryan, hailed as the most accomplished team in the history of doubles tennis. Caroline Wozniacki, the former #1 singles player in the world and Grand Slam Champion, will be present at the event to greet and interact with guests.
The Bryan Brothers will captivate the audience with their remarkable skills on the court of Louis Armstrong Stadium followed by a meet and greet with event attendees.
Throughout the concourse area, an abundance of entertainment awaits, including games, music, and an exclusive opportunity to capture a memorable photo alongside the iconic US Open Tiffany trophies.
A portion of the proceeds from Flavors Of The Open will benefit the USTA Foundation, bringing tennis education programs to under-resourced communities. www.ustafoundation.com
Celebrity Chefs and On-Site Restaurant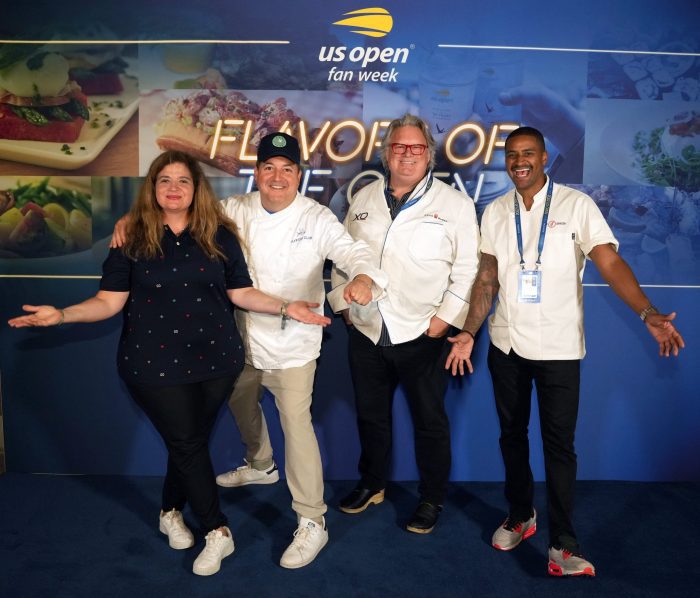 Fare by Alex Guarnaschelli: Enjoy a seasonal menu of greenmarket-inspired dishes from world-renowned Chef Alex while overlooking the fountains of the South Plaza.
ACES: Michelin Star recipient Chef Ed Brown and Iron Chef Masaharu Morimoto once again team up to dazzle diners at the US Open's pre-eminent seafood stop. Chef Kwame Onwuachi also will add four dishes to this year's Aces Menu. Guests enjoy amazingly fresh, delicately prepared fish and unparalleled, hand-crafted maki.
Melba Wilson: Melba Wilson brings signature dishes from her famed Harlem restaurant, Melba's, to the US Open's Food Village.
Crown Shy: Jamal "James" Kent brings signature dishes from his Michelin-starred restaurant Crown Shy to the US Open's Food Village.
Mojito by David Burke: The Cuban-American fusion concept is located on the ground floor of Arthur Ashe Stadium near the Heineken Red Star Patio Cafe.
Fly Fish: Chef Josh Capon returns with iconic lobster rolls, tuna poke, bay scallop ceviche, oysters, and more at two Fly Fish concessions locations.
Pat LaFrieda Meat Co.: US Open's signature Filet Mignon Steak Sandwich is a popular favorite and found at several locations on-site at the US Open. Chicken parm sandwiches capture the spirit of NY and some of the best vanilla and chocolate milkshakes round out the menu.
US Open Culinary Facts and Figures
The US Open attracts more than 700,000 fans throughout the course of the tournament.
US Open Executive Chef Jim Abbey and a culinary team of 250 prepare cuisine across seven restaurants, 60 concession stands and 90 suites.
The US Open will serve approximately:
750,000 melon balls
90,000 pounds of beef
9,000 pounds of lobster
7.5 tons of crab, shrimp and lobster
400,000 individual berries
225,000 hamburgers and hot dogs
85,000 pounds of poultry
12.5 tons of lettuce
66,000 bananas
35,000 pounds of tomatoes
7,000 specialty tennis ball cookies