Aruba Marriott Resort & Stellaris Casino is a culinary dream destination for the whole family. The beachfront resort is located less than twenty minutes away from Queen Beatrix International Airport. Guests will enjoy a culinary extravaganza set in a picture-perfect scene of palapas (umbrella-like roofs) and sparkling turquoise waters on beautiful Palm Beach.
The resort boasts the largest accommodations on the island with ten restaurants and bars including a pop-up beach restaurant, Atardi, and every water sport imaginable in addition to tennis.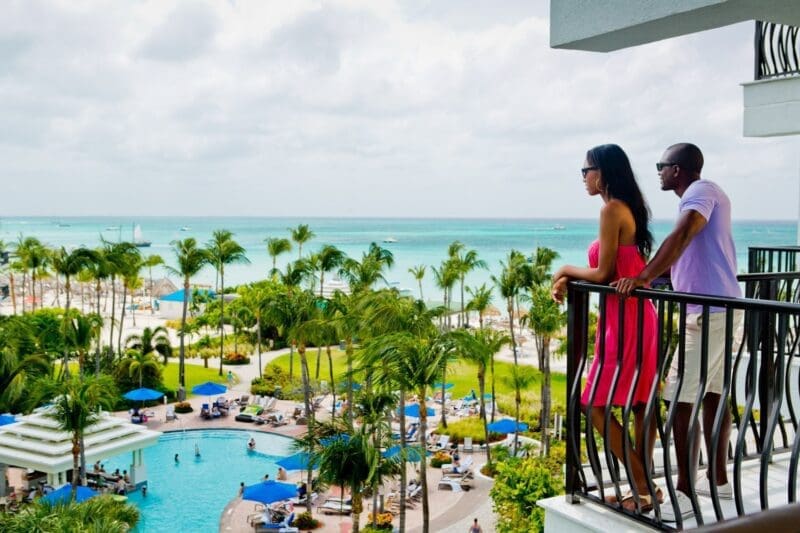 Activities in Aruba
As Aruba is famously known as One Happy Island, there are endless opportunities for every family member, from exploring the nightlife and nearby shopping destinations, to adventurous off-road treks, windsurfing, snorkeling, paddle-boarding, SUP yoga, boating, and more.
All of these activities mixed with unforgettable culinary discoveries await you in Aruba.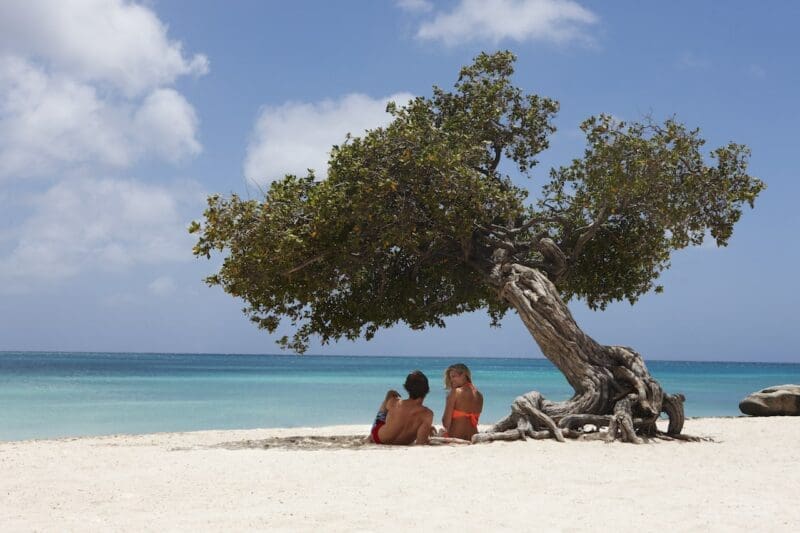 Dining
A wave of dining options awaits you at Aruba Marriott. Select from internationally focused fare, a premier steakhouse, seafood, and an adult swim-up pool bar.
Their pop-up beach restaurant Atardi, for example, focuses on fresh seafood paired with the most majestic sunsets over the Caribbean. There is also an adult pool bar, gelato bar, and Starbucks®.
La Vista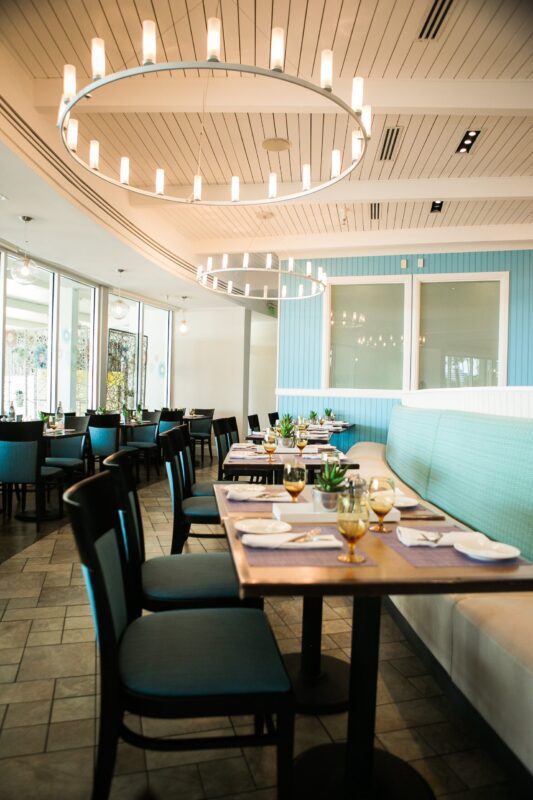 Depending upon the evening, guests may enjoy a Carnival Show and Buffet Dinner at La Vista. The Carnival Show is paired with the most breathtaking sunset views one could dream of whilst basking in the Caribbean.
The grand buffet features a variety of local cuisines, including Keshi Yena. Offerings include a full pasta bar, raw bar, sushi, freshly baked breads, salads, fruits, juices, and a wide array of desserts.
Spend the evening watching the La Vista Carnival show filled with colorfully dressed performers. The performance takes place on Thursday nights. Guests, especially the youngest ones, are encouraged to come up and dance along. The perfect photo ops are available at mid points throughout the show. The vibrant color and splendor truly reflected the jovial people of the island.
For breakfast, there are multiple options that await guests. If you worked up an appetite after a brisk morning swim, you may take in the morning views at La Vista for a full buffet breakfast. The buffet includes a variety of fruit juices, smoothies, eggs, an omelet station, waffle bar, pancakes, fresh fruit, hot and cold cereal, and many more options.
Starbucks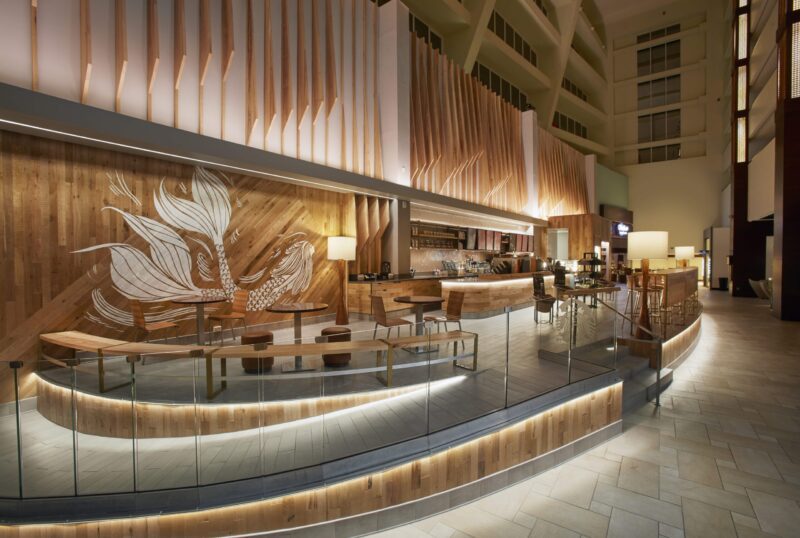 If you are in a hurry as we were our second morning, grab something quick at Starbucks in the lobby. A full Starbucks menu is available including breakfast pastries, bagels, fresh fruit cups, egg sandwiches, and more in addition to their famous coffee and tea beverages.
Gelato & Co.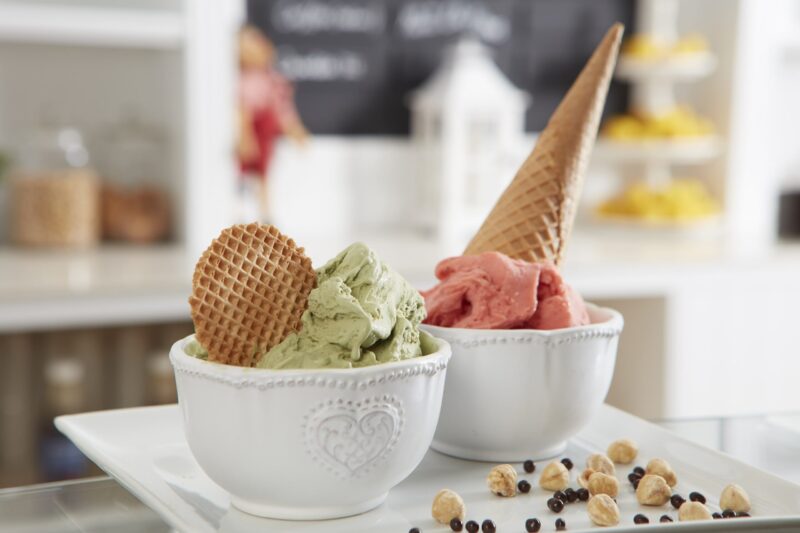 Visit Gelato & Co. in the lobby for ice cream pops. Flavors include strawberry with rainbow sprinkles, and Oreo cookie. In the mornings, Gelato & Co. serves smoothies, açaí bowls, and chia bowls.
Activities with De Palm Tours
We began the next day with a half-day snorkel catamaran cruise with De Palm Tours where we explored the island's best snorkeling spots while soaking up some sun.
While onboard, enjoy a lunch buffet that including red snapper, chicken, salads, and a delicious pineapple coconut cake. There is also a full. open bar that served specialty drinks including the famous Aruba Ariba rum punch.
Nearby Restaurants
Breakfast the next morning was at Linda's Dutch Pancakes, which served local cuisine from the Netherlands. The pancakes can be served a variety of ways with dozens of topping options. Choose toppings like peanut butter and banana slices, or honey, papaya, and pineapple.