National Rosé Day is next Saturday, June 13th, or always the second Saturday in June. We couldn't think of a better way to cool off, relax and celebrate the weekend than with a refreshing boozy sorbet or ice cream creation from Tipsy Scoop. Perfect for sweetening adult celebrations throughout the summer, Tipsy Scoop's Instagrammable creations bring together artisanal cocktails and the fond memories that come with ice cream, sundaes, and sweet treats.
We recently sat down with the Founder, Melissa Tavss, to learn about their weekly virtual cocktail classes, catch up on what's new, and more. We of course had to share one of our favorite recipes from Melissa's recently published cookbook!
How has Tipsy Scoop shifted its business model recently?
"We have been evolving non-stop! Although we were previously focused on catering, events, and the barlour, and also very excited to get picked up at Citi Field, like many other small businesses, our vision and direction has had to shift. 
We're now focused on both online sales and takeout, as well as supporting local restaurants and bars. Tipsy's desserts and cocktails help them create new options for their customers, which in turn we hope will help keep them coming back and reordering from their locations. Beginnings Restaurant in Atlantic Beach, for example, took a few of our cocktail ideas and ran with it, creating an entire Tipsy Scoop dessert menu, which we didn't expect. It was really amazing!
One of the things we've always done well is to 'surprise and delight', and the launch of our weekly virtual cocktail classes is such a great expression of that. For the NYC area, we are doing a different theme and kit each week, with either wine and or beer, as well as our ice creams and all of the garnishes included. Customers can preorder, have them delivered, and then 'mix' along with us during the show, submitting their boozy ice cream creation to win prizes and gift certificates.  
It's a fun, easy way to be 'together', even though we can't all physically hug each other or be in the same space right now.  We're also inviting all of our retailers to jump into the conversation on Instagram, so that we can support them, and help people know where they can get Tipsy in their local areas." 
What's next on the calendar for Tipsy Scoop?
"Of course, our virtual cocktail classes! We're doing something new each week, usually each Friday, and with July being National Ice Cream month, of course we're going to kick it up a notch!
We also have some really fun new flavors coming up, like a vegan piña colada ice cream with Blue Chair Bay Rum, as well as four new boozy lemonade flavors! Of course, summer means rosé, and our seasonal Frosé sorbet always sells out. Look for that later this month featuring Marcel Rosé. There are going to be some fun things happening with them!"  
Beyond New York, gourmet online retailer Williams Sonoma just added Tipsy Scoop to their brand roster, and Tipsy also shared plans for greater availability via grocery stores, making it easy for us to get our boozy ice cream fix at home.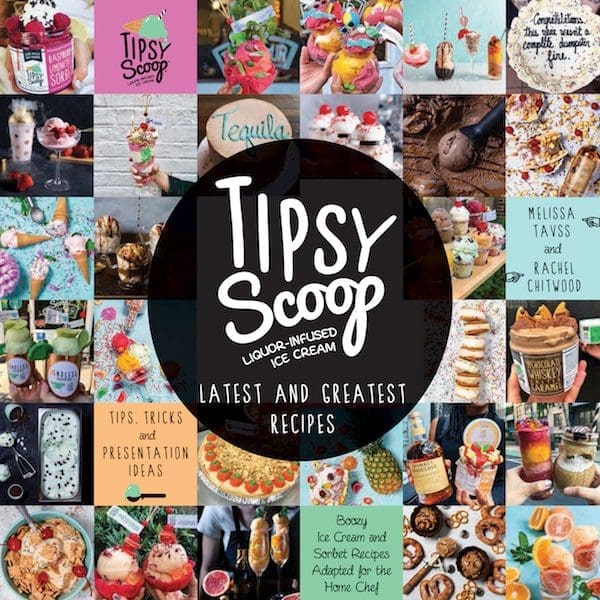 Make at Home
Melissa says that if you're ready to get adventurous and try your hand at ice cream making, start with this incredibly delicious sorbet recipe from her Tipsy Scoop new cookbook, Tipsy Scoop Latest & Greatest Recipes, available now. 
Rosé All Day
Tipsy Scoop Latest & Greatest Recipes
Peach Purée:
2 cups Simple Syrup (page 16)
8 Ripe Peaches, peeled and sliced
Sorbet:
4 cups Peach Purée
1 cup Dry Rosé Wine
1 cup Filtered Water
1/4 cup Lemon Juice
Directions
Make Purée:
1. Purée peaches in blender or food processor until smooth. Set aside.
2. In a large mixing bowl, combine peaches, simple syrup and lemon juice and stir.
Make Sorbet:
1. Stir rosé and filtered water into bowl with peach purée.
2. Cover the bowl with plastic wrap and refrigerate for 1 to 2 hours.
3. Freeze the mixture in your ice cream maker according to the manufacturer's
instructions.
4. Transfer the sorbet into freezer-safe containers and freeze for at least 8 hours
before serving.
Makes about 2 quarts
TIP: Make a Frosé sundae by placing two large scoops of the fully frozen sorbet in a pink cone bowl or standard bowl. Top with gummy peach rings, rosé gummies, edible rose petals, and a maraschino cherry.
Where to Find Tipsy Scoop
Find Tipsy Scoop at locations like Whole Foods, ItSugar, Food Bazaar, Metropolitan Market, Morton Williams, and many others. Delivery to the Hamptons is also available!
The next virtual cocktail class is this coming Monday, June 8th. The class feature its Dark n' Stormy ice cream floats with Gosling Rum.