Costa Mesa is a suburban oasis located in sunny Orange County, California. Costa Mesa is 30 minutes from Disneyland, and a mere 15 minutes to famous beach towns such as Laguna Beach, and San Clemente. 
Officially founded in 1953, Costa Mesa has recently started gaining traction for its artsy vibes, eclectic boutiques and mouth-watering cuisine. 
While I love the hipster feel and have definitely posed for a few photos in front of straight up stunning public murals, it's the food scene that ultimately won me over and cultivated my adoration for Costa Mesa. 
Be it a first date, girls' night out, coffee with mom or an impressive dinner on vacation, I have put together a list of the top 5 best restaurants in Costa Mesa that you simply must try!
Best Coffee Shop
 While this technically isn't a restaurant, I'd be remiss to not mention Portola Coffee Roasters. Offering delectable pastries, small bites and you guessed it, coffee!  
However, you won't find your average cup of Joe here. Nay, you'll find a life-altering, carefully crafted, steaming hot cup of brew-house roasted coffee. 
Whipped up by your magical barista, clad in none other than a chemist's lab coat. Fitting attire considering the truly out of this world coffee produced. It's so good, you'll want to grab one or two of their bags of roasted coffee beans to take home; I know I certainly did!
Best Weekend Brunch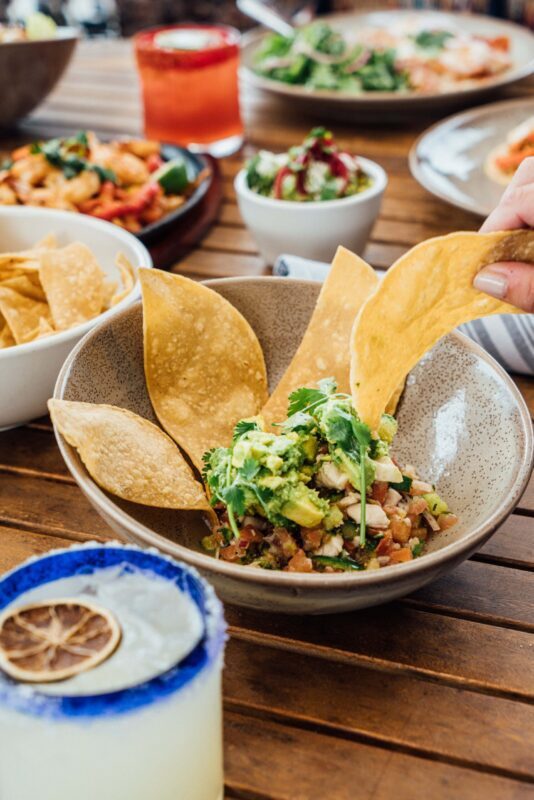 Think mouthwatering Mexican food, mixed with your favorite brunch items, and you have Playa Mesa! 
Situated in the heart of Costa Mesa, Playa Mesa Mexican Kitchen was voted OC's (Orange County) best margarita 2019. And for this asking: yes, brunch margaritas are a thing, and pair terrifically with the chilaquiles. 
Or, for those looking for a more classic brunch option; I recommend the mimosas with fresh squeezed OJ and "The Playa Standard." This dish is a perfect plate of two eggs, your choice of meat, potatoes, escabeche, salsa and tortillas.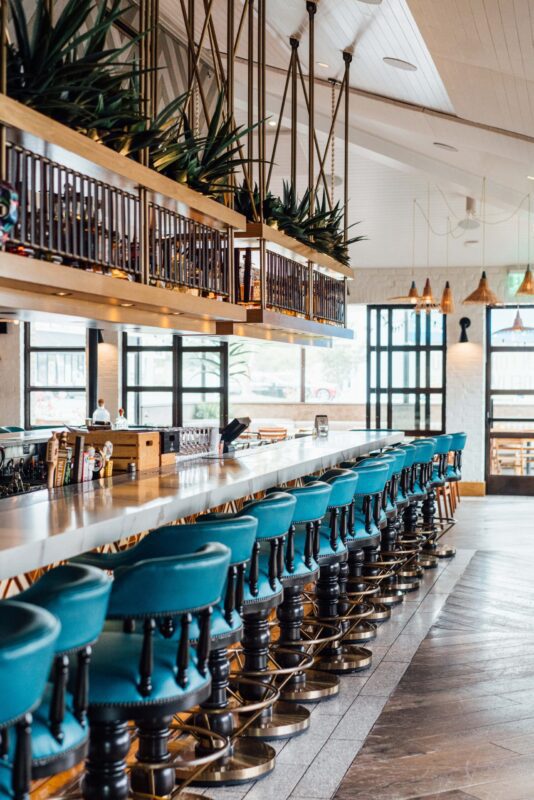 For more incredible breakfast and brunch spots in Costa Mesa, check out this article by Bel Around The World that highlights the best breakfast in Costa Mesa.
Best Lunch Spots
With a killer happy hour from 4pm-close on Wednesdays and items like Spanish Octopus, Cauliflower Crunch Roll, and the Nashville Hot Chicken Sandwich, it's no wonder SOCIAL has two locations only a few miles apart! 
Perhaps the most impressive though, is their drinks menu. Filled with wines, beers and creative cocktails such as the Costa Mesa exclusive, "Tini Apple" aka boozy slushie. Or the aptly named "Kiwi Herman," starring fennel-shiso infused tequila, kiwi juice, lime cordial, lime, saline and fennel bitters, an admittedly odd sounding, but delicious combo.
Featuring rustic-chic décor, live music (check times before you go) and swoon-worthy libations, SOCIAL has gained a following who come for the food and stay for their drinks. 
Best Dinner 
Water Grill is located in the South Coast Plaza, nestled between luxury stores and boutiques alike. My eyes were immediately drawn to the rows of tanks housing fresh seafood and the dedicated oyster bar with 16 different types of oysters.
In case you couldn't tell, this place is definitely known for its seafood. If you don't like seafood, no problem! There are still plenty of mouth-watering options for you, like their incredible tortellini, or roasted chicken and baby kale salad (cue mouthwatering and heart eyes). 
This is definitely a spot you want reservations for as it's very popular and always busy. There are four locations in California: one in Las Vegas and a new one opening in Denver in 2022. 
The good news? Keep your eyes peeled because Water Grill is making waves; who knows where one will pop up next!
Delectable Dessert
Now, for (arguably) the best category of food, we have dessert. 
Inside CAMP, the artsy, cute, environmentally conscious vendor space, sits Vitaly. Vitaly packs a punch with its robust menu, offering breakfast, lunch, dinner and of course dessert. The restaurant is open daily from 8:30am-9:30pm.
If it has all this, why save it till last?! Because Vitaly is the cherry on top of your gelato packed Sunday!
With two world-class Gelato Chefs, both professionally trained and certified at the best gelato schools in Italy, it will come as no surprise that the range of flavors is vast and the options plentiful. Unique flavors include ricotta and pear with cinnamon to your classic mint chocolate chip stracciatella. It would not be a surprise if you were to find yourself in line for seconds!
Costa Mesa is beautiful and so full of life, with the ever-growing art scene, and some of the best food spots yet to be discovered. So hurry up and go! I promise all your friends will be regarding you as a trendsetter soon.