Planning some air travel this winter? Cozy up while soaring the skies with these fashionable flight friendly outfits.
A Lose Oversized Winter Coat
These are a must-have when traveling during winter. Oversized winter coats help you get cozy during that chilly plane flight. Although any coat can be oversized, there are some more popular styles trending this winter.
Trench coats are set to be a top style this winter. Average prices range from $1000 with some top brands as low as $90. Also, check out the classic shearling coat that was popular in the 70's and is now making a comeback.
Leggings
Leggings have a special place in the heart of many because it can fit any body type. This winter essential is good for any season so you can use your favorite pair from summer and fall with a nice top. Leggings are comfy and sometimes we just want to wear them all season long.
For winter leggings, you should get a pair that is not too thin, and made of a material like wool. With the right leggings, you won't even miss jeans. The high-waisted leggings are perfect for air travel and then at your family get together.
Trendy winter colors are burgundy, black and blue for a pop of color.
The Right Winter Hat
You can't forget a stylish hat for the winter. We sometimes get caught up with everything else and forget to keep our head warm.
Choose the right style for you such as beanie, hats with flaps, or something waterproof. Materials to look out for are wool and fleece to keep you nice and warm. Choosing a beanie with a little fuzzy lining is good to keep you warm.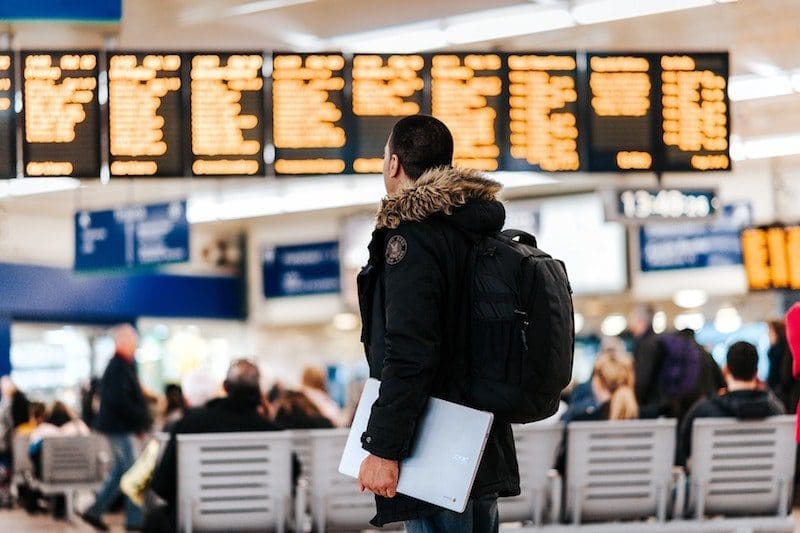 A Fashionable Turtleneck
These are appropriate for airport attire in any country and they keep you warm.
You can always count on your classic turtleneck to keep you cozy even as you travel. Some popular colors are white, black, and pink for a soft touch.
Sneakers and Denim
This is still one of the most popular combination choices for women traveling. This practical look can be chic and comfy at the same time. While coming through the airport you may have to do a lot of walking. Why not wear comfy footwear that will also keep your feet warm?
Invest in good sneakers that have a great tread, and are waterproof. The Sorel Women's Out 'n' About Sneak Puff, for example, offers both style and durability.