Fauchon L'Hôtel in Paris is set to welcome guests back to their hotel beginning on July 1st. The luxurious hotel is located steps away from the Jardin des Champs-Élysées and Musée du Louvre.
Already in Paris and craving a taste of Fauchon? The Terrace at Grand Café Fauchon is already open. There, you can indulge in every sense of glam from their Epicurean Gourmet Bar, and variety of culinary delicacies.
This summer, there is no better time to embrace the city like a Parisian. Avoid the crowds and queues with the beauty of this romantic and charming city at your fingertips.
Experience Quaint Parisian Comfort
With Paris still almost empty of tourists, guests at the hotel will enjoy the best of the capital, as well as incredibly personalized experiences. This includes a bespoke service approach. Private concierge recommendations and arrangements are at your disposal.
Perhaps you may wish to book an Afternoon Tea aboard a private boat for sightseeing on the Seine. If you fancy dining in the comfort of your luxurious hotel room, you may enjoy Fauchon's trademark in-room Chef Service.
According to Jerome Montanteme, General Manager, "It will be like having Paris all to yourselves this summer, with an opportunity to slow down and truly appreciate all the city has to offer. We will be there to tantalize every sense, and ensure we satisfy guests' joie de vivre with our gourmet delicacies."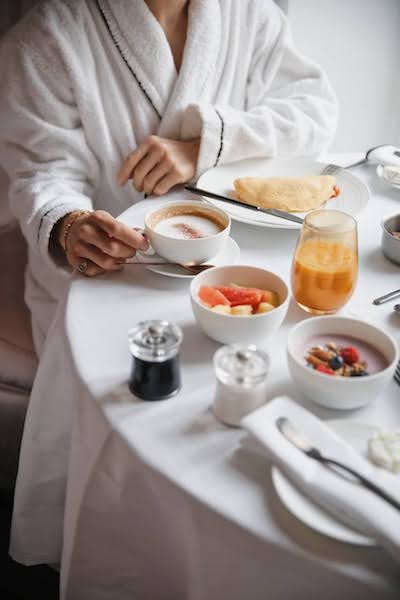 Gourmet Delicacies at Fauchon
A new menu is in place for the summer from 9am-9pm. Dining is available all day at Fauchon L'Hôtel from breakfast and brunch (including breakfast in-room) to tea, dinner, and the Glam'Hours.
The Grand Café Fauchon is open for breakfast, brunch, lunch, teatime, snacking chic, Gourmet Happy Hours (Glam'Hours), dinner, or dessert.
Breakfast is what you fancy, whether it be the French Breakfast (coffee and pastry) or the Bien-être (healthy). The menu includes a wide selection of breads and pastries, fresh fruits and jams, cheese, coffees, Fauchon teas, and more.
Dining in-room for breakfast? Available 6am-noon, a breakfast may include a generous assortment of breads, fresh fruit juices, hot drinks, fresh fruit with a focus on exotic fruits, a variety of non-dairy milk options, and much more.
A must-highlight is tea time at Fauchon. Afternoon Tea includes everything from their iconic fruit and flower flavored Fauchon teas to their gorgeous pastries, sandwiches, and other delicacies. Afternoon Tea is served daily from 3:30-5:30pm.
An Artsy and Glamor Ambiance
Fauchon L'Hôtel in Paris has developed a full set of original designs for furniture, lightings, paneling, carpeting. Fauchon's signature, bold pink color and glamorous pop art adorn the interior of this centrally located Parisian hotel. The palatial and playful ambiance has been tastefully created in blending the contemporary brand, and the vision of young French artists and artisans.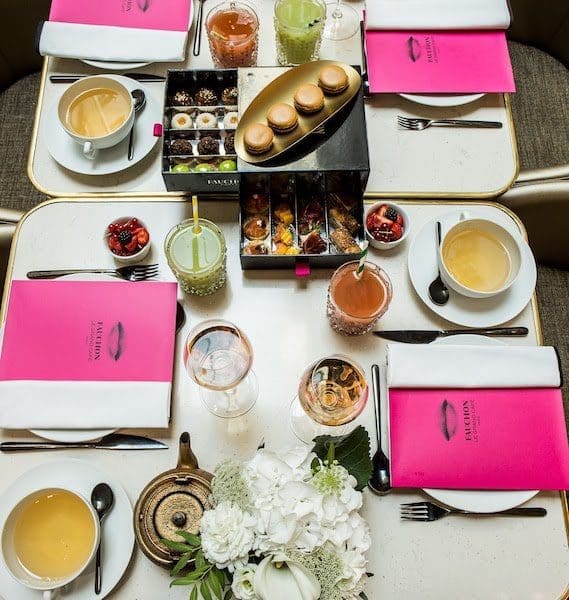 Parisian Summer Indulgence
The Parisian Summer Indulgence package includes many top-notch amenities. These include early check-in and late check-out, a personalized in-room Gourmet Bar with a complimentary selection of FAUCHON sweet or savory goodies, and more. You will also receive an invitation to the hotel's Glam'Party outside at The Grand Café Fauchon. Guests will receive a complimentary Sangria and a charcuterie and cheese plate designed for sharing. 
Nightly rates at Fauchon L'Hôtel in Paris start from €400.